Assessment of Genetic Fidelity in
Rauvolfia

s

erpentina

Plantlets Grown from Synthetic (Encapsulated) Seeds Following

in Vitro

Storage at 4 °C

1

Department of Botany & Microbiology, College of Science, King Saud University, P.O. Box 2455, Riyadh 11451, Saudi Arabia

2

Plant Biotechnology Laboratory, Department of Botany, Aligarh Muslim University, Aligarh-202 002, India

*

Author to whom correspondence should be addressed.

Received: 27 March 2012 / Revised: 17 April 2012 / Accepted: 20 April 2012 / Published: 3 May 2012
Abstract
An efficient method was developed for plant regeneration and establishment from alginate encapsulated synthetic seeds of
Rauvolfia serpentina
. Synthetic seeds were produced using
in vitro
proliferated microshoots upon complexation of 3% sodium alginate prepared in Llyod and McCown woody plant medium (WPM) and 100 mM calcium chloride. Re-growth ability of encapsulated nodal segments was evaluated after storage at 4 °C for 0, 1, 2, 4, 6 and 8 weeks and compared with non-encapsulated buds. Effects of different media
viz
; Murashige and Skoog medium; Lloyd and McCown woody Plant medium, Gamborg's B5 medium and Schenk and Hildebrandt medium was also investigated for conversion into plantlets. The maximum frequency of conversion into plantlets from encapsulated nodal segments stored at 4 °C for 4 weeks was achieved on woody plant medium supplement with 5.0 μM BA and 1.0 μM NAA. Rooting in plantlets was achieved in half-strength Murashige and Skoog liquid medium containing 0.5 μM indole-3-acetic acid (IAA) on filter paper bridges. Plantlets obtained from stored synseeds were hardened, established successfully
ex vitro
and were morphologically similar to each other as well as their mother plant. The genetic fidelity of
Rauvolfia
clones raised from synthetic seeds following four weeks of storage at 4 °C were assessed by using random amplified polymorphic
DNA (RAPD) and inter-simple sequence repeat
(ISSR) markers. All the RAPD and ISSR profiles from generated plantlets were monomorphic and comparable
to the mother plant, which confirms the genetic
stability among the clones. This synseed protocol could be useful for establishing a particular system for conservation, short-term storage and production of genetically identical and stable plants before it is released for commercial purposes.
View Full-Text
►

▼

Figures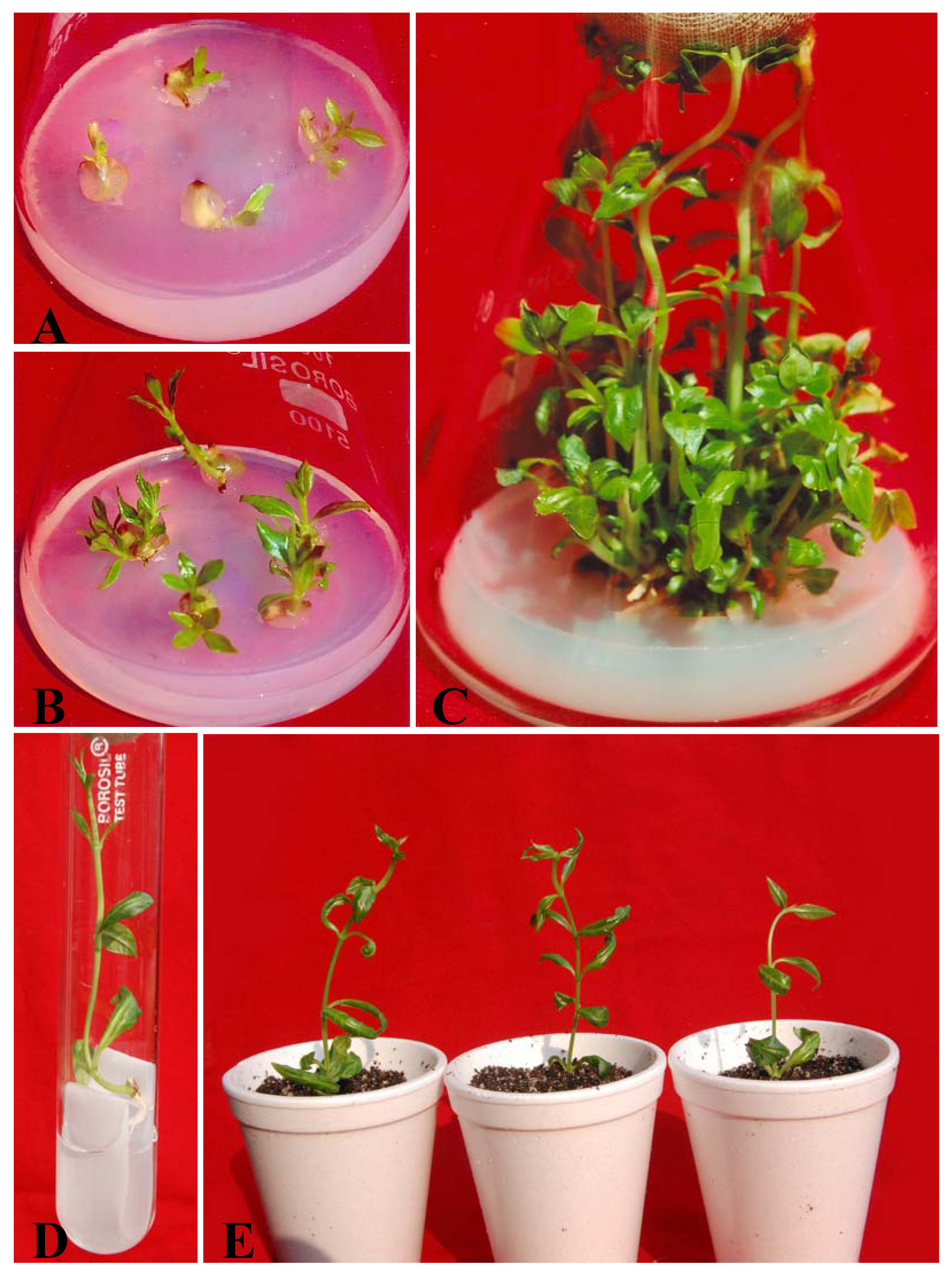 Figure 1

Share & Cite This Article
MDPI and ACS Style
Faisal, M.; Alatar, A.A.; Ahmad, N.; Anis, M.; Hegazy, A.K. Assessment of Genetic Fidelity in Rauvolfia serpentina Plantlets Grown from Synthetic (Encapsulated) Seeds Following in Vitro Storage at 4 °C. Molecules 2012, 17, 5050-5061.
Related Articles
Comments
[Return to top]