Synthesis and Antimicrobial Activity of
N

′-Heteroarylidene-1-adamantylcarbohydrazides and (±)-2-(1-Adamantyl)-4-acetyl-5-[5-(4-substituted phenyl-3-isoxazolyl)]-1,3,4-oxadiazolines

Department of Pharmaceutical Chemistry, College of Pharmacy, King Saud University, Riyadh 11451, Saudi Arabia

*

Author to whom correspondence should be addressed.

Received: 13 January 2012 / Revised: 16 February 2012 / Accepted: 6 March 2012 / Published: 16 March 2012
Abstract
The reaction of adamantane-1-carbohydrazide (1) with heterocyclic aldehydes, namely 5-(4-chlorophenyl)isoxazole-3-carboxaldehyde (2a), 5-(4-methylphenyl)isoxazole-3-carboxaldehyde (2b), 5-(4-methoxyphenyl)isoxazole-3-carboxaldehyde (2c), 1
H
-imidazole-2-carboxaldehyde and 2-butyl-4-chloro-1
H
-imidazole-5-carboxaldehyde, in ethanol, yielded the corresponding
N
′-heteroarylidene-1-adamantylcarbohydrazides 3a, 3b, 3c, 4 and 5, respectively, in good yields. The 4-acetyl-1,3,4-oxadiazoline analogues 6a‑c were prepared in 48–55% yields by heating their corresponding
N
′-heteroarylidene-1-adamantylcarbohydrazides 3a–c with acetic anhydride for two hours. Compounds 3a–c, 4, 5 and 6a–c were tested for
in vitro
activities against a panel of Gram-positive and Gram-negative bacteria and the yeast-like pathogenic fungus
Candida albicans
. Compounds 4 and 5 displayed potent broad-spectrum antimicrobial activity, while compounds 3a–c showed good activity against the Gram-positive bacteria.
View Full-Text
►

▼

Figures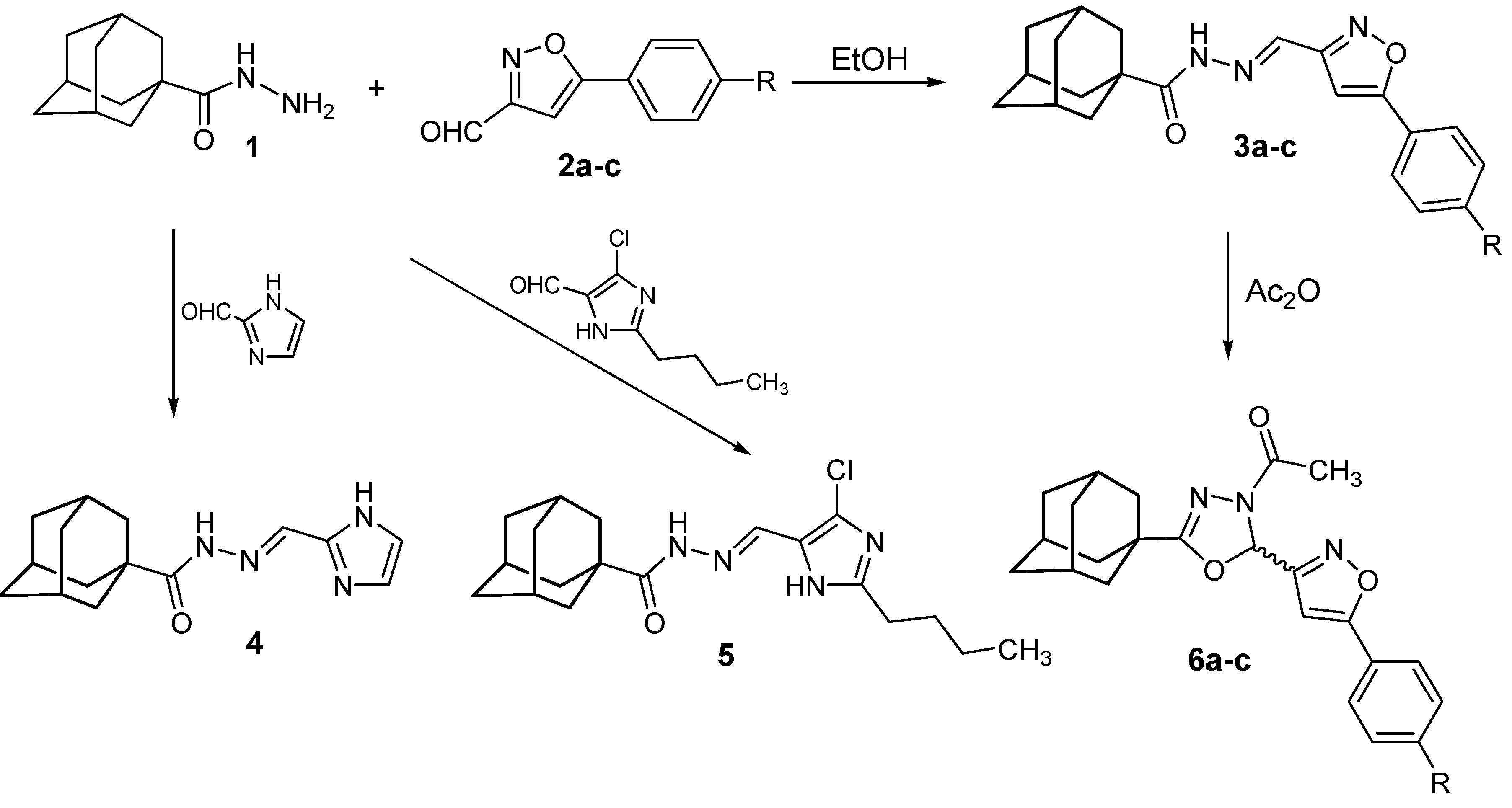 Figure 1

Share & Cite This Article
MDPI and ACS Style
El-Emam, A.A.; Alrashood, K.A.; Al-Omar, M.A.; Al-Tamimi, A.-M. Synthesis and Antimicrobial Activity of N′-Heteroarylidene-1-adamantylcarbohydrazides and (±)-2-(1-Adamantyl)-4-acetyl-5-[5-(4-substituted phenyl-3-isoxazolyl)]-1,3,4-oxadiazolines. Molecules 2012, 17, 3475-3483.
Related Articles
Comments
[Return to top]