Antinociceptive and Anti-inflammatory Effects of a Lectin-Like Substance from
Clitoria fairchildiana

R. Howard Seeds

1

Laboratory of Biologically Actives Molecules, Department of Biochemistry and Molecular Biology, Federal University of Ceará, P.O. Box 6043, CEP 60455-970 Fortaleza, Ceará, Brazil

2

Institute of Biomedical Sciences, State University of Ceará-Itaperi, CEP 60740-000, Fortaleza, Ceará, Brazil

3

Faculty of Dentistry, Department of Pharmacy, Dentistry and Nursing, Federal University of Ceará, CEP 60430-160, Fortaleza, Ceará, Brazil

4

Department of Molecular Biology, Federal University of Paraíba, Campus I, CEP 58059-900, João Pessoa, Paraíba, Brazil

*

Authors to whom correspondence should be addressed.

Received: 8 February 2012 / Revised: 7 March 2012 / Accepted: 9 March 2012 / Published: 14 March 2012
Abstract
Lectins are proteins that have the ability to bind specifically and reversibly to carbohydrates and glycoconjugates, without altering the structure of the glycosyl ligand. They are found in organisms such as viruses, plants and humans, and they have been shown to possess important biological activities. The objective of this study was to purify and characterize lectins in the seeds of
Clitoria fairchildiana
, as well as to verify their biological activities. The results indicated the presence of a lectin (CFAL) in the glutelin acid protein fraction, which agglutinated native rabbit erythrocytes. CFAL was purified by column chromatography ion-exchange, DEAE-Sephacel, which was obtained from a peak of protein retained in the matrix by applying 0.5 M NaCl using the step-wise method. Electrophoretic analysis of this lectin in SDS-PAGE indicated a two band pattern protein molecular mass of approximately 100 and 116 kDa. CFAL proved to be unspecific to all carbohydrates/glycoconjugates in common use for the sugar inhibition test. This lectin showed no significant cytotoxicity to human red blood cells. It was observed that CFAL has anti-inflammatory activity in the paw edema induced by carrageenan model, in which a 64% diminution in edema was observed. Antinociceptive effects were observed for CFAL in the abdominal writhing test (induced by acetic acid), in which increasing doses of the lectin caused reduction in the number of contortions by up to 72%. It was concluded that the purified and characterized lectin from the seeds of
Clitoria fairchildiana
has anti-inflammatory and antinociceptive activity, and is not cytotoxic to human erythrocytes.
View Full-Text
►

▼

Figures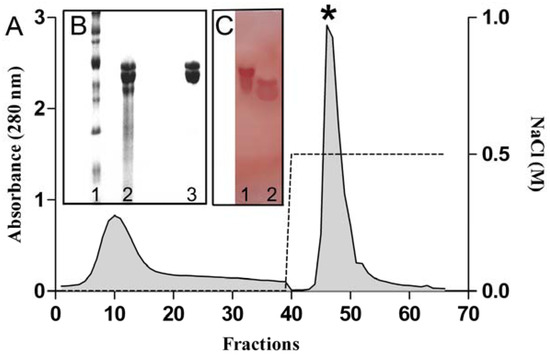 Figure 1

Share & Cite This Article
MDPI and ACS Style
Leite, J.F.M.; Assreuy, A.M.S.; Mota, M.R.L.; Bringel, P.H.S.F.; E Lacerda, R.R.; Gomes, V.M.; Cajazeiras, J.B.; Do Nascimento, K.S.; Pessôa, H.L.F.; Gadelha, C.A.A.; Delatorre, P.; Cavada, B.S.; Santi-Gadelha, T. Antinociceptive and Anti-inflammatory Effects of a Lectin-Like Substance from Clitoria fairchildiana R. Howard Seeds. Molecules 2012, 17, 3277-3290.
Related Articles
Comments
[Return to top]