Improved Antileishmanial Activity of Dppz through Complexation with Antimony(III) and Bismuth(III): Investigation of the Role of the Metal
1
Department of Chemistry, Institute of Exact Sciences, Federal University of Minas Gerais (UFMG), Av. Antônio Carlos 6627, 31270-901, Belo Horizonte, MG, Brazil
2
Department of Physiology and Biophysics, Institute of Biological Sciences, Federal University of Minas Gerais (UFMG), Av. Antônio Carlos 6627, 31270-901, Belo Horizonte, MG, Brazil
3
Department of Physics, Institute of Exact Sciences, Federal University of Minas Gerais (UFMG), Av. Antônio Carlos 6627, 31270-901, Belo Horizonte, MG, Brazil
4
Department of Parasitology, Institute of Biological Sciences, Federal University of Minas Gerais (UFMG), Av. Antônio Carlos 6627, 31270-901, Belo Horizonte, MG, Brazil
*
Author to whom correspondence should be addressed.
Received: 24 August 2012 / Revised: 21 October 2012 / Accepted: 22 October 2012 / Published: 25 October 2012
Abstract
Two novel trivalent antimony(III) and bismuth(III) complexes with the nitrogen-donor heterocyclic ligand dipyrido[3,2-a:2',3'-c]phenazine (dppz) were synthesized and characterized as [Sb(dppz)Cl
3
]∙H
2
O∙CH
3
OH and [Bi(dppz)Cl
3
]. The crystal structure of Sb(III) complex was determined by X-ray crystallography. These complexes were evaluated for their activity against the promastigote form of Sb(III)-sensitive and –resistant
Leishmania infantum chagasi
and
Leishmania amazonensis
strains. Both complexes were more effective than dppz alone in inhibiting the growth of
Leishmania
promastigotes and were at least 77 and 2,400 times more active than potassium antimonyl tartrate in Sb(III)-sensitive and -resistant
Leishmania
, respectively. The cytotoxicity of dppz and its complexes against mouse peritoneal macrophages occurred at dppz concentrations at least 6-fold greater than those found to be active against
Leishmania
promastigotes.To investigate the role of the metal in the improved antileishmanial activity of dppz, the activity of the Sb(III) complex was compared between the Sb-resistant mutants and their respective parental sensitive strains. The lack of cross-resistance to the Sb(III)-dppz complex together with the much lower activity of antimonyl tartrate, SbCl
3
and BiCl
3
strongly support the model that the metal is not active by itself but improves the activity of dppz through complexation.
View Full-Text
►

▼

Figures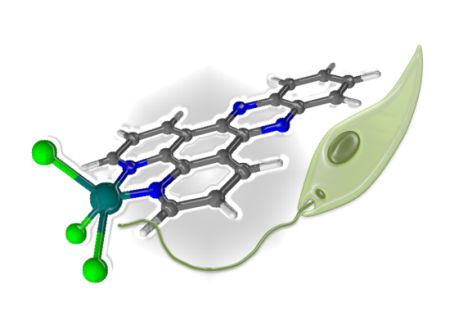 Graphical abstract

Share & Cite This Article
MDPI and ACS Style
Lizarazo-Jaimes, E.H.; Monte-Neto, R.L.; Reis, P.G.; Fernandes, N.G.; Speziali, N.L.; Melo, M.N.; Frézard, F.; Demicheli, C. Improved Antileishmanial Activity of Dppz through Complexation with Antimony(III) and Bismuth(III): Investigation of the Role of the Metal. Molecules 2012, 17, 12622-12635.
Related Articles
Comments
[Return to top]