Phytochemical Study and Anti-inflammatory, Antidiabetic and Free Radical Scavenger Evaluations of
Krameria pauciflora

Methanol Extract†

1

Centro de Investigaciones Químicas, Universidad Autónoma del Estado de Morelos, Avenida Universidad No. 1001 Col. Chamilpa, 62209 Cuernavaca, Morelos, Mexico

2

Sección de Estudios de Posgrado e Investigación, Escuela Superior de Medicina, Instituto Politécnico Nacional, Plan de San Luis y Díaz Mirón, México D.F., 11340, Mexico

†

This paper is taken in part from the Ph.D. thesis of M. Ángeles Ramírez-Cisneros.

*

Author to whom correspondence should be addressed.

Received: 16 December 2011 / Revised: 13 January 2012 / Accepted: 13 January 2012 / Published: 17 January 2012
Abstract
The plant
Krameria pauciflora
MOC et. Sessé ex DC. is used as an anti-inflammatory and antidiabetic in traditional medicine. The aim of this study was to evaluate the
in vivo
anti-inflammatory and antidiabetic effects of a methanol extract from the roots
of
K. pauciflora
. Dichloromethane and ethyl acetate extracts obtained by partitioning the methanol extract were also evaluated. Complete methanol and dichloromethane extracts showed anti-inflammatory effects at 3 mg/kg. An anti-inflammatory effect similar to indomethacin (10 mg/kg) was observed when the methanol and dichloromethane extracts, which contain a cycloartane-type triterpene and an sterol, were administered orally at several doses (3, 10, 30 and 100 mg/kg), whereas no anti-inflammatory effect was observed at any dose for the ethyl acetate extract, which contains catechin-type flavonoids. The antidiabetic effect of each extract was also determined. An antihyperglycaemic effect was observed in diabetic rats, but no effect in normoglycaemic animals was observed when the methanol extract was administrated at 30 mg/kg. All of the extracts exhibited radical scavenger activity. Additionally, constituents from all of the extracts were identified by NMR. This article supports the use of
K. pauciflora
as an anti-inflammatory because it exhibits a similar effect to indomethacin. However, its antidiabetic effect is not completely clear, although it could be useful for preventing diabetic complications.
View Full-Text
►

▼

Figures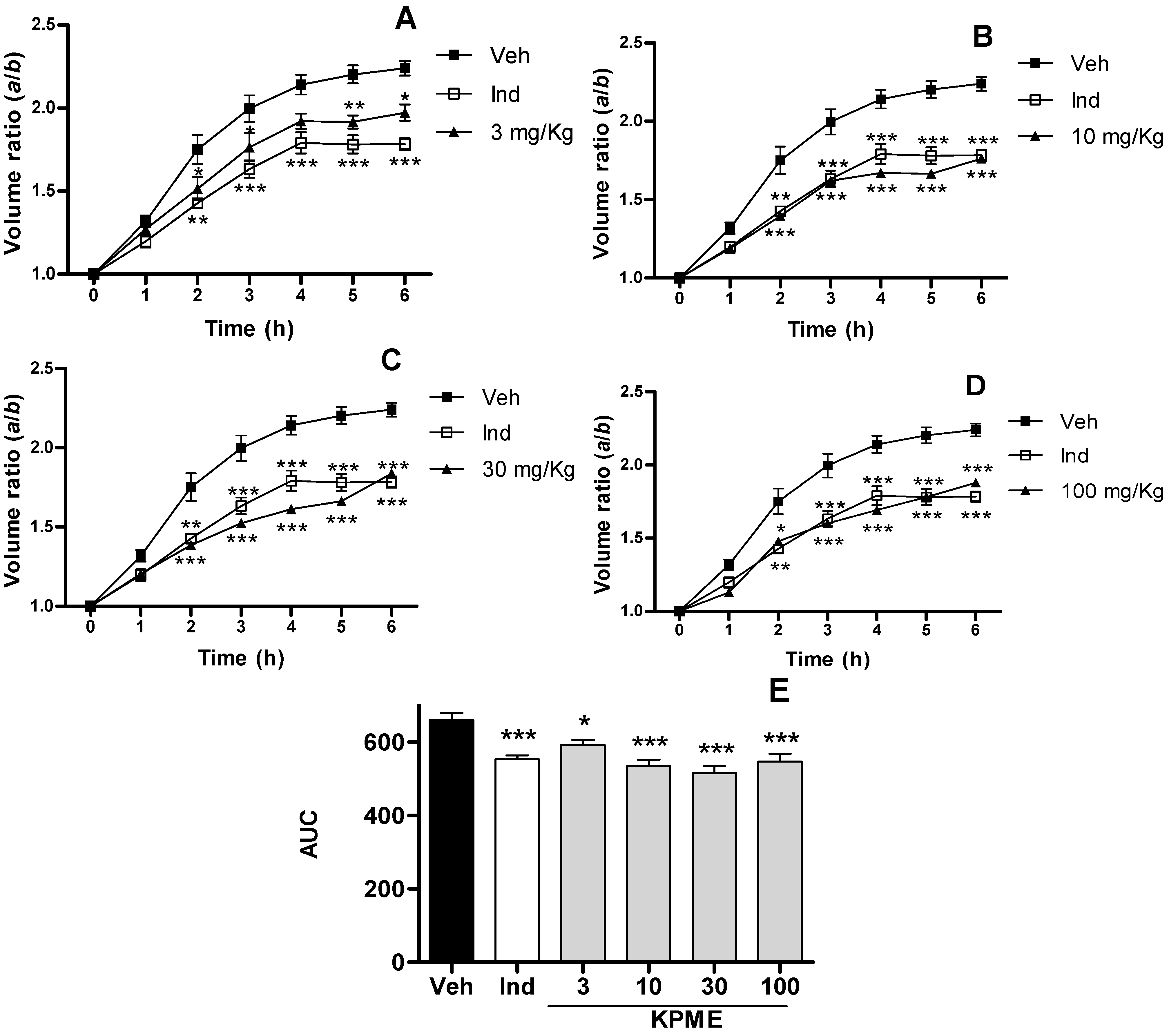 Figure 1

Share & Cite This Article
MDPI and ACS Style
Ramírez-Cisneros, M.Á.; Rios, M.Y.; Déciga-Campos, M.; Aguilar-Guadarrama, A.B. Phytochemical Study and Anti-inflammatory, Antidiabetic and Free Radical Scavenger Evaluations of Krameria pauciflora Methanol Extract. Molecules 2012, 17, 861-872.
Related Articles
Comments
[Return to top]