Open Access This article is
freely available
re-usable
Review
Gold-Catalyzed Cyclizations of Alkynol-Based Compounds: Synthesis of Natural Products and Derivatives
1
Grupo de Lactamas y Heterociclos Bioactivos, Departamento de Química Orgánica I, Unidad Asociada al CSIC, Facultad de Química, Universidad Complutense de Madrid, 28040-Madrid, Spain
2
Instituto de Química Orgánica General, CSIC, Juan de la Cierva 3, 28006-Madrid, Spain
*
Authors to whom correspondence should be addressed.
Received: 15 August 2011; in revised form: 5 September 2011 / Accepted: 8 September 2011 / Published: 13 September 2011
Abstract
:
The last decade has witnessed dramatic growth in the number of reactions catalyzed by gold complexes because of their powerful soft Lewis acid nature. In particular, the gold-catalyzed activation of propargylic compounds has progressively emerged in recent years. Some of these gold-catalyzed reactions in alkynes have been optimized and show significant utility in organic synthesis. Thus, apart from significant methodology work, in the meantime gold-catalyzed cyclizations in alkynol derivatives have become an efficient tool in total synthesis. However, there is a lack of specific review articles covering the joined importance of both gold salts and alkynol-based compounds for the synthesis of natural products and derivatives. The aim of this Review is to survey the chemistry of alkynol derivatives under gold-catalyzed cyclization conditions and its utility in total synthesis, concentrating on the advances that have been made in the last decade, and in particular in the last quinquennium.
Keywords:
gold catalysis; alkynols; total synthesis; natural products
1. Introduction
Organic synthesis has as one of its major points of interest the study of naturally occurring substances, and this remains both a source of information and an intellectual challenge. Thus, a crucial target for organic chemists is to find the appropriate reaction conditions, allowing functional group compatibility and providing high efficiency and atom economy. During the last years, gold-catalyzed cycloisomerization of alkynol-based systems has emerged as a useful tool in this area, allowing the synthesis of different structures such as furans, dihydrofurans, pyrans, furanones or ketals, among many other heterocyclic systems and naturally occurring structures [
1
,
2
,
3
].
This overview focuses on the most recent achievements in gold-catalyzed cycloisomerization reactions, for the synthesis of natural products and related compounds. In particular, carbon-carbon and carbon-heteroatom cyclization processes will be considered, paying special attention to reports from the last five years.
2. Cycloisomerization Processes Involving Carbon-Carbon Bond Formation
Gold-catalyzed cycloisomerization reactions involving C−C bond formation have recently emerged as an effective methodology to build hydrocarbon rings. Four, five and six membered cyclic structures, as well as medium sized rings are accessible in good yields and under interesting mild reaction conditions using gold salts and gold complexes. Fused bicyclic compounds can also be produced, leading therefore to an attractive series of natural occurring skeletons.
3. Cycloisomerization Processes Involving Carbon-Heteroatom Bond Formation
Heterocyclic natural occurring motifs such as furans, pyrans or spiroketals can be easily achieved through heterocyclization processes performed on alkynol-based systems. Gold promoted methodologies provide a convenient route to these structures, allowing mild reaction conditions and high yields. Total synthesis and the preparation of related derivatives have been recently described using both C−N and C−O bond formation.
3.1. Cycloisomerization on Alkynol-Based Systems
3.2. Cycloisomerization on Alkynediol-Based Systems
Ketals are important key structures, and crucial targets in organic synthesis [
94
,
95
,
96
,
97
,
98
]. Fused, bicyclic and spiroketals are recurring motifs in natural compounds, and their preparation is a key step in many total syntheses. In particular, spiroketals represent a structural feature of many biomedically relevant natural and non-natural systems [
99
,
100
,
101
,
102
]. Several methods have been developed for the synthesis of spiroketals, the most common being perhaps the cyclocondensation of ketone diols [
103
,
104
]. Nevertheless, gold catalyzed cycloisomerization on alkynediols has emerged as an efficient strategy to build complex ketal systems in just one step, offering specific advantages. For example, Au-catalyzed cycloisomerization of alkynediols are more exotermic, atom economical, and more compatible than ketones under a number of several reaction conditions. Thus, many groups have recently incorporated the present methodology for the synthesis of several natural compounds and derivatives [
105
,
106
,
107
,
108
].
Li
et al.
have described the preparation of the bisbenzannelated spiroketal core of rubromycins [
109
]. These natural occurring structures exhibit different biological activities, such as inhibition of DNA polymerase, inhibition of the reverse transcriptase of HIV I, or inhibition of DNA helicase [
110
,
111
,
112
,
113
].
Scheme 16
shows the basic structure motif shared by natural isolated compounds like γ-rubromycin, purpuromycin, or heliquinomycin. According to the described work, easily prepared alkynediols
49
underwent cycloisomerization in the presence of gold catalysis to yield spiroketals
50
with moderate yields, but mainly together with notable amounts of the corresponding benzofuran
51
.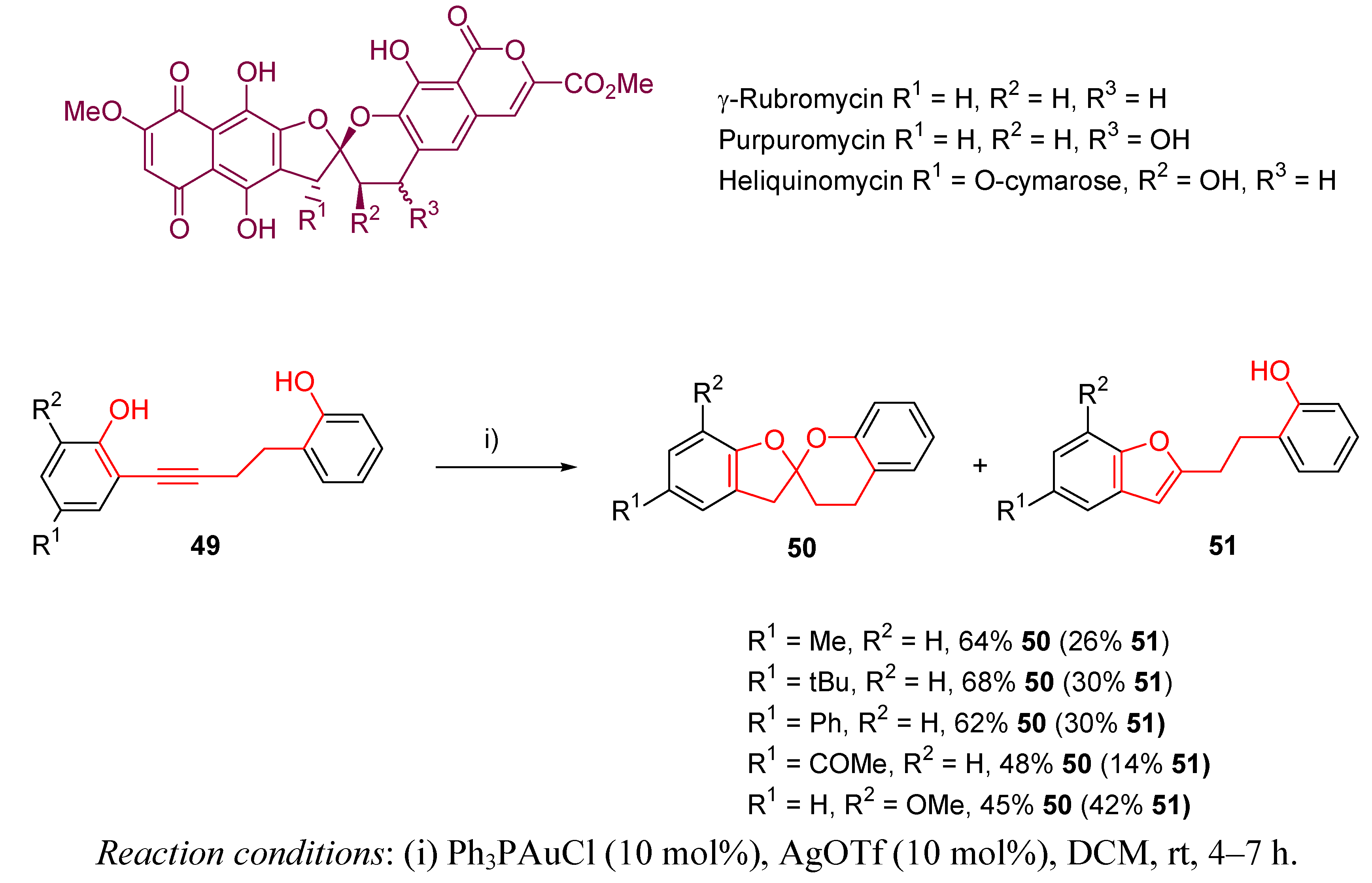 A more effective spiroketalization process was found for the synthesis of cephalosporolides. Concretely, cephalosporolide H
52
is a natural spiroketal isolated from the culture broth of the marine fungus
Penicillium
sp. This compound presents anti-inflammatory properties by virtue of its inhibitory activity against 3α-hydroxysteroid dehydrogenase [
114
,
115
]. Dudley
et al.
developed a method for cephalosporolide total synthesis based on gold-catalyzed spiroketal generation [
116
,
117
]. Starting from pantolactone
53
, alkynediol-based system
54
was obtained after a nine step sequence. Gold treatment of
54
yielded the desired structure
55
, with an excellent 88% yield. The main inconvenient of the proposed strategy lied on the obtention of
55
as a 1:1 mixture of spiroketal epimers, although further treatment upon zinc chloride chelation provided the expected isomer in 20:1 dr (
Scheme 17
).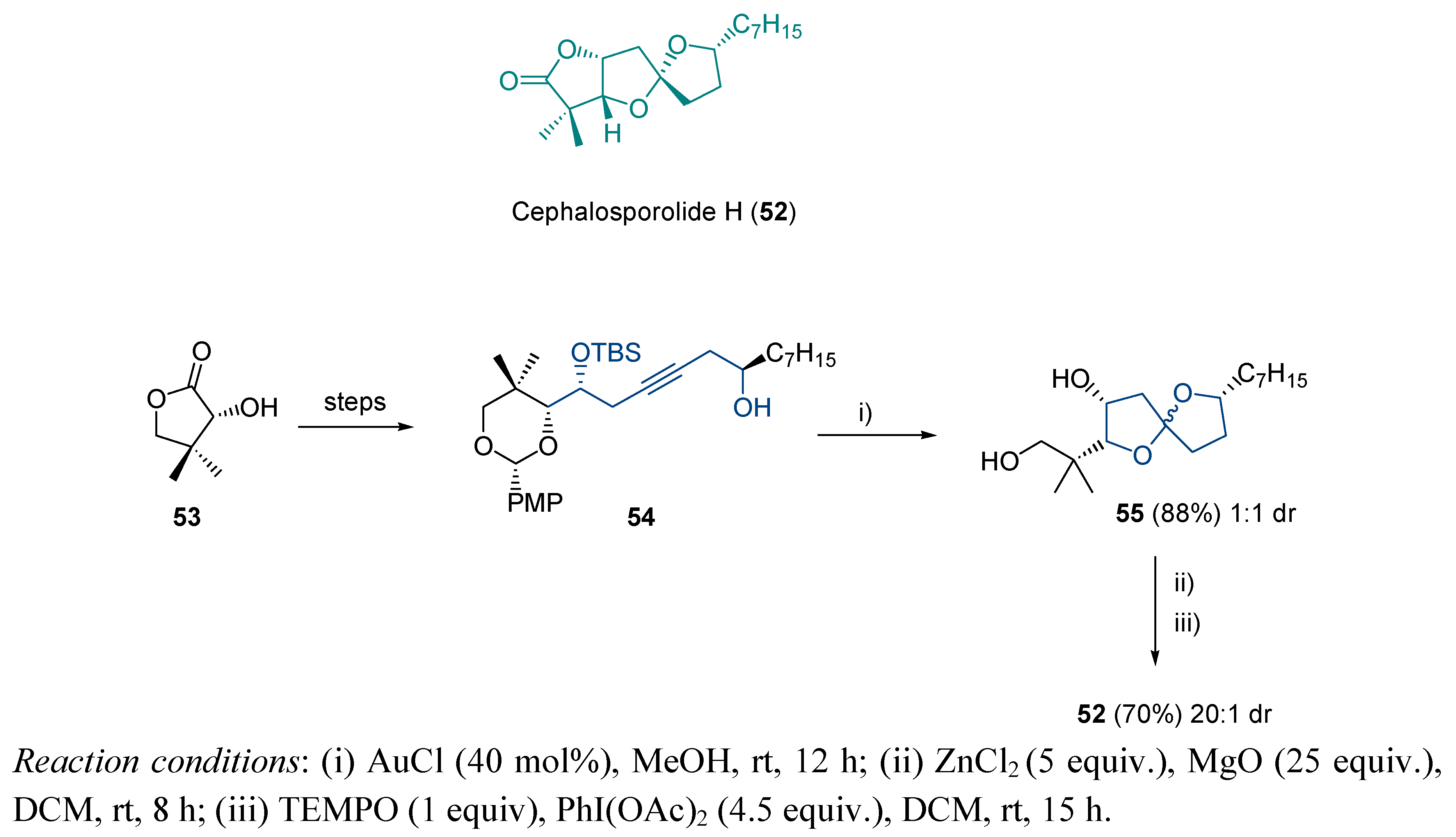 Azaspiracid
56
belongs to a family of marine toxins, responsible for human poisoning and diverse chronic effects on liver, pancreas and thymus [
118
,
119
]. Its complete structure has been widely studied [
120
], and several methods for its synthesis have been reported [
121
,
122
]. Forsyth
et al
. have reported the synthesis of the
F−I
azaspiracid fragment
57
[
123
]. In particular, we would like to focus on the construction of
F
and
G
rings by a one step gold-catalyzed spiroketalization. Alkynediol-based system
58
was obtained by coupling of subunits
59
and
60
, prepared from simple precursors. Treatment of
58
with AuCl provided the desired structure
57
with a high 75% yield as a sole isomer. The reaction mechanism is proposed to follow an initial
syn
addition of the C6 hydroxy group and the π-activated gold-alkyne complex to build ring
F
. Protodeauration and protonation of the resultant enol ether at C11 would promote the attack of methoxy oxygen to C10, generating therefore ring
G
(
Scheme 18
).
Okadaic acid
61
is a complex natural structure isolated from marine sponges [
124
,
125
]. Its biological activities [
126
,
127
,
128
], together with its attractive chemical structure have attracted much interest among organic chemists. In particular, the presence of several spiroketal motifs in this structure makes it a real challenge from the retrosynthetical point of view. An efficient synthesis of the C15-C38 fragment has been reported, based on the high activity and selectivity of AuCl for the synthesis of spiroketals
62
and
63
, starting from alkynediols
64
and
66
respectively [
129
] (
Scheme 19
).
Bridged-bicyclic ketals have been also produced through gold-catalyzed cycloisomerization of alkynediols. Based on platensimycin structure, a natural inhibitor of microbial fatty acid biosynthesis [
130
,
131
,
132
], Corey
et al
. reported the total synthesis of the near-structural mimic
68
[
133
]. This new structure presents evidence in the literature suggesting excellent antimicrobial properties [
134
,
135
]. Thus, easily achieved alkynediol
69
reacted under gold(III) catalysis delivering ketone
70
, which contains the tricyclic core of
68
, with an excellent 85% yield and >98%
ee
(
Scheme 20
). The route to the desired target is completed in just nine steps, providing a facile and quick methodology to the mentioned bioactive structure.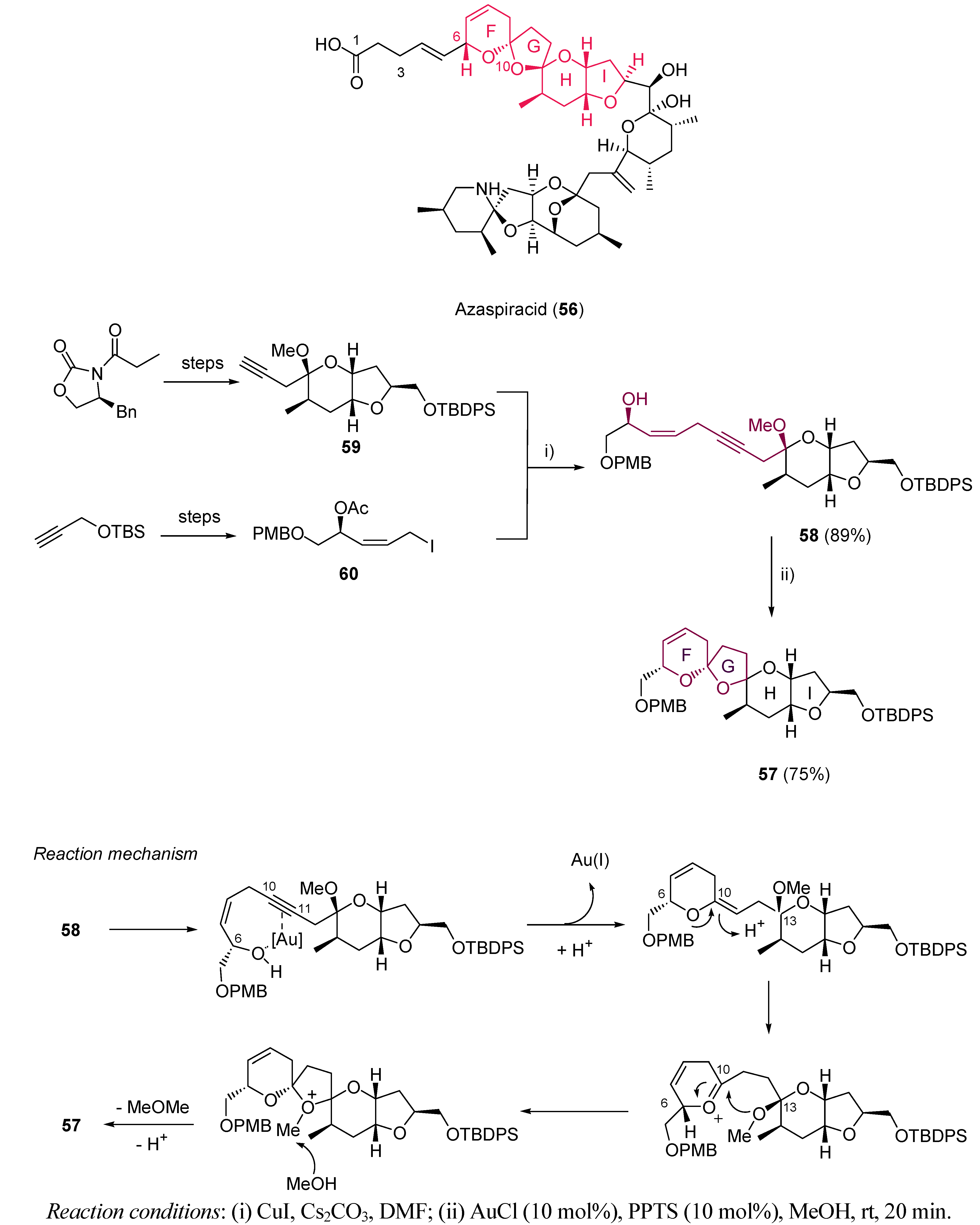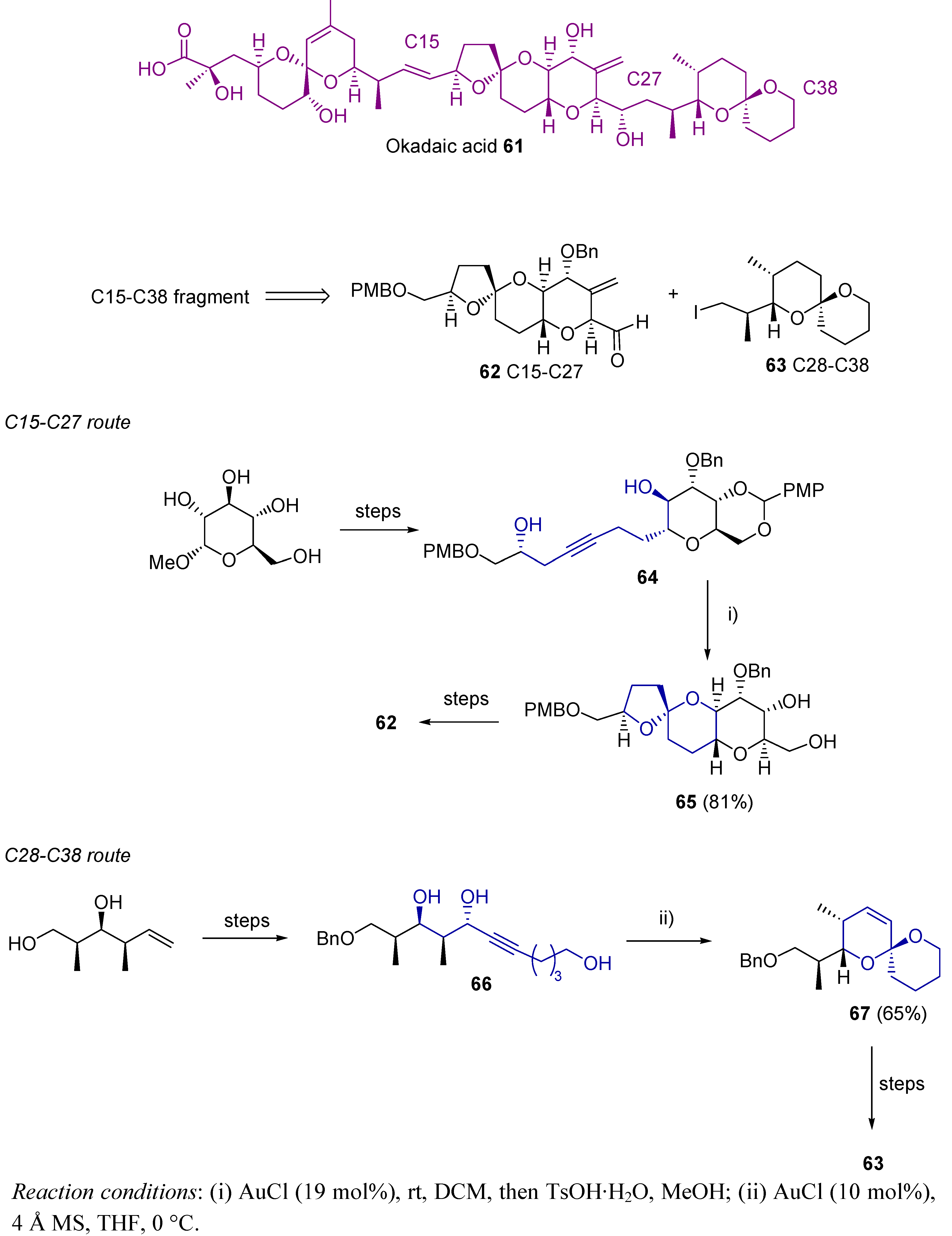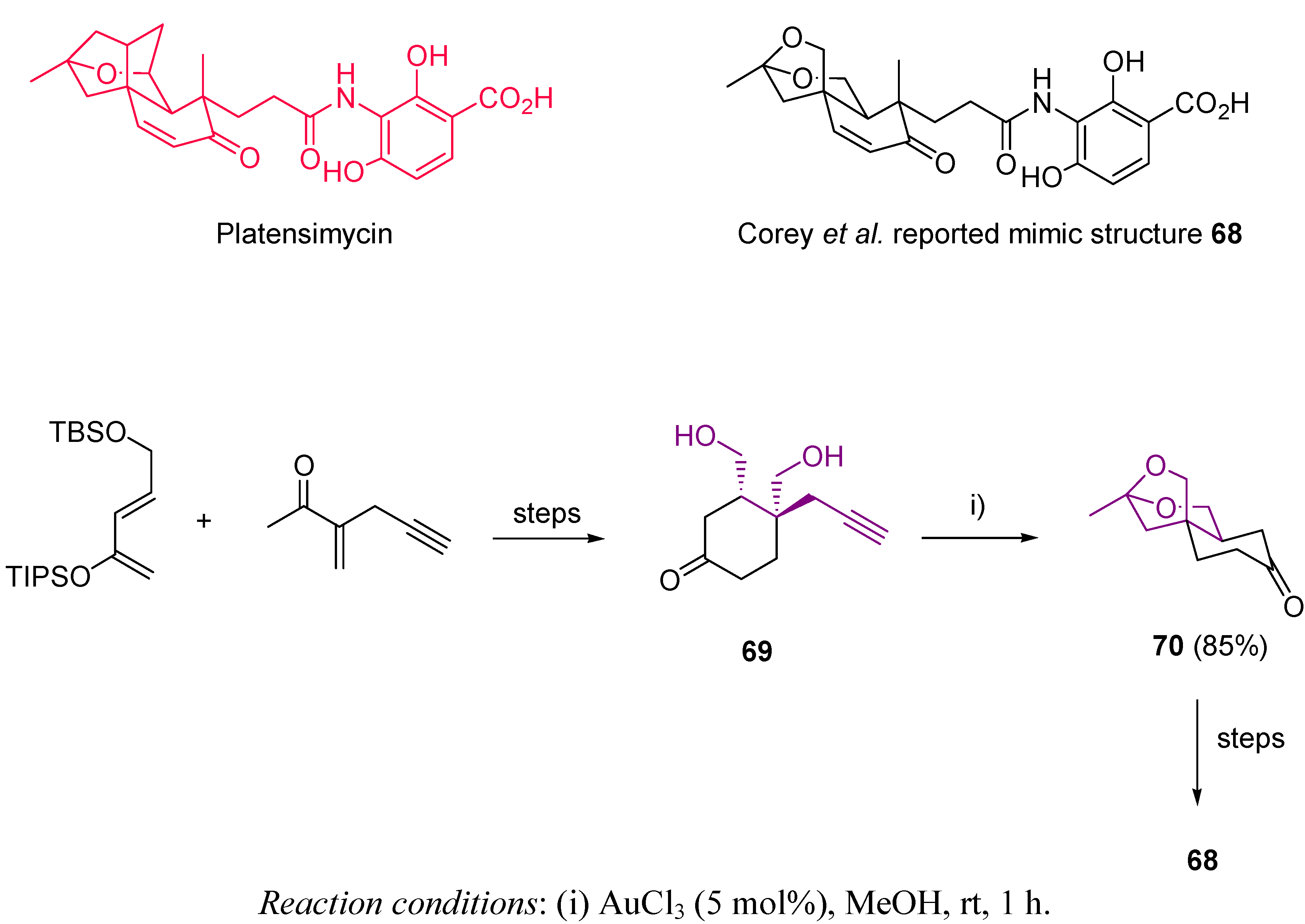 4. Conclusions
In this overview we have collected the most recent advances in gold-catalyzed cycloisomerization of alkynol and alkynediol-based systems for the preparation of natural products and derivatives. This type of process has become an established methodology for accessing a large number of both carbocyclic and heterocyclic structures, containing different sized skeletons. Three to seven-membered carbon rings, such as furan, pyrans, piperidines, and different ketal and spiroketal systems are therefore accessible through this strategy. The reactions discussed herein demonstrate the high synthetic potential of alkynol-based compounds undergoing gold catalyzed cyclization. On the other hand, the efficiency of gold salts and gold complexes have been also documented, allowing mild reaction conditions and great functional group compatibility, specially compared to related thermal or basic rearrangements. In addition, the extremely large number of natural bioactive compounds containing these type of structural motifs, readily available through gold-catalyzed conditions, will certainly provide a renewed and continuous topic of investigation in this field.
Acknowledgments
Support for this work by the DGI-MICINN (Project CTQ2009-09318), Conunidad Autónoma de Madrid (CAM) (Project S2009/PPQ-1752), and SANTANDER-UCM (Project GR35/10-A) are gratefully acknowledged. J. M. A. thanks CAM and Fondo Social Europeo for a postdoctoral contract.
Conflict of Interest
The authors declare no conflict of interest.
© 2011 by the authors; licensee MDPI, Basel, Switzerland. This article is an open access article distributed under the terms and conditions of the Creative Commons Attribution license ( http://creativecommons.org/licenses/by/3.0/).