Effects of Bentonite on
p

-Methoxybenzyl Acetate: A Theoretical Model for Oligomerization via an Electrophilic-Substitution Mechanism

1

Instituto de Química de la Universidad Nacional Autónoma de México, Circuito Exterior, Ciudad Universitaria Coyoacán 04510, México, D.F., Mexico

2

Sección de Química Inorgánica, Fisicoquímica y Química Orgánica, Departamento de Ciencias Químicas, Facultad de Estudios Superiores Cuautitlán, Universidad Nacional Autónoma de México, Cuatitlán Izcalli, 54740, Estado de México, Mexico

3

Área Académica de Química, Universidad Autónoma del Estado de Hidalgo, Unidad Universitaria, Km 4.5 Carretera Pachuca-Tulancingo, Mineral de Reforma, 42184, Hidalgo, Mexico

*

Authors to whom correspondence should be addressed.

Received: 29 November 2010 / Revised: 14 February 2011 / Accepted: 15 February 2011 / Published: 21 February 2011
Abstract
Tonsil Actisil FF, a commercial bentonitic clay, promotes the formation of a series of electrophilic-aromatic-substitution products from
para
-methoxybenzyl acetate in carbon disulfide. The molecules obtained correspond to linear isomeric dimers, trimers, tetramers and a pentamer, according to their spectroscopic data. A clear indication of the title mechanistic pathway for the oligomerization growth was obtained from the analysis of a set of computational-chemistry calculations using the density-functional-theory level B3LYP/6-311++G(d,p). The corresponding conclusions were based on the computed dipole moments, the HOMO/LUMO distributions, and a natural-populations analysis of the studied molecules.
View Full-Text
►

▼

Figures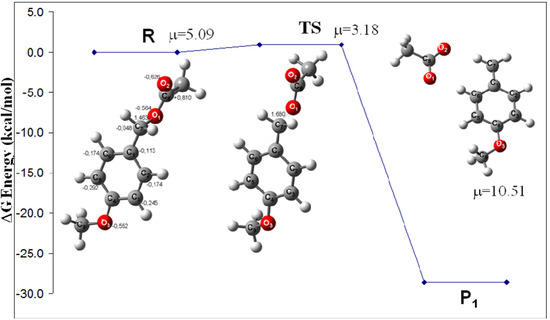 Figure 1

Share & Cite This Article
MDPI and ACS Style
Salmón, M.; Miranda, R.; Nicolás-Vázquez, I.; Vargas-Rodriguez, Y.M.; Cruz-Borbolla, J.; Medrano, M.I.; Morales-Serna, J.A. Effects of Bentonite on p-Methoxybenzyl Acetate: A Theoretical Model for Oligomerization via an Electrophilic-Substitution Mechanism. Molecules 2011, 16, 1761-1775.
Related Articles
Comments
[Return to top]