Acetylcholinesterase-inhibiting Alkaloids from
Zephyranthes concolor
1
Instituto de Química, Universidad Nacional Autónoma de México, Coyoacán, 04510, México, D.F., Mexico
2
AgroBioInstitute, 8 Dragan Tzankov Blvd., 1164 Sofia, Bulgaria
3
Département de Chimie et Biochimie, Université de Moncton, Moncton, NB E1A 3E9, Canada
4
Laboratori de Retrovirologia, Fundació Irsi Caixa, Hospital Universitari Germans Trias i Pujol. 08916-Badalona, Barcelona, Spain
5
Departament de Productes Naturals, Biología Vegetal i Edafologia, Facultat de Farmàcia, Universitat de Barcelona. Av. Diagonal 643, E-08028 Barcelona, Spain
*
Authors to whom correspondence should be addressed.
Received: 17 October 2011 / Revised: 27 October 2011 / Accepted: 7 November 2011 / Published: 15 November 2011
Abstract
The bulbs and aerial parts of
Zephyranthes concolor
(Lindl.) Benth. & Hook. f. (Amaryllidaceae), an endemic species to Mexico, were found to contain the alkaloids chlidanthine, galanthamine, galanthamine N-oxide, lycorine, galwesine, and epinorgalanthamine. Since currently only partial and low resolution
1
H-NMR data for chlidanthine acetate are available, and none for chlidanthine, its 1D and 2D high resolution
1
H- and
13
C-NMR spectra were recorded. Unambiguous
assignations were achieved with HMBC, and HSQC experiments, and its structure was corroborated by X-ray diffraction. Minimum energy conformation for structures of chlidanthine, and its positional isomer galanthamine, were calculated by molecular modelling. Galanthamine is a well known acetylcholinesterase inhibitor; therefore, the isolated alkaloids were tested for this activity. Chlidanthine and galanthamine N-oxide inhibited electric eel acetylcholinesterase (2.4 and 2.6 × 10
−5
M, respectively), indicating they are about five times less potent than galanthamine, while galwesine was inactive at 10
−3
M. Inhibitory activity of HIV-1 replication, and cytotoxicity of the isolated alkaloids were evaluated in human MT-4 cells; however, the alkaloids showed poor activity as compared with standard anti-HIV drugs, but most of them were not cytotoxic.
View Full-Text
►

▼

Figures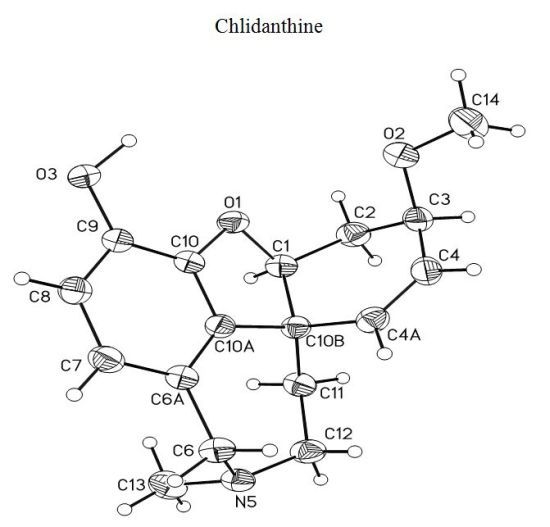 Graphical abstract

Share & Cite This Article
MDPI and ACS Style
Reyes-Chilpa, R.; Berkov, S.; Hernández-Ortega, S.; Jankowski, C.K.; Arseneau, S.; Clotet-Codina, I.; Esté, J.A.; Codina, C.; Viladomat, F.; Bastida, J. Acetylcholinesterase-inhibiting Alkaloids from Zephyranthes concolor. Molecules 2011, 16, 9520-9533.
Related Articles
Comments
[Return to top]