Reduction of Diphenyl Diselenide and Analogs by Mammalian Thioredoxin Reductase Is Independent of Their Gluthathione Peroxidase-Like Activity: A Possible Novel Pathway for Their Antioxidant Activity
1
Departamento de Química, Centro de Ciências Naturais e Exatas, Universidade Federal de Santa Maria, 97105-900, Santa Maria RS, Brazil
2
Departamento de Química, Universidade Federal de Pelotas, Brazil
3
Departamento de Bioquímica, Instituto de Ciências Básicas da Saúde, Universidade Federal do Rio Grande do Sul, 90035-003, Porto Alegre, RS, Brazil
4
Departament of Biochemistry, Federal University of Technology of Akure, Akure, Ondo, Nigeria
*
Author to whom correspondence should be addressed.
Received: 23 August 2010 / Revised: 14 October 2010 / Accepted: 26 October 2010 / Published: 28 October 2010
Abstract
Since the successful use of the organoselenium drug ebselen in clinical trials for the treatment of neuropathological conditions associated with oxidative stress, there have been concerted efforts geared towards understanding the precise mechanism of action of ebselen and other organoselenium compounds, especially the diorganyl diselenides such as diphenyl diselenide, and its analogs. Although the mechanism of action of ebselen and other organoselenium compounds has been shown to be related to their ability to generally mimic native glutathione peroxidase (GPx), only ebselen however has been shown to serve as a substrate for the mammalian thioredoxin reductase (TrxR), demonstrating another component of its pharmacological mechanisms. In fact, there is a dearth of information on the ability of other organoselenium compounds, especially diphenyl diselenide and its analogs, to serve as substrates for the mammalian enzyme thioredoxin reductase. Interestingly, diphenyl diselenide shares several antioxidant and neuroprotective properties with ebselen. Hence in the present study, we tested the hypothesis that diphenyl diselenide and some of its analogs (4,4'-bistrifluoromethyldiphenyl diselenide, 4,4'-bismethoxy-diphenyl diselenide, 4.4'-biscarboxydiphenyl diselenide, 4,4'-bischlorodiphenyl diselenide, 2,4,6,2',4',6'-hexamethyldiphenyl diselenide) could also be substrates for rat hepatic TrxR. Here we show for the first time that diselenides are good substrates for mammalian TrxR, but not necessarily good mimetics of GPx, and
vice versa
. For instance, bis-methoxydiphenyl diselenide had no GPx activity, whereas it was a good substrate for reduction by TrxR. Our experimental observations indicate a possible dissociation between the two pathways for peroxide degradation (either via substrate for TrxR or as a mimic of GPx). Consequently, the antioxidant activity of diphenyl diselenide and analogs can be attributed to their capacity to be substrates for mammalian TrxR and we therefore conclude that subtle changes in the aryl moiety of diselenides can be used as tool for dissociation of GPx or TrxR pathways as mechanism triggering their antioxidant activities.
View Full-Text
►

▼

Figures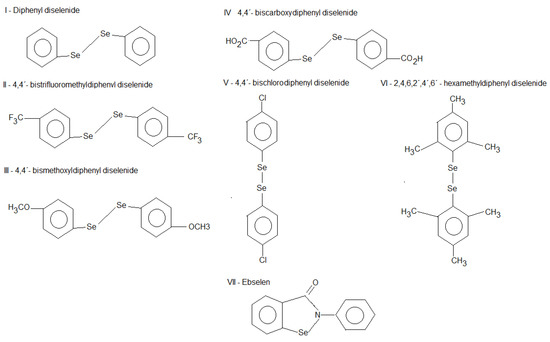 Figure 1

Share & Cite This Article
MDPI and ACS Style
Sausen de Freitas, A.; De Souza Prestes, A.; Wagner, C.; Haigert Sudati, J.; Alves, D.; Oliveira Porciúncula, L.; Kade, I.J.; Teixeira Rocha, J.B. Reduction of Diphenyl Diselenide and Analogs by Mammalian Thioredoxin Reductase Is Independent of Their Gluthathione Peroxidase-Like Activity: A Possible Novel Pathway for Their Antioxidant Activity. Molecules 2010, 15, 7699-7714.
Related Articles
Comments
[Return to top]