18-Crown-6 and Dibenzo-18-crown-6 Assisted Extraction of Cesium from Water into Room Temperature Ionic Liquids and Its Correlation with Stability Constants for Cesium Complexes
1
State Research Institute of Reagents and High Purity Substances (IREA), Bogorodskii val 3, 107258, Moscow, Russia
2
Department of Chemistry, M.V. Lomonosov Moscow State University, 1-3 Leninskiye gory, 119992, Moscow, Russia
3
Department of Physical and Colloid Chemistry, Moscow State University of Food Technologies, Volokolamskoye Sh. 11, 125080, Moscow, Russia
4
Zelinsky Institute of Organic Chemistry RAS, Leninsky pr. 47, 119991, Moscow, Russia
*
Author to whom correspondence should be addressed.
Received: 1 September 2009 / Revised: 24 November 2009 / Accepted: 27 November 2009 / Published: 2 December 2009
Abstract
The pH-profiles of the extraction of Cs
+
into four conventional (1-butyl-3-methylimidazolium hexafluorophosphate and bis[trifluoromethyl)sulphonyl]imides of 1-butyl-3-methylimidazolium, 1-hexyl-3-methylimidazolium, and 1-(2-ethylhexyl)-3- methylimidazolium) and two novel (trioctylmethylammonium salicylate and tetrahexylammonium dihexylsulfosuccinate) room temperature ionic liquids have been determined both in the absence and in the presence of crown ether (18-crown-6 or dibenzo-18-crown-6). The pH-profiles of distribution ratio of crown ethers have been established in the same conditions. The relationship of cesium extraction efficiency both with the stability of its complexes with crown ethers and crown ethers' distribution ratio has been clarified.
View Full-Text
►

▼

Figures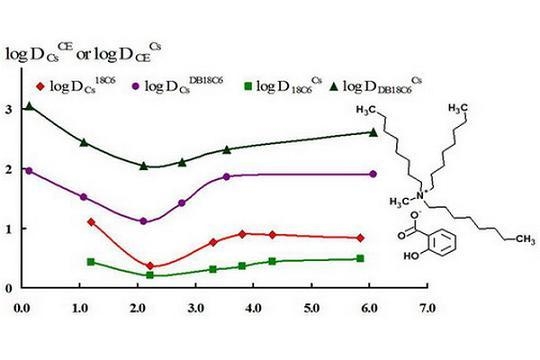 Graphical abstract

Share & Cite This Article
MDPI and ACS Style
Vendilo, A.G.; Djigailo, D.I.; Smirnova, S.V.; Torocheshnikova, I.I.; Popov, K.I.; Krasovsky, V.G.; Pletnev, I.V. 18-Crown-6 and Dibenzo-18-crown-6 Assisted Extraction of Cesium from Water into Room Temperature Ionic Liquids and Its Correlation with Stability Constants for Cesium Complexes. Molecules 2009, 14, 5001-5016.
Related Articles
Comments
[Return to top]