Phospholipids: Key Players in Apoptosis and Immune Regulation
1
Department for Internal Medicine 3, University Hospital Erlangen, Friedrich-Alexander University of Erlangen-Nuremberg, 91054 Erlangen, Germany
2
Department of Radiation Oncology, University Hospital Erlangen, Friedrich-Alexander University of Erlangen-Nuremberg, 91054 Erlangen, Germany
*
Author to whom correspondence should be addressed.
Received: 6 November 2009 / Revised: 24 November 2009 / Accepted: 27 November 2009 / Published: 30 November 2009
Abstract
Phosphatidylserine (PS), a phospholipid predominantly found in the inner leaflet of eukaryotic cellular membranes, plays important roles in many biological processes. During apoptosis, the asymmetric distribution of phospholipids of the plasma membrane gets lost and PS is translocated to the outer leaflet of the plasma membrane. There, PS acts as one major "eat me" signal that ensures efficient recognition and uptake of apoptotic cells by phagocytes. PS recognition of activated phagocytes induces the secretion of anti-inflammatory cytokines like interleukin-10 and transforming grow factor-beta. Deficiencies in the clearance of apoptotic cells result in the occurrence of secondarily necrotic cells. The latter have lost the membrane integrity and release immune activating danger signals, which may induce inflammatory responses. Accumulation of dead cells containing nuclear autoantigens in sites of immune selection may provide survival signals for autoreactive B-cells. The production of antibodies against nuclear structures determines the initiation of chronic autoimmunity in systemic lupus erythematosus. Since PS on apoptotic cells is an important modulator of the immune response, natural occurring ligands for PS like annexinA5 have profound effects on immune responses against dead and dying cells, including tumour cells. In this review we will focus on the role of PS exposure in the clearance process of dead cells and its implications in clinical situations where apoptosis plays a relevant role, like in cancer, chronic autoimmunity, and infections. Relevance of other phospholipids during the apoptosis process is also discussed.
View Full-Text
►

▼

Figures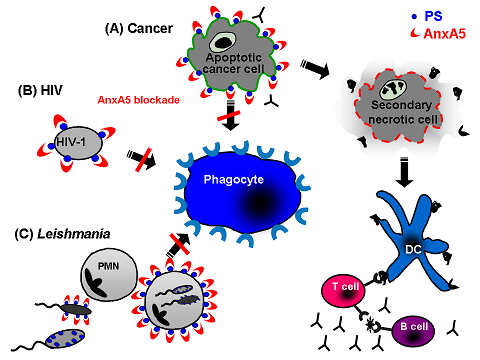 Graphical abstract

Share & Cite This Article
MDPI and ACS Style
Chaurio, R.A.; Janko, C.; Muñoz, L.E.; Frey, B.; Herrmann, M.; Gaipl, U.S. Phospholipids: Key Players in Apoptosis and Immune Regulation. Molecules 2009, 14, 4892-4914.
Related Articles
Comments
[Return to top]