Synthesis and Characterization of 5,10,15,20-Tetra[3-(3-trifluoromethyl)phenoxy] Porphyrin
1
Department of Biology, Chemistry, and Mathematics, University of Montevallo, Station 6480 Montevallo, Alabama 35115, U.S.A.
2
Department of Chemistry, University of Alabama, Box 870336 Tuscaloosa, Alabama 35487, U.S.A.
*
Author to whom correspondence should be addressed.
Received: 30 May 2007 / Revised: 8 July 2007 / Accepted: 9 July 2007 / Published: 11 July 2007
Abstract
The newly synthesized 5,10,15,20-tetra[3-(3-trifluoromethyl)phenoxy]porphyrin, TTFMPP, has been characterized using mass spectroscopy,
1
H-,
13
C- and
19
F-NMR, MALDI-TOF mass spectrometry, UV-Vis and fluorescence spectrophotometry, andcyclic voltammetry. The NMR confirmed the structure of the compound and the massspectrum was in agreement with the proposed molecular formula. The UV-Vis absorptionspectrum of TTFMPP shows characteristic spectral patterns similar to those of tetraphenylporphryin, with a Soret band at 419 nm and four Q bands at 515, 550, 590, and 648 nm.Protonation of the porphyrin with TFA resulted in the expected red shift of the Soret band.Excitation at 419 nm gave an emission at 650 nm. The quantum yield of the porphyrin wasdetermined to be 0.08. Cyclic voltammetry was used to determine the oxidation andreduction potentials of the new porphyrin. Two quasi-reversible one-electron reductions at–1.00 and –1.32 V and a quasi-reversible oxidation at 1.20 V versus the silver/silverchloride reference electrode with tetrabutylammonium tetrafluoroborate as the supportingelectrolyte in methylene chloride were observed.
View Full-Text
►

▼

Figures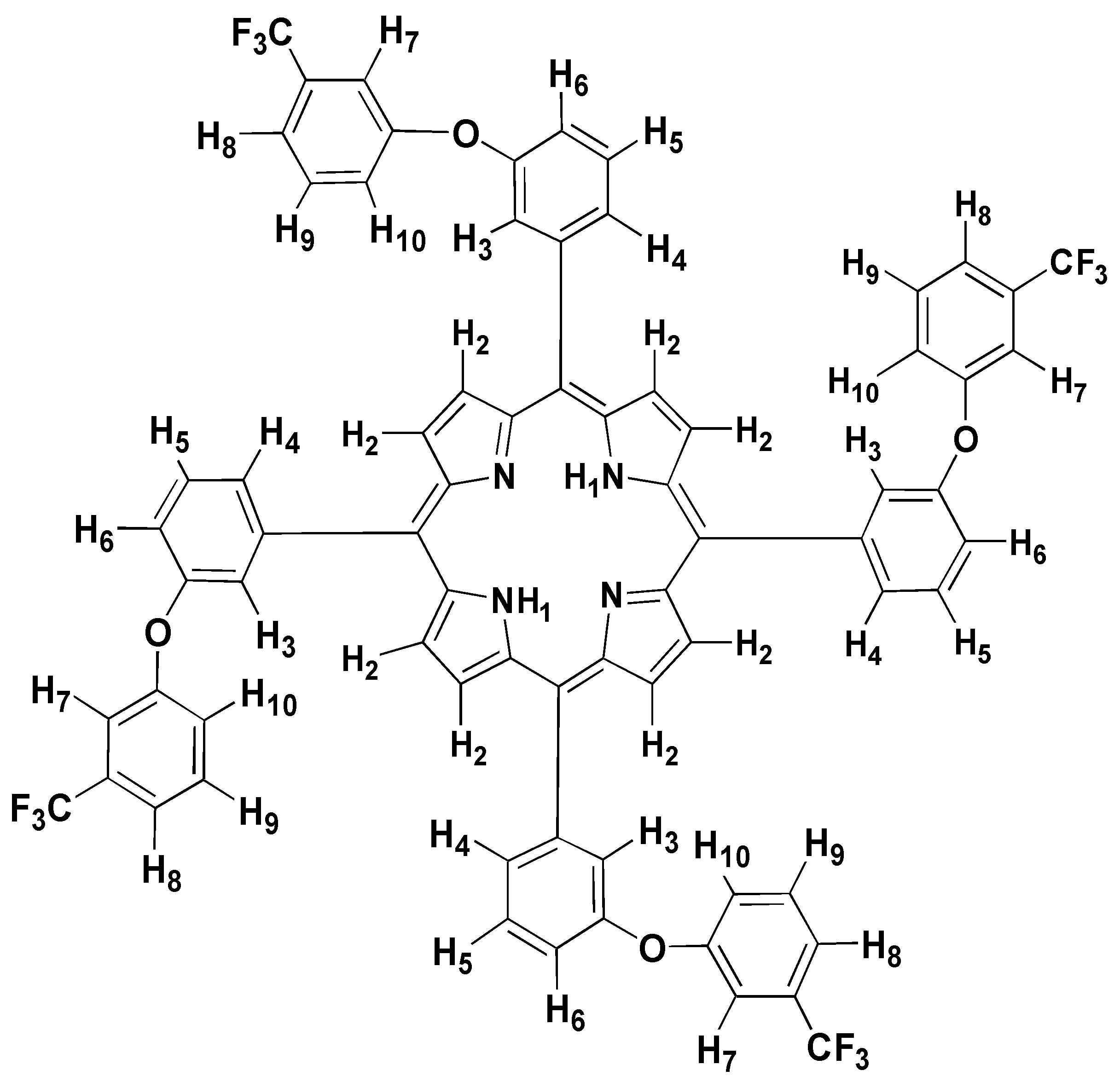 Figure 1

Share & Cite This Article
MDPI and ACS Style
Tidwell, C.P.; Bharara, P.; Rudeseal, G.; Rudeseal, T.; Rudeseal, F.H., Jr; Simmer, C.A.; McMillan, D.; Lanier, K.; Fondren, L.D.; Folmar, L.L.; Belmore, K. Synthesis and Characterization of 5,10,15,20-Tetra[3-(3-trifluoromethyl)phenoxy] Porphyrin. Molecules 2007, 12, 1389-1398.
Related Articles
Comments
[Return to top]