Methyl Jasmonate and Salicylic Acid Induced Oxidative Stress and Accumulation of Phenolics in
Panax ginseng

Bioreactor Root Suspension Cultures

1

Metabolic Regulation Laboratory, Food Biotechnology Division, National Food Research Institute, Kannondai, Tsukuba, Ibaraki-305-8642, Japan

2

Research Center for the Development of Advanced Horticultural Technology, Chungbuk National University, Cheong-ju, 361-763, Republic of Korea

*

Author to whom correspondence should be addressed.

Received: 24 January 2007 / Revised: 13 March 2007 / Accepted: 18 March 2007 / Published: 23 March 2007
Abstract
To investigate the enzyme variations responsible for the synthesis of phenolics, 40 day-old adventitious roots of Panax ginseng were treated with 200 μM methyl jasmonate (MJ) or salicylic acid (SA) in a 5 L bioreactor suspension culture (working volume 4 L). Both treatments caused an increase in the carbonyl and hydrogen peroxide (H
2
O
2
) contents, although the levels were lower in SA treated roots. Total phenolic, flavonoid, ascorbic acid, non-protein thiol (NPSH) and cysteine contents and 1,1-diphenyl-2-picrylhydrazyl (DPPH) radical reducing activity were increased by MJ and SA. Fresh weight (FW) and dry weight (DW) decreased significantly after 9 days of exposure to SA and MJ. The highest total phenolics (62%), DPPH activity (40%), flavonoids (88%), ascorbic acid (55%), NPSH (33%), and cysteine (62%) contents compared to control were obtained after 9 days in SA treated roots. The activities of glucose 6-phosphate dehydrogenase, phenylalanine ammonia lyase, substrate specific peroxidases (caffeic acid peroxidase, quercetin peroxidase and ferulic acid peroxidase) were higher in MJ treated roots than the SA treated ones. Increased shikimate dehydrogenase, chlorogenic acid peroxidase and β-glucosidase activities and proline content were observed in SA treated roots than in MJ ones. Cinnamyl alcohol dehydrogenase activity remained unaffected by both MJ and SA. These results strongly indicate that MJ and SA induce the accumulation of phenolic compounds in ginseng root by altering the phenolic synthesis enzymes.
View Full-Text
►

▼

Figures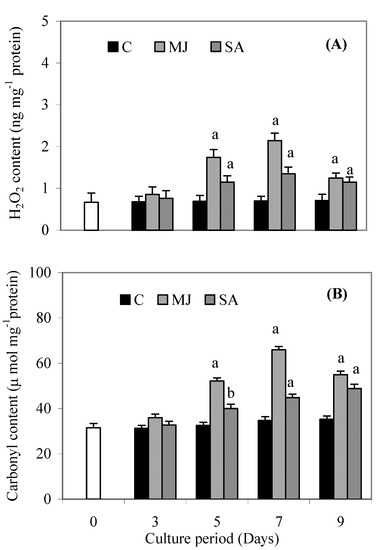 Figure 1

Share & Cite This Article
MDPI and ACS Style
Ali, M.B.; Hahn, E.-J.; Paek, K.-Y. Methyl Jasmonate and Salicylic Acid Induced Oxidative Stress and Accumulation of Phenolics in Panax ginseng Bioreactor Root Suspension Cultures. Molecules 2007, 12, 607-621.
Related Articles
Comments
[Return to top]