Open Access This article is
freely available
re-usable
Perspective
Entropy and Information within Intrinsically Disordered Protein Regions
1
Program in Molecular Medicine, The Hospital for Sick Children, Toronto, ON M5G 0A4, Canada
2
Department of Cell & Systems Biology, University of Toronto, Toronto, ON M5S 3B2, Canada
3
Department of Computer Science, University of Toronto, Toronto, ON M5T 3A1, Canada
4
Centre for the Analysis of Genome Evolution and Function, University of Toronto, Toronto, ON M5S 3B2, Canada
5
Department of Biochemistry, University of Toronto, Toronto, ON M5S 1A8, Canada
*
Authors to whom correspondence should be addressed.
Received: 31 May 2019 / Accepted: 1 July 2019 / Published: 6 July 2019
Abstract
:
Bioinformatics and biophysical studies of intrinsically disordered proteins and regions (IDRs) note the high entropy at individual sequence positions and in conformations sampled in solution. This prevents application of the canonical sequence-structure-function paradigm to IDRs and motivates the development of new methods to extract information from IDR sequences. We argue that the information in IDR sequences cannot be fully revealed through positional conservation, which largely measures stable structural contacts and interaction motifs. Instead, considerations of evolutionary conservation of molecular features can reveal the full extent of information in IDRs. Experimental quantification of the large conformational entropy of IDRs is challenging but can be approximated through the extent of conformational sampling measured by a combination of NMR spectroscopy and lower-resolution structural biology techniques, which can be further interpreted with simulations. Conformational entropy and other biophysical features can be modulated by post-translational modifications that provide functional advantages to IDRs by tuning their energy landscapes and enabling a variety of functional interactions and modes of regulation. The diverse mosaic of functional states of IDRs and their conformational features within complexes demands novel metrics of information, which will reflect the complicated sequence-conformational ensemble-function relationship of IDRs.
Keywords:
intrinsically disordered proteins; Shannon entropy; information theory; evolutionary conservation; conformational entropy; low-complexity sequences; liquid-liquid phase separation; post-translational modifications; conformational ensembles; biophysics
Author Contributions
Conceptualization, I.P., A.M.M. and J.D.F.-K.; formal analysis, I.P., R.M.V., A.M.M.; investigation, I.P., R.M.V., A.M.M.; resources, A.M.M. and J.D.F.-K.; data curation, I.P., R.M.V., A.M.M.; writing—original draft preparation, I.P. and A.M.M.; writing—review and editing, I.P., R.M.V., A.M.M., and J.D.F.-K.; visualization, I.P. and R.M.V.; supervision, A.M.M. and J.D.F.-K.; funding acquisition, A.M.M. and J.D.F.-K.
Funding
This work was supported by the Canadian Institutes of Health Research (CIHR) FDN-148375 to J.D.F.-K., PJT-148532 to A.M.M. and MOP-119579 to A.M.M. and J.D.F.-K., and by the Canada Research Chair program to J.D.F.-K.
Acknowledgments
We gratefully acknowledge helpful discussions with T. Reid Alderson and D. Allan Drummond.
Conflicts of Interest
The authors declare no conflict of interest.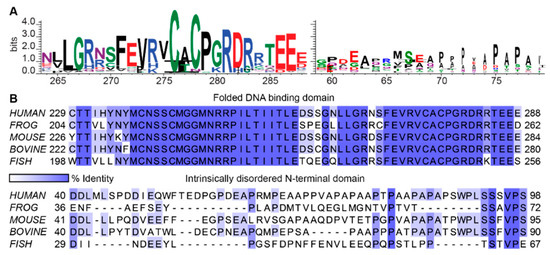 Figure 1.
Entropy in alignment reveals information at position according to the positional paradigm. (
A
)
Left
, the 'sequence logo' generated for a portion of the DNA binding domain (DBD) of the tumor protein p53 based on the multiple sequence alignment of 69 vertebrate orthologues of p53.
Right
, the 'sequence logo' of the intrinsically disordered N-terminal domain (NTD) of p53 based on the same alignment. The numbered positions on the x-axis correspond to the positions in the human sequence. Both logos were generated using WebLogo [
34
]. (
B
) Multiple sequence alignment of a portion of the folded DNA binding domain (
top
), and intrinsically disordered N-terminal domain (
bottom
) of p53. The alignment is displayed for several vertebrate orthologues. In contrast to folded domains, IDRs display low positional conservation.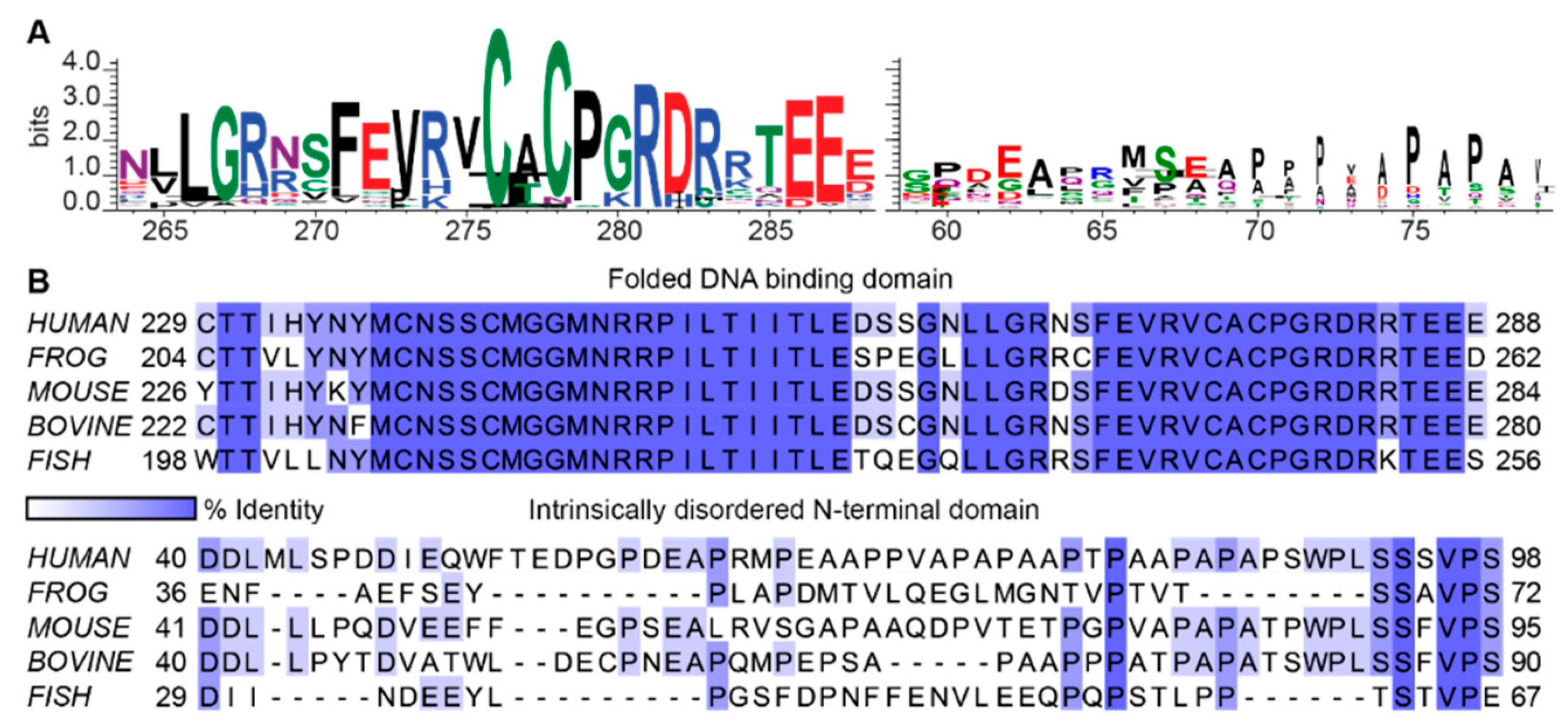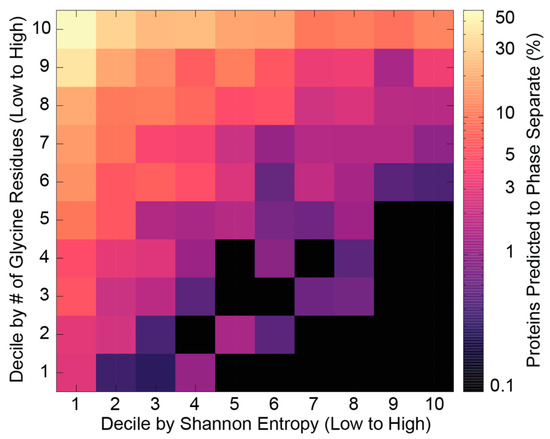 Figure 2. Sequence complexity and glycine content are predictive of phase-separation propensity, shown here for the human proteome across bins ranked by decile position values for glycine content and Shannon entropy of a full sequence. Complexity alone is not sufficient to explain phase-separation behavior; composition differences have additional information even when comparing proteins with similar complexity.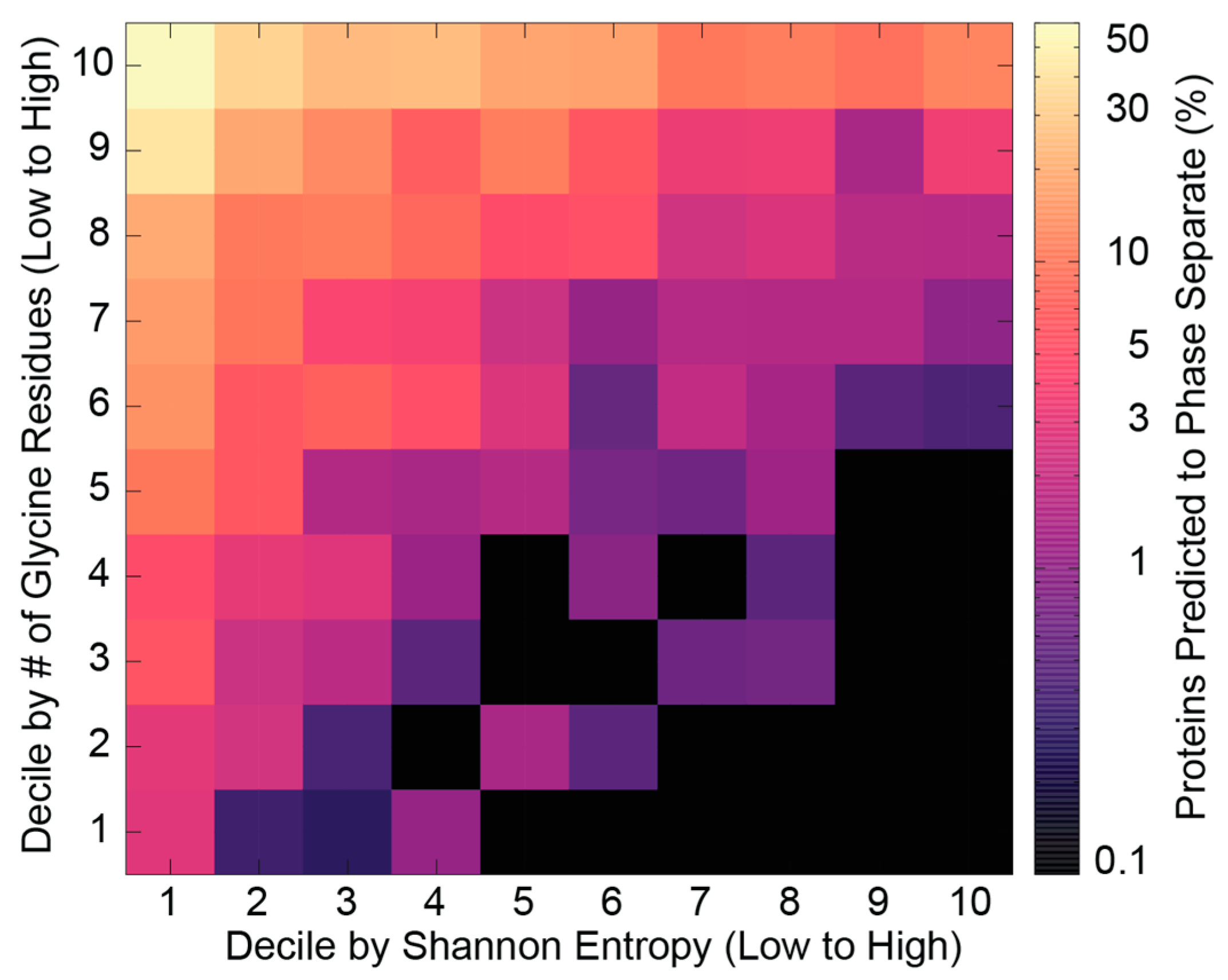 Figure 3.
(
A
) The large conformational entropy of IDRs is evident in the broad distribution of the backbone dihedral
Φ
,
Ψ
angles that can be sampled by a single residue in the polypeptide chain (purple, left panel, see references [
105
,
106
]). Given the large extent of conformational sampling by every single residue, the total extent of conformational sampling of an entire IDR chain quickly reaches astronomical dimensions as the length of the chain increases. In contrast, a residue in a folded domain in a similar chemical environment, i.e., with identical neighboring amino acids, will typically sample a well-defined set of
Φ
,
Ψ
angles (red cross) that deviates within a very narrow distribution due to thermal fluctuations. Regions of
Φ
,
Ψ
angles that are associated with secondary structural elements are indicated with text on the Ramachandran plot, with favored and allowed areas respectively denoted by the grey and black contours. (
B
,
C
) An illustration of conformational plasticity of an IDR ensemble in the free state based on the works of Schneider et al. [
107
] and Iešmantavičius et al. [
108
]. An ensemble of IDRs can feature a range of transient secondary structure (
B
). Modulation of the secondary structural propensities in one part of an IDR can have a stabilizing effect on the secondary structure formation in a distant region of the IDR through transient tertiary contacts (
C
). Transiently formed α-helical segments are indicated in cyan and purple
.
Note that IDRs need not sample any transient secondary or tertiary structure to an appreciable degree in order to be functional (see text).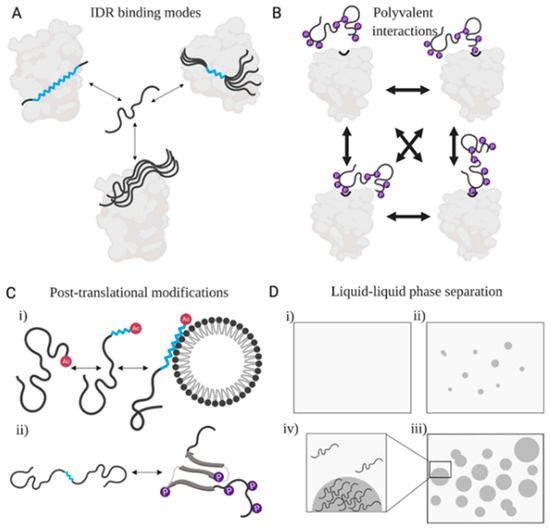 Figure 4.
An illustration of functionally relevant processes that impact the configurational and conformational entropy of IDRs. (
A
) IDRs can undergo coupled folding and binding [
137
] (top left), partial ordering of one part of the chain with high disorder retained in the rest of the chain [
131
] (top right), or remain highly disordered (bottom middle) in the complex [
138
]. The parts of the IDR that retain disorder are shown in black and α-helical regions are in cyan. (
B
) PTMs of SLiMs in an IDR can enable polyvalent interactions, whereby multiple sites on the IDR can dynamically exchange with a single binding site of the partner, as illustrated here based on the example of phosphorylated Sic1 in a dynamic complex with Cdc4 (see Mittag et al. [
139
]). The presence of multiple phosphorylated sites acts to fine-tune the binding affinity by modulating the charge of the IDR. Phosphate groups are shown as purple spheres. (
C
) (
i
) PTMs can induce transient sampling of secondary structure, which can be further reinforced upon functional interactions. The illustrated example is based on the work from Maltsev et al. [
140
] on α-synuclein. Acetylation of the N-terminus of α-synuclein leads to transient sampling of an α-helical conformation in the first 12 residues that increases the binding affinity for lipids, through enhancing the association rate. The helical conformation is further propagated in the complex of α-synuclein with lipids. (
ii
) PTMs can induce more significant structural transitions, as demonstrated for 4E-BP2 by Bah et al. [
133
]. Phosphorylation at particular sites leads to formation of a β-sheet, with the extent of phosphorylation impacting the stability of the formed structure. The formation of the β-strands encompasses a sequence motif that, prior to phosphorylation, transiently samples an α-helical conformation and engages in interactions with the binding partner eIF4E. The formation of the β-strand occludes the interaction site on 4E-BP2 thereby weakening the affinity for the binding partner and regulating the interaction to allow downstream functional consequences (i.e., translational initiation by eIF4E). (
D
) Liquid-liquid phase separation manifests as the separation, and the subsequent stable coexistence, of protein-dense (dark grey circles) and protein-dilute (light grey) phases (
ii
,
iii
) from an initially miscible protein solution (
i
). In vitro studies of phase-separation provide the basis for understanding the driving forces of the formation of membraneless organelles in cells [
64
]. The condensation into the dense phase leads to a decrease in the roto-translational freedom of an IDR (i.e., lower configurational entropy); however, IDRs can still retain high conformational entropy in the condensed state (
iv
) [
68
,
69
,
70
,
75
]. PTMs can either increase or decrease the propensity of an IDR to phase separate, depending on the overall physicochemical properties of the IDR and the nature of the PTM (see text). The illustration was created with BioRender.com.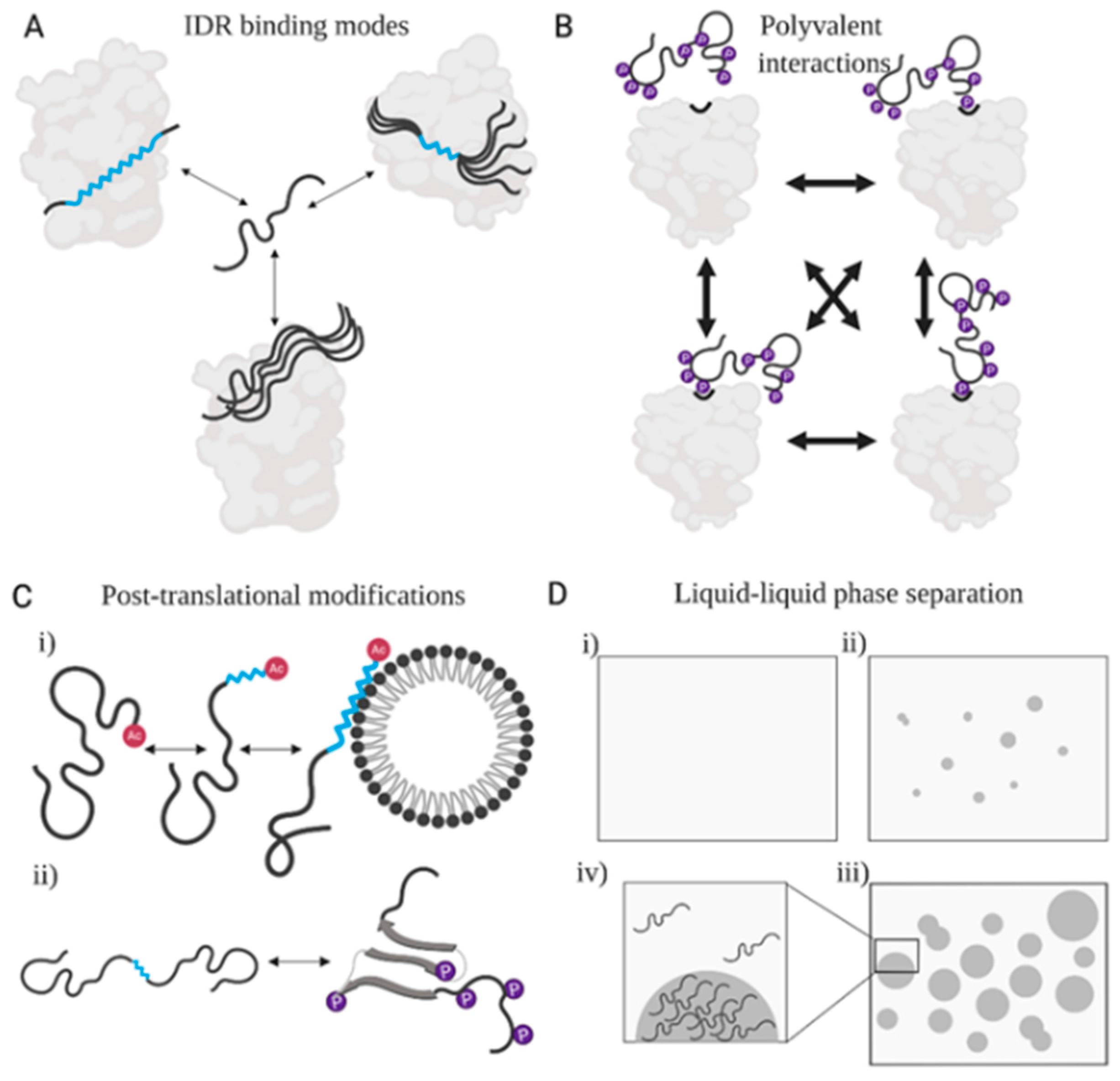 © 2019 by the authors. Licensee MDPI, Basel, Switzerland. This article is an open access article distributed under the terms and conditions of the Creative Commons Attribution (CC BY) license (http://creativecommons.org/licenses/by/4.0/).