Quantitative EEG Markers of Entropy and Auto Mutual Information in Relation to MMSE Scores of Probable Alzheimer's Disease Patients
1
AIT Austrian Institute of Technology GmbH, 1220 Vienna, Austria
2
Institute of Statistics and Mathematical Methods in Economics, Vienna University of Technology, 1040 Vienna, Austria
3
Clinic of Neurology, Medical University of Innsbruck, 6020 Innsbruck, Austria
4
Department of Clinical Neurology, Medical University of Vienna, 1090 Vienna, Austria
5
Department of Neurology 2, MedCampus III of the Kepler University Hospital, 4021 Linz, Austria
6
Department of Neurology, Clinical Division of Neurogeriatrics , Medical University of Graz, 8036 Graz, Austria
7
Dr. Grossegger & Drbal GmbH, Ruthgasse 19, 1190 Vienna, Austria
*
Author to whom correspondence should be addressed.
Academic Editor: Osvaldo Anibal Rosso
Received: 17 December 2016 / Revised: 28 February 2017 / Accepted: 3 March 2017 / Published: 17 March 2017
Abstract
Analysis of nonlinear quantitative EEG (qEEG) markers describing complexity of signal in relation to severity of Alzheimer's disease (AD) was the focal point of this study. In this study, 79 patients diagnosed with probable AD were recruited from the multi-centric Prospective Dementia Database Austria (PRODEM). EEG recordings were done with the subjects seated in an upright position in a resting state with their eyes closed. Models of linear regressions explaining disease severity, expressed in Mini Mental State Examination (MMSE) scores, were analyzed by the nonlinear qEEG markers of auto mutual information (AMI), Shannon entropy (ShE), Tsallis entropy (TsE), multiscale entropy (MsE), or spectral entropy (SpE), with age, duration of illness, and years of education as co-predictors. Linear regression models with AMI were significant for all electrode sites and clusters, where
is 0.46 at the electrode site C3, 0.43 at Cz, F3, and central region, and 0.42 at the left region. MsE also had significant models at C3 with
at scales
and
. ShE and TsE also have significant models at T7 and F7 with
. Reductions in complexity, calculated by AMI, SpE, and MsE, were observed as the MMSE score decreased.
View Full-Text
►

▼

Figures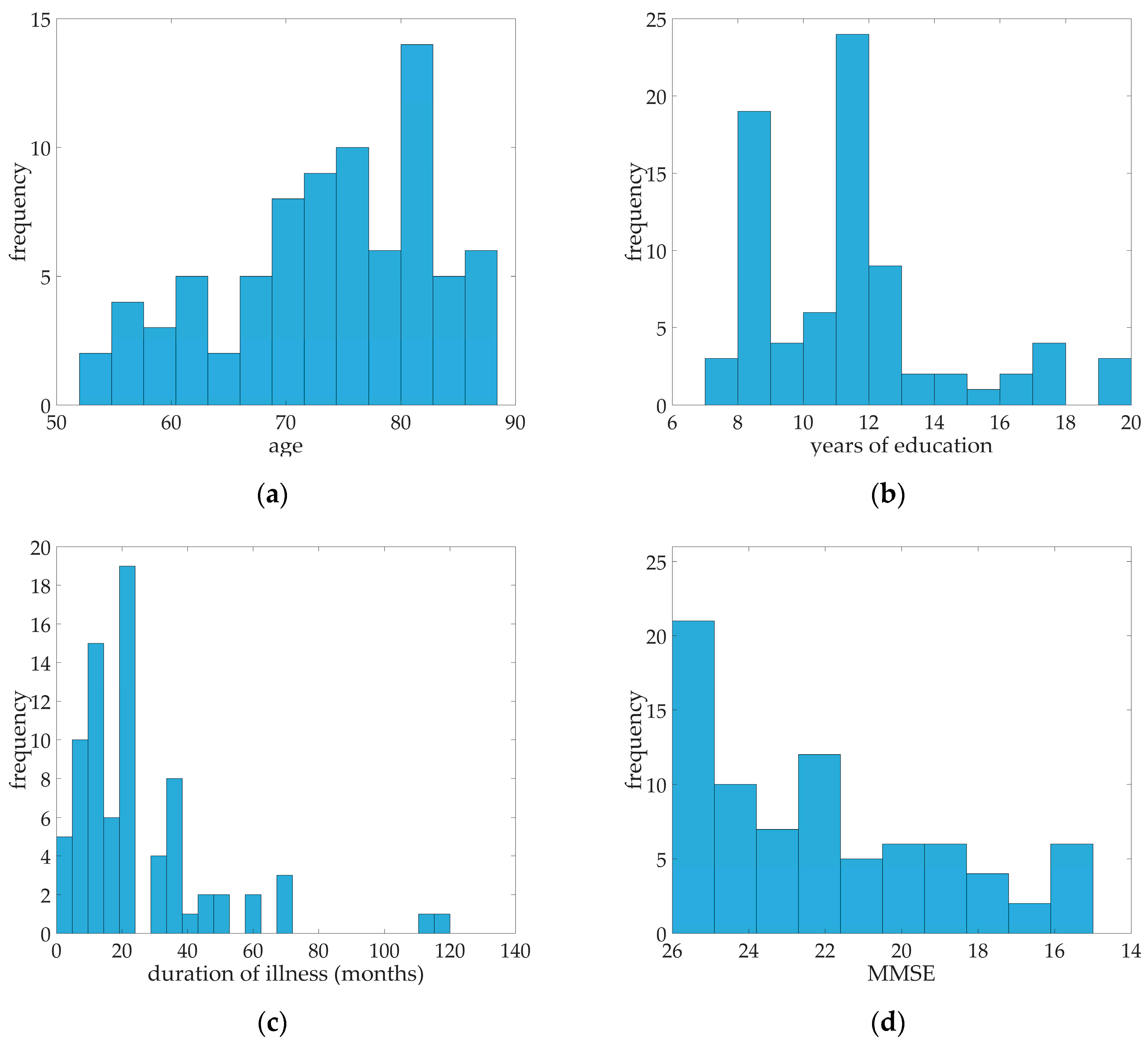 Figure 1
This is an open access article distributed under the
Creative Commons Attribution License
which permits unrestricted use, distribution, and reproduction in any medium, provided the original work is properly cited (CC BY 4.0).

Share & Cite This Article
MDPI and ACS Style
Coronel, C.; Garn, H.; Waser, M.; Deistler, M.; Benke, T.; Dal-Bianco, P.; Ransmayr, G.; Seiler, S.; Grossegger, D.; Schmidt, R. Quantitative EEG Markers of Entropy and Auto Mutual Information in Relation to MMSE Scores of Probable Alzheimer's Disease Patients. Entropy 2017, 19, 130.
Note that from the first issue of 2016, MDPI journals use article numbers instead of page numbers. See further details here.
Related Articles
Comments
[Return to top]