Tuning the Electrical Properties of Electrospun Nanofibers with Hybrid Nanomaterials for Detecting Isoborneol in Water Using an Electronic Tongue
1
Nanotechnology National Laboratory for Agriculture, Embrapa Instrumentação, São Carlos, SP 13560-970, Brazil
2
PPGQ, Department of Chemistry, Center for Exact Sciences and Technology, Federal University of São Carlos (UFSCar), São Carlos, SP 13565-905, Brazil
3
Polytechnic School, University of São Paulo, São Paulo 05508-010, Brazil
*
Authors to whom correspondence should be addressed.
Received: 20 May 2019 / Revised: 3 June 2019 / Accepted: 5 June 2019 / Published: 11 June 2019
Abstract
The presence of contaminants in water is a subject of paramount importance nowadays, which can make water improper to human consumption even when these contaminants are present at very low concentrations, causing health issues and economic losses. In this work, we evaluated the performance of nanocomposites based on nylon 6,6/chitosan electrospun nanofibers modified by cellulose nanowhiskers combined with functional materials like silver nanoparticles, gold nanoparticles, and reduced graphene oxide to be used as sensing layers of an electronic tongue (e-tongue) to detect Isoborneol. This compound, found in some plants and essential oils, is used as a natural repellent and also to produce many other chemicals. Additionally, its chemical structure is related to that of 2-methylisoborneol, a critical pollutant in aqueous media. The synergism between the nanomaterials combined with electrospun nanofibers could be verified by the enhancement of the charge transference ability. Additionally, electrical capacitance data measured with the impedimetric e-tongue were treated by Principal Component Analysis (PCA), and revealed the sensing system was able to discriminate samples contaminated with Isoborneol at nanomolar concentrations. Moreover, the electronic tongue system could detect Isoborneol in real water samples under different concentrations.
View Full-Text
►

▼

Figures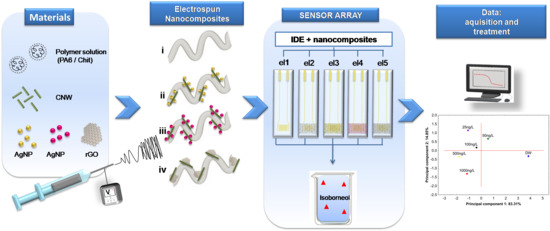 Graphical abstract
This is an open access article distributed under the
Creative Commons Attribution License
which permits unrestricted use, distribution, and reproduction in any medium, provided the original work is properly cited (CC BY 4.0).

Share & Cite This Article
MDPI and ACS Style
Migliorini, F.L.; Teodoro, K.B.R.; Scagion, V.P.; dos Santos, D.M.; Fonseca, F.J.; Mattoso, L.H.C.; Correa, D.S. Tuning the Electrical Properties of Electrospun Nanofibers with Hybrid Nanomaterials for Detecting Isoborneol in Water Using an Electronic Tongue. Surfaces 2019, 2, 432-443.
Comments
[Return to top]