Local Surface Electric Field's Effect on Adsorbed Proteins' Orientation
1
Laboratoire de Physique des Couches Minces et Matériaux pour l'Electronique, Université Oran 1 Ahmed Ben Bella, BP 1524, El M'naouar, 31100 Oran, Algeria
2
Laboratoire de Physique de la Matière Condensée, Faculté des Sciences, Université de Picardie Jules Verne, 33 rue Saint-Leu, 80039 Amiens, France
3
Faculty of Exact Sciences and Informatics, University Hassiba Ben Bouali of Chlef, National Road N° 19, Ouled Fares, 02000 Chlef, Algeria
*
Author to whom correspondence should be addressed.
Received: 6 April 2019 / Revised: 30 April 2019 / Accepted: 10 May 2019 / Published: 20 May 2019
Abstract
Hydrogenated nanocrystalline silicon, while being non-charged and non-polar, could be an ideal candidate for the non-covalent and orientation-controlled immobilization of biomolecules thanks to local electric fields around nanocrystals. To that effect, the adsorption of bovine serum albumin on substrates with different densities of nanocrystals, revealed by Raman spectroscopy and X-ray diffraction, was studied using infrared spectroscopy and atomic force microscopy. It was found that the protein–surface interactions followed different mechanisms depending on the nanostructure at the surface: hydrophobic on the non-crystalline part of the surface and electrostatic around the crystalline part. These electrostatic interactions were driven by the electric fields that arose at the junction between crystalline and amorphous structures. These electric fields were found to be strong enough to interact with the amide dipoles, thereby reorienting the adsorbed protein molecules on this part of the surface. Nevertheless, the adsorbed proteins were found to be denatured, which was due to the surface chemistry, and not affected by the nanostructure.
View Full-Text
►

▼

Figures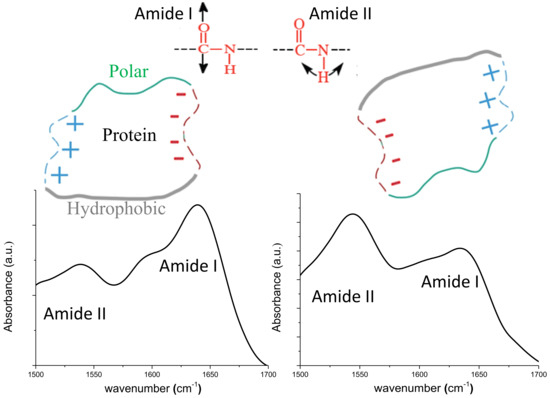 Graphical abstract
This is an open access article distributed under the
Creative Commons Attribution License
which permits unrestricted use, distribution, and reproduction in any medium, provided the original work is properly cited (CC BY 4.0).

Share & Cite This Article
MDPI and ACS Style
Filali, L.; Brahmi, Y.; Sib, J.D.; Bouizem, Y.; Benlakehal, D.; Zellama, K.; Lemée, N.; Bouhekka, A.; Kail, F.; Kebab, A.; Chahed, L. Local Surface Electric Field's Effect on Adsorbed Proteins' Orientation. Surfaces 2019, 2, 415-431.
Comments
[Return to top]