Open Access This article is
freely available
re-usable
Article
On the Removal and Desorption of Sulfur Compounds from Model Fuels with Modified Clays
Science Department, Borough of Manhattan Community College, The City University of New York, New York, NY 10007, USA
*
Author to whom correspondence should be addressed.
Received: 25 May 2018 / Accepted: 27 June 2018 / Published: 10 July 2018
Abstract
:
The presence of sulfur compounds in fossil fuels has been an important concern in recent decades as an environmental risk due to the increase of greenhouse gases in the atmosphere and accentuation of acid rain. This study evaluates modified clays as low-cost and efficient adsorbents for the removal of dibenzothiophene (BT) and 4,6-dibenzothiophene (DBT). Adsorption was investigated in a batch system with synthetic fuels (gasoline and diesel) as a function of type of clay modification, adsorbent dosage, initial concentration of the pollutants, desorption, and isotherm modeling. Maximum adsorption was observed with clays modified with benzyltrimethylammonium ion (BM), achieving a maximum adsorption capacity (qmax) of BT of 11.3 mg/g in gasoline and 31.3 mg/g in diesel. The formation of Van der Waals interaction as well as aromatic forces as the main mechanism is proposed based on the results. A 40% desorption was accomplished in 0.1 N HCl. Adsorbents were characterized by scanning electron microscopy (SEM) and Fourier transform-infrared spectroscopy (FT-IR), indicating their optimum properties as adsorbents in fuels. This work highlights the potential use of reverse polarity clays in the elimination of sulfur compounds from model fuels as a low-cost and environmentally friendly purification technique.
Keywords:
benzothiophenes; adsorption; modified clays; quaternary ammonium salt; isotherm
1. Introduction
The objective of this research is to investigate the most important equilibrium parameters on the adsorption of 2,4-dimethyldibenzothiophene (DBT) and BT as model sulfur compounds present in transportation fuels. Batch adsorption experiments in room conditions were carried out in synthetic gasoline and diesel fuels to compare the strength of modified clays in different types of fuels. It is expected that these important results will promote more studies on the viability of these "clean" adsorbents for the removal of pollutants from apolar solutions such as gasoline and diesel.
2. Experiments
2.1. Conditioning of the Adsorbents
Bentonite is a type of clay from the montmorillonite group and smectite mineral family. Bentonite was purchased as a raw mineral (Sigma-Aldrich, Allentown, PA, USA) and then modified with three different ammonium salts: benzyltrimethylammonium chloride (BM), tetramethylammonium chloride (TM), and with hexadecyltrimethylammonium chloride (HM). These quaternary ammonium ions have demonstrated high affinity towards organic compounds [
8
,
9
] to enhance their adsorption capacity. The exchange procedure was as follows: 20 g of clay was suspended in 2 L of distilled water and combined with two equivalents of its cation exchange capacity (CEC) of the ammonium salts (99% Sigma Aldrich, USA). The final suspension was stirred at 250 rpm during 24 h at room temperature. The modified clays were decanted, vacuum filtered and vigorously rinsed with distilled water to eliminate the excess of ammonium salts , dried at 60 °C in an oven for 48h and stored until their use. The clays were identified according to the ammonium salt used in their modification. The CEC of the clay (0.06 mmol/g) was determined using the methylene blue standard method (ASTM C-837-81) and corroborated with the manufacturer. Prior results also demonstrate that the bentonite used in this experiment is mainly composed of montmorillonite with impurities of cristobalite, quartz and muscovite [
10
].
2.2. Synthetic Fuels and Solutions
Synthetic gasoline and diesel were prepared based on their major components, according to the literature [
5
,
6
,
7
]. Hexadecane was chosen as synthetic gasoline and a 1:1 volume mixture of decane and hexadecane was used for diesel. All the solvents were of a purity of 99% or higher (Acros Organic, Pittsburgh, PA, USA). DBT- and BT-containing solutions were freshly made prior to every single experiment, to avoid changes in concentrations due to spontaneous evaporation of the fuels. DBT and BT were purchased from Aldrich, USA (Reagent grade) and used without further purification.
2.3. Adsorption Experiments
Batch experiments were carried out in triplicate at room temperature combining variable masses of the clays with 20 mL of a solution of the fuels under orbital agitation at 200 rpm for 24 h in amber vials with septum caps. The adsorption time was determined by preliminary experiments. Thereafter, the suspensions were centrifuged and the remaining concentrations of DBT and BT were determined through ultraviolet (UV) spectrophotometry using a microplate reader (Biotek, Synergy4, Winooski, VT, USA) at a wavelength of 330 nm [
5
]. The BT and DBT solutions showed no degradation for at least 2 days, according to preliminary results. UV-transparent microplates were utilized for the measurements. This quantitative analysis was performed right after the end of the experiment to avoid changes in the concentration of the pollutants due to evaporation. No spectrometric interference was noticed from other substances, improving the resolution of the spectra.
2.3.1. Best Modified Clay
Three different modified clays were prepared as mentioned in
Section 2.1
. However, the best clay was chosen based on an experiment in which all the clays, including the non-modified clay (NC), were exposed to DBT and BT. The purpose of this experiment was to discover any chemical or physical differences in clay samples. This assay was conducted with an initial concentration of 25 ppm of the sulfur compound and a mass of 25 mg of adsorbent.
2.3.2. Adsorption Isotherms and Effect of Adsorbent Dosage
Solutions of DBT and BT were prepared at different concentrations ranging from 20 to 300 ppm. Then, a variable mass, between 25 and 200 mg of the best clay was added. Experimental data was fitted to adsorption isotherms theories and their equation to obtain a mathematical equilibrium parameters and constants.
2.4. Desorption Experiments
Batch experiment with the optimized parameters of best clay, adsorbent dose and concentration of pollutant was carried out with both fuels. The adsorbents were centrifuged, carefully rinsed with the same fuel to eliminate any residual DBT or BT from the adsorbents, and air-dried till dryness. Then, 25 mg of the dry pollutant-loaded adsorbents were put in contact with co-solvents during 2 h to identify the best eluting solution. The co-solvents included solutions of methanol, acetone, toluene, NaOH (0.1 N), and HCl (0.1 N). Finally, the samples were centrifuged and the supernatant was taken for quantification of residual amounts of DBT and BT by UV spectrophotometry. Although the spectra showed no interference from the presence of clays and fuels, nevertheless for the desorption experiment, some adjustments were needed where some of the co-solvents showed UV-light absorbance at the worked wavelength such as acetone.
2.5. Data Analysis
The amount of the DBT and BT adsorbed on the clays were expressed as Adsorption Capacity (
q
, mg/g) and calculated as shown in Equation (1):
where
m
is the mass of the adsorbent expressed in g,
V
is the volume of the solution in L and
Ci
and
Ceq
are the initial and at the equilibrium concentrations of DBT and BT expressed in mg/L, respectively.
A different, commonly used, quantitative indication of the adsorption is expressed as percentage. In this research, (%
DES
) was used to quantify the amount of pollutant that was recovered during the desorption experiment, and was determined according to Equation (2):
where
Cd
represents the concentration of DBT or BT present in the eluting solution and
Cl
is the concentration of the pollutant that was loaded in the adsorbent after the adsorption experiment.
2.6. Physical and Chemical Characterization of the Adsorbents
Instrumental analyses included scanning electron microscopy (SEM), using a TableTop Microscope (TM3000, Hitachi, Tarrytown, NY, USA). Samples were directly observed in the microscopy without any conductive gold film. Clay samples were also characterized by Fourier transform-infrared spectroscopy (FT-IR) by attenuated total reflectance (ATR). This technique determines the chemical functional groups and vibrational response of polar bonds that are present on the surface of the adsorbents. A FT-IR Spectrum 100 (Perkin Elmer, Shelton, CT, USA) was attached to a crystal diamond ATR device. Scans were collected from 400 to 4000 cm−1 wavenumbers.
5. Conclusions
This work demonstrates that exchanged bentonite clay can potentially be utilized as an adsorbent of dimethyldibenzothiophene (DBT) and dimethyldibenzothiophene (BT) from synthetic fuels at room temperature. Batch experiments exhibit a strong adsorption of ammonium salt as chemical exchanger, reporting a maximum adsorption capacity of around 11.3 mg/g and 31.3 mg/g of BT in gasoline and diesel, respectively. A smaller adsorption was observed for DBT, with qmax values of 4.7 mg/g and 9.4 mg/g for DBT in gasoline and diesel, respectively. The effect of the adsorbent dosage was studied as well, showing a decreasing adsorption at increasing masses of adsorbent (due to the formation of adsorbent aggregates). Moreover, the mathematical models of Freundlich, Dubinin–Radushkevich, Temkin and Langmuir demonstrate a mixed mechanism. The calculated parameters from the isotherms demonstrate a high affinity between adsorbate and adsorbent when compared to those reported in literature and the equilibrium experiments suggest that aromatic interactions might be responsible for the adsorption. Finally, the use of 0.1 N HCl as an eluting solvent, removed about 40% of BT and 25% of DBT from diesel and gasoline, respectively. This advantage will allow the re-use of adsorbents in consecutive cycles. Overall, this project constitutes a major contribution towards the development of cost-efficient adsorbents for the removal of pollutants in general.
Author Contributions
Jeong W. Ha prepared the modified clays and conducted the first adsorption experiments. Tenzing Japhe and Bertin Moreno conducted the adsorption and desorption experiments, Tesfamichael Demeke conducted the adsorbent characterization and contributed to the writing of the manuscript. Abel E. Navarro supervised the work, structured the research and wrote the manuscript.
Funding
This research was funded by a PSC-CUNY grant to AEN. The authors would also like thank the financial support from the Science Department, CSTEP and CRSP programs at BMCC and CUNY.
Acknowledgments
A special acknowledgement to Jeong H. Ha for the preliminary studies in adsorbent preparation and adsorption experiments. Alvaro Sponza is thanked for the FT–IR analysis and Chiu Hong Lee for her technical support.
Conflicts of Interest
The authors declare no conflict of interest.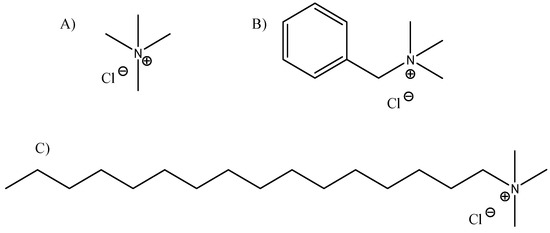 Figure 1. Chemical structure of the quaternary ammonium ions: (A) tetramethylammonium chloride (TM); (B) benzyltrimethylammonium chloride (BM); and (C) hexadecyltrimethylammonium chloride (HM).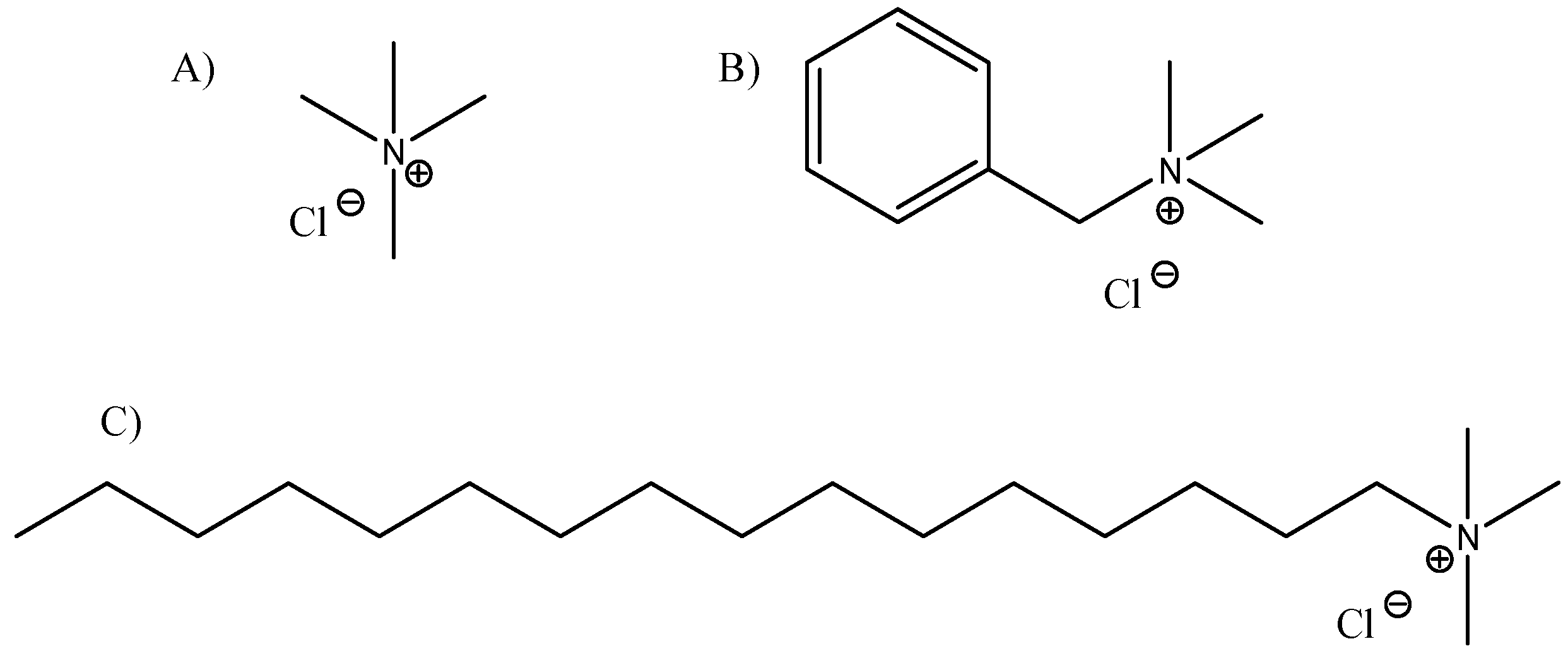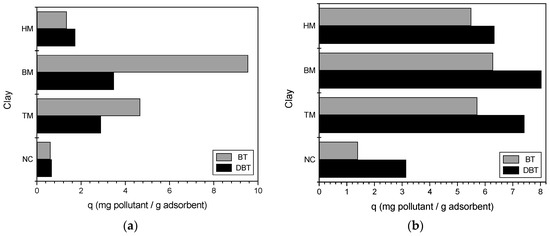 Figure 2. Determination of the best adsorbent for 4,6-dibenzothiophene (DBT) and dibenzothiophene (BT) in (a) gasoline; and (b) diesel.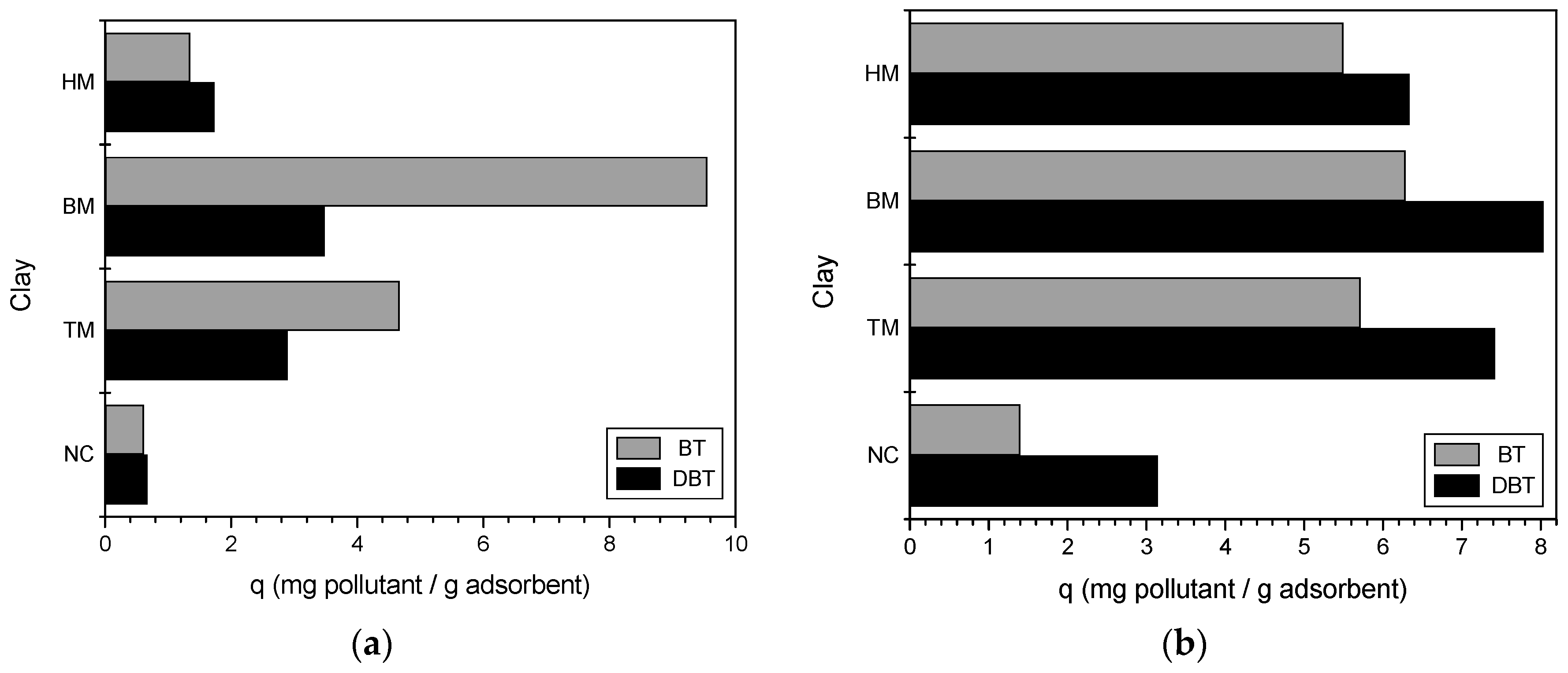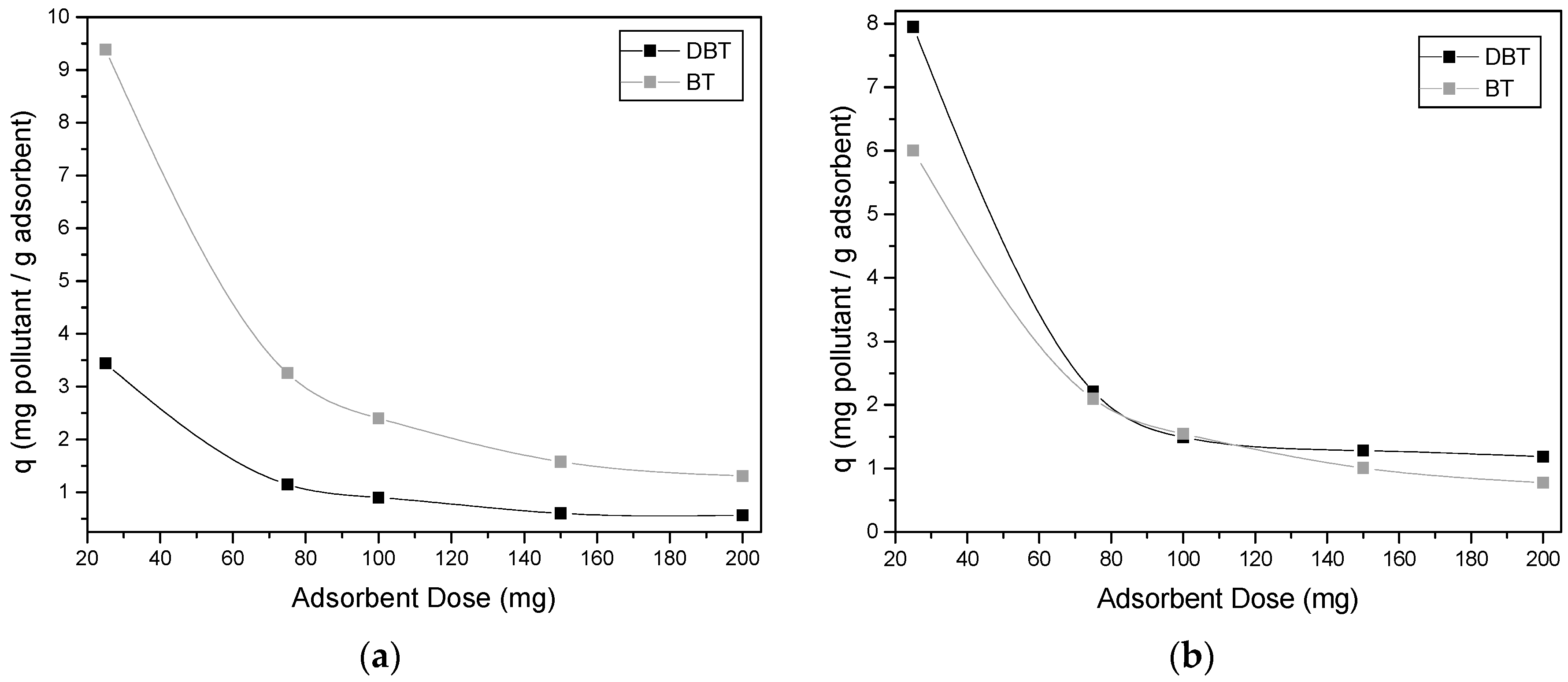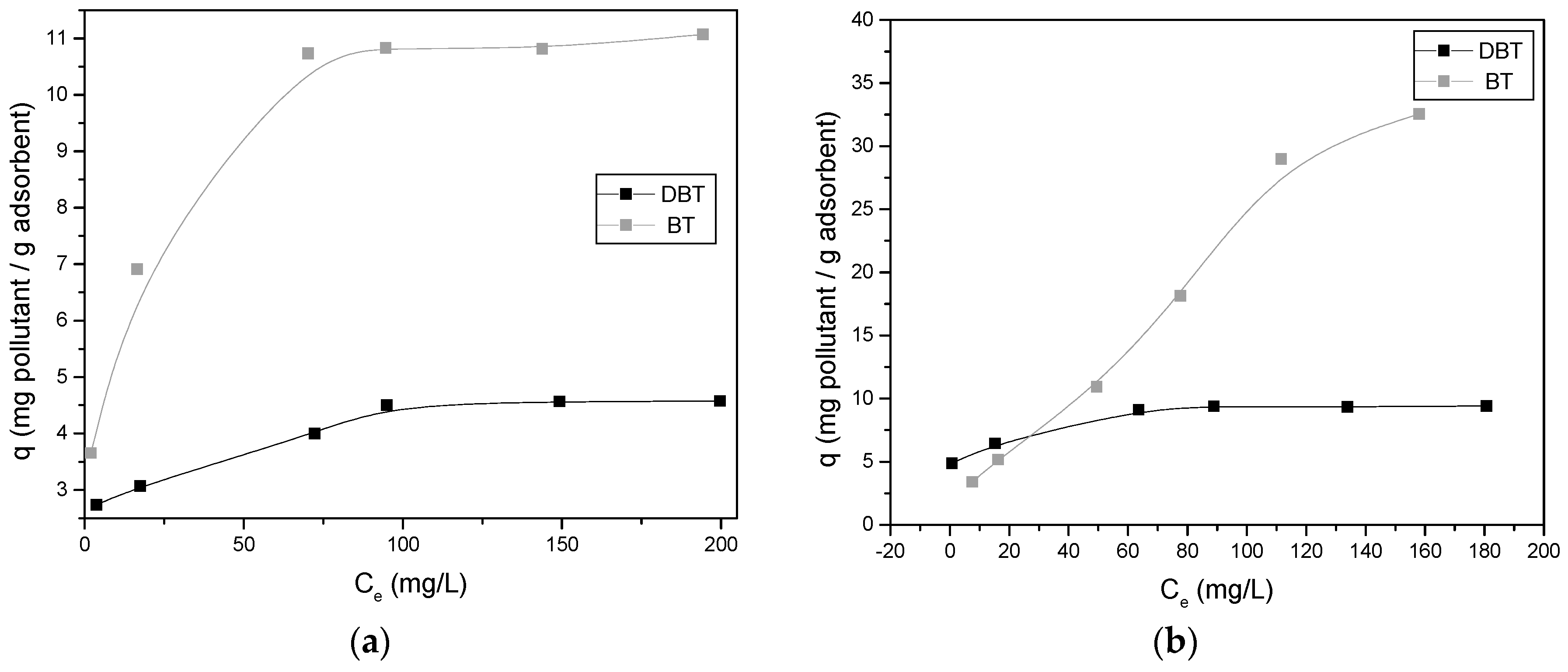 Figure 5. Desorption properties of cosolvents for DBT and BT in adsorbent pollutant-loaded in (a) gasoline; and (b) diesel.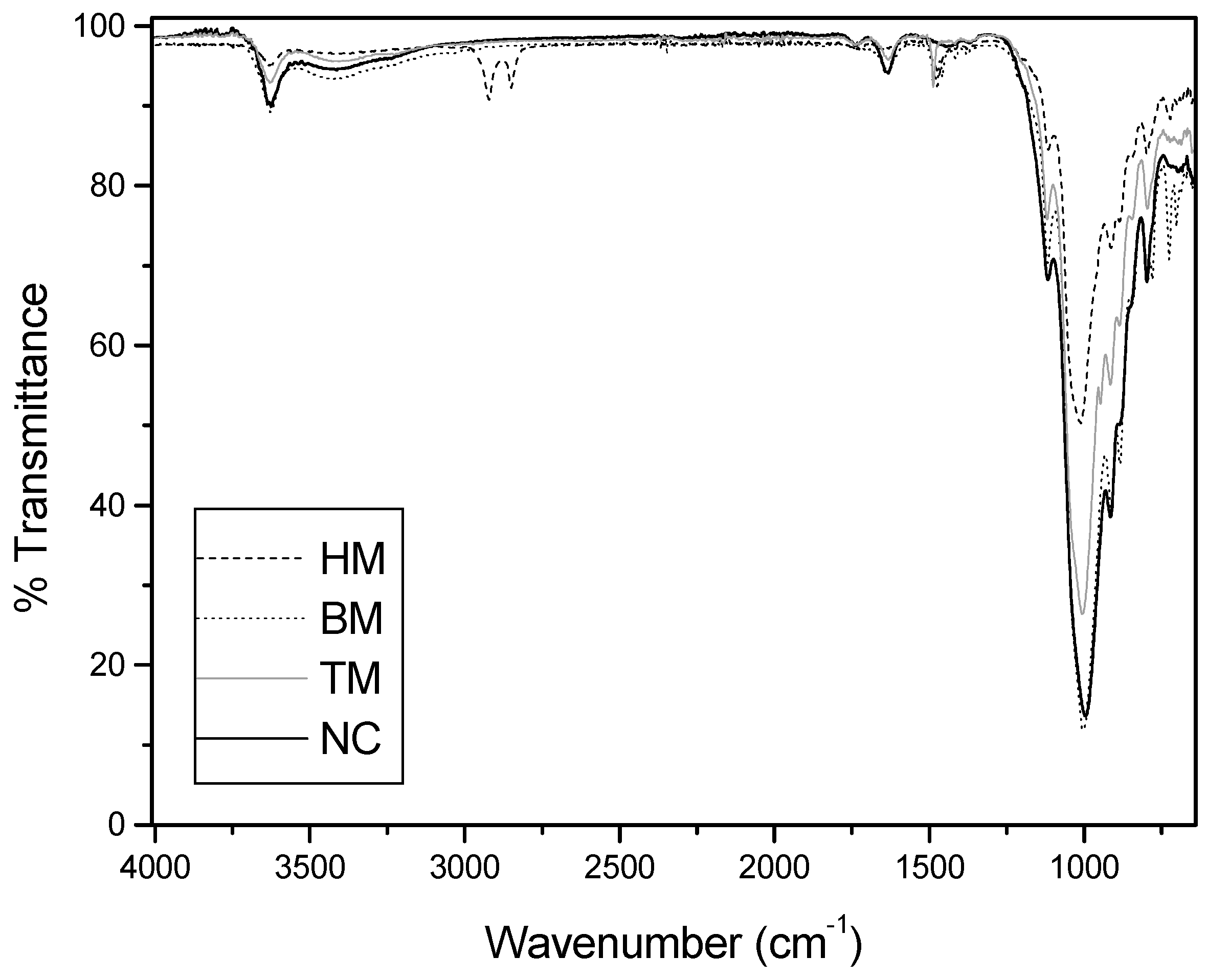 Figure 7. Scanning electron microscopy (SEM) analysis of the clay adsorbents: (a) Non-modified clay (NC); (b) BM; (c) HM; and (d) TM.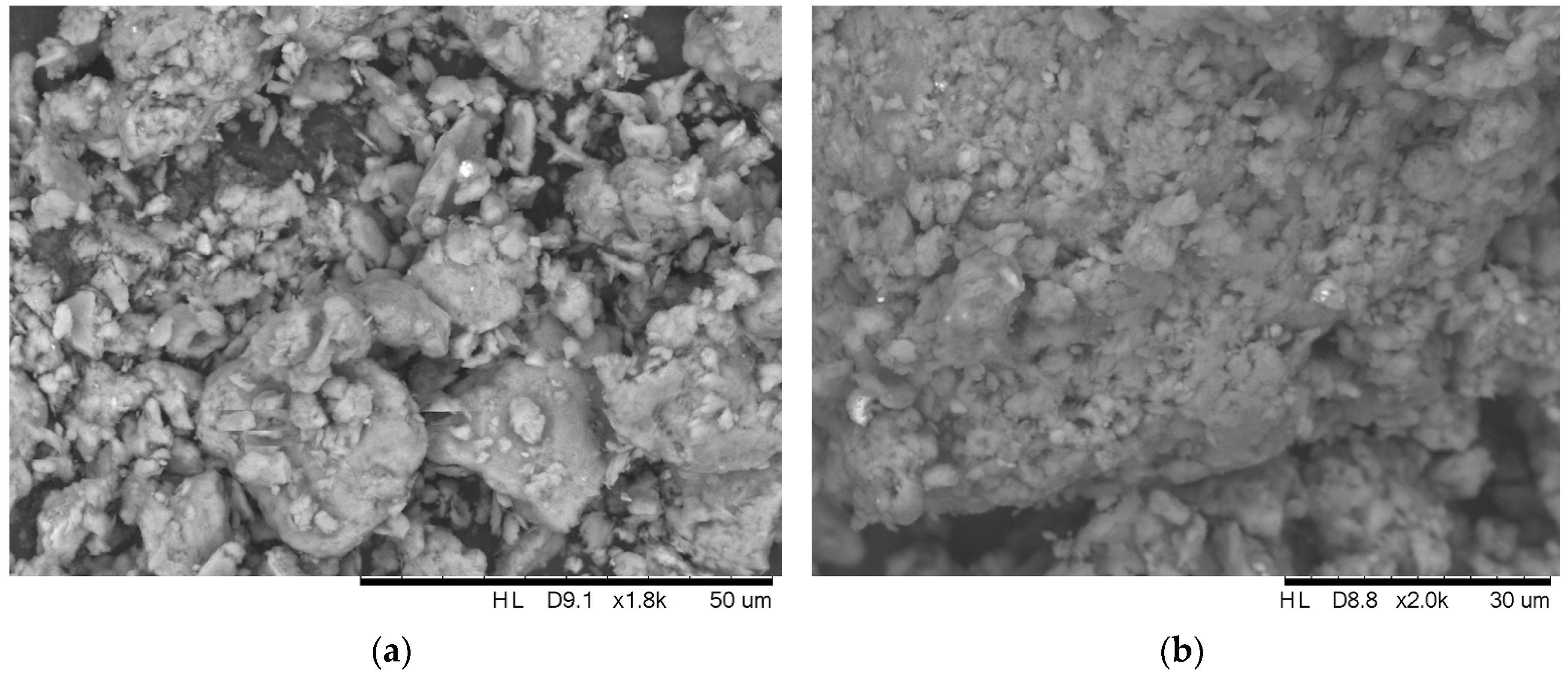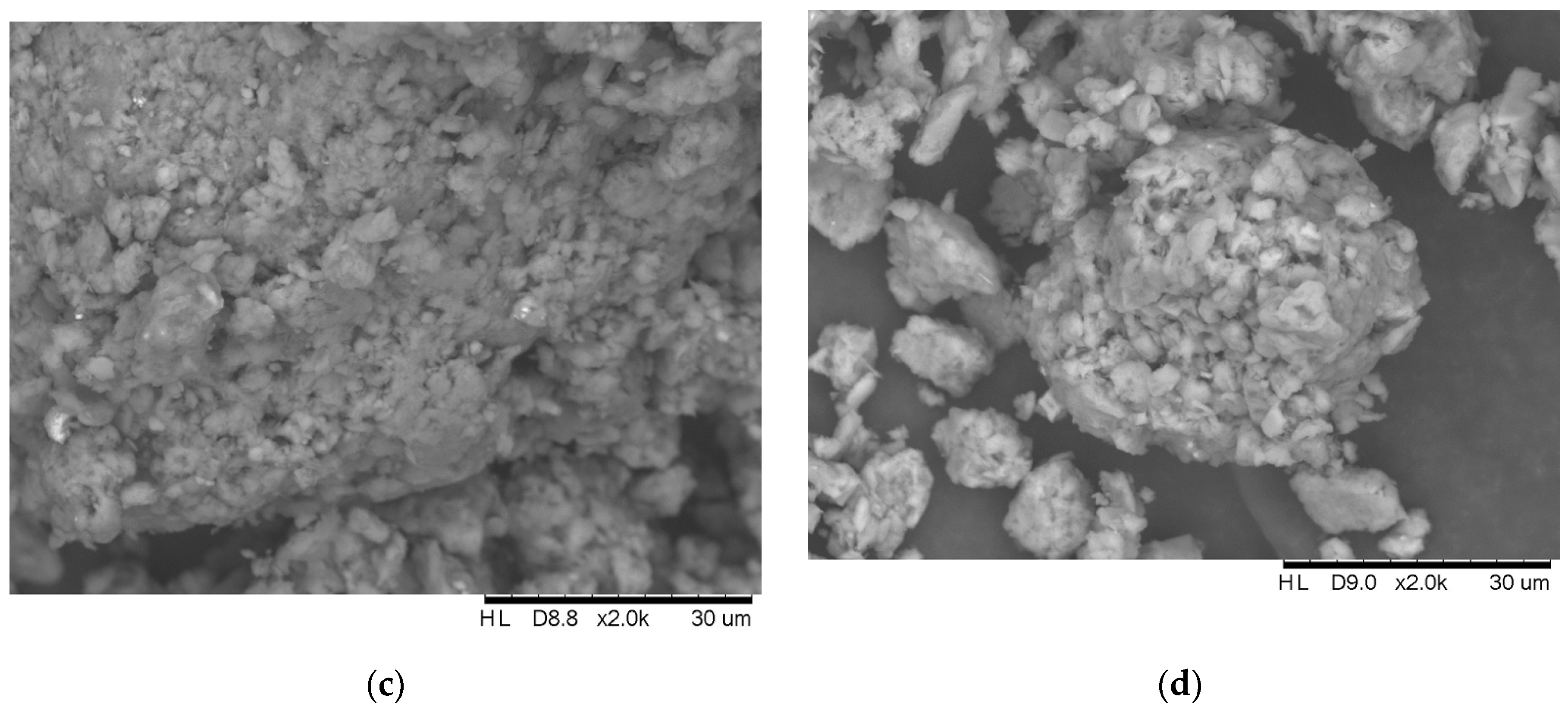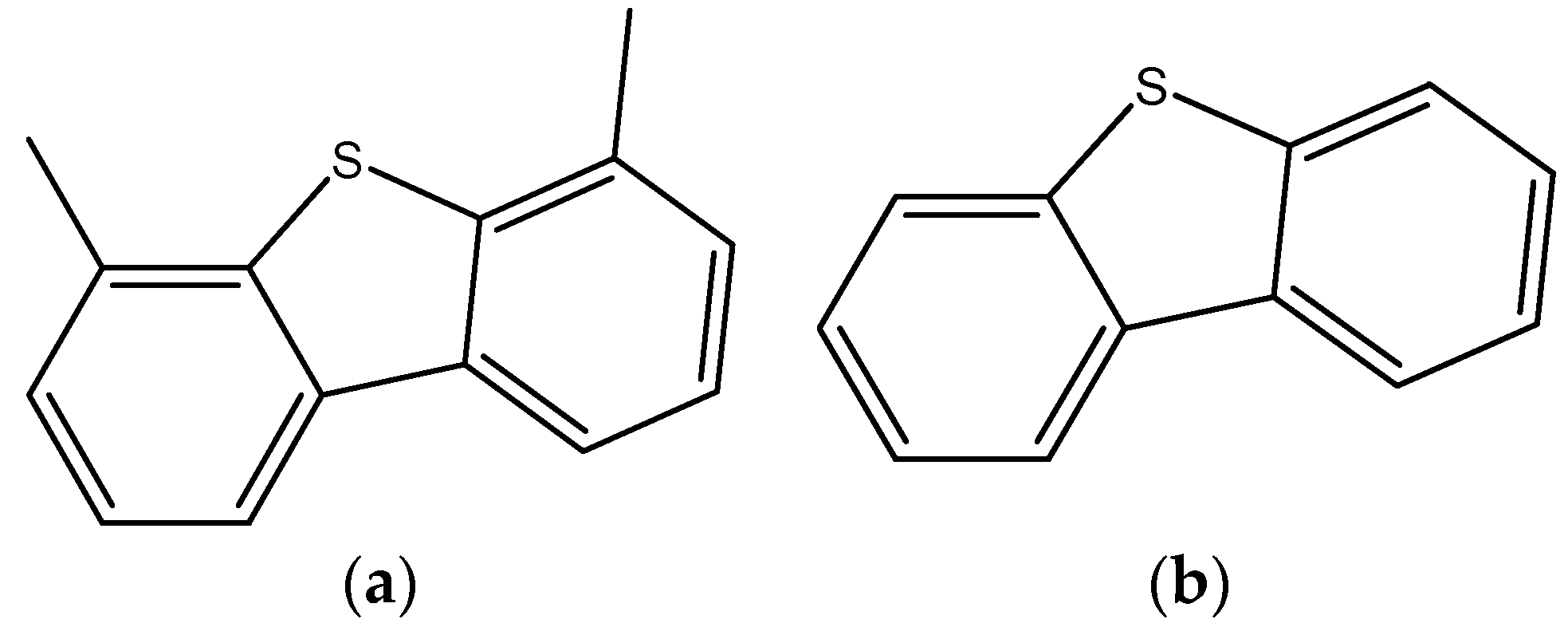 Table 1. Parameters and constants for the adsorption isotherms of DBT and BT in gasoline and diesel.
Isotherm Model and Parameters
Gasoline
Diesel
DBT
BT
DBT
BT
Langmuir Model
qmax (mg/g)
4.74
11.311
9.404
31.32

b

(L/mg)
0.103
0.245
1.407
0.015

R

2
0.979
0.999
0.998
0.964
Freundlich Model
kF (L/g)
2.222
3.242
4.928
0.631

n

7.465
4.041
7.562
1.286

R

2
0.966
0.979
0.954
0.982
D-R Model
qmax (mg/g)
4.582
10.867
9.317
34.834

K

2.18 × 10−5
1.07 × 10−6
1.56 × 10−7
5.08 × 10−4

E

(J/mole)
151.41
684.02
1789.68
31.362

R

2
0.999
0.999
0.998
0.955
Temkin Model
at
44.9
4.237
220.145
0.072
bt
4857.62
1433.57
2715.39
195.736

R

2
0.955
0.985
0.936
0.891

© 2018 by the authors. Licensee MDPI, Basel, Switzerland. This article is an open access article distributed under the terms and conditions of the Creative Commons Attribution (CC BY) license (http://creativecommons.org/licenses/by/4.0/).