The History of the Decline and Fall of the Glial Numbers Legend
1
Faculty of Biology, Medicine and Health, University of Manchester, Manchester M13 9PT, UK
2
Center for Basic and Translational Neuroscience, Faculty of Health and Medical Sciences, University of Copenhagen, 2200 Copenhagen, Denmark
3
Institute of Biomedical and Biomolecular Sciences, School of Pharmacy and Biomedical Science, University of Portsmouth, Portsmouth PO1 2UP, UK
*
Authors to whom correspondence should be addressed.
Received: 2 July 2018 / Accepted: 4 July 2018 / Published: 17 July 2018
Abstract
In the field of neuroscience and, more specifically glial cell biology, one of the most fundamentally intriguing and enduring questions has been "how many neuronal cells—neurones and glia—are there in the human brain?". From the outset, the driving force behind this question was undoubtedly the scientific quest for knowledge of why humans are more intelligent than even our nearest relatives; the 'neuronal doctrine' dictated we must have more neurones than other animals. The early histological studies indicated a vast space between neurones that was filled by '
nervenkitt
', later identified as neuroglia; arguably, this was the origin of the myth that glia massively outnumber neurones in the human brain. The myth eventually became embedded in ideology when later studies seemed to confirm that glia outnumber neurones in the human cortex—the seat of humanity—and that there was an inevitable rise in the glia-to-neurone ratio (GNR) as we climbed the evolutionary tree. This could be described as the 'glial doctrine'—that the rise of intelligence and the rise of glia go hand-in-hand. In many ways, the GNR became a mantra for working on glial cells at a time when the neuronal doctrine ruled the world. However, the work of Suzana Herculano-Houzel which she reviews in this first volume of
Neuroglia
has led the way in demonstrating that neurones and glia are almost equal in number in the human cortex and there is no inexorable phylogenetic rise in the GNR. In this commentary we chart the fall and decline of the mythology of the GNR.
View Full-Text
►

▼

Figures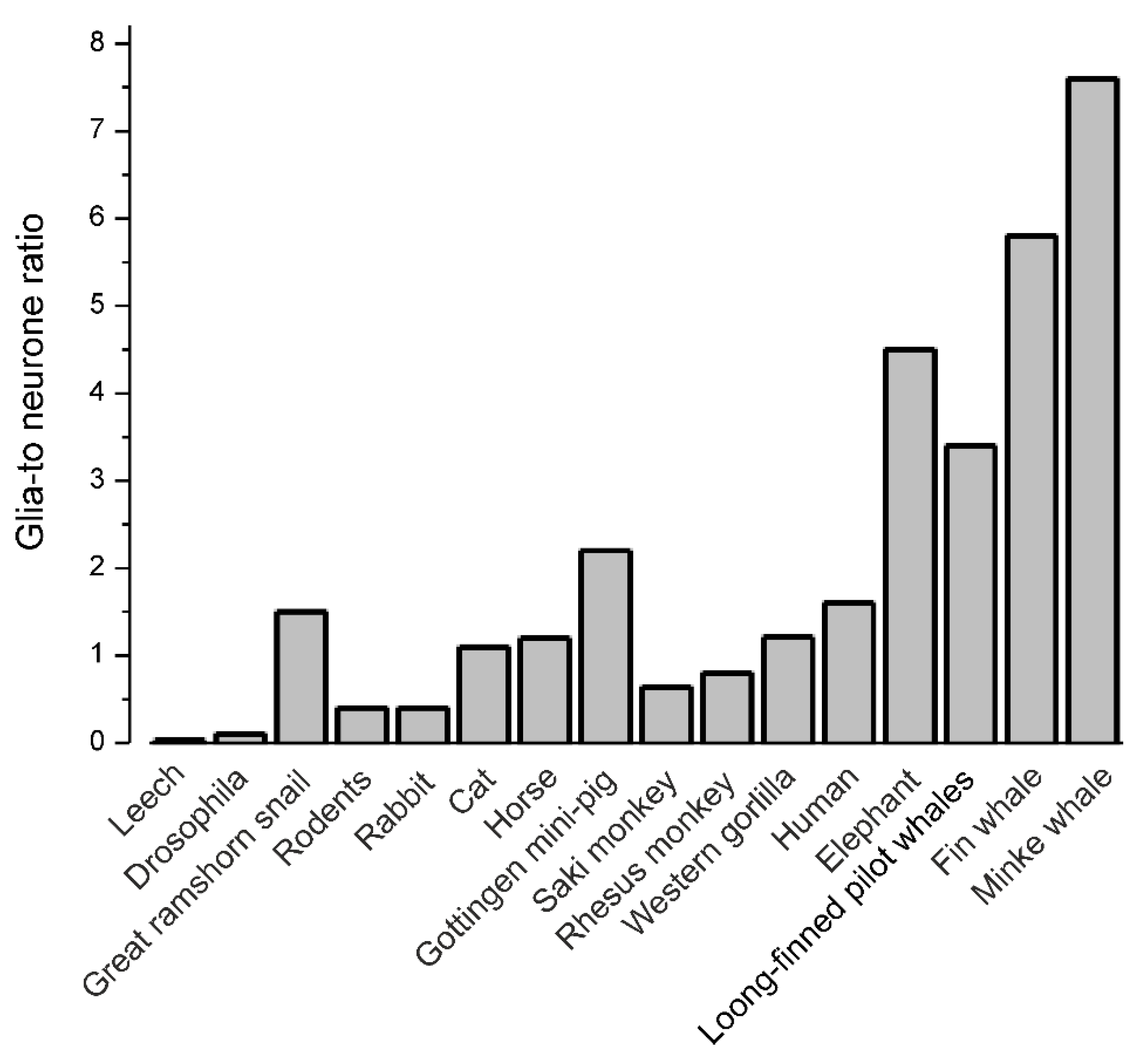 Figure 1
This is an open access article distributed under the
Creative Commons Attribution License
which permits unrestricted use, distribution, and reproduction in any medium, provided the original work is properly cited (CC BY 4.0).

Share & Cite This Article
MDPI and ACS Style
Verkhratsky, A.; Butt, A.M. The History of the Decline and Fall of the Glial Numbers Legend. Neuroglia 2018, 1, 188-192.
Comments
[Return to top]