Open Access This article is
freely available
re-usable
Article
Principles of Product Design in Developing Countries
1
Mechanical Engineering Department, University of Canterbury, Christchurch, 8140, New Zealand
2
Electrical and Computer Engineering Alumnus, University of Canterbury, Christchurch, 8140, New Zealand
*
Author to whom correspondence should be addressed.
Received: 13 March 2018 / Accepted: 10 April 2018 / Published: 20 April 2018
Abstract
:
Problem—The conventional view of new product development (NPD) methodologies focuses on marketing and commercial prospects in developed countries. There is a need to identify both the barriers and the enablers to design within a rural context in developing countries (DC). Method—A researcher was embedded in a rural DC design project. Issues were observed and critical success and failure factors determined. These were abstracted into a set of design principles, and a new model of the NPD process was created. Findings—Whereas commercial NPD emphasizes market intelligence and a highly directive approach to the engineering workflow, in the DC situation the objective is to fulfil community needs and this necessitates co-determination regarding the engineering. There is commonality between the two NPD processes, with ours having a greater emphasis on the socio-cultural factors. The deployment principles are categorized into technical and socio-cultural. Within these are included project management, design, material selection, visualization, communication, maintainability, safety, and health. Originality—A novel representation of the process for conducting design in developing countries is provided. Critical success factors are identified. The socio-cultural perspective is explicitly included, which is absent from the conventional engineering and business perspectives.
Keywords:
design; new product development; developing; rural; societal
1. Introduction
The optimal methodology for new product development (NPD) depends heavily on the intended context. The dominant perspectives in NPD literature are engineering design process, and the commercial/entrepreneurial process. The underlying premise is that NPD is about overcoming market constraints for commercializing products. The market constraints differ across developed and developing countries. The present paper examines an application of NPD of products that service community needs in developing countries (DC).
This paper presents a translation of the classic NPD process, considering the issues observed first hand while implementing a solar cooking device in rural India. A novel design methodology is presented for this type of situation, together with determination of the decision principles critical to the DC context.
1.1. Engineering in Developing Country Contexts
1.2. Process of New Product Development in the Rural DC Context
The NPD process was not found to have been formalized for application in areas where the focus deviates from marketing and commercialization opportunities, such as providing basic necessity items in a not for profit environment in DC. There is a lack of literature accessing the applicability of the NPD process in DC, or how it might need to be modified. In particular, the commercial, intellectual property (IP) and marketing drivers of NPD in developed countries cannot be assumed consistent with DC, especially in the aid setting.
Numerous papers exist on the issues of implementing new technologies into DC contexts [
22
]. However, the literature pivots around the significance of providing electrical power systems and the problem statements are posed around power supply and power supply reliability [
23
,
24
]. There is little focus on the broader perspective of providing systems that fulfil other basic human needs. In particular, primary community needs such as water supply, food security, and sanitation levels are less well represented in the academic literature. However, this does not mean that nothing is happening. There are many volunteers who are motivated by altruism to commit their personal time and resources to helping others less fortunate than themselves. There are also techno-philanthropists who have put money into uplifting specific communities or solutions to wider health or disease issues. Government agencies too are involved. Many innovative products have been developed too. Some of these are constructions that could be replicated within the community, such as simple mobility aids for the disabled in these communities, apparatus for carrying water or washing clothes, and cooking products. Others are high technology solutions that are useful but could not be constructed by the community itself, such as solar photo voltaic (PV) panels, or nano technology used for purifying water. Some solutions are technical systems, the components of which are themselves commonplace (at least in the developed world), but the complexity arises in the integration. Examples of these complex systems are electrical power generators (especially those involving PV, batteries, and charge conditioners), and PV water pumping. In all cases, whether the technology intervention is motivated by altruistic or commercial reasons, it is necessary to consider how the intervention will be sustained, and this may involve standardization of design to improve replicability (and knowledge transfer, should that be desired), and gaining sufficient deployment and scale so that users are not isolated. Economies of scale would seem to be important, especially where physical and skill resources are sparse.
The basic premise of techno-philanthropy is that the application of technological solutions and innovation in products will improve the quality of life of people in developing countries. Even the term 'developing' countries implies that the ideal future condition is technological advancement. However simply transferring technology from the developed world is not necessarily a solution, and technologically well-developed projects can fail when deployed in developing areas. This is because a fabric of infrastructure, materials, knowledge, and skills underpins the success of that technology in the developed country, and this fabric does not necessarily exist to the same extent in the developing case. Thus, products of techno-philanthropy can fail because they cannot be maintained (for lack of materials, parts, or skills), or they are single use and cannot be reconditioned, etc. Some products, especially those oriented towards consumer use or packaging of processed food/beverages, have significant life-cycle considerations that are often overlook. The product may have a short use-phase in its life, and then move to disposal. Developing countries are typically also lacking in waste disposal services. These engineered products are often made of materials that do not degrade naturally, or cause harm to people or the environmental, e.g., burning of plastic in open air. Consequently, the products of technological intervention, whether motivated by philanthropy or commerce, may contribute to the waste management problem of the community
The uplift of developing countries cannot be achieved simply by introduction of technology from outside, as in an interventionist model. Instead there is a need to ensure that the products are appropriate for the region at its current point of advancement, and contribute sustainably to a trajectory of uplift. In this context
advancement
refers to the knowledge and skills of the inhabitants, and the extent of the fabric of technological services (electricity, transport, water, waste, etc.) available at that point in time.
Furthermore, there are invariably cultural considerations when interacting with developing countries. They may be backward relative to the technology of other countries, but they have cultures of their own that may have a long history. They have ways of life that may in some ways be healthier and more content than available to people in developed countries. The introduction of new technology and availability of new products changes that culture, and it cannot be assumed that every such introduction of technological progress is automatically beneficial for the health of people and their environment. Hence there is a moral obligation to implement technology that is consistent with the culture of the community, and this necessitates an element of co-determination rather than imposition of technology solutions. Working with the community, learning their methods & cultural customs, and using collaborative methods to reach solutions—these are more important than merely accelerating as quickly as possible up the technology development tree. Communities are on a journey, and technology interventions need to be sustainable for their current position on that locus.
Solution suitability in a rural DC context does not depend on financial and technical feasibility alone, but must also account for local environmental and socio-cultural dynamics. It has been observed that many rural electrification projects have failed as a result of underestimating the importance of considering these latter factors [
23
]. Other examples of failed technology transfer in developed countries are the move to agricultural monocultures with consequence environmental damage. Several major enablers to the success of a project have been identified as community involvement, anti-corruption measures, standardization of practices and the banning of bargaining agents [
24
]. These factors are less important in developed countries where operational infrastructure is more regulated and standardized, and higher levels of maintenance expertise are available.
There have also been many successes, such as microenterprises around the provision of charging stations for mobile phones, solar powered lighting, medicine, and services such as banking delivered over mobile phone networks. Consequently, there are also business opportunities in product development for developing countries, and these may be at the small and large organizational scale. Assisting local people to earn an income by entrepreneurial activities around new technology is therefore also a way to ensure that the technology interventions are sustainable in the community. Large organizations in developed countries have the resources to apply technology to develop new products for developing countries, and hence open new markets for themselves. Part of their marketing design therefore is the
placement
: how they distribute the product, service it, and facilitate its disposal at the end of its life cycle. Related to that is the decision of whether or not to involve local people in the business model, and we suggest this is potentially an important factor in the design of the route to market.
The literature concerned with the
process
of new product development in the rural DC context is limited. The only attempts at providing a framework to the rural DC NPD process were a reproduction of the process formulated by Cooper et al. [
25
], and a set of guidelines orientated around the concept of Design for Micro-Enterprise [
26
]. Both studies were concerned with obtaining market intelligence on DC consumers, as opposed to the process as a whole.
The most prevalent gap in the collective body of knowledge is the lack of a DC specific framework for augmenting the conventional NPD approach that is applied within commercial sectors of developed countries.
2. Materials and Methods
2.1. Research Question
There is a need to identify the both the barriers and the enablers to applying a design process within a rural DC context, and to modify the existing NPD framework to account for these context dependent factors.
2.2. Approach
The approach involved placing the researcher (AG) as an embedded participant in a rural DC design project. This project involved a 6 month period of volunteer work undertaken in the Spiti Valley in Himachal Pradesh, India, and encompassed designing, building, and refining passive solar cookers for family units. These cookers were designed with the available resources and to meet the requirements of the local people in mind. These requirements and resource constraints were not known beforehand and had to be determined in parallel with the design process.
A number of issues arose when implementing the solar cooking technology into the rural setting. These issues were observed first hand, and critical success and failure factors observed.
The researchers then contrasted these factors with those known from the literature on classic NPD, thereby providing a critique of the conventional method. This was followed by the abstraction of the findings into a set of design principles for DC design. Finally, these were integrated together to create a new conceptual framework of the NPD process for developing countries.
4. Discussion
4.1. Proposed NPD Framework
The identified implications specific to NPD in the rural DC context have been classified as deployment principles in the results above. The framework for developing a general NPD process within this context was initially based on the temporal Stage-Gate methodology proposed by Cooper et al. [
25
]. It was found that the proposed DC-NPD framework had very little overlap with this conventional model and an alternative methodology was constructed to define the process more realistically. The underlying purpose for the conventional NPD framework is profitable financial returns, with an emphasis on extensive market intelligence. In contrast, the proposed DC-NPD framework is driven by fulfilling the needs of the community for whom the end product is intended. The former framework involves a highly directive approach to obtaining the final product where the end users have limited involvement in the
engineering
component of the early development process. In contrast our proposed framework takes a co-determinative approach where decisions are influenced and informed directly by the end users throughout. This includes user-needs, design, manufacture, and usability. There is commonality between the two NPD processes, with ours having a greater emphasis on the socio-cultural factors.
The proposed framework is shown in
Figure 6
and the Deployment Principles are summarized in
Table 1
. The framework has been split into dual pathways that influence each other, but have a distinctly differently focus from one another. The technical pathway, colored blue, detail considerations that ensure the design functionality based on the specific contextual constraints. The socio-cultural pathway, colored red, details considerations that ensure the end user integration, investment and comprehension of the process elements. Several deployment principles were isolated to one pathway and appear in both.
Whereas the conventional NPD process involves technological innovation or novelty, the NC-NPD framework is constructed around implementing functional technology in a novel context. The design development and validation aspects are not intended to encompass proof of concept work, rather the implementation of a proven concept in a new context.
4.2. Originality
This work makes several original contributions. The first is the development of a novel representation of the
process
for conducting design in developing countries. Related to that is the inclusion of the socio-cultural perspective and its explicit representation as a set of activities in the process. This perspective is absent from the conventional frameworks presented by both engineering and business perspectives.
A second contribution is the identification of critical success and failure factors, and their inclusion into the process perspective. Hence the contingency variables have been identified. While this identification is limited by being from a single case study, the results do nonetheless provide a candidate set of critical success factors. A related contribution is methodological in that the work provides a method for extracting socio-cultural factors from a case study and representing them in a process framework.
4.3. Implications for Practitioners
The deployment principles informing the framework are generalized enough for application to other rural DC contexts. This design considerations for a rural DC context determined in this study can be broadly grouped:
Involve community members early and often to and direct the solution toward a user-identified need rather than an externally identified need for optimal appeal and acceptance by the user
Focus design effort toward increasing unit reliability rather than efficiency.
Learn and impart knowledge to local stakeholders in a culturally appropriate manner to adapt the solution to assimilate local knowledge and skillsets and to ensure contextual suitability.
4.4. Limitations
There are a number of limitations in the work. The first is that the findings are dependent on a single case study. While this case study is believed to be generally representative of product development projects in developing countries, there may be additional findings in other situations. A second limitation is that the extraction of critical success factors—the development principles—was dependent on the personal attributes of the embedded researcher. The knowledge, skills, and insights of the embedded researcher are personally unique. Hence there is likely to be some subjectivity in the insights gained. Both these limitations have been partly reduced by grounding the study in the existing literature, but the limitations cannot be totally eliminated. The limitations were also partly reduced by the relatively long duration of the embedment (6 months), which provided multiple opportunities to triangulate findings with different people in different situations (albeit on the same underlying project). A quick one or two week project experience would be unlikely to offer the same level of de-biasing opportunities.
4.5. Implications for Further Research
There are several opportunities for further research, corresponding to different levels of enquiry into the proposed framework. At the broad level one question is whether or not the proposed DC-NDP framework subsumes the conventional commercial NPD process. The initial assessment, based on observing the degree of integration (see
Figure 6
) is that this is the case, but this needs to be checked. If so, there is the potential that insights gained from the socio-cultural side of the model could be adapted to enrich the commercial process. At a deeper level of detail, there is opportunity to investigate the develop principles in more detail: to validate them and to explore how the causality operates whereby they affect the relevant activity in the model. It could be valuable to apply qualitative research methods into understanding
why
people think and act like they do. There are multiple development principles, hence several opportunities for research.
5. Conclusions
The purpose of this work was to identify the factors affecting the NPD in a rural DC context. The findings have been highlighted and summarized as the technical and socio-cultural Deployment Principles for successful design as detailed in
Table 1
. These Principles have been integrated into the DC-NPD framework. The framework has dual pathways that influence each other, but have a distinctly differently focus from one another. The technical pathway, which most closely corresponds to the product innovation process in the developed world, is focused on design functionality within a commercial route to market environment. The socio-cultural pathway emphasizes development activities involving co-determination, knowledge transfer, and reliability of the product. Implications for design and innovation are identified for both pathways. We propose that elements of the socio-cultural innovation pathway, while extracted from considerations of the developing world, are also applicable to the developed world even though the latter has a more overtly commercial intent in its innovation process.
The originality of this work is the formalization of this NPD framework. Special attention has been given to the rural DC context, as opposed to the conventional application of the NPD process in developed country consumer markets. The work provides insights into elements that embedded participants might consider when implementing designs within rural communities in developing countries.
Author Contributions
A.W.T.G. conducted the fieldwork, extracted the principles, and wrote the first draft of the paper. D.J.P., D.M. and P.D.D. provided guidance and supervision. A.W.T.G. and D.J.P. developed the conceptual framework. D.M. and P.D.D. contributed interpretation of outcomes. All authors contributed to writing the manuscript.
Conflicts of Interest
The authors declare no conflict of interest regarding the funding of this work. No third party controlled the research method or the publication.
References
Choudhary, M.A.; Faheem, A.; Hanif, M.N.; Naeem, S.; Pasha, F. Price setting and price stickiness: A developing economy perspective.

J. Macroecon.

2016,

48

, 44–61. [Google Scholar] [CrossRef]
Danis, W.M.; De Clercq, D.; Petricevic, O. Are social networks more important for new business activity in emerging than developed economies? An empirical extension.

Int. Bus. Rev.

2011,

20

, 394–408. [Google Scholar] [CrossRef]

World Economic Situation and Prospects

; United Nations Publication: Herndon, VA, USA, 2016; pp. 1–25.
Bergman, B.; Klefsjö, B.

Quality: From Customer Needs to Customer Satisfaction

; Studentlitteratur: Åkergränden, Sweden, 1994. [Google Scholar]
Barney, J. Firm resources and sustained competitive advantage.

J. Manag.

1991,

17

, 99–120. [Google Scholar] [CrossRef]
Pahl, G.; Beitz, W.

Engineering Design: A Systematic Approach

; Springer: Berlin, Germany; The Design Council: London, UK, 1988. [Google Scholar]
Hubka, V.; Eder, W.E.

Theory of Technical System

; Springer: Berlin, Germany, 1988. [Google Scholar]
Pugh, S.

Total Design, Integrated Methods for Successful Product Engineering

; Addison Wesley: Boston, MA, USA, 1991. [Google Scholar]
Ullman, D.G. Robust decision-making for engineering design.

J. Eng. Des.

2001,

12

, 3–13. [Google Scholar] [CrossRef]
Hales, C.

Managing Engineering Design

; Longman Scientific & Technical: London, UK, 1994. [Google Scholar]
International Organization for Standardization.

Guidance on Project Management

; ISO 21500:2012; ISO: Geneva, Switzerland, 2012. [Google Scholar]
Project Management Institute (PMI).

A Guide to the Project Management Body of Knowledge (Pmbok Guide)

, 5th ed.; Project Management Institute: Newtown Square, PA, USA, 2013. [Google Scholar]
International Council on Systems Engineering (INCOSE). What is systems engineering? In

International Council on Systems Engineering

; INCOSE: San Diego, CA, USA, 2017. [Google Scholar]
Finger, S.; Dixon, J. A review of research in mechanical engineering design. Part 1: Descriptive, prescriptive, and computer-based models of design process.

Res. Eng. Des.

1989,

1

, 51–67. [Google Scholar] [CrossRef]
Finger, S.; Dixon, J. A review of research in mechanical engineering design. Part 2: Representations, analysis, and design for the life cycle.

Res. Eng. Des.

1989,

1

, 121–137. [Google Scholar] [CrossRef]
Grunert, K.G.; van Trijp, H.C.M. Consumer-oriented new product development A2—Alfen, neal k. Van. In

Encyclopedia of Agriculture and Food Systems

; Academic Press: Oxford, UK, 2014; pp. 375–386. [Google Scholar]
Suharyanti, Y.; Subagyo; Masruroh, N.A.; Bastian, I. The scheme of product development process as a trigger to product success: A theoretical framework.

Ind. Eng. Serv. Sci.

2015,

4

, 46–53. [Google Scholar]
Olson, E.M.; Walker, O.C., Jr.; Ruekert, R.W. Organizing for effective new product development: The moderating role of product innovativeness.

J. Market.

1995,

59

, 48–62. [Google Scholar] [CrossRef]
Mavondo, F.T.; Chimhanzi, J.; Stewart, J. Learning orientation and market orientation: Relationship with innovation, human resource practices and performance.

Eur. J. Market.

2005,

39

, 1235–1263. [Google Scholar] [CrossRef]
Olson, E.M.; Walker, O.C., Jr.; Ruekert, R.W.; Bonner, J.M. Patterns of cooperation during new product development among marketing, operations and R&D: Implications for project performance.

J. Prod. Innov. Manag.

2001,

18

, 258–271. [Google Scholar]
Rakthin, S.; Calantone, R.J.; Wang, J.F. Managing market intelligence: The comparative role of absorptive capacity and market orientation.

J. Bus. Res.

2016,

69

, 5569–5577. [Google Scholar] [CrossRef]
Mandelli, S.; Barbieri, J.; Mereu, R.; Colombo, E. Off-grid systems for rural electrification in developing countries: Definitions, classification and a comprehensive literature review.

Renew. Sustain. Energy Rev.

2016,

58

, 1621–1646. [Google Scholar] [CrossRef]
Rahman, M.M.; Paatero, J.V.; Lahdelma, R. Evaluation of choices for sustainable rural electrification in developing countries: A multicriteria approach.

Energy Policy

2013,

59

, 589–599. [Google Scholar] [CrossRef]
Rahman, M.M.; Paatero, J.V.; Poudyal, A.; Lahdelma, R. Driving and hindering factors for rural electrification in developing countries: Lessons from bangladesh.

Energy Policy

2013,

61

, 840–851. [Google Scholar] [CrossRef]
Mahesh, C.; James, P.N. Product development and innovation for developing countries: Potential and challenges.

J. Manag. Dev.

2008,

27

, 1017–1025. [Google Scholar]
Austin-Breneman, J.; Yang, M. Design for micro-enterprise: An approach to product design for emerging markets. In Proceedings of the ASME 2013 International Design Engineering Technical Conferences and Computers and Information in Engineering Conference, IDETC/CIE 2013, Portland, OR, USA, 4–7 August 2013; American Society of Mechanical Engineers: Portland, OR, USA, 2013; Volume 5. [Google Scholar]
Xiao, Q.; Saikawa, E.; Yokelson, R.J.; Chen, P.; Li, C.; Kang, S. Indoor air pollution from burning yak dung as a household fuel in tibet.

Atmos. Environ.

2015,

102

, 406–412. [Google Scholar] [CrossRef]

Figure 1. Adapted Stage-Gate framework for new product development (NPD) process. Subsequent design stages are separated by Gates (G), which act as screening elements to remove unsuitable options.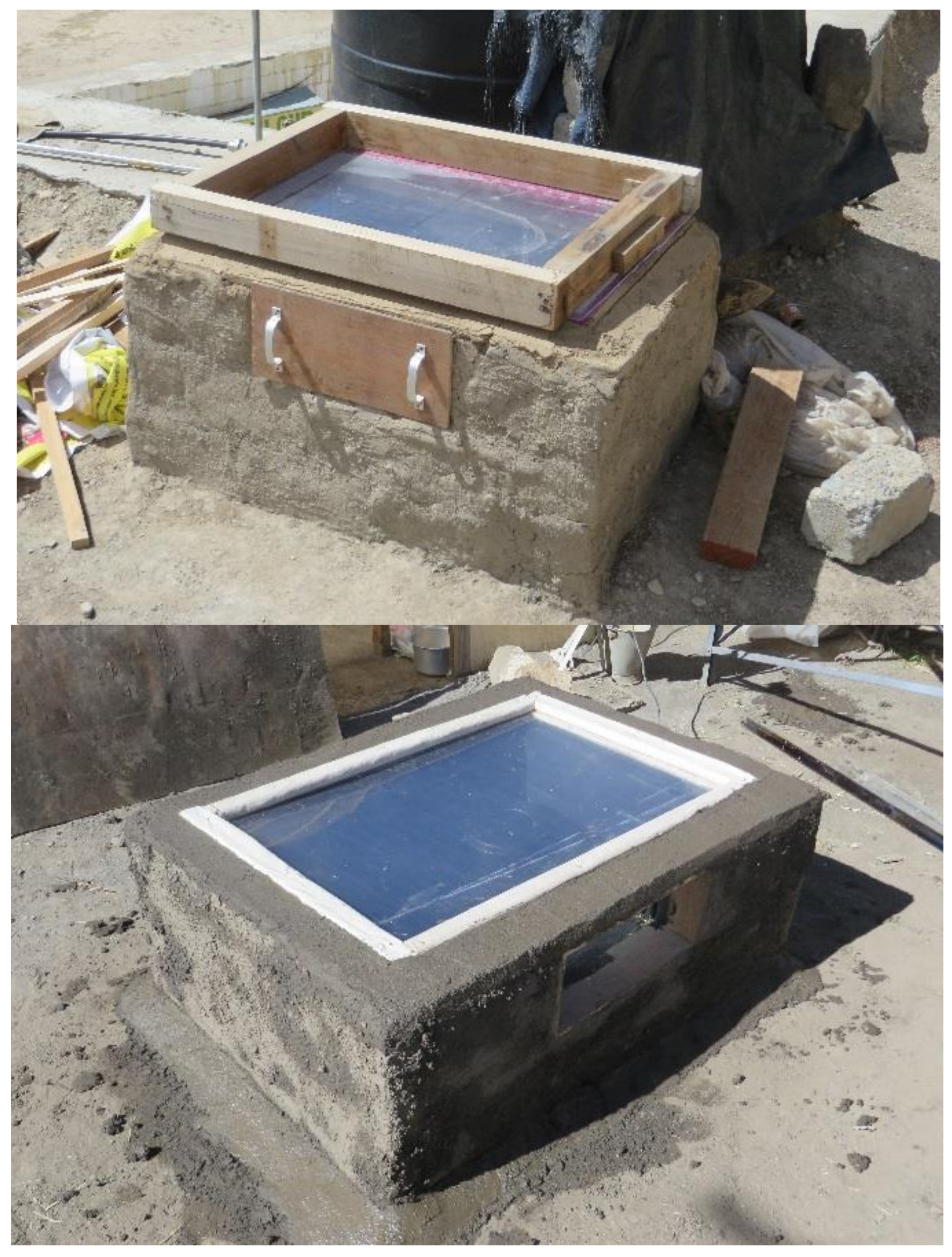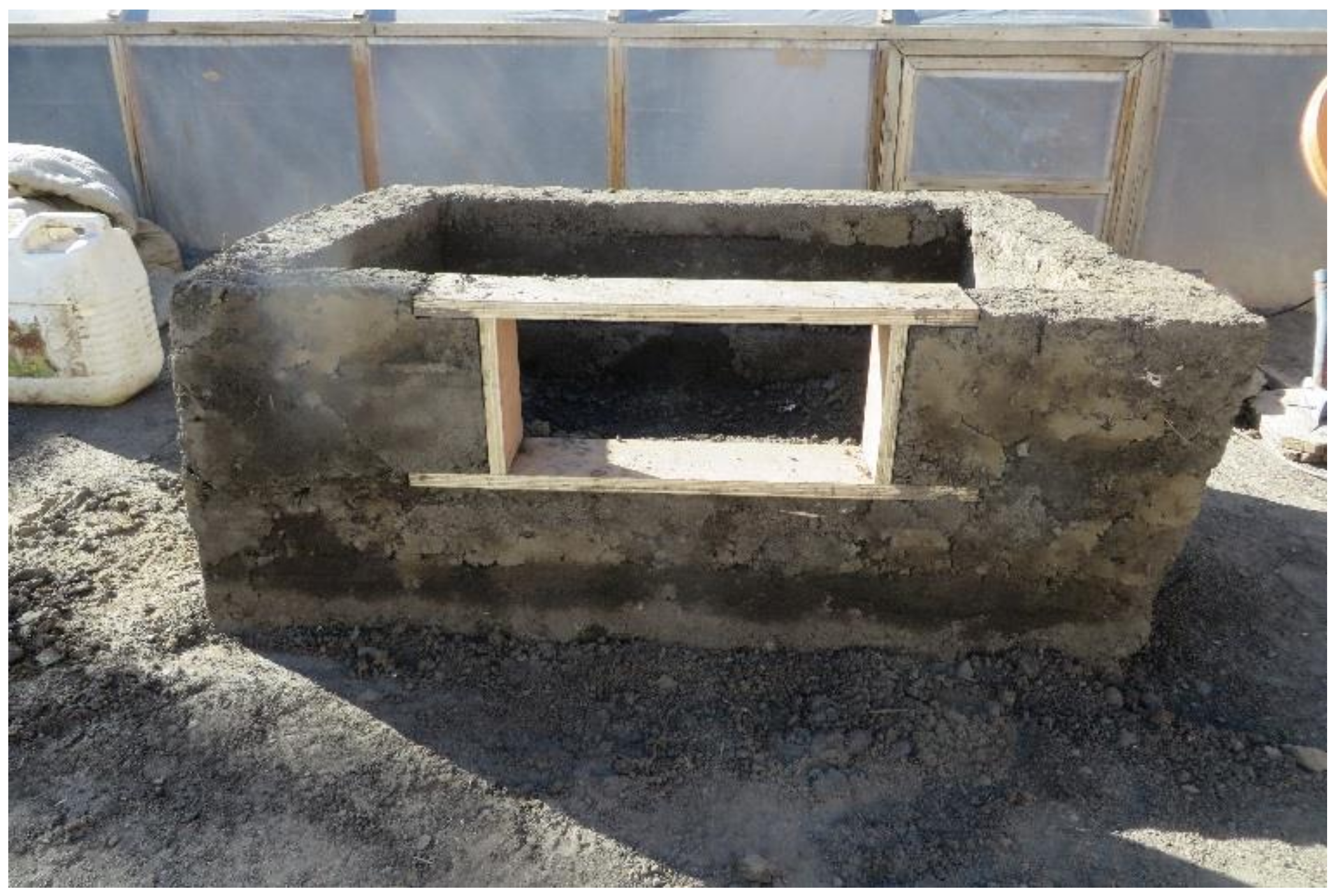 Figure 4. Timber frames to standardize cooker structure and assure reliable quality (left), rammed earth construction process (mid), removal of frame after mud has dried (right).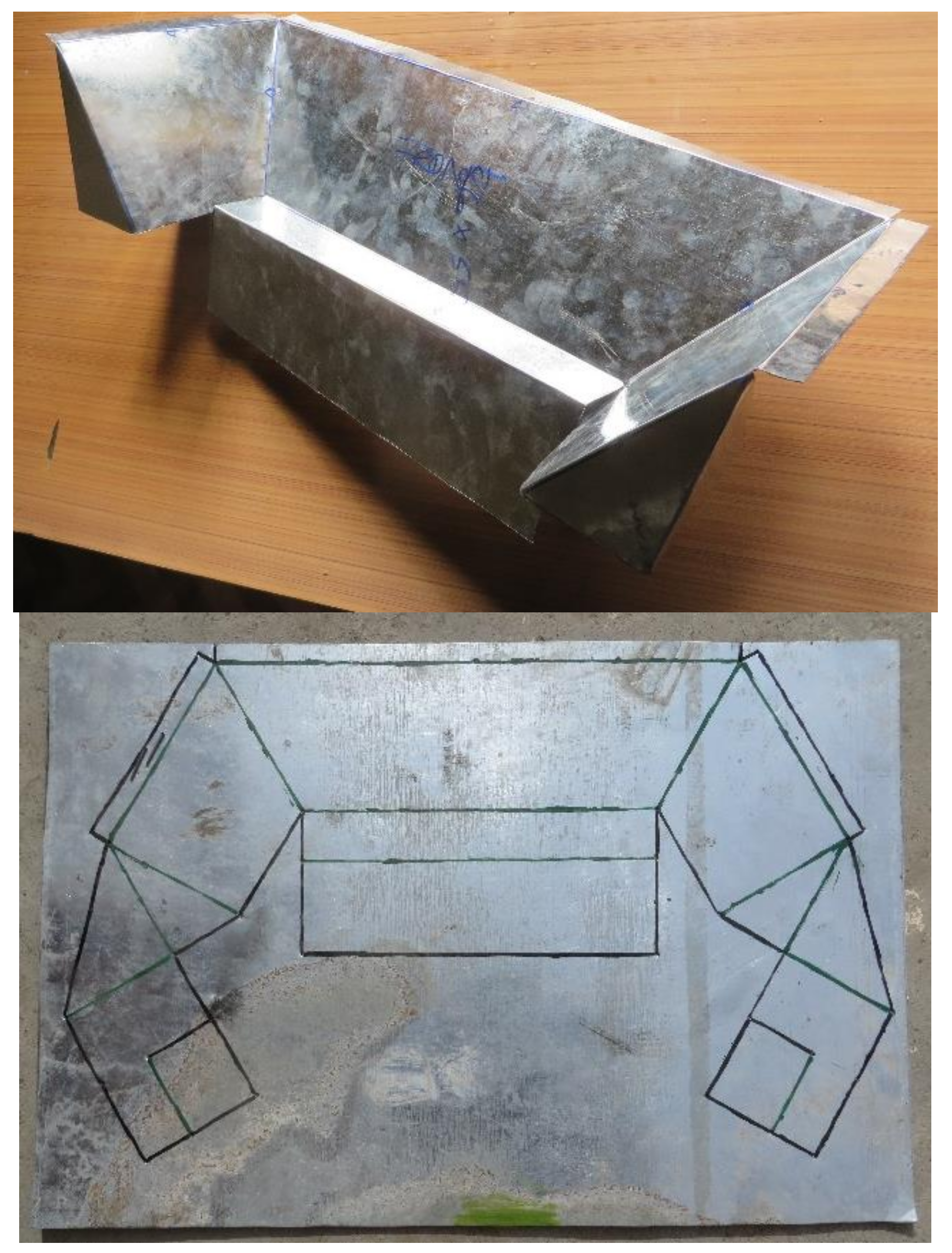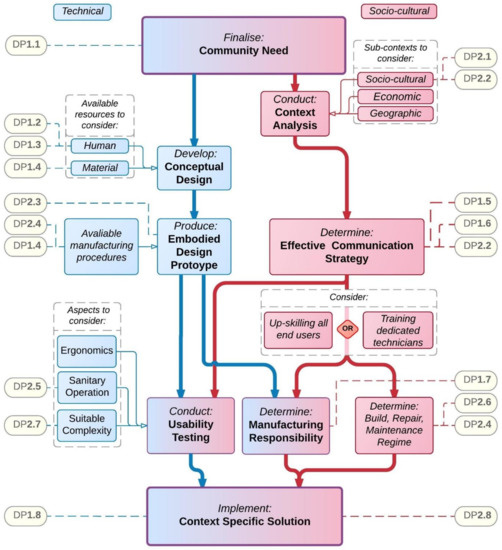 Figure 6. Proposed framework for new product development process in rural developing country contexts (DC-NPD).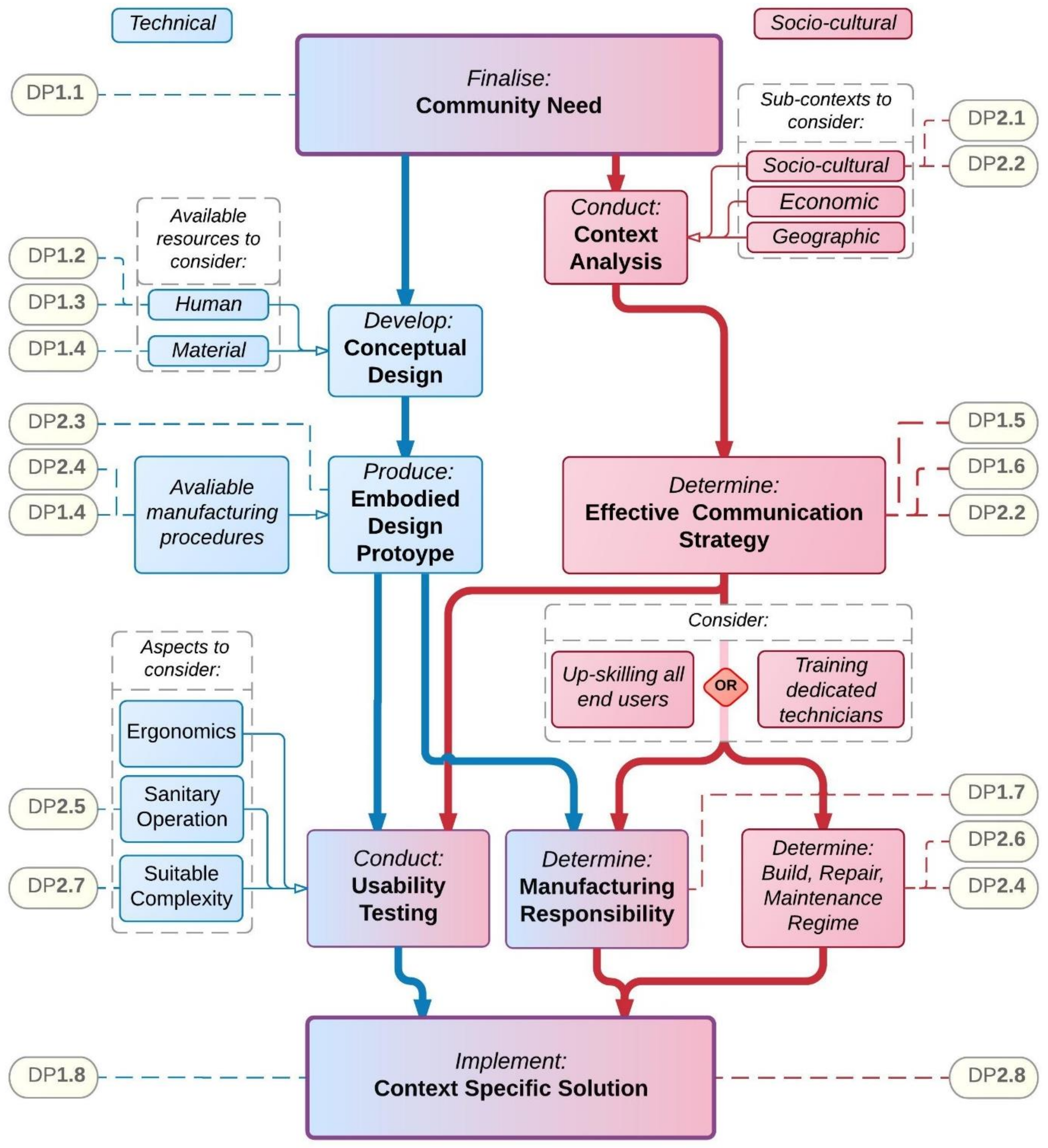 | 1. Technical Deployment Principles | 2. Socio-Cultural Deployment Principles |
| --- | --- |
| DP 1.1: Finalize projects through prior communication or assume resource and technical knowledge availability is limited to what the embedded participant comes in with | DP 2.1: Observe the ways that locals learn best and tailor the knowledge transfer process toward these |
| DP 1.2: Plan for project delays by integrating parallel work streams | DP 2.2: Involve the end user(s) as much as possible so they feel a sense of ownership for the solution |
| DP 1.3: Consider the reliability of transporting materials in from external suppliers | DP 2.3: Design for lifespan reliability rather than optimal efficiency |
| DP 1.4: Acknowledge that material or component quality will be variable and limited, make design decisions accordingly | DP 2.4: Maximize the unskilled, hand fabrication/repair processes required by the end user(s) to limit risk exposure |
| DP 1.5: Appreciate that visual communication may be a learnt skill | DP 2.5: Assume sanitation practices common in developed countries or standard operating practices will not necessarily be adhered to |
| DP 1.6: Trial the broadest possible range of learning styles and capitalize on the style(s) that are most readily understood | DP 2.6: Acknowledge the local perception towards repurposing materials to fix system failure points |
| DP 1.7: Design for manufacturability by capitalizing on available resources and skills | DP 2.7: Assume standard operating practices will not necessarily be adhered to the entirety of the time |
| DP 1.8: Provide parametric templates for reproducing complex parts | DP 2.8: Appreciate that community acceptance of the solution is a crucial factor in successful design |

© 2018 by the authors. Licensee MDPI, Basel, Switzerland. This article is an open access article distributed under the terms and conditions of the Creative Commons Attribution (CC BY) license (http://creativecommons.org/licenses/by/4.0/).