Open Access This article is
freely available
re-usable
Article
Flame-Assisted Spray Pyrolysis Using an Annular Flame Nozzle with Decoupled Velocity Control
1
Department of Mechanical Engineering, University of Victoria, Victoria, BC V8W 2Y2, Canada
2
Department of Manufacturing System R&D, Korea Institute of Industrial Technology, Cheonan 31056, Korea
3
School of Mechanical Engineering, Purdue University, West Lafayette, IN 47906, USA
*
Author to whom correspondence should be addressed.
Received: 2 August 2018 / Accepted: 29 October 2018 / Published: 30 October 2018
Abstract
:
Flame spray pyrolysis, widely used in chemical industries, is a technology to synthesize nanoparticles. While the flame spray pyrolysis uses fuels as a solution liquid, the flame-assisted spray pyrolysis method uses aqueous solutions. Since process parameters such as concentration of precursor, size of droplets, and ratio of the air–gas mixture affect the size of nanoparticles, developing a flexible system to control these parameters is required. This paper proposes a new type of nozzle system to produce nanoparticles using flame-assisted spray pyrolysis. The annular nozzle design allows flexible control of particle flow and temperature, and an ultrasonic nebulizer was used to produce droplets with different size. Experiments were conducted to analyze the relationship between nanoparticle size and process parameters, concentration of precursor, frequency of the atomizer, and flame temperature. A precursor solution consisting of silver nitrate (AgNO3) mixed in deionized water is used. The effects of the process parameters are discussed, and analysis of the nanoparticles shows that silver nanoparticles are deposited with an average size of 25~115 nm.
Keywords:
flame-assisted spray pyrolysis; Ag nanoparticles; thermal decomposition
2. Nozzle Design and Testing
The second set of experiments was conducted with the substrate preparation mentioned above with different concentrations (100 mg/L and 300 mg/L), and the temperature was adjusted around 780 °C at first, then increased to 830 °C.
3. Results and Discussion
In this section, the results of the experiments mentioned above are analyzed. The first experiment offered insight into the relation between nanoparticle size and experimental parameters, such as the concentration of precursor and the diameter of aerosol droplet. The second experiment shows the dependency of particle size on the flame temperature. Results of the third experiment verified that our system can produce one-step functional coatings. Silver nanoparticles are measured from scanning electron microscopy (SEM) images using image processing software, and the content was analyzed by EDX (Energy Dispersive X-ray).
3.1. Variable Concentration and Droplet Diameter
The second tendency that smaller nanoparticles are generated at higher precursor concentration can be explained by smaller droplets agglomerating to form larger clusters at lower precursor concentration, which is explained before since the sizes of the particles are small, larger agglomerates may be mistakenly considered as a single particle during SEM image analysis, which results in larger average size. It also explains larger standard deviations at lower concentration of the precursor.
3.2. Variable Flame Temperature
Table 3
summarizes the results of the second experiment. Samples #7 and #8 at lower flame temperature show a different tendency compared to the first experiment, demonstrating that nanoparticle size is increased at higher precursor concentration. However, nanoparticle size is drastically increased at higher flame temperature. These relationships agree with the other studies, however, Mäkela et al. [
31
] mentioned that the concentration of precursors has no effect to the nanoparticle size. The control of flame temperature seems to be more important for desired nanoparticle size distribution.
4. Conclusions
This paper proposes an annular nozzle design for flame-assisted spray pyrolysis to deposit nanoparticles. The nozzle with an ultrasonic nebulizer can control process parameters such as precursor size, flame temperature, and the focus point of the jet. Effects of parameters such as the atomizer's natural frequency, precursor concentration, and flame temperature on the size of nanoparticles were studied. The ranges of the studied parameters were 50~300 mg/L precursor concentration, 2.4~3 MHz atomizer frequency, and 780~830 °C flame temperature, respectively. The first experiment showed that larger precursor droplets result in smaller nanoparticles, but less precursor concentration causes larger particle size due to agglomeration at high temperature. In the second experiment, increased flame temperature resulted in larger nanoparticle size, as described in previous studies. SEM and EDX analysis of the experiments verified that silver nanoparticles are deposited on aluminum substrates with the average size of 25~115 nm.
Further studies are required to improve the process. To reduce unwanted precursor residues, such as nitride and aluminum, fine tuning of process parameters such as precursor concentration, feed rate of the nozzle, flame temperature, and the distance between nozzle and substrate is required. In addition, the efficiency between consumed precursor and produced nanoparticles should be assessed, and further tuning of the parameters are required to improve the process.
Author Contributions
M.R. developed the nozzle spray system and wrote the paper. M.R. and S.B. performed experiments and analyzed the data. J.N., H.Y., and M.B.G.J. validated the results and proofread the manuscript. M.B.-G.J. guided the research.
Funding
The authors acknowledge the support of Korea Carbon Capture and Sequestration Research and Development Center (KCRC) and the Technology Innovation Program (10053248, Development of Manufacturing System for CFRP (Carbon Fiber Reinforced Plastics Machining) funded By the Ministry of Trade, industry & Energy (MOTIE, Korea) for this work.
Conflicts of Interest
The authors declare no conflict of interest.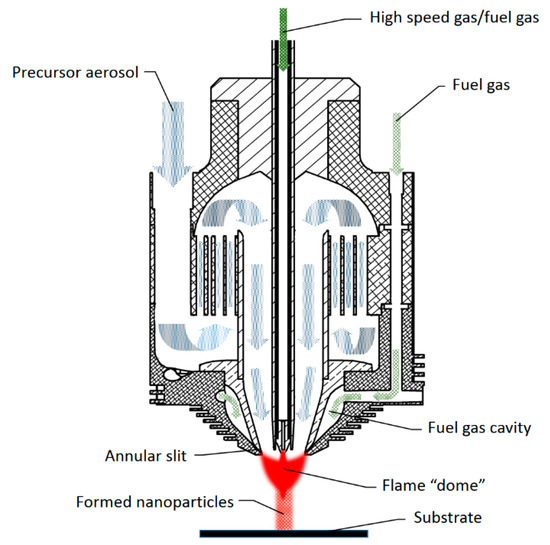 Figure 1. A new nozzle design based on the dual velocity nozzle with an additional fuel injection port.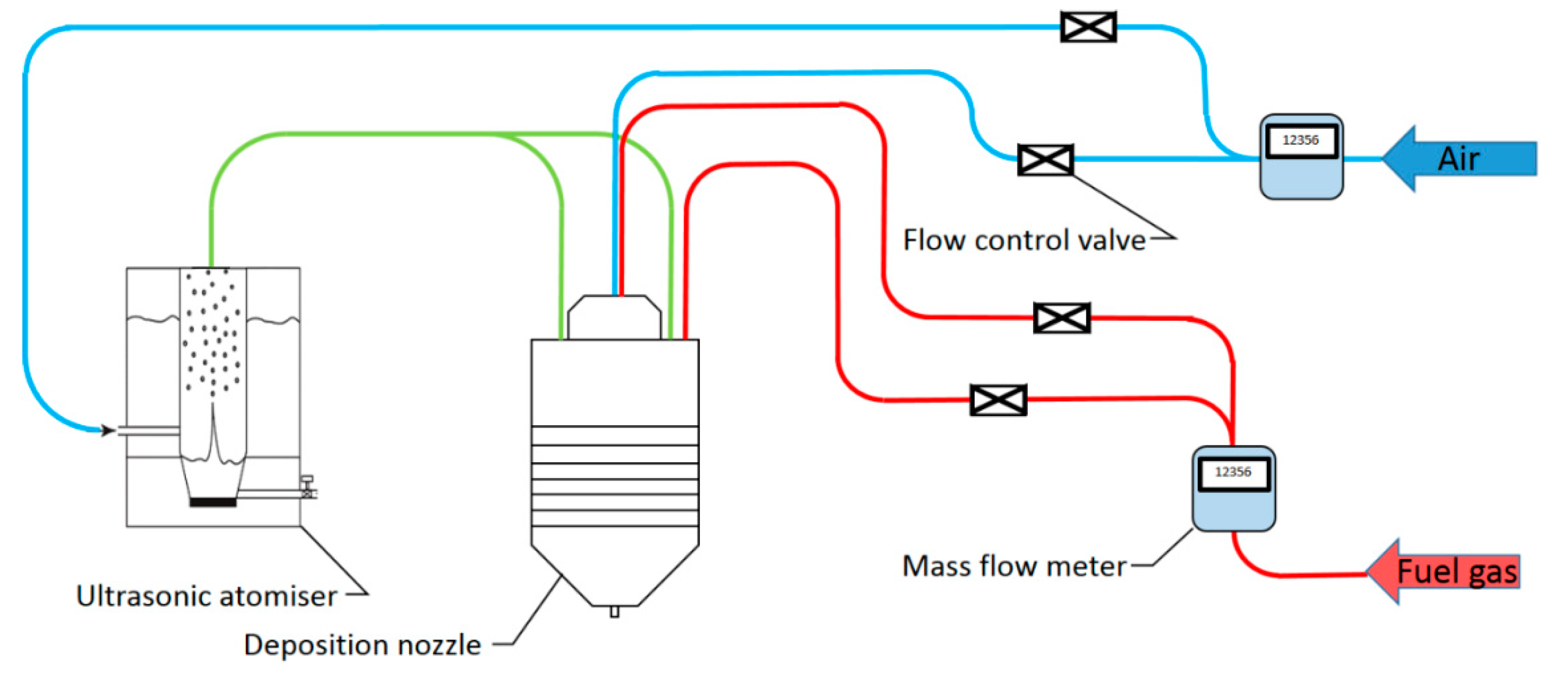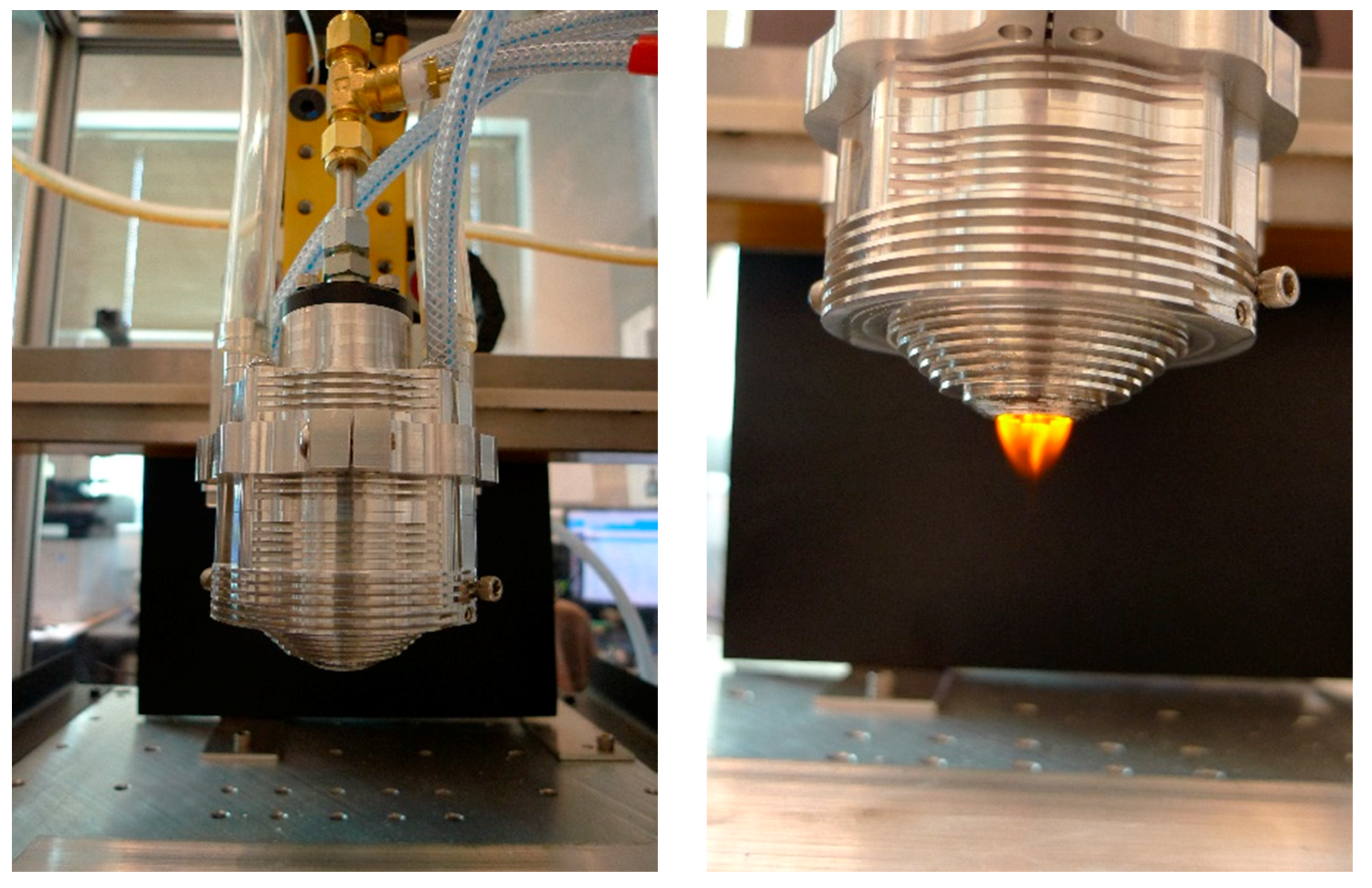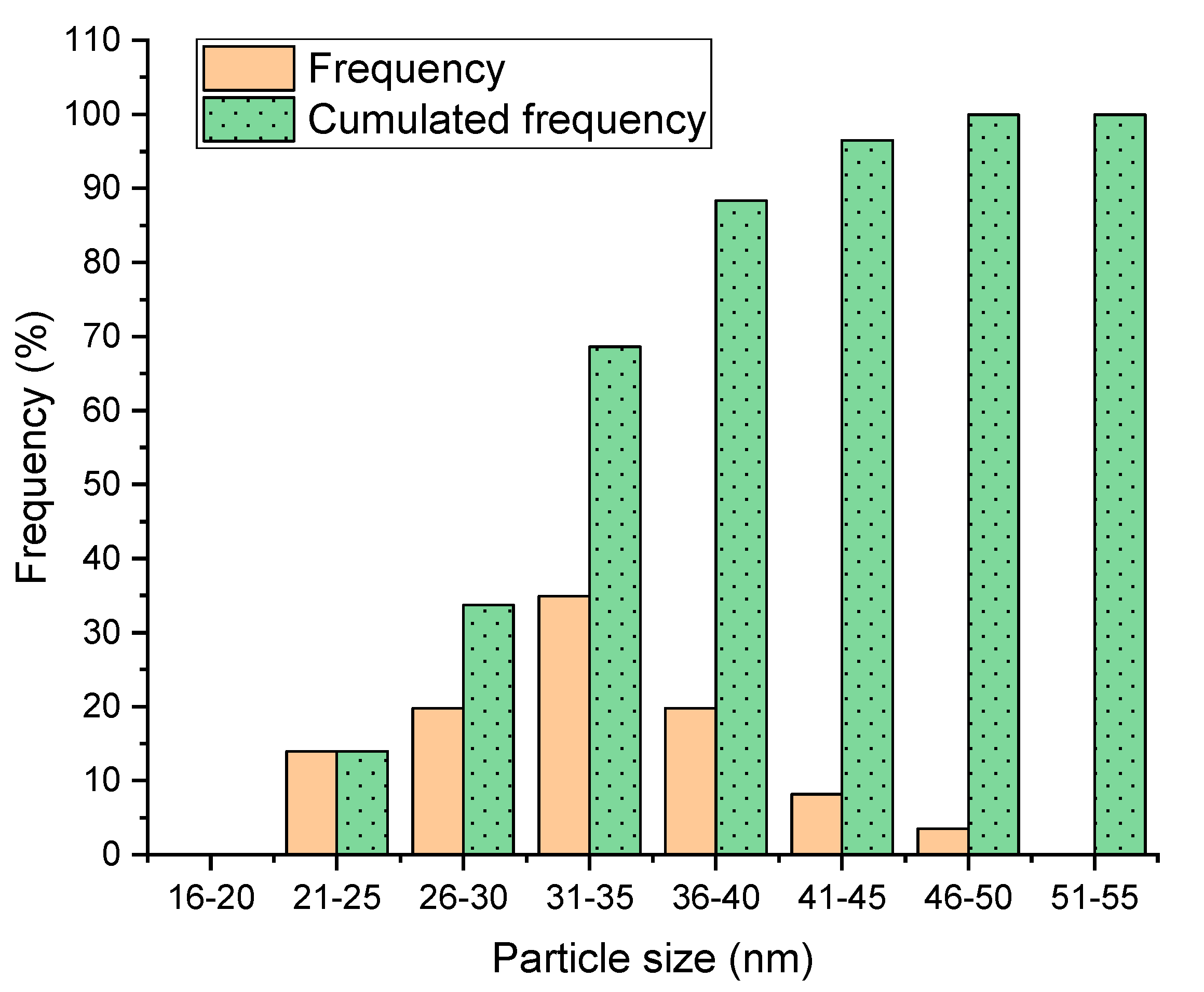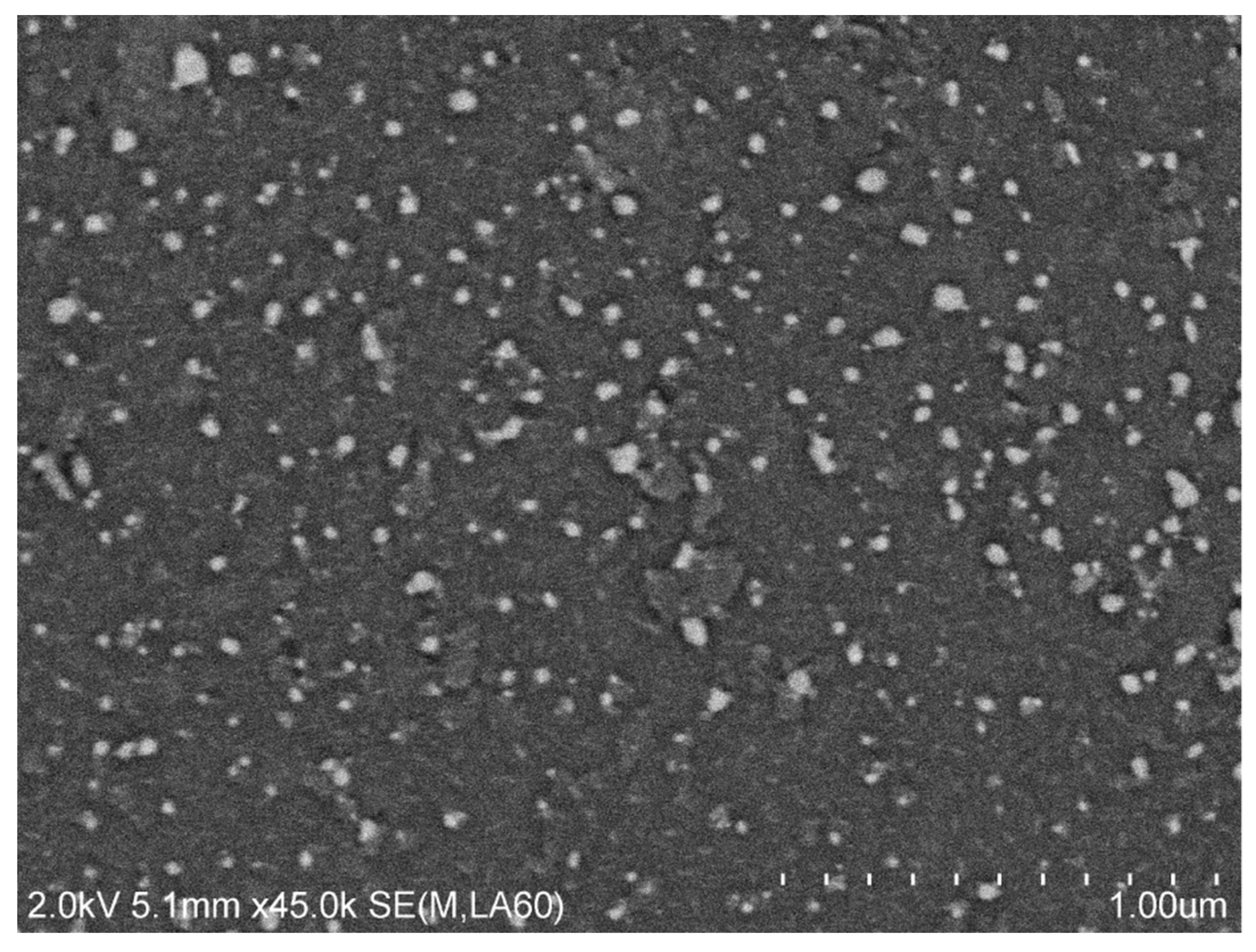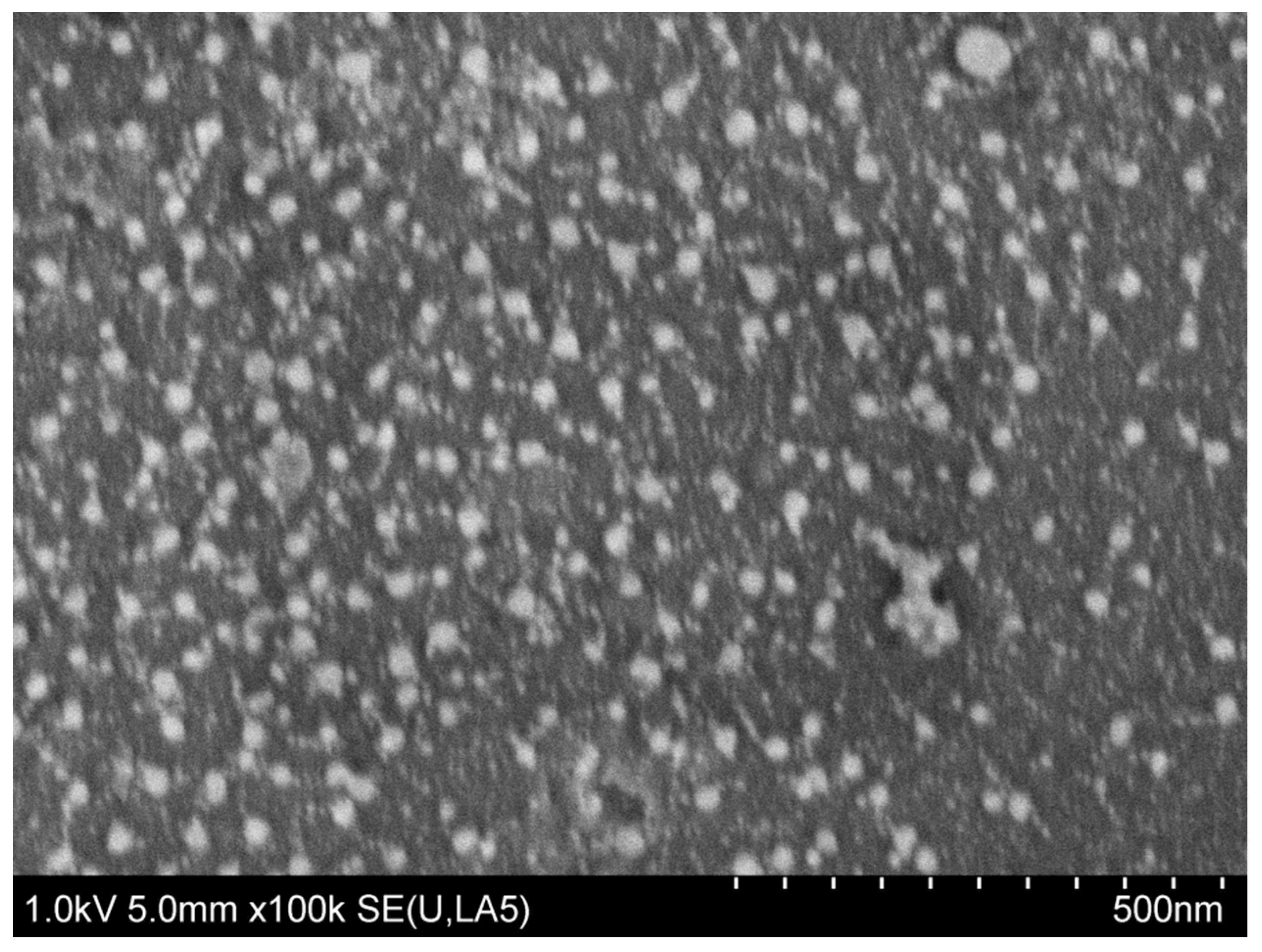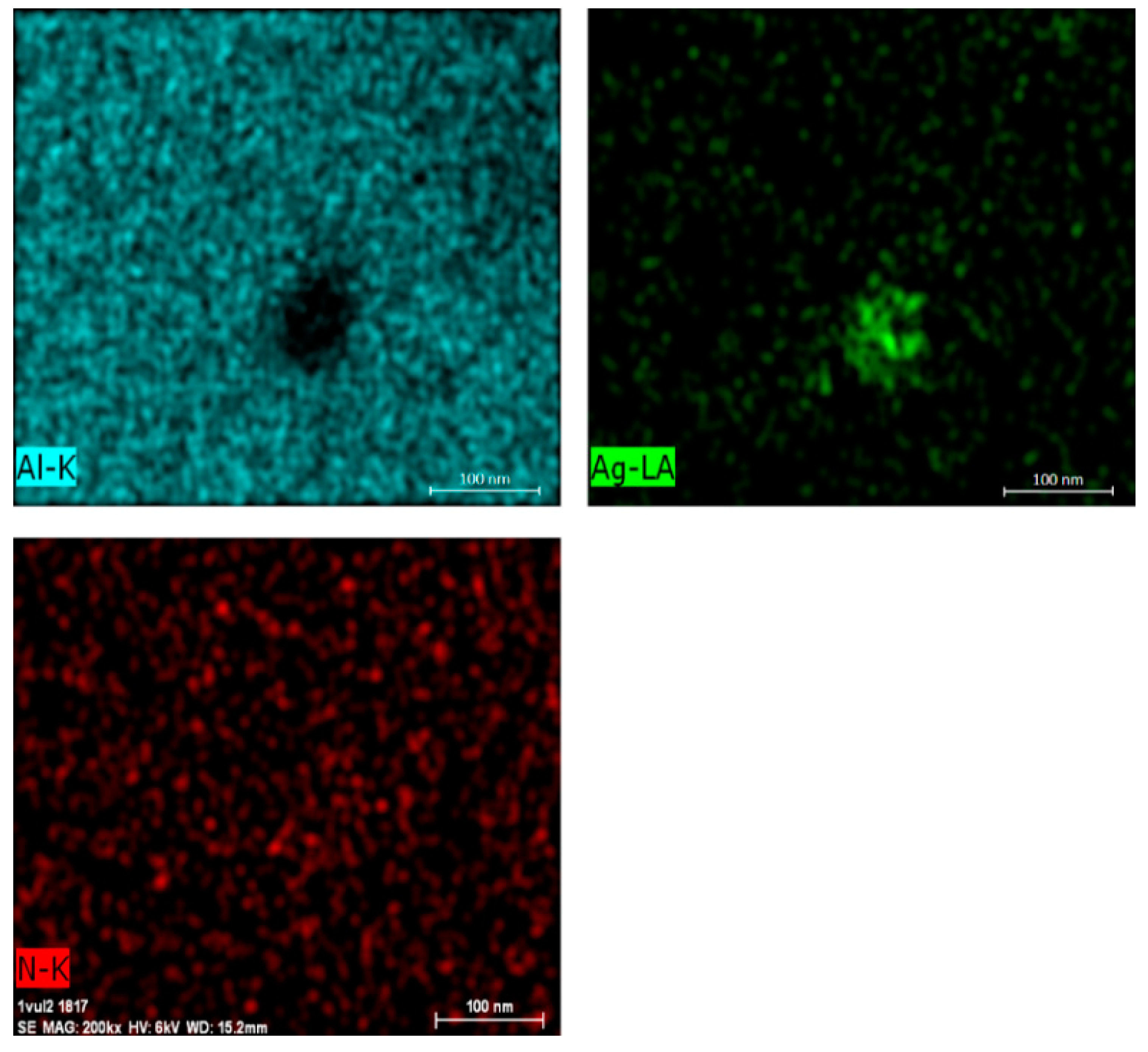 | Sample # | Precursor Concentration mg/L | Atomizer Frequency MHz |
| --- | --- | --- |
| 1 | 50 | 3 |
| 2 | 100 | 3 |
| 3 | 200 | 3 |
| 4 | 50 | 2.4 |
| 5 | 100 | 2.4 |
| 6 | 200 | 2.4 |
| Sample # | 1 | 2 | 3 | 4 | 5 | 6 |
| --- | --- | --- | --- | --- | --- | --- |
| Average size (nm) | 40 | 37 | 33 | 28 | 27 | 25 |
| Standard deviation (nm) | 10.6 | 9.9 | 6.5 | 10.9 | 4.8 | 5.5 |
| Sample # | Flame Temperature (°C) | Precursor Concentration (mg/L) | Size of Nanoparticle (nm) |
| --- | --- | --- | --- |
| 7 | −780 | 300 | 35~60 |
| 8 | −780 | 100 | 26~48 |
| 9 | 830 | 100 | 100~115 |

© 2018 by the authors. Licensee MDPI, Basel, Switzerland. This article is an open access article distributed under the terms and conditions of the Creative Commons Attribution (CC BY) license (http://creativecommons.org/licenses/by/4.0/).