Open Access This article is
freely available
re-usable
Article
Effect of Laser Welding Process Parameters and Filler Metals on the Weldability and the Mechanical Properties of AA7020 Aluminium Alloy
1
Department of Chemical and Materials Engineering, University of Idaho, Moscow, ID 83844, USA
2
Department of Physical Metallurgy of Non-Ferrous Metals, National University of Science and Technology (MISIS), Moscow 119049, Russia
*
Author to whom correspondence should be addressed.
Received: 7 April 2018 / Accepted: 29 May 2018 / Published: 1 June 2018
Abstract
:
This research work aims at finding the optimum process parameters for the laser welding of AA7020 aluminium alloys. The use of 7xxx series alloys is limited because of weldability problems, such as hot cracking, porosity, and softening of the fusion zone despite its higher specific strength-to-weight ratio. AA7020 aluminium alloy was welded while varying the process parameters so as to obtain optimal welding efficiency. The welded samples were analysed to reveal the microstructure, defects, and mechanical properties of the welded zone. The samples were prepared from a plate of AA7020, which was hot rolled at a temperature of 470 °С to a thickness of 1 mm. The welding was carried out at an overlap of 0.25 mm, duration of 14 ms and argon shield gas flow rate of 15 L/min. Process parameters, such as peak power, welding speed, and pulse shaping, were varied. The samples were welded with Al-5Ti-B and Al-5Mg as filler metals. The welding speed, peak power, and pulse shaping have a great influence on the weldability and hot cracking susceptibility of the aluminium alloy. Al-5Ti-B improves the microstructure and ultimate tensile strength of AA7020 aluminium alloy.
Keywords:
laser beam welding; Aluminium alloys; filler materials; mechanical properties; process parameters
1. Introduction
In this research, 1.0-mm-thick samples of AA7020 were butt welded with filler metals using a Nd:YAG laser. Laser power, welding speed, and pulse shaping were varied as well as the filler metal used to evaluate their effect on the microstructure and mechanical properties of the welded sample.
2. Experimental Work
The chemical composition of the AA7020 alloy used is given in
Table 1
.
The filler metals used were Al-5Ti-B and Al-5Mg. Samples were cut from a sheet of AA7020, which was prepared by hot rolling at 470 °С to a thickness of 300 mm and subsequent cold rolling down to 1 mm in a laboratory rolling mill.
Before welding, the surface of each sample was cleaned using acetone and dried to remove any oxide layer and contamination present. After the oxide layer has been removed, the surfaces to be welded were electropolished using a C2H5OH + HClO4 electrolyte under 20 V and then dried in a furnace at 150 °C for 10 min.
The welding process was carried out using a MUL-1-M200 pulse-periodic laser welding machine equipped with a Nd:YAG laser operating at a wavelength of 1064 nm, defocus amount of −2 mm, and a pulse duration of 8 ms. A shield gas flow of high-purity argon was applied during welding from the top, rear, and lateral sides of the sample at a flow rate of 15 L/min. Metallographic samples of the weld seam were prepared using standard mechanical polishing procedures and etched in a saturated solution of H3BO3 and HF in distilled water at 17 V. The microstructure of the weld seam was characterized using a TESCAN VEGA 3LMH scanning electron microscope (SEM).
The effects of varying the welding speed from 0.25 to 7 mm/s, peak power from 0.81 to 0.97 kW, and square and ramp-down pulse shaping were evaluated.
The micro-hardness of the etched samples was tested with a Wolpert Wilson HVD-1000AP micro Vickers hardness testing machine with a hardness scale of HV 0.2, at duration of 5 s, 1960 N testing force, with a square-based pyramid indenter with an apical angle of 136°. Tensile testing was performed using an all-around series Zwick/Roell Z250 testing machine. The strain rate was 4 mm per minute and the standard deviation from the mean value was within ±(2–4) MPa of the measured value.
The experiment was designed to study the influence of each parameter on the weld quality when other parameters were kept constant. With these experiments, optimized parameters for high-quality full penetration and high-strength welded joint can be determined.
3. Results and Discussion
4. Conclusions
In order to obtain an efficient laser welding process, the effects of process parameters such as peak power and welding speed on the width and penetration must be taken into consideration. The welding speed and laser peak power were optimized at 1 mm/s and at 0.91 kW respectively. These values give the highest aspect ratio. Therefore, from the quality point of view, these values give the best result.

Ramp-down pulse shaping when compared to the square pulse shaping gives a spot weld that is free from visible cracks and porosity.

Fine grains having an average size of 2.00 ± 0.26 µm were achieved with the joints welded with Al-5Ti-B filler metal, and the yield strength of the welded joint was 97% of the base metal yield strength. The joints with Al-5Mg have columnar grains and also show some porosity in the weld zone. The yield strength was lower than that of the joints using Al-5Ti-B at 67% of the base metal yield strength.
Author Contributions
S.B.A. designed and performed the experiment and wrote the manuscript; I.L. supervised the experiment and reviewed the manuscript; A.K. helped with sample preparation; A.S. supervised the experiment, reviewed the manuscript, and helped with discussion of the results.
Conflicts of Interest
The authors declare no conflict of interest.
Figure 1. Influence of laser peak power on the cross-section shape of the weld seam. (V = 2 mm/s; Arf = 15 mm−1; Δz = −2 mm).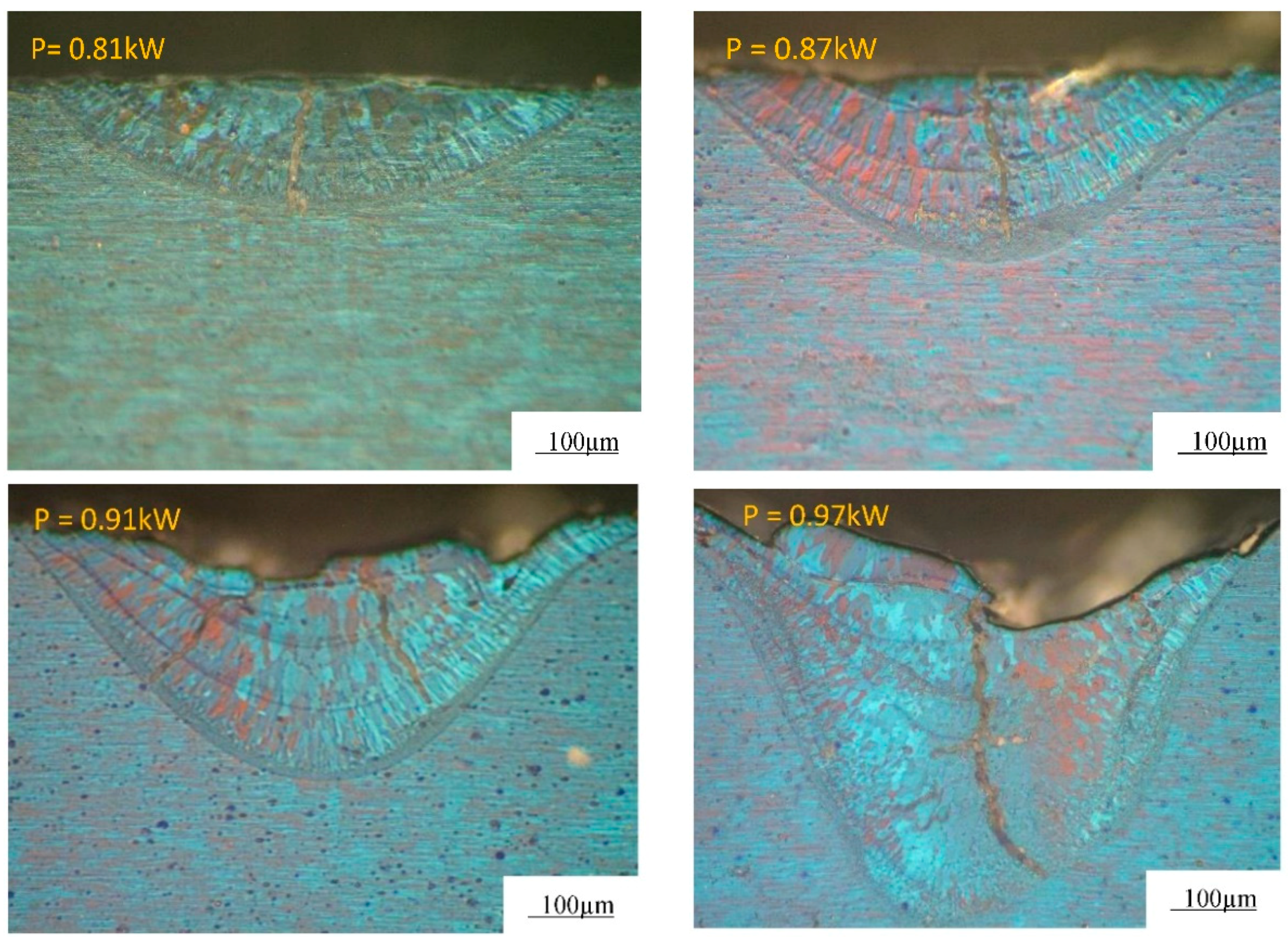 Figure 3. Influence of laser speed on the cross-section morphology of the weld seam. (P = 0.91 kW; Arf = 15 mm−1; Δz = −2 mm).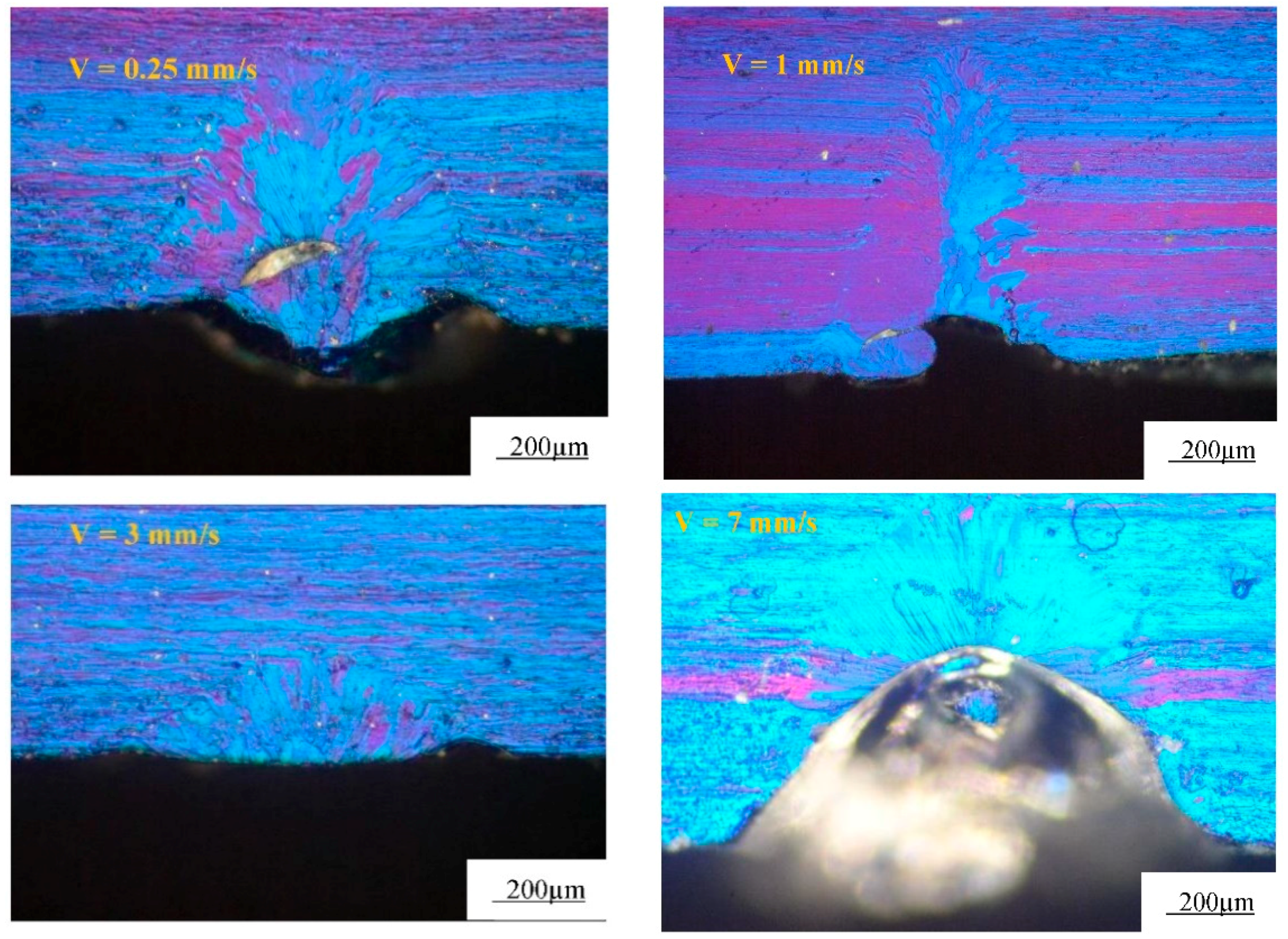 Figure 7. Microstructure of the welded joints: (a) with Al-5Ti-B; (b) with Al-5Mg; and (c) without filler metal.
Figure 8. Elemental distribution in the base metal and weld zone of AA7020 after welding with AlTiB filler metal.

Element, wt.%
Al
Zn
Mg
Mn
Cu
Cr
Fe
Si
Ti
Zr
Balance
5
1.2
0.5
0.3
0.2
0.3
0.3
0.05
0.2
| | σ0.2, MPa | σy, MPa | δ, % |
| --- | --- | --- | --- |
| Base Metal | 310 | 372 | 14.0 |
| With Al-5Ti-B | 273 (88%) | 360 (97%) | 8.0 |
| With Al-5Mg | 210 (68%) | 250 (67%) | 4.2 |

© 2018 by the authors. Licensee MDPI, Basel, Switzerland. This article is an open access article distributed under the terms and conditions of the Creative Commons Attribution (CC BY) license (http://creativecommons.org/licenses/by/4.0/).