Open Access This article is
freely available
re-usable
Review
Fog Computing and the Internet of Things: A Review
1
Electronic and Computer Science Department, University of Southampton, Southampton SO17 1BJ, UK
2
Computer Science and Engineering Department, Faculty of Electronic Engineering, Menoufia University, Menouf 32952, Egypt
*
Author to whom correspondence should be addressed.
Received: 4 March 2018 / Accepted: 5 April 2018 / Published: 8 April 2018
Abstract
:
With the rapid growth of Internet of Things (IoT) applications, the classic centralized cloud computing paradigm faces several challenges such as high latency, low capacity and network failure. To address these challenges, fog computing brings the cloud closer to IoT devices. The fog provides IoT data processing and storage locally at IoT devices instead of sending them to the cloud. In contrast to the cloud, the fog provides services with faster response and greater quality. Therefore, fog computing may be considered the best choice to enable the IoT to provide efficient and secure services for many IoT users. This paper presents the state-of-the-art of fog computing and its integration with the IoT by highlighting the benefits and implementation challenges. This review will also focus on the architecture of the fog and emerging IoT applications that will be improved by using the fog model. Finally, open issues and future research directions regarding fog computing and the IoT are discussed.
Keywords:
Internet of Things; cloud of things; fog computing; fog as a service; IoT with fog computing; cloud computing
1. Introduction
This paper provides an overview of the integration of fog computing with the IoT; this involves an investigation of the fog state-of-the-art, characteristics and benefits. The integration of the IoT with fog computing is also discussed by highlighting the integration benefits, emerging IoT applications and challenges encountered. Related models and articles that discuss the integration of the IoT with the fog are described. Open research issues regarding the IoT and fog computing are also discussed.
2. Challenges of the Cloud of Things
The integration of the cloud with the IoT, known as CoT, has many benefits. For instance, it helps to manage IoT resources and provides more cost-effective and efficient IoT services. In addition, it simplifies the flow of the IoT data and processing and provides quick, low-cost installation and integration for complex data processing and deployment [
4
,
11
].
The CoT paradigm is not straightforward, it also introduces new challenges to the IoT system that cannot be addressed by the traditional centralized cloud computing architecture, such as latency, capacity constraints, resource-constrained devices, network failure with intermittent connectivity and enhanced security [
12
].
In addition, the centralized cloud approach is not appropriate for IoT applications where operations are time-sensitive, or Internet connectivity is poor. There are many scenarios where milliseconds can have serious significance, such as telemedicine and patient care. This is the same scenario for vehicle-to-vehicle communications, where avoiding collisions or accidents cannot tolerate the latency caused by the centralized cloud approach [
8
]. Therefore, an advanced cloud computing paradigm that improves the capacity and latency constraints is required to handle these challenges [
5
]. Cisco suggested new technology called fog computing to address most of these challenges [
6
].
3. Fog Computing
This section provides an overview of fog computing, its characteristics, benefits and architecture.
3.1. Definition of Fog Computing
Fog computing is a paradigm with limited capabilities such as computing, storing and networking services in a distributed manner between different end devices and classic cloud computing. It provides a good solution for IoT applications that are latency-sensitive [
13
].
Although the term was originally coined by Cisco [
6
], fog computing has been defined by many researchers and organizations from a number of different perspectives. Yi et al. [
14
] have provided a general definition of fog computing. It is stated as; "
Fog Computing is a geographically distributed computing architecture with a resource pool which consists of one or more ubiquitously connected heterogeneous devices (including edge devices) at the edge of network and not exclusively seamlessly backed by Cloud services, to collaboratively provide elastic computation, storage and communication (and many other new services and tasks) in isolated environments to a large scale of clients in proximity"
[
14
]. Whilst, Vaquero and Rodero-Merino [
15
] defined fog computing as; "
a scenario where a huge number of heterogeneous (wireless and sometimes autonomous) ubiquitous and decentralized devices communicate and potentially cooperate among them and with the network to perform storage and processing tasks without the intervention of third parties. These tasks can be for supporting basic network functions or new services and applications that run in a sandboxed environment. Users leasing part of their devices to host these services get incentives for doing so
".
Fog computing is also defined by the OpenFog Consortium [
16
] as; "
a system-level horizontal architecture that distributes resources and services of computing, storage, control and networking anywhere along the continuum from Cloud to Things
".
3.2. Characteristics of Fog Computing
Essentially, fog computing is an extension of the cloud but closer to the things that work with IoT data. As shown in
Figure 1
, fog computing acts as an intermediary between the cloud and end devices which brings processing, storage and networking services closer to the end devices themselves. These devices are called fog nodes. They can be deployed anywhere with a network connection. Any device with computing, storage and network connectivity can be a fog node, such as industrial controllers, switches, routers, embedded servers and video surveillance cameras [
13
,
17
].
Fog computing is considered to be the building blocks of the cloud. According to Ai et al. [
5
] and Yi et al. [
14
], the characteristics of fog computing can be summarized as follows:
Location awareness and low latency: Fog computing supports location awareness in which fog nodes can be deployed in different locations. In addition, as the fog is closer to end devices, it provides lower latency when processing the data of end devices.

Geographical distribution: In contrast to the centralized cloud, the services and applications provided by the fog are distributed and can be deployed anywhere.

Scalability: There are large-scale sensor networks which monitor the surrounding environment. The fog provides distributed computing and storage resources which can work with such large-scale end devices.

Support for mobility: One of the important aspects of fog applications is the ability to connect directly to mobile devices and therefore enable mobility methods, such as locator ID separation protocol (LISP) which needs a distributed directory system.

Real-time interactions: Fog computing applications provide real-time interactions between fog nodes rather than the batch processing employed in the cloud.

Heterogeneity: Fog nodes or end devices are designed by different manufacturers and thus come in different forms and need to be deployed according to their platforms. The fog has the ability to work on different platforms.

Interoperability: Fog components can interoperate and work with different domains and across different service providers.

Support for on-line analytics and interplay with the cloud: The fog is placed between the cloud and end devices to play an important role in the absorption and processing of the data close to end devices.
3.3. Benefits of Fog Computing
Fog computing expands the cloud computing model to the edge of the network. Although the fog and the cloud use similar resources (networking, computing and storage) and share many of the same mechanisms and attributes (virtualization, multi-tenancy), fog computing brings many benefits for IoT devices [
18
]. These benefits can be summarized as follows:
3.4. Architecture of Fog Computing
4. Fog Computing with IoT
Fog computing can provide effective ways to overcome many limitations of existing computing architectures that rely only on computing in the cloud and on end-user devices that are related to IoT devices.
This section describes articles which discuss the convergence of the IoT with fog computing. As fog computing is still a recent research topic, there is a lack of concrete solutions supporting this computing paradigm. In this section, we survey existing works that discuss the integration of fog computing with the IoT in various applications.
5. Applications of Fog with the IoT
There are many significant areas where fog computing can play a vital role in different IoT applications. This section provides an overview of various IoT applications that can benefit from fog computing.
6. Challenges of Fog with the IoT
Although the fog computing paradigm offers many benefits for different IoT applications, it faces many challenges that stand in the way of its successful deployment. These challenges include scalability, complexity, dynamicity, heterogeneity, latency and security, as shown in
Figure 4
.
(1)

(2)

(3)

(4)

(5)

(6)

(7)

(8)
7. Open Issues of Fog with the IoT
It is obvious that fog computing is a new technology that needs more research to address all the challenges previously mentioned. This section provides an overview of open issues and future research directions related to fog computing and its integration with the IoT.
8. Conclusions
In recent years, the IoT has attracted the attention of both academia and commercial organizations. It is becoming an integral part of our lives. It has the ability to connect almost everything to everything else in our environment. IoT devices are dynamic in nature and have limited storage and processing capabilities. However, the traditional centralized cloud has many issues, such as high latency and network failure. To resolve these issues, fog computing has been developed as an extension of the cloud, but closer to the IoT devices in which all data processing will be performed at fog nodes, thereby reducing latency, especially for time-sensitive applications. The integration of fog computing with the IoT will bring many benefits to different IoT applications. In this paper, we presented the state-of-the-art of fog computing, including a discussion of fog characteristics, architecture and benefits. The discussion also focused on different IoT applications that will be improved through the fog. Challenges of integrating the IoT with the fog and open issues are also discussed. In summary, the purpose of this paper was to provide a review in order to summarize up-to-date research contributions on fog computing and the IoT and its applications in our world, as well as demonstrating future research directions and open issues regarding integrating fog computing with the IoT.
Acknowledgments
We acknowledge the Egyptian cultural affairs and mission sector and Menoufia University for their scholarship to Hany Atlam that allowed the research to be funded and undertaken.
Conflicts of Interest
The authors declare no conflict of interest.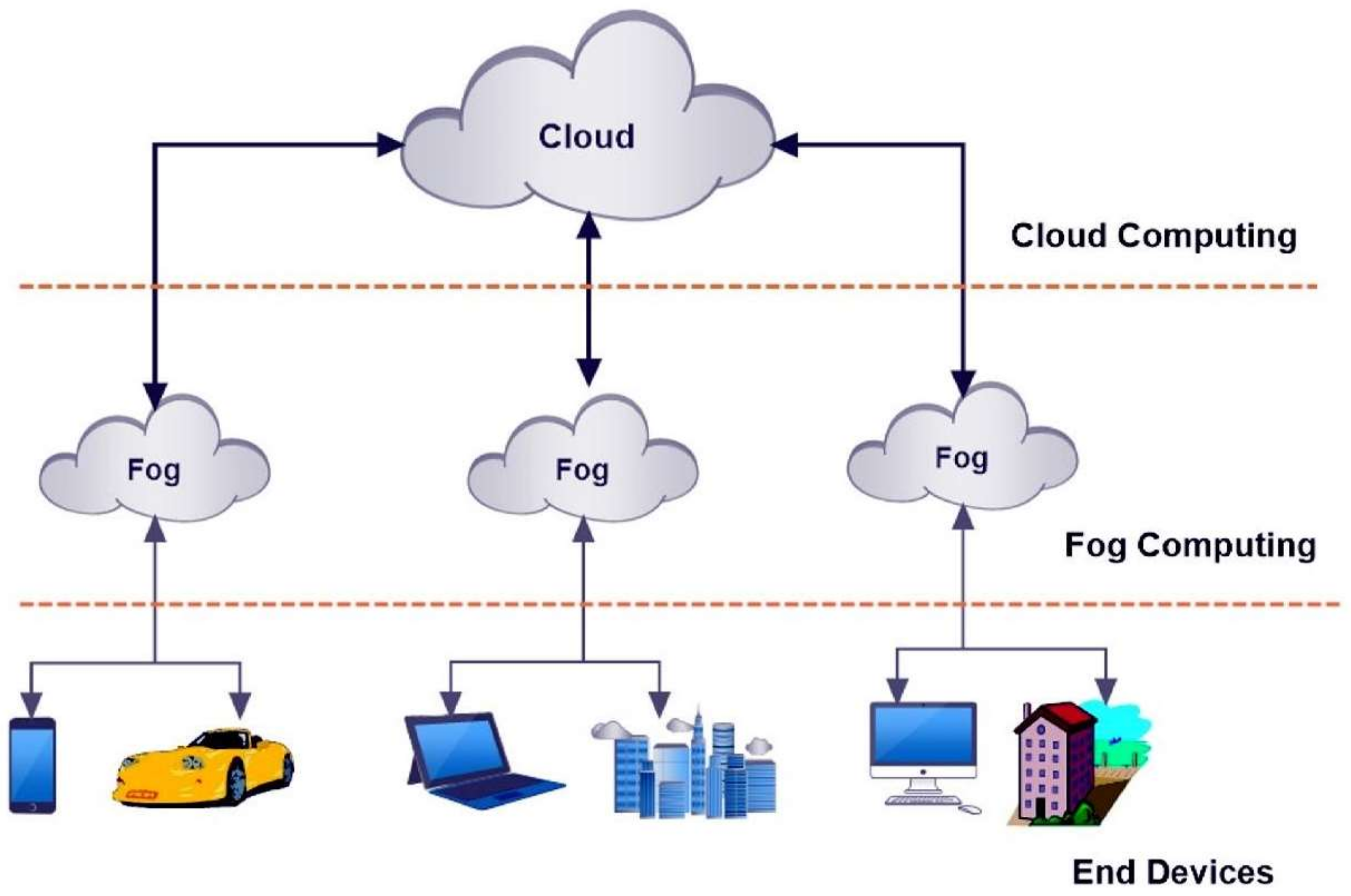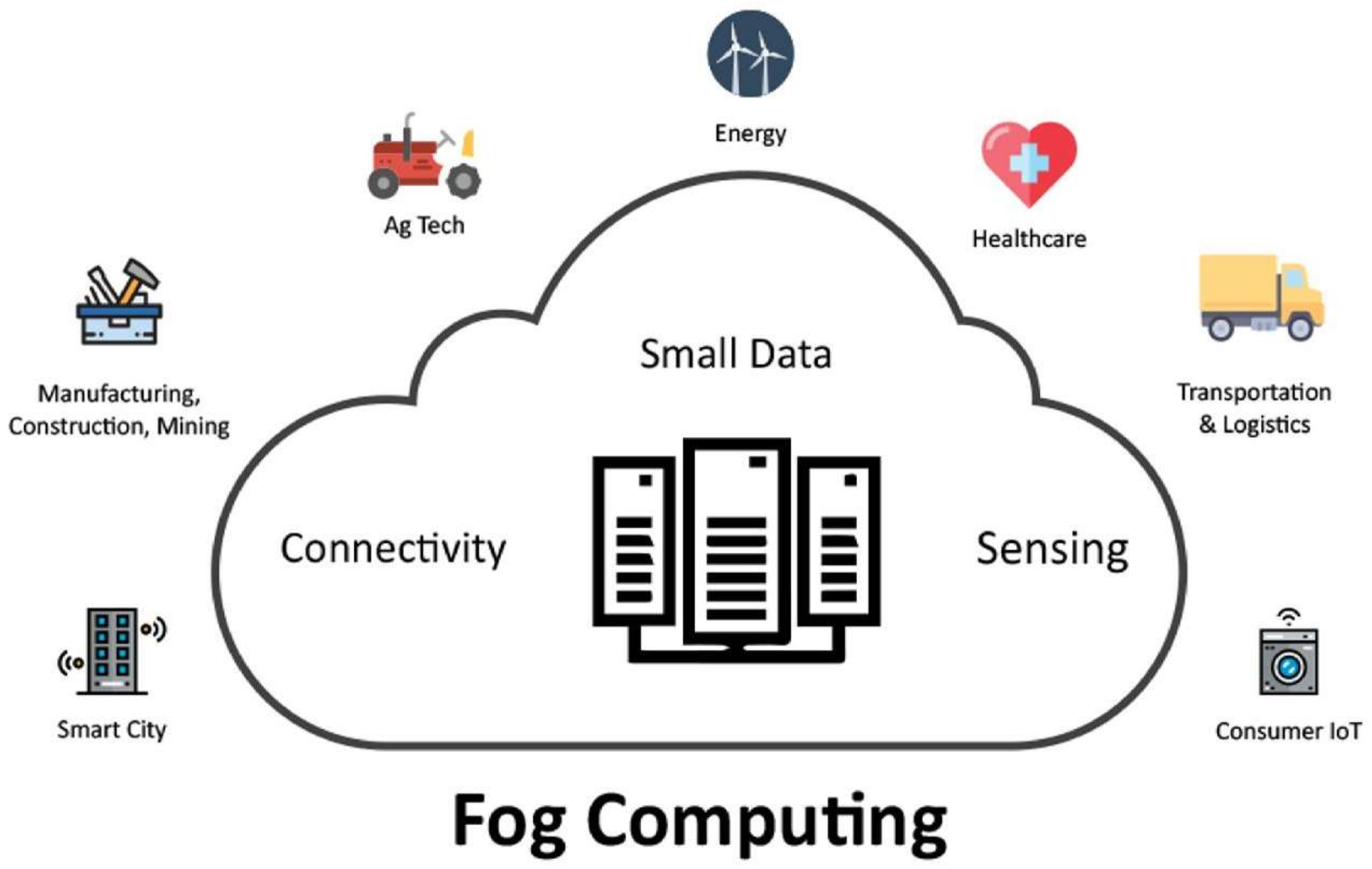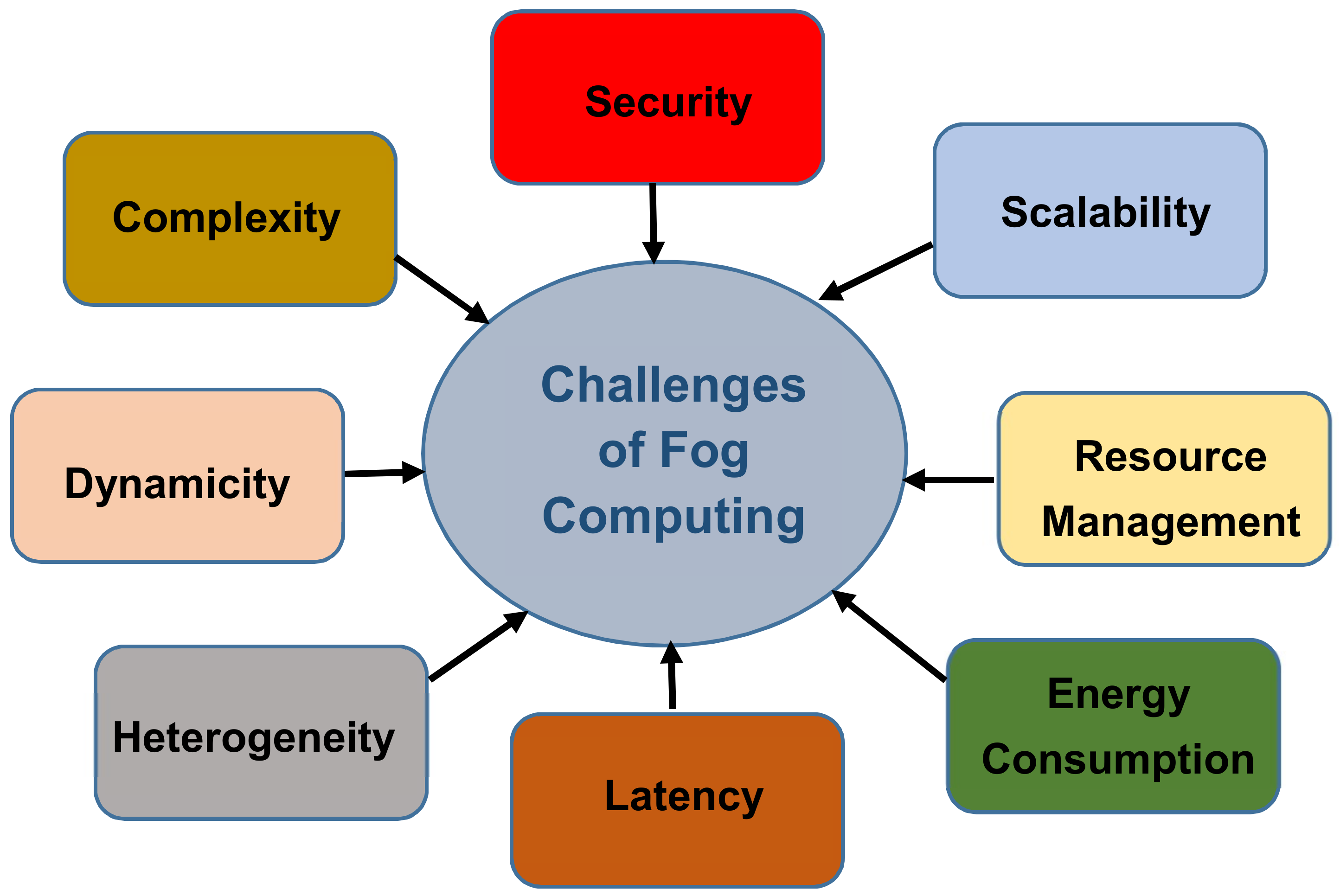 | Items | Cloud Computing | Fog Computing |
| --- | --- | --- |
| Latency | High | Low |
| Hardware | Scalable storage and computing power | Limited storage and computing power |
| Location of server nodes | Within the Internet | At the edge of the local network |
| Distance between client and server | Multiple hops | One hop |
| Working environment | Warehouse-size building with air conditioning systems | Outdoor (e.g., Streets, gardens) or indoor (e.g., Restaurants) |
| Security measures | Defined | Hard to define |
| Attack on data | Less probability | High probability |
| Deployment | Centralized | Distributed |
| Location awareness | No | Yes |
| IoT Challenge | How the Fog Can Solve the Challenge |
| --- | --- |
| Latency constraints | The fog performs all computation operation such as managing and analyzing data and other time-sensitive actions close to end users, which is the ideal solution to meet latency constraints of some of IoT applications. |
| Network bandwidth constraints | Fog computing enables hierarchical data processing along the cloud to IoT devices. This allows data processing to be carried out depending on application demands, available networking and computing resources. This, in turn, reduces the amount of data required to be uploaded to the cloud, which will save network bandwidth. |
| Resource-constrained devices | Fog computing can be used to perform operations that need huge resources on behalf of resource-constrained devices when such operations cannot be uploaded to the cloud. Therefore, this allows reducing devices' complexity, lifecycle costs and power consumption. |
| Uninterrupted services | Fog computing can run independently to ensure continuous services even when it has irregular network connectivity to the cloud. |
| IoT security challenges | Resource-constrained devices have limited security functions; therefore, fog computing acts as the proxy for these devices to update the software of these devices and security credentials. The fog can also be used to monitor the security status of nearby devices. |

Table 3. A summary of related works that investigated the integration of fog computing with the IoT.
| Author | Year | Summary of Contribution |
| --- | --- | --- |
| F. Bonomi et al. [6] | 2012 | Propose a fog computing platform to support resource-constrained IoT devices |
| Hong et al. [37] | 2013 | Propose mobile fog (MF) that allows IoT applications to aggregate and process data locally and support load balancing |
| F. Bonomi et al. [20] | 2014 | Propose a hierarchical distributed architecture for the fog and provide use cases of smart traffic light system and wind farm to demonstrate the key features of the proposed architecture |
| Stojmenovic and Wen [45] | 2014 | Provide security and privacy issues of the current fog computing paradigm with an example of the man-in-the-middle attack |
| K. Lee et al. [41] | 2015 | Investigate security and privacy issues resulting from integrating fog computing |
| K. Saharan and A. Kumar [32] | 2015 | Provide an overview of fog computing as an extension of cloud computing |
| N. Peter [7] | 2015 | Provide a summary of opportunities for fog computing in real-time applications and how to resolve problems related to congestion and latency |
| M. Aazam and E. Huh [23] | 2015 | Propose a model for management of resources through fog computing. This model provides a dynamic way to manage resources and can adapt to different requirements of cloud service providers |
| S. Yi et al. [33] | 2015 | Provide a survey of fog computing and challenges that might arise while implementing fog computing systems |
| V. Gazis et al. [39] | 2015 | Propose an adaptive operations platform (AOP) to provide end-to-end manageability for fog computing regarding the operational demands of the industrial process |
| Y. Shi et al. [21] | 2015 | Provide essential characteristics of fog computing in the healthcare system |
| Dastjerdi et al. [35] | 2016 | Propose a reference architecture for fog computing which serves IoT requests in the local fog rather than involving the cloud |
| M. Chiang and T. Zhang [10] | 2016 | Provide a summary of the opportunities and challenges of fog computing focusing primarily on the networking context of the IoT |
| O. Skarlat et al. [31] | 2016 | Propose a framework for fog resource provisioning to provide delay-sensitive utilization of available fog-based computational resources |
| X. Hou et al. [42] | 2016 | Propose VFC architecture to facilitate collaboration between end users to perform communication and computation based on resources of each vehicle |
| A. Alrawais et al. [40] | 2017 | Propose a mechanism that employs the fog to improve the distribution of certificate revocation information among IoT devices for security enhancement |
| A. Yousefpour et al. [38] | 2017 | Propose a framework to understand, evaluate and model service delay in IoT–fog–cloud application scenarios |
| C. Puliafito et al. [34] | 2017 | Discuss mobility support in a fog environment and investigate the main challenges of mobility support with presenting three scenarios |
| M. Sookhak et al. [43] | 2017 | Propose a cross-layer architecture of VFC to explain the procedures of the decision-making process and how different types of services are distributed among vehicles |
| S. Khan et al. [44] | 2017 | Provide a review of fog computing applications to identify common security issues |
| Mahmud et al. [46] | 2018 | Provide a taxonomy of fog computing according to challenges and features of fog computing |

© 2018 by the authors. Licensee MDPI, Basel, Switzerland. This article is an open access article distributed under the terms and conditions of the Creative Commons Attribution (CC BY) license (http://creativecommons.org/licenses/by/4.0/).