Open Access This article is
freely available
re-usable
Review
Japanese Encephalitis Virus in Australia: From Known Known to Known Unknown
1
Public Health Virology, Forensic and Scientific Services, Department of Health, Queensland Government, PO Box 594, Archerfield, QLD 4108, Australia
2
Faculty of Medical Sciences, Curtin University, and Division of Microbiology and Infectious Diseases, PathWest, Locked Bag2009, Nedlands, WA 6909, Australia
3
College of Public Health, Medical and Veterinary Sciences, and Australian Institute of Tropical Health and Medicine, James Cook University, PO Box 6811, Cairns, QLD 4870, Australia
*
Author to whom correspondence should be addressed.
Received: 23 January 2019 / Accepted: 19 February 2019 / Published: 20 February 2019
Abstract
:
Japanese encephalitis virus (JEV) is a major cause of neurological disease in Asia. It is a zoonotic flavivirus transmitted between water birds and/or pigs by
Culex
mosquitoes; humans are dead-end hosts. In 1995, JEV emerged for the first time in northern Australia causing an unprecedented outbreak in the Torres Strait. In this article, we revisit the history of JEV in Australia and describe investigations of JEV transmission cycles in the Australian context. Public health responses to the incipient outbreak included vaccination and sentinel pig surveillance programs. Virus isolation and vector competence experiments incriminated
Culex annulirostris
as the likely regional vector. The role this species plays in transmission cycles depends on the availability of domestic pigs as a blood source. Experimental evidence suggests that native animals are relatively poor amplifying hosts of JEV. The persistence and predominantly annual virus activity between 1995 and 2005 suggested that JEV had become endemic in the Torres Strait. However, active surveillance was discontinued at the end of 2005, so the status of JEV in northern Australia is unknown. Novel mosquito-based surveillance systems provide a means to investigate whether JEV still occurs in the Torres Strait or is no longer a risk to Australia.
Keywords:
Japanese encephalitis virus; zoonosis; mosquito; transmission; Australia
1. Introduction
Japanese encephalitis virus (JEV) is a single-strand, positive-sense RNA virus of the genus
Flavivirus
, family
Flaviviridae
. The virus is responsible for approximately 68,000 clinical cases annually and is the leading cause of encephalitis in a number of countries in Southeast Asia, the Indian sub-continent and the Indonesian archipelago [
1
]. Predominantly asymptomatic, less than 1% of human infections result in clinical disease which can range broadly in severity from a mild febrile illness to acute meningomyeloencephalitis. Of symptomatic cases, 20–30% are fatal, and among the survivors, approximately 30–50% will have ongoing neurological sequelae.
Prevalent in tropical and subtropical parts of Asia and the Pacific rim [
2
], JEV exists in a zoonotic transmission cycle between ardeid wading birds, such as herons and egrets, and
Culex
mosquitoes, particularly,
Culex tritaeniorhynchus
and
Cx. vishnui
which utilize rice fields for larval development [
3
]. Domestic pigs are important amplifying hosts, due to rates of infection of 90–100%, development of viremia levels sufficient to infect mosquitoes and constant annual turnover leading to a continual supply of immunologically naïve pigs as susceptible hosts. Recent experiments have demonstrated that JEV can be transmitted directly between pigs via oronasal secretions further enhancing the status of pigs as amplifying hosts [
4
]. Although the epidemiological significance of this finding needs to be definitively established, it suggests that virus transmission can potentially occur in the absence of suitable mosquito vectors. Humans and horses can develop fatal disease, but they are considered dead end hosts of JEV because they do not produce adequate viral levels required to infect mosquitoes. Thus, JEV is considered an important zoonotic pathogen and a concerted One Health approach is required for sustained disease suppression [
5
].
In Australia, JEV is mostly viewed as an issue for travelers to endemic regions and occasional overseas acquired cases are reported [
6
,
7
,
8
]. However, in 1995, JEV was first recognized in natural transmission cycles in northern Australia when a widespread outbreak occurred on the islands of the Torres Strait, the body of water that separates Cape York Peninsula and the New Guinea landmass (
Figure 1
). Three human cases, two of which were fatal, occurred on the island of Badu. This event was unprecedented, as Murray Valley encephalitis virus (MVEV) and West Nile virus Kunjin subtype (WNV
KUN
) were considered the only encephalitogenic flaviviruses southeast of Wallacea, the region that separates the Asian and Australasian zoogeographical regions. In the current paper, we revisit the epidemiology of JEV in the Australasian region and summarize research conducted to elucidate the factors that led to its emergence and apparent disappearance.
2. The Emergence of JEV in Northern Australia
3. Elucidating the Ecology of JEV Transmission Cycles in Australia
3.1. Vertebrate Host Studies
Numerous vertebrate species have been investigated as amplifying hosts of JEV in endemic regions, although ardeid birds and pigs are considered the most important [
2
]. When JEV appeared in northern Australia, it was feared that the large populations of feral pigs and wading birds on the mainland would provide an abundance of amplifying hosts to allow the virus to become established in natural transmission cycles. An unknown quantity and continuing concern is the role that other vertebrates, particularly native species, could play in these transmission cycles. Unfortunately, laboratory based vertebrate studies are very complex, requiring high level biocontainment, which restricts them to a limited number of laboratories in Australia. Thus, there has only been limited experimentation on the course of JEV infection in Australian vertebrates. In experiments conducted well before JEV emerged in Australia, the Nankeen Night Heron,
Nycticorax caledonicus
, was shown to produce viremia levels that could potentially infect recipient mosquitoes [
27
]. Later, the response of marsupials to JEV infection was investigated at the Australian Animal Health Laboratories (AAHL). It was shown that eastern grey kangaroos, agile wallabies and tammar wallabies either did not develop detectable viremia or were only capable of producing viremia levels below the threshold required to infect questing mosquitoes (PW Daniels, D Middleton, D Boyle, K Newberry, D Williams, R Lunt, unpublished data cited by Mackenzie et al. [
28
]). In contrast, possums produced a higher viremia when compared to the macropods tested. The only other native species examined as a potential amplifying host in laboratory-based experiments was the black flying fox,
Pteropus alecto
[
29
]. Only 1 of 15 flying foxes produced a detectable viremia which was sufficient to infect recipient mosquitoes. Interestingly, 3 other flying foxes were able to infect recipient mosquitoes, even though they did not produce a viremia that was detectable using a highly sensitive real-time reverse transcriptase PCR. Despite exhibiting low infection rates following experimental exposure, flying foxes could still play a role in the ecology of JEV in Northern Australia, as they roost in camps containing 1000s of individuals, are prevalent on a number of islands of the Torres Strait and are known to migrate from the New Guinea landmass.
The importance of pigs as amplifying hosts of JEV and the existence of large, abundant feral populations across Northern Australia prompted pig infection studies with a regional context. Of particular interest, was whether prior exposure to endemic MVEV or WNV
KUN
viruses affected pig susceptibility to JEV infection and how this may impact on their immune responses. In experiments performed at AAHL, JEV was readily detected in pigs following primary JEV infection, but not in pigs previously infected with MVEV or WNV
KUN
that were later challenged with JEV [
30
]. Coupled with suppressed JEV viremia levels, elevation of existing cross-reactive JEV neutralizing antibodies were further demonstrated in these pigs. Notably, these findings suggest that prior exposure to MVEV or WNV
KUN
may elicit protective immunity against JEV in pigs. Together with the suppression of viremia levels, this indicates that pre-immune pigs may not be effective amplifying hosts and therefore are unlikely to play a major role in JEV transmission.
3.2. Incrimination of Mosquito Vectors
In the majority of regions where JEV is known to circulate,
Cx. tritaeniorhynchus
and
Cx. vishnui
are the key mosquito vectors, however, these species, do not occur in Northern Australia. Based on its role as the primary vector of MVEV and WNV
KUN
[
31
], it was suspected that an alternate species,
Cx. annulirostris
, was the primary vector during the original Torres Strait 1995 outbreak. This hypothesis was further supported by the fact that this was the only species from which JEV isolates were recovered during this initial outbreak and to date, has been the species yielding the most isolates obtained in Northern Australia. Subsequent laboratory-based vector competence experiments using genotype II JEV isolated from Badu Island in 1998 confirmed the status of
Cx. annulirostris
as the likely primary vector in Australia [
32
]. Interestingly, Hemmerter et al. [
33
] demonstrated that
Cx. annulirostris
contains at least 5 mitochondrial cytochrome oxidase I lineages, with some having a wide distribution in the Australasian regions, whilst others appeared more restricted geographically. It was revealed that three of these lineages occurred in southern PNG, the Torres Strait and Cape York Peninsula. The authors hypothesized that these lineages may vary in their vector competence for JEV, thus potentially explaining the southern limits of the virus on the Australian mainland. Phenotypic evidence to corroborate this hypothesis was provided by Johnson et al. [
34
] who showed that the dominant mainland Australian lineage of
Cx. annulirostris
was a relatively poor laboratory vector of the genotype I JEV.
Studies of other species which yielded isolates demonstrated that
Cx. gelidus
was a highly efficient laboratory vector [
34
] whereas
Ae. vigilax
had a comparatively low transmission rate [
32
]. Although other species, such as
Cx. sitiens
and
Cx. quinquefasciatus
were efficient laboratory vectors [
32
] and have been implicated as secondary vectors in SE Asia, their status as vectors in Northern Australia remains largely unknown. Finally, electrophoretic analysis of collections of
Cx. annulirostris
that yielded JEV revealed that the closely related and morphologically similar
Cx. palpalis
was present, sometimes at high levels [
35
]. Thus, this species could also be considered a potential JEV vector. Similar to the situation in endemic locations, the evidence from virus detection in field collected mosquitoes and vector competence experiments incriminates members of the genus
Culex
as the primary vectors of JEV in Northern Australia.
3.3. The Influence of Mosquito Host Feeding Patterns on JEV Transmission in Northern Australia
The propensity for the mosquito to feed on the vertebrate host is critical to its role as a virus vector. Analysis of host feeding patterns of
Cx. annulirostris
from numerous locations in northern Australia revealed that, for the most part, pigs and birds accounted for only a small percentage of positive blood meals [
36
,
37
]. Instead, most of the blood meals obtained by
Cx. annulirostris
originated from marsupials, particularly the Agile Wallaby,
Macropus agilis
[
37
,
38
]. As mentioned previously, experiments conducted at AAHL had previously shown that Agile wallabies produced only low-level viremia. Thus, predilection for
Cx. annulirostris
to feed on wallabies may have dampened transmission, particularly on the mainland, by diverting host seeking mosquitoes away from pigs. Interestingly, there are no wallabies on Badu, so this possible dampening effect would not have impacted transmission dynamics on the island.
The only locations where significant feeding on pigs was recorded in northern Australia was from locations adjacent to domestic pigs or where feral pigs congregated, such as rubbish dumps. In endemic areas in Southeast Asia, intense JEV transmission is usually driven by pig feeding rates >30%. Thus, it was not surprising when analysis of
Cx. annulirostris
host feeding patterns during periods of recognized JEV transmission also revealed relatively high porcine feeding rates, as high as 80% [
36
,
37
]. The proportion of
Cx. annulirostris
feeding on pigs was significantly reduced when the domestic pigs were relocated from the Badu community to a communal piggery some 2.5 km away [
21
]. However, this did not appear to eliminate virus transmission close to human habitation, as infected mosquitoes were subsequently collected within the community [
39
], although it may have diminished the potential for transmission. It was suggested that domestic pigs needed to be moved further away to be out of the flight range of
Cx. annulirostris
, which can be as much as 12 km [
40
].
3.4. Development of Mosquito-Based JEV Surveillance Systems
4. Conclusions
To date, the detection of JEV in mosquitoes collected in a mosquito trap on Badu in March 2005 signified the final time that virus activity was unequivocally detected in Northern Australia. Overall, the virus was detected in 10 out of 11 years between 1995 and 2005 indicating that JEV had either become established in enzootic cycles in the Torres Strait or was re-introduced during the period almost annually when conditions were suitable.
Author Contributions
Conceptualization, A.F.v.d.H., A.T.P., J.S.M., S.H.-M. and S.A.R.; Writing—Original Draft Preparation, A.F.v.d.H.; Writing—Review & Editing, A.F.v.d.H., A.T.P., J.S.M., S.H.-M. and S.A.R.
Funding
This research received no external funding.
Acknowledgments
The authors wish to thank Tim Kerlin, Keith Rickart and Jamie McMahon for information on recent JEV surveillance in Northern Australia. They also thank Frederick Moore for comments on the manuscript.
Conflicts of Interest
The authors declare no conflict of interest.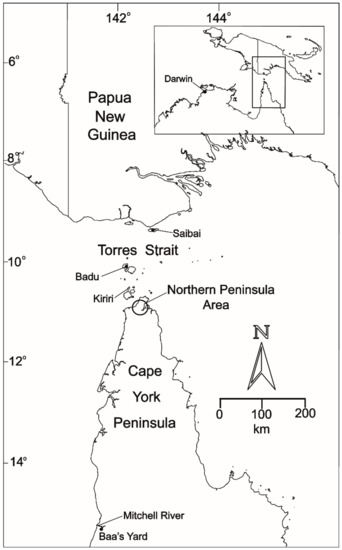 Figure 1. Map of Northern Australia and southern Papua New Guinea showing locations mentioned in the text. The Northern Peninsula Area includes the communities of Bamaga, Injinoo, New Mapoon, Seisia, and Umagico.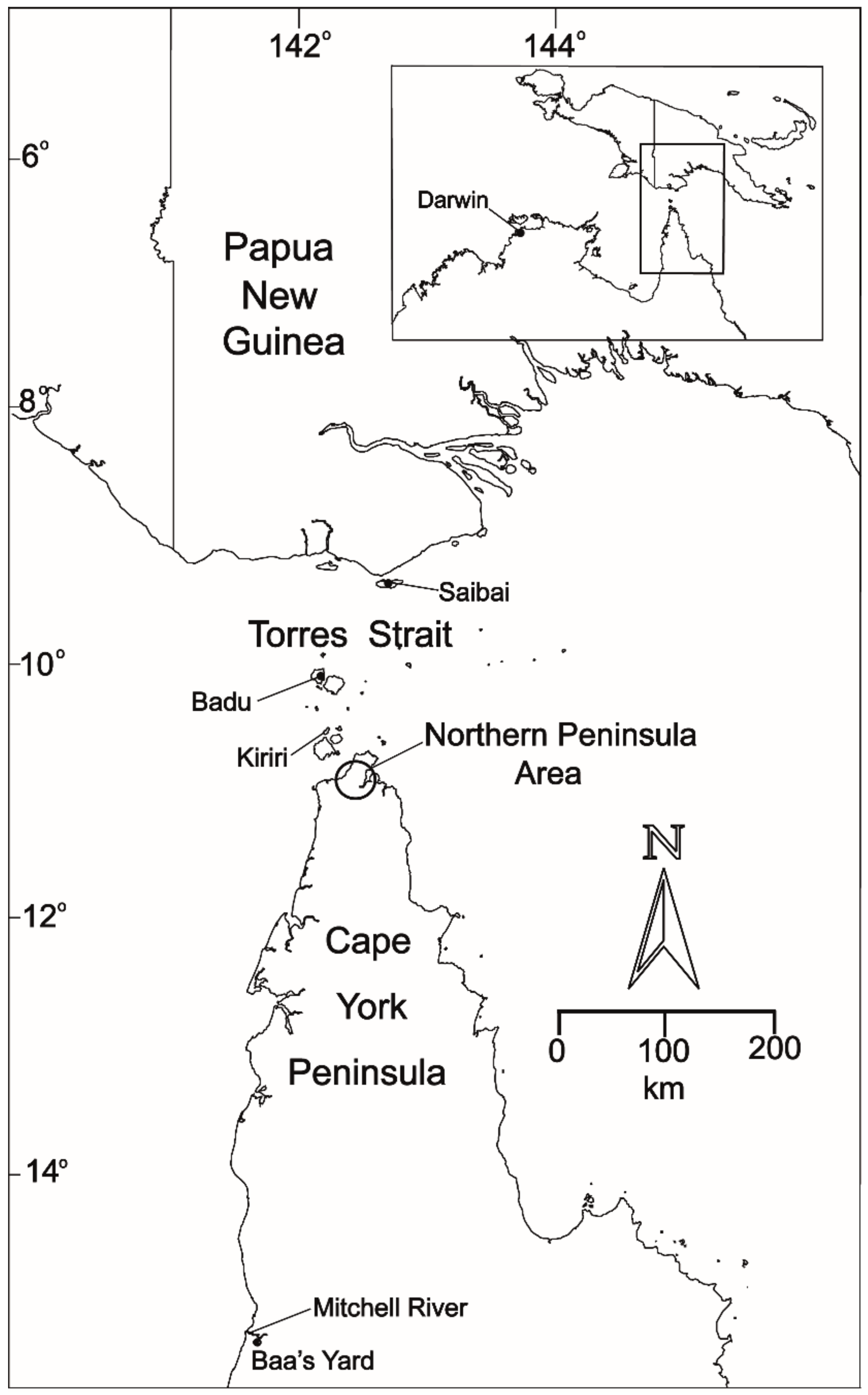 © 2019 by the authors. Licensee MDPI, Basel, Switzerland. This article is an open access article distributed under the terms and conditions of the Creative Commons Attribution (CC BY) license (http://creativecommons.org/licenses/by/4.0/).