Open Access This article is
freely available
re-usable
Article
Interactive Landscape Design and Flood Visualisation in Augmented Reality
Department of Landscape Architecture, The University of Sheffield, Sheffield S10 2TN, UK
*
Author to whom correspondence should be addressed.
Received: 30 April 2019 / Accepted: 12 June 2019 / Published: 15 June 2019
Abstract
:
In stakeholder participation workshops, digital and hard-copy maps, alongside other representation formats in 2D and 3D, are used extensively to support communication, spatial evaluation and interactive decision making processes. In this paper, we present a novel tool to enhance traditional map-based workshop activities using augmented reality. Augmented reality technology is gaining momentum as a tool for visualising environmental design choices in planning and design, and is used in a range of applications including stakeholder participation, design evaluation and flood risk communication. We demonstrate interactive and collaborative 3D cartographic visualisations which enable real-time multi-user exercises in landscape intervention design and flood visualisation.
Keywords:
planning and design; landscape architecture; augmented reality; participation workshops; 3D visualisation; collaborative design
1. Introduction
In this paper, we demonstrate an augmented reality enabled planning and design application used for exploring cartographic visualisations, to enhance traditional planning and design workshops. We document a set of software pipelines to convert industry standard digital elevation models (DEM) into interactive terrain visualisations to support workshops, public communication and researchers alike. The aim of this open software is to support and encourage further investigation using augmented reality as a workshop tool in planning and design. This paper aims to detail the technical capabilities of the software and demonstrate the potential range of case study applications which could be enriched through this interactive, multi-user augmented reality approach.
2. Related Work
Touch-tables enable face-to-face group collaboration and decision-making. The device allows users to work with computer-based spatial tools, providing a shared map interface which can complement large-format printed maps. Stakeholders are invited to work together around touch-tables to share their views about a study area. They make use of a set of digital maps to improve stakeholder understanding of the problem space, prompt exchange of local knowledge and encourage stakeholder dialogue and to identify stakeholder objectives.
3. Methods and Materials
We aim to create an augmented reality application to support collaborative landscape design and flood visualisation in planning and design workshops, which is accessible through a variety of augmented reality hardware, suitable for both on-site and lab-based demonstrations.
4. Results
Maps are considered as both a tool to aid communication and to support research [
27
]. Stakeholders use 2D base maps and static imagery to collectively assess, compare and rank competing proposals [
4
]. Here we present software to extend traditional mapping tools into 3D with augmented reality, to extend the current participation tool-set. We focus on three components; terrain visualisation, flood visualisation and terrain modification. Each component is designed to support the three types of planning and design workshops, communication, spatial analysis and collaboration respectively.
4.1. Terrain Visualisation
Figure 4
a shows our terrain visualisation in-situ, placed upon a wooden desk through the use of environmental tracking. We have designed the software to be hardware agnostic, enabling both fiducial marker based tracking for low-end devices and environment tracking for high-end devices. Each example in this paper uses environmental tracking.
We have enabled seamless base map switching through the Map Layer Tool to emulate base map usage in a traditional workshop setting.
Figure 4
b shows a visualisation of the spectrum of base maps which can be visualised, showing satellite, shaded relief, slope and hill-shade maps. Any arbitrary texture can be included, so long as it matches the shape of the underlying terrain model. Akin to tracing paper and base map tools, additions to the terrain will persist across different base maps. In a multi-user setting, switching base maps can be independently controlled by each user, or guided by a single group leader to facilitate instructor lead activities.
Importantly, as per the pipeline described in
Figure 1
, we have created our terrain visualisation to be easily extendable through component-based interactions to facilitate specific workshop goals. To demonstrate this, we develop two specific tools, reactive flood visualisation and multi-user terrain modification to support future workshops focused on adaptive urban transformation.
4.2. Water Flood Visualisation
Flood visualisation plays a central role in flood risk communications [
28
], with augmented reality visualisations used in both on-site and lab-based sessions [
18
,
20
], demonstrating the utility in a three-dimensional representation of flood progression. In
Figure 2
, we document the pipeline for our flood visualisation component, to display potential flood progression onto a landscape model. We use a flood stage map which specifies the extent of flood waters at corresponding water heights, which can be computed in advance, or in real time during the workshop. User interaction is achieved through the user interface, by varying the flood height and visualising the resulting flood progression.
Figure 5
shows the progressive flood visualisation across the digital elevation model of a section of the lower Rio Puerco arroyo in north-central New Mexico [
22
].
Figure 5
a shows a screenshot of the software in use, wherein the visualisation is held in situ through environmental tracking. The user interface allows the user to raise and lower the flood-height at will, the result of which can be seen in
Figure 5
b, where the darkness of the floodwaters indicates the depth of the water at that position.
For this simulation, we use the inbuilt flood simulation algorithm, which enables users to chose the initial location of the rise in flood waters and to compute the progression of the flood-planes using the hydrologically-connected "bath-tub" model of flood propagation [
25
].
As the in-build flood simulation tool is built upon the underlying terrain system, it can be used in conjunction with other components, such as terrain modification to provide a complex, collaborative tool.
4.3. Terrain Modification
Stakeholder participation workshops are inherently a multi-participant activity, with communication being shared in real time with all participants. A technological enhancement to the workshop process must also be able to support a multi-participant approach to collaborative design to be considered fit-for-purpose.
5. Discussion
We have presented a novel augmented reality compliment to augment current planning and design workshop tools. We aim to provide new ways to support collaborative decision making in stakeholder participation exercises, by enabling novel methods for interactive planning and design generation.
We have sought to address several drawbacks presented in previous digital tools while retaining the advantages digital tools have over hard-copy maps. The digital touch-table facilitated up to 4 simultaneous users [
4
], which could be a significant limitation in a larger workshop setting. As we are not bound to a single device when using augmented reality, we have developed our solution to support up to 10 users simultaneously, with scope to extend this depending on individual hardware capabilities.
Furthermore, due to the networked approach to our software, we can expand on the collaborative element seen in the AR sandbox, which is limited to lab-based exhibitions. Our software supports both lab-based and on-site discussions through the use of environmentally tracked visualisation, with the added possibility for collaborations at a distance, working on the same designs in different locations in real time.
In practice, planning workshops can take place over multiple sessions, in which each session embodies a different role, for example, communication, spatial analysis and collaboration. For an effective workshop process, the output of one workshop influences the materials presented at the next, creating a workshop workflow. The first session ensures that all participants are familiar with the site to be studied. Next, participants can analyse the site to get a better understanding of the processes and interactions which govern the site, to better define an intervention scenario. Finally, collaboration workshops seek to use the distributed expertise of stakeholders to convene upon a variety of design solutions to solve previously identified concerns.
We have designed our software to meet the demands of a multi-user, multi-workshop workflow, enabling the gradual build-up of knowledge through interactive exploration.
Figure 6
shows an example application of our software in a multi-workshop workflow, progressing through the stages of communication, spatial analysis and collaboration, where each workshop builds on the result of the preceding workshops.
Here we discuss our software with respect to a potential future multi-workshop scenario. The workshop series would seek to engage stakeholders in designing landscape-based flood interventions over the course of 3 workshops, detailed as follows:
Communication:

An instructor led discussion of the local area, its features and topography.

Spatial Analysis:

An interactive exploration of flood risk in the area, to identify at-risk areas.

Collaboration:

Create a potential landscape intervention to reduce flood risk in previously identified areas.
Figure 6
b shows how terrain can be used to visualise base maps in 3D. The terrain can be updated by the workshop instructor to show a progression of cartographic representations (such as those shown in
Figure 4
b), to give a good impression of the site as part of the communication workshop. Users can explore the terrain at will, without affecting the information presented to the group. This provides additional flexibility over the single point of information shared by previous tools, such as the AR Sandbox, interactive touch-table, and hard-copy maps.
Secondly as part of a follow-up workshop focused on spatial analysis,
Figure 6
b shows how users could undertake a detailed analysis of a spatial problem using interactive flood visualisations. The ability to raise and lower floodwaters gives an intuitive way to identify which areas are most at risk, and help identify suitable sites for landscape intervention.
Finally, building on the knowledge gained through previous spatial analysis exercises, our terrain modification and reactive flood plane visualisations provide a platform for multi-user collaboration to design solutions to address identified flood risk concerns. The ability to combine the design and analysis of potential design, encourages rapid interactive design and evaluation.
Further work will assess the effectiveness of this software within a structured workshop setting as part of the Adaptive Urban Transformation project (
http://www.adaptiveurbantransformation.com/
). Further development will refine and improve our support for standard workshop practices. We suggest that, while the tactile nature of hard-copy maps will not be supplanted by innovative technology, it can be complemented with new technological capabilities. Augmented reality presents a variety of unique improvements over other digital media, such as touch-tables, with the ability to support both global and personal perspectives on presented data within a shared space. However, the high-barrier of entry for software development will limit its adoption. Through this open software, we hope to encourage adoption in both research and practice.
Author Contributions
Conceptualization, A.T.; Funding acquisition, E.L.; Methodology, A.T.; Project administration, E.L.; Software, A.T.; Visualization, A.T.; Writing—original draft, A.T.; Writing—review & editing, E.L.
Funding
This research is supported by the Newton Fund/Engineering and Physical Sciences Research Council (EPSRC) as part of the Sustainable Deltas award. It is a collaborative project with South China University of Technology and Delft University of Technology (TU Delft).
Conflicts of Interest
The authors declare no conflict of interest. The funders had no role in the design of the study; in the collection, analyses, or interpretation of data; in the writing of the manuscript, or in the decision to publish the results.
Abbreviations
The following abbreviations are used in this manuscript:
| | |
| --- | --- |
| AR | Augmented Reality |
| CSCW | Computer Supported Cooperative Work |
| DCPP | Diablo Canyon Power Plant |
| DEM | Digital Elevation Models |
| GIS | Geographic Information System |
Figure 1. The Terrain Visualisation pipeline. Yellow boxes show the main pipeline, with points of optional expansion for additional components shown in blue.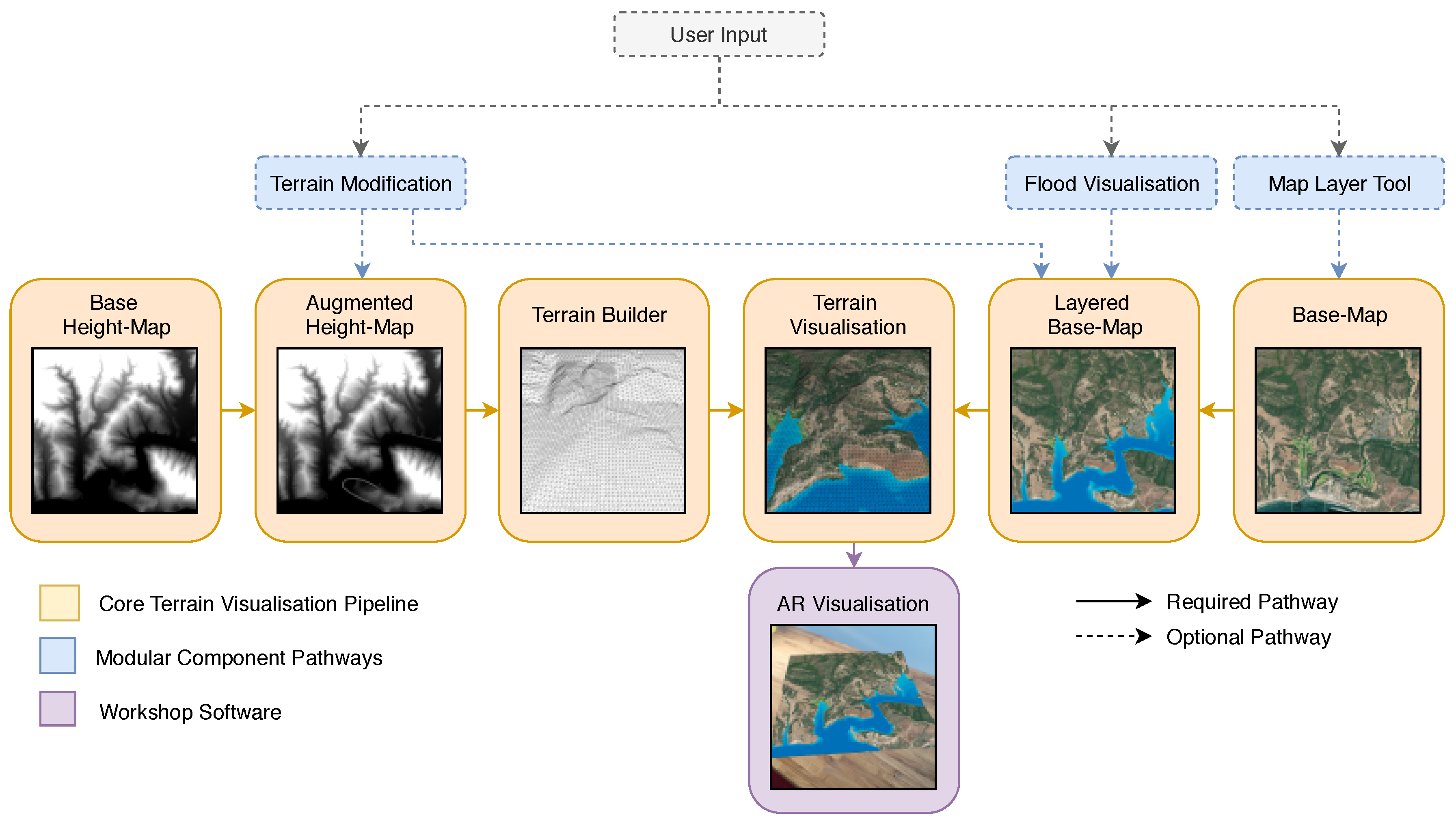 Figure 2. The Flood Visualisation pipeline. The Flood Visualisation component compares the flood map, flood height and base map to create a flood layer to augment the base map before final visualisation.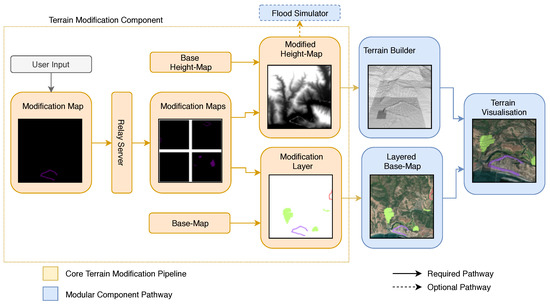 Figure 3. The Terrain Modification pipeline. The Terrain Modification component augments both the base height map and the base map to create an annotated and modified terrain, synced with all users using the relay server.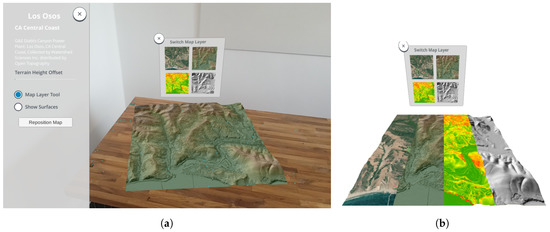 Figure 4.
Augmented reality cartographic visualisations. (
a
) 3D Terrain draped with a coloured relief map anchored to a table using environmental tracking. (
b
) A close up of the Map Layer Tool, showing the ability to instantly visualise and select from a range of base map styles. Underlying DEM data from the Los Osos, CA Central Coast [
21
].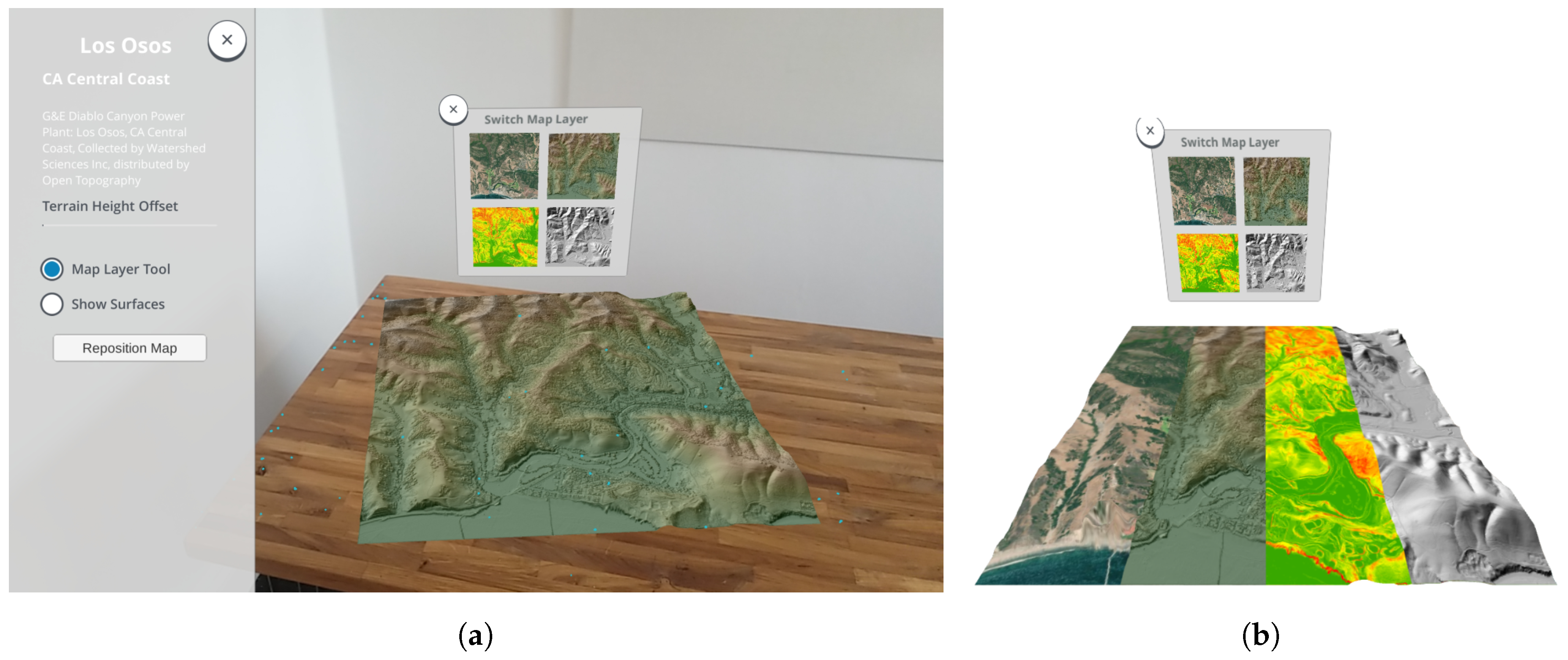 Figure 5.
Flood Visualisation (
a
) A screenshot of the flood visualisation software in use (
b
) A visualisation of water level progression using our built-in flood simulator. Underlying DEM data from the 2010 Rio Puerco River Study of overbank flood dynamics [
22
].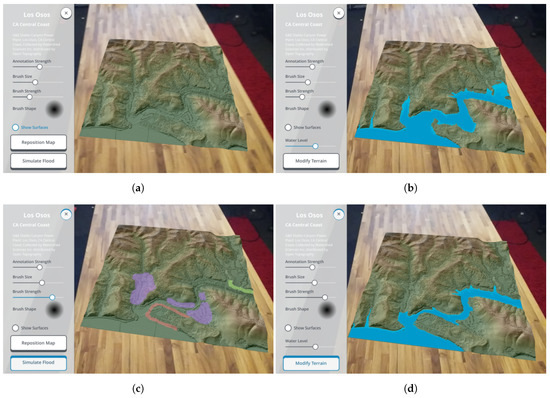 Figure 6. Multi-user terrain modification. (a) Unmodified terrain model visualised with satellite imagery. (b) Simulated flood event over the unmodified terrain. (c) Modification highlights for two users. (d) Simulated flood event of modified terrain, showing reduced flood extent due to landscape interventions.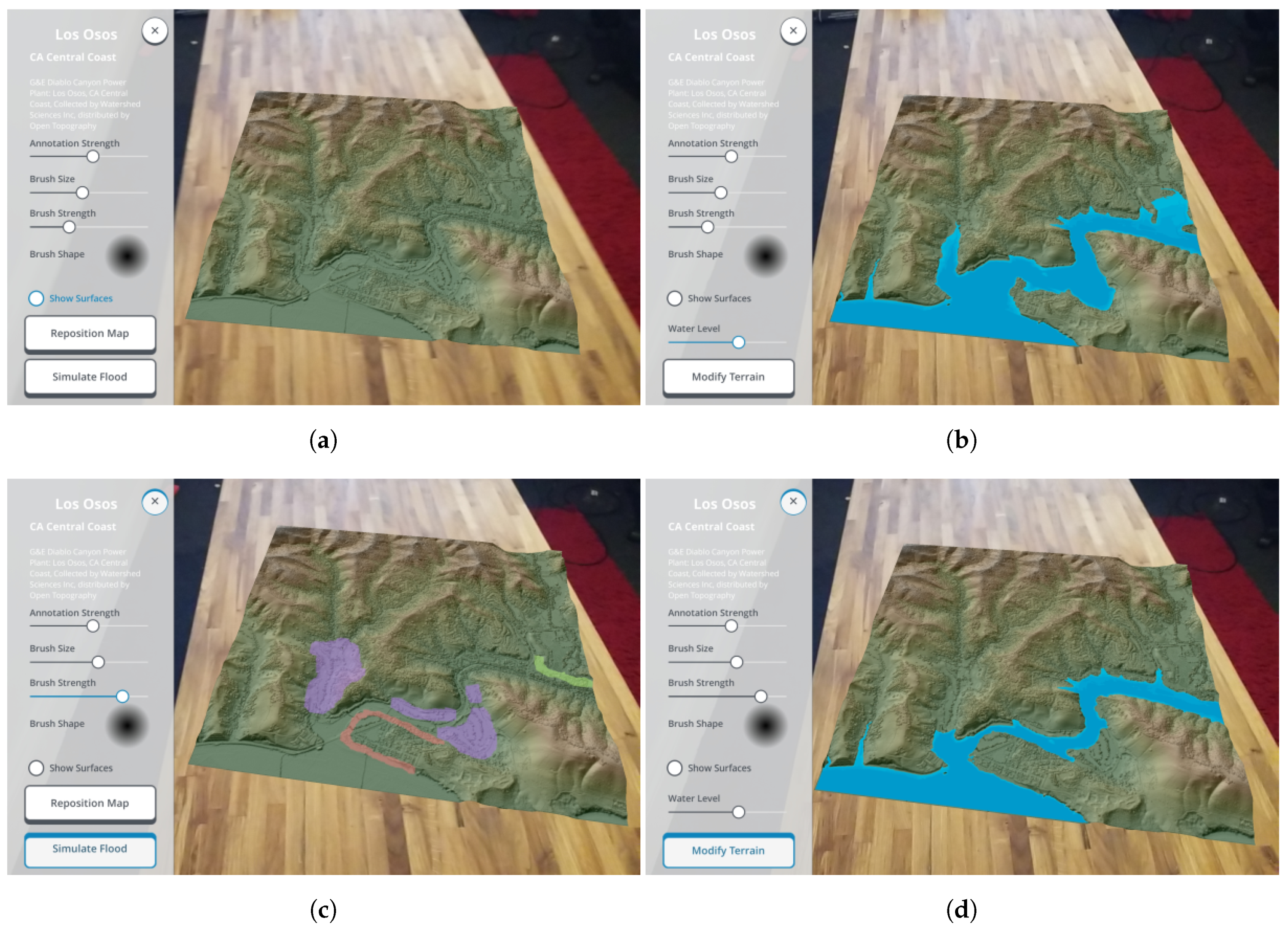 © 2019 by the authors. Licensee MDPI, Basel, Switzerland. This article is an open access article distributed under the terms and conditions of the Creative Commons Attribution (CC BY) license (http://creativecommons.org/licenses/by/4.0/).