Open Access This article is
freely available
re-usable
Article
Do Private Transport Services Complement or Compete against Public Transit? Evidence from the Commuter Vans in Eastern Queens, New York
1
School of Sustainability, Arizona State University, Tempe, AZ 85281, USA
2
School of Geographical Sciences and Urban Planning, Arizona State University, Tempe, AZ 85287, USA
*
Author to whom correspondence should be addressed.
Received: 31 December 2018 / Accepted: 13 February 2019 / Published: 22 February 2019
Abstract
:
Do private transport services complement or compete against public transit? As transit agencies scramble to adjust to the new transport landscape of mobility services, this has become an important question. This study focuses on New York's commuter vans (also known as "dollar vans"), private vans that have operated alongside public transit for decades. We use original survey and observational data collected in the summer of 2016 to document basic ridership characteristics and to provide insight into whether the commuter vans complement or compete against city buses. Commuter van ridership in Eastern Queens is high; it is roughly equivalent to city bus ridership on parallel routes at approximately 55,000 per day. Further, more than 60% of van riders surveyed would have had a free trip on a city bus, through either a transit pass or transfer. Time savings was an important motivation for these riders to pay extra for the vans; the vans are faster than city buses, and van wait times are shorter. These results suggest that New York's commuter vans complement public transit by serving as a feeder system. This conclusion, however, is highly context-dependent. As private transport services proliferate, continued research is needed to ascertain their relationships with public transit.
Keywords:
paratransit; dollar vans; jitneys; informal transport; New York City; microtransit; ride hailing
1. Introduction
New York's commuter vans—also known as "dollar vans" or jitneys—carry approximately 120,000 passengers each day [
1
]. This is comparable to the total transit ridership in other US cities such as Phoenix, AZ [
2
] and Minneapolis/St. Paul, MN [
3
]. Despite its size, little is known about the commuter van industry. Because these vans are privately owned and operated, data that is commonly available for transit systems is absent. This study is one of the first to shed light on New York's "shadow transit" system, building on the work of King and Goldwyn [
1
], King [
4
], Reiss and Lavey [
5
], and Goldwyn [
6
].
Commuter vans occupy a market space in between taxis/ride hailing services and formal public transit. They are faster than city buses and offer some of the flexibility, comfort, and convenience of neighborhood taxis for an affordable US
$
2 fare. They have an intermediate capacity of 13–20 passengers and follow a semi-regular route. The vans pick up passengers along their route like city buses, but are often street-hailed like taxis. They can deviate from the route at the driver's discretion, but can only legally serve a predetermined neighborhood area.
With these features, commuter vans can complement public transit by serving as a feeder system for the buses and subways that transport passengers out of the van-served neighborhoods. However, they can also directly compete against local city buses. Some researchers have argued that while services such as ride hailing and commuter vans threaten public transit, they are also key to its future success [
7
]. These private services help to smooth transportation demand shocks caused by temporary transit disruptions such as closing of subway stations [
8
], extreme weather conditions, and unexpected natural disasters as in the case of New York City's Hurricane Sandy [
9
].
The perception of the role played by services such as commuter vans is at the core of policy decisions surrounding these services. For instance, the New Jersey Interstate Commerce Commission views jitneys as contributing to overall increased mobility even though they are in direct competition with New Jersey transit [
10
], hence it implemented policies that encouraged new entries into the market and relaxed jitney restrictions [
10
]. Stricter policies like those that govern New York commuter vans, such as levying fines for operation of commuter vans along Metropolitan Transportation Authority (MTA) bus routes, are the result of the perception that commuter vans compete against the city's MTA transit.
This research documents travel and sociodemographic characteristics of commuter van riders in Eastern Queens and uses these data to shed light on the role that these vans play in relation to the formal MTA transit system in the study area. In particular, we ask four research questions:
How many people ride commuter vans in Eastern Queens?

What are the socioeconomic characteristics of commuter van riders?

Why do riders choose the commuter vans over public buses?

Do vans complement or compete against MTA transit service?
The first two questions are motivated by the need to understand both the extent of commuter van services and the population they serve. The third question is motivated by a need to understand how commuter van and MTA transit services compare from the van riders' point of view. Answering the last question is important for making evidence-based commuter van policy going forward. Our answers to these questions are drawn from original on-board surveys and a tally of commuter van riders in Eastern Queens, conducted in the summer of 2016.
This research is especially timely today, as ride hailing service providers such as Uber and Lyft are moving into the collective transport business. For instance, uberPOOL and Lyft Line provide service to up to 4 or 6 passengers at a time, and Uber's Express POOL, Lyft Shuttle, and services such as Via require people to walk to a meeting point comparable to a bus stop and offer fixed routes and fixed pricing. These new jitney-style services are remarkably similar to New York's commuter vans, and questions have been raised about the extent to which they compete against both the more heavily-regulated taxi industry [
11
,
12
] and against public transit [
13
,
14
,
15
]. City approaches to regulating these new services are still evolving, but decision making is hampered by limited information about how these services affect travel patterns [
16
]. This study of New York's commuter vans—a private jitney-style service that has existed alongside MTA transit for over three decades—can inform these regulatory decisions.
2. New York's Commuter Vans
Like jitney services nearly everywhere, the New York commuter vans present a regulatory challenge for the city. While regulating to ensure public safety, a balance must be struck between encouraging these transport services to complement public transit and discouraging them from stealing transit riders and revenues. Achieving this regulatory balance is especially difficult without detailed van ridership data, such as that presented in this article. Many of the current rules governing commuter vans focus on combating transit rider stealing. Specifically, commuter vans are licensed only to provide prearranged transport (street hail pickups are not allowed), are not allowed to use the same routes as MTA buses, and are not allowed to pick up passengers at bus stops. Because their business model relies on street hails and it is difficult to create viable van routes that do not overlap with bus routes, these rules have pushed the van industry to operate only semi-legally. There are semi-regular TLC "crackdowns" during which van drivers and owners receive costly tickets for failing to follow these rules.
As we will demonstrate in this article, however, the commuter vans actually play a largely complementary role to MTA transit in Eastern Queens. Discouraging the commuter van industry likely hurts both access and mobility in the van-served neighborhoods and adds to already-crowded conditions on MTA buses in the neighborhood.
3. Eastern Queens Study Area Characteristics
Eastern Queens commuter vans serve six main routes in both Queens and Nassau County [
5
]. This study focuses on the five commuter van routes operating in Queens County leaving out the one route operating solely in Nassau County. These commuter vans connect five neighborhoods in Eastern Queens to the Jamaica Center commercial district: Rosedale, Cambria Heights, Green Acres Mall, Far Rockaway and Linden. Additional neighborhoods are served as commuter vans operate on roads through or adjacent to them.
The neighborhoods served by the commuter vans include 115 census tracts.
Figure 1
and
Figure 2
illustrate the van routes and the location of the study area in the context of New York City and the MTA transit system, as well as the median household income, population density, and the percent of households that own cars [
22
]. The study area is the easternmost part of New York City adjacent to Long Island, with a suburban feeling. In comparison with much of New York City, the area is more sparsely populated, and the north and west sides are more densely populated than the rest of the study area. The median household income is higher in the sparsely populated east and south side of the study area, while the higher density west side houses residents with lower income. Still, the median income in most of the study area is actually higher than New York City's median annual income of about
$
53,000.
The bottom right map in
Figure 2
depicts the spatial distribution of household car ownership in the study area. Households without cars are completely dependent on shared modes of transportation. In the northwest corner of the study area where density is high and incomes are low, less than half of households own cars. This vehicle ownership pattern directly impacts the spatial pattern of commute mode choices. Where car ownership is low, people are more likely to ride public transportation. In census tracts where car ownership is higher, commute trips are made by carpooling or driving alone. Note, however, that by the census definition, a commuter van trip is a "carpool" trip. For the longest portion of their commute, the census reports that 43% of commuters in the study area used public transportation, 6% carpooled, and 44% drove to work in 2016. As will become clear from our data, however, many commuters use commuter vans
together with
MTA transit to get to work.
4. Materials and Methods
Data for this study were collected over three months in summer of 2016 using an Arizona State University Institutional Review Board-approved survey questionnaire (
Appendix A
provides a copy of the survey and raw data totals for each question), a three-day van rider tally on each of the five Eastern Queens routes, and researcher observation. Surveys were administered on board randomly-selected commuter vans. Survey implementation required the researcher to ask drivers for permission to ride in their vans and talk to their passengers, after paying the
$
2 fare for the trip. The researcher then gave all passengers the opportunity to participate in the survey and rode each van until all surveys were returned or to the end of the route, whichever came first. The survey response rate was approximately 40%.
In addition to the surveys, a 3-day ridership tally was conducted on each of the five routes in the study area. The methodology used was simple, but time-intensive; the researcher rode one van from approximately 07:00 to 19:00 for three consecutive days, counting each passenger and noting their gender. These data were collected on the Thursday, Friday, and Saturday of five consecutive weeks in July and August of 2016, counting passengers on one route each week. Conducting the tally from Thursday through Saturday allowed for observation of ridership for a typical weekday, a transition day (Friday), and a weekend day.
An advantage of on-board surveys is that respondents do not need to remember a past trip; they are asked about their travel while they are traveling. A limitation, however, is that this approach cannot provide information about commuter van use by a representative sample of neighborhood residents. As with all surveys, nonresponse bias—where those who choose to answer the survey are systematically different from those who choose to decline the survey—was a concern. Because this survey was administered in person, the researcher directly observed differences between respondents and non-respondents. Specifically, younger commuter van riders were more likely to respond to the survey than older riders.
The survey included questions about MTA transit use, commuter van-related travel choices, the current commuter van trip, and basic demographics. Data collected in the field were cleaned, coded, and analyzed using Microsoft Excel and Stata 14 software. Goldwyn [
6
] also used on-board surveys in his study of the Brooklyn commuter vans—the only existing study of New York's commuter vans that is comparable to ours. Many of our survey questions overlap with those asked in Goldwyn's 2013 survey of Brooklyn commuter van riders [
6
].
Table 1
provides summary statistics for the Eastern Queens survey as well as a direct comparison between the two van rider survey datasets. This comparison is important because it highlights the parallels between the van riders' characteristics in Brooklyn and Eastern Queens, which may speak to the success of commuter vans in these neighborhoods. Data from the American Community Survey (2016) show that approximately 55% of the population in the study area were female, 50% were immigrants who commuted to work, 43% commute to work via transit, 60% of the households reported incomes over
$
50,000, and 81% of households owned at least one car. A comparison with these census data indicates that van riders reflect the study area population in their immigrant status, but are notably poorer than the general population, less likely to own a car, and more likely to ride transit. Although these differences between van riders and the study area population likely reflect reality, they may be exaggerated by the fact that our survey respondents were biased toward younger commuter van riders. To the extent that younger adults have relatively lower incomes, are less likely to own a car, and are more likely to ride transit than older adults, our survey results may also be biased in this way.
Hypothesis tests indicate a statistically significant difference between the two van rider surveys for the percentages shown in boldface and orange shading. There are many similarities between the van riding populations in these two neighborhoods. The gender balance among riders, the fraction of riders who are immigrants, and the percent who own cars are not statistically different between these two samples. The fraction of riders who have MetroCards at all—the MTA official fare payment card—and use MTA transit was significantly lower in Eastern Queens. This is not surprising because Eastern Queens is located on the edge of New York City, whereas the Brooklyn van routes are more centrally located. There were also significant differences in the fraction of van riders who responded that van speed and convenience were key reasons why they chose the vans over MTA transit. This may reflect real differences in relative speeds between vans and MTA buses in these different neighborhoods.
6. Discussion
Commuter vans are a rare example in the US context of a successful and sizable private collective transport service. The industry has been operating for over 30 years, and along the Eastern Queens van routes, our estimates suggest that the vans carry as many passengers as the MTA buses. This research provides an initial picture of the Eastern Queens commuter vans and their riders, based on field research conducted during the summer of 2016. We aimed to estimate van ridership, as well as identify who rides the vans and why they do so despite the existing parallel MTA bus service. The answers to these questions provide insight into the extent to which the commuter vans complement or compete with MTA transit in this neighborhood—an important policy question, especially in the current era of rapidly proliferating mobility services.
Commonly-held views—especially by those who do not use the commuter vans—are that the vans are a cheaper and therefore inferior transport service compared to the MTA buses. It is true that the base fare is lower on the vans—
$
2.00 versus
$
2.75 for a single ride in the summer of 2016. The fare story is complicated by the fact that MTA offers free transfers between their buses and subways, as well as unlimited ride passes and further discounts for children and seniors. Van fares do not vary, van passes do not exist, and there are no transfers included in the van base fare. One of the most remarkable findings from this study was that at least 63% of the van riders we surveyed were paying a
$
2 premium to use the vans; their ride for the trip they were taking at the time of the survey would have been free on an MTA bus. Most commuter van riders are relatively low-income, and the fact that many of them are paying extra to ride the vans shows that even poor riders are willing and able to pay for higher transport service quality.
Indeed, our data indicate that vans actually do provide a premium service. Most importantly, they are substantially faster than MTA buses because they do not adhere to a schedule or stop at pre-designated locations. Our data show that Eastern Queens vans are 28–38% faster than the MTA buses for a trip that traverses the entire van route, corresponding to a potential time savings of between 9 and 26 minutes. Earlier work by Goldwyn [
6
] estimated that vans along Flatbush Avenue in Brooklyn were 50% faster than parallel MTA buses. Vans also tend to have shorter wait times than the buses, mainly because there are more of them on the streets, so their frequency is higher.
Although the vans clearly siphon riders away from MTA buses, our work suggests that the net financial impact on the MTA is likely positive. The conclusion that commuter van-type services complement formal public transit is not unique to New York. Cervero [
30
] pointed out the complementary role played by jitney-style transport services in many cities around the world, and the private commuter shuttles of San Francisco provide an example in yet another context. The executive director of the San Francisco County Transportation Authority cited the importance of these shuttles, admitting that "at the end of the day, [our formal transit] can't meet the demand" [
19
].
Parallels between Commuter Vans and Other Private Mobility Services
The New York commuter van industry has shown resilience and adaptability throughout multiple phases of regulation over decades. In their first decade of operation, the government took a laissez faire approach, enabling the development of a market-driven business model to provide flexible, adaptable, and affordable transport service. When TLC took over commuter van regulation in 1993, they implemented regulations that limit commuter vans' operations flexibility and adaptability—fundamental components of their business model. This mismatch is attributed by Goldwyn [
6
] (p. 31) to "a profound lack of communication and coordination between dollar van interests and local officials", stemming from TLC naivety about the vans they regulate. When the New York City Council discussed the commuter vans as recently as 2017, one councilman argued for increased regulation, while another argued for regulatory reforms that would better support the commuter van industry [
33
].
This history of commuter van interaction with regulators bears a striking resemblance to the current interactions playing out between cities and private ride hailing services like Uber and Lyft; cities are now working toward regulating these services after a few years of largely unconstrained operations. There is a recognition that these services fill a gap while at the same time a recognition that they may have negative impacts on public transit, congestion, and safety. In a city like New York, then, should the government seek to improve their transit system to fill the gaps that allow commuter vans, Uber, and Lyft to thrive, or should it diversify transit to explicitly partner with private services? While we do not answer this question, our evidence can help inform the ongoing debate on whether the "positive" roles outweigh the negative ones for commuter vans.
It is important to note that New York is unique in the US in terms of its combination of a well-developed public transit system, high population density, high car parking costs in commercial districts, and high levels of traffic congestion. Together, these characteristics effectively encourage New Yorkers to use transit—even if they have to transfer to a train from a feeder bus, van, or even ride hail or taxi. Some lessons from this research, therefore, may not apply to cities that do not have these characteristics.
7. Conclusions
The commuter vans of New York and similar services elsewhere serve a purpose that is important for transportation planners to understand. Privately-owned shared modes are growing, and public entities should identify opportunities to engage with them to ensure that benefits are widely and equitably shared [
13
]. In the current regulatory environment in New York, the characteristics that make commuter vans attractive are out of reach for MTA transit—they provide a premium service at an affordable price without government subsidies. Although our data illustrate that commuter vans in Eastern Queens likely have a positive net financial impact on the MTA, this conclusion is highly context-dependent. As privately-owned shared transport modes proliferate across the globe, continued research is needed to develop context-specific strategies to integrate them with formal transit for the mutual benefit of cities, entrepreneurs, and most importantly, commuters.
Author Contributions
Individual contributions to this article are as follows: conceptualization, C.M. and D.S.; methodology, C.M. and D.S.; fieldwork, C.M.; data curation, C.M.; Writing—Original Draft preparation, review, and editing, C.M. and D.S.; supervision, D.S.; funding acquisition, C.M.
Funding
This research was funded by the Fulbright Scholar program. Additional travel and research expenses were funded through a small grant from Arizona State University.
Conflicts of Interest
The authors declare no conflict of interest.
Appendix A. Commuter Van Rider Survey
What is your regular mode of transportation? Check all that apply. (N=375)

◻

Personal Vehicle (71)

◻

Bus (214)

◻

Subway (202)

◻

Dollar van (316)

◻

Bicycle (36)

◻

Walking (38)

◻

Other. Please specify (1) ________________________________

Do you have an MTA MetroCard? (N=373)

◻

Yes, I have the 30-day unlimited ride MetroCard (71)

◻

Yes, I have the 7-day unlimited ride MetroCard (46)

◻

Yes, I have the pay-per-ride MetroCard (111)

◻

I have the 7-day express bus pass (7)

◻

No, I pay in cash (97)

◻

No, I do not have a MetroCard (29)

◻

No, I do not take the subway or city bus (13)

How often do you take dollar vans? (N=364)

| | |
| --- | --- |
| ◻ Every day (51) | ◻ Once a week (24) |
| ◻ 6 days a week (45) | ◻ Twice a month (14) |
| ◻ 5 days a week (137) | ◻ Once a month (7) |
| ◻ 4 days a week (32) | ◻ Less than once a month (13) |
| ◻ 3 days a week (25) | ◻ This is my first trip on a dollar van (1) |
| ◻ 2 days a week (16) | |

Where are you going now? (N=362)

◻

Home (66)

◻

School (including College/University) (84)

◻

Work (107)

◻

Shopping (53)

◻

Social/Church/Personal (48)

◻

Other (please specify) (4) __________________________________

Do you have a car that you could have used to make this trip? (N=362)

◻

Yes (81)

◻

No (281)

Will you transfer to another bus or train on this trip to where you are going now? (N=360)

◻

Yes, I will transfer to the city bus (60)

◻

Yes, I will transfer to the subway (106)

◻

Yes, I will transfer to another (Please specify) (25)

◻

No (171)

If dollar vans were not available, how would you make this trip? (N=368)

◻

Personal vehicle (49)

◻

City bus (286)

◻

Subway (73)

◻

Bicycle (21)

◻

Walk (15)

◻

Not take the trip (9)

Why do you take dollar vans (Check all that apply)? (N= 371)

| | |
| --- | --- |
| ◻ Flexible van route (72) | ◻ Short wait time (145) |
| ◻ Fast (230) | ◻ I know the driver (20) |
| ◻ Comfortable (59) | ◻ Everyone rides dollar vans (2) |
| ◻ Cheap (193) | ◻ My only option (0) |
| ◻ Safe (34) | ◻ Other (0) |
| ◻ Convenient (102) |    Please specify_________________ |

Do you think dollar vans are important in your neighborhood? (N=365)

◻

Yes (338)

◻

No (5)

◻

I don't know (22)

In your opinion, what makes informal transportation thrive in your neighborhood?

__________________________________________________________________________________________________________________________________________________________

What is your gender? (N=341)

◻

Male (139)

◻

Female (202)

What is your age? (N = 336)

◻

18-30 (150)

◻

31-45 (126)

◻

46-60 (52)

◻

61 or more (8)

Which option below best describes your total annual household income? (325)

◻

◻

◻

◻

◻

◻

◻

◻

Informal public transportation has been shown in previous studies to be prevalent in immigrant communities in the US By answering this question you help test this conclusion. Are you an immigrant? (330)

◻

Yes (166)

◻

No (166)

If so, which country did you come from?

____________________________________________________________________________________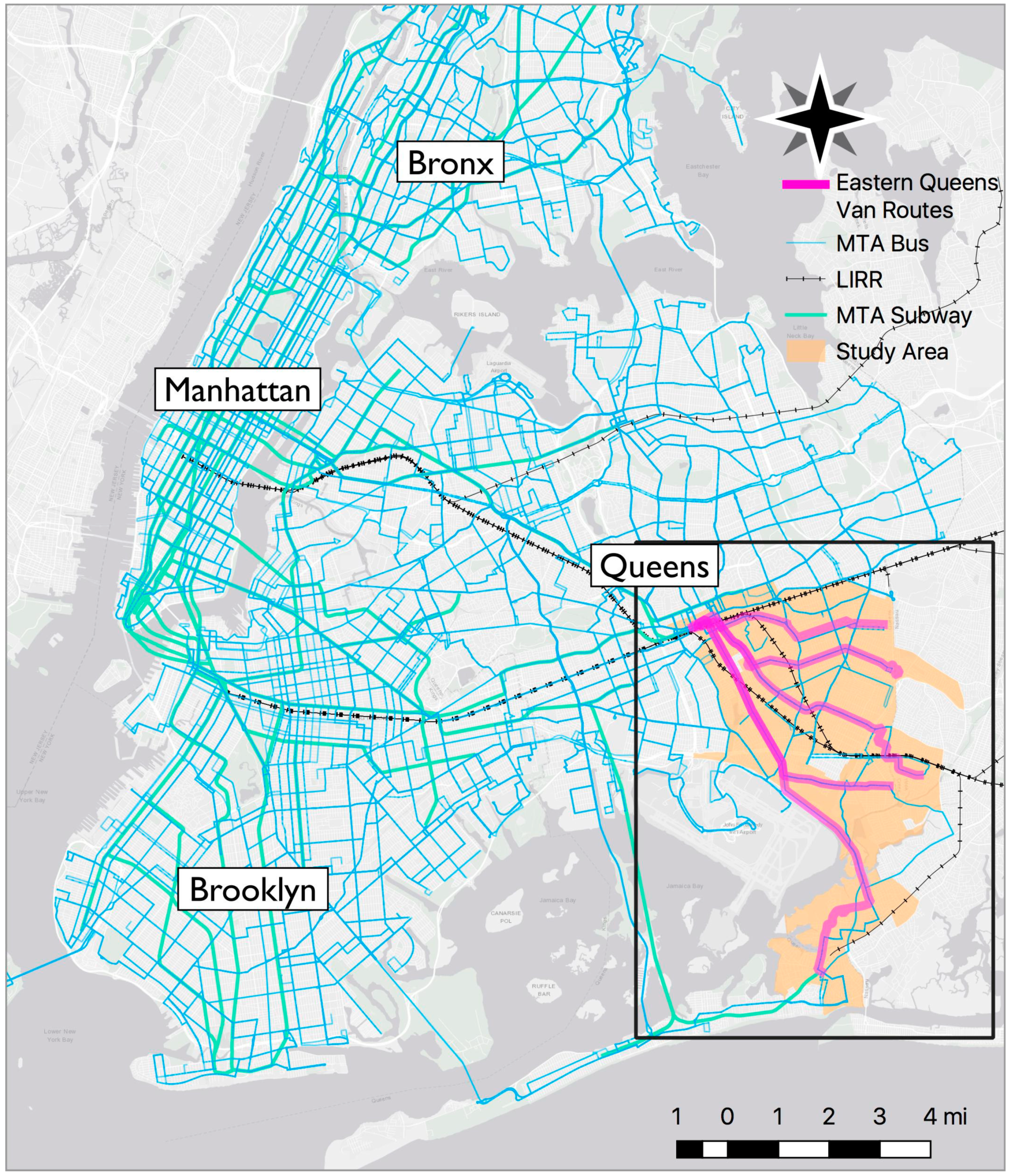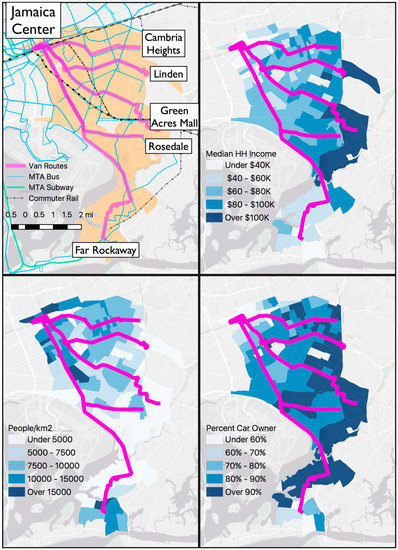 Figure 2.
Clockwise from top left: commuter van routes and MTA transit, household income, car ownership, and population density [
22
].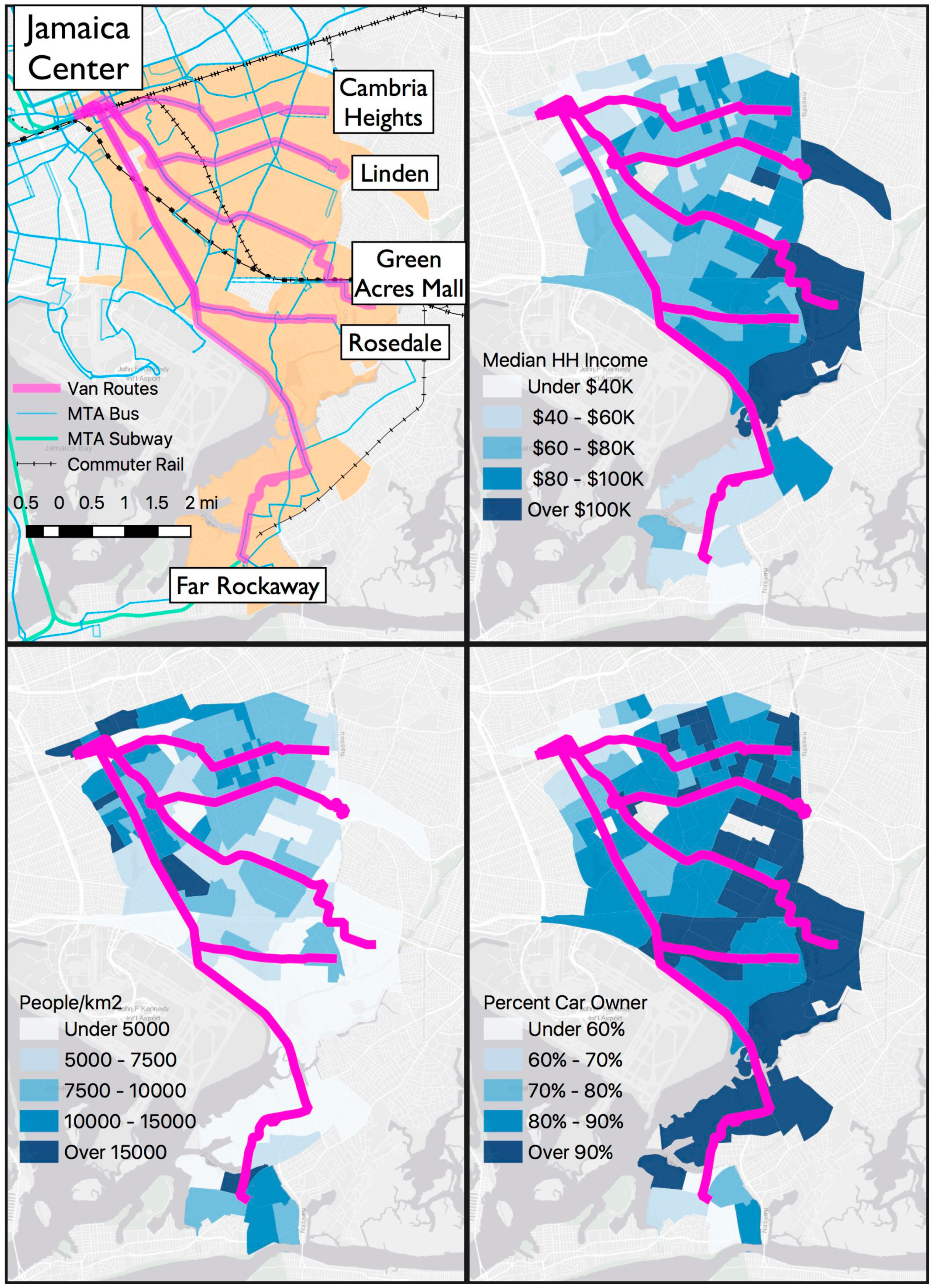 Percent of Commuter Van Riders Who:
2016 Eastern Queens Commuter Van Survey (

N

= 376)
2013 Brooklyn Commuter Van Survey [6] (

N

= 198)
Are Female
59%
63%
Are Immigrants
50%
56%
Own a Car
26%
30%
Report Household Incomes Above

$

50,000/Wage Above

$

17 *
21%
43%
Regularly Use MTA Transit
74%
84%
Have a MetroCard
63%
76%
Have an Unlimited MetroCard
33%
31%
Regularly Ride Vans at Least Once a Week
90%
n/a
Ride Vans Because They:
 Are Fast
62%
80%
 Are Convenient
39%
50%
 Are Cheap
52%
45%
 Have Short Wait Times
39%
39%
Will Transfer to MTA Transit on This Trip
53%
n/a
Are Going Home on This Trip
18%
n/a
Are Going to Work on This Trip
30%
n/a
Are Going to School on This Trip
23%
n/a
Are Going Shopping on This Trip
15%
n/a
Note: Boldface font and shading are used to indicate statistical significance of differences in proportions between the two surveys. * The Eastern Queens survey reports household incomes, while the Brooklyn survey reports individual hourly wages. To convert these to (roughly) comparable metrics, we calculated the percentage of survey respondents reporting incomes/wages above the approximate median household income and hourly wage in New York City at the time of each survey. In both surveys, some respondents refused to provide income information, so the number of valid responses to this question was 324 for the Eastern Queens survey and 146 for the Brooklyn survey.
Van Routes
Thursday
Friday
Saturday
Average
Rosedale
Male
31%
41%
45%
39%
Female
69%
59%
55%
61%
Total
163
178
144
162
Far Rockaway
Male
46%
41%
42%
43%
Female
54%
59%
58%
57%
Total
190
247
212
216
Linden
Male
48%
34%
37%
40%
Female
52%
66%
63%
60%
Total
232
104
161
166
Green Acres Mall
Male
36%
44%
37%
39%
Female
64%
56%
63%
61%
Total
139
124
149
137
Cambria Heights
Male
44%
44%
39%
42%
Female
56%
56%
61%
58%
Total
116
142
126
128
Car Available for This Trip
Unlimited MetroCard
Use Van More Than 1x/Week
Paying

$

2 Van Premium on This Trip
Pct.
χ2, N
Pct.
χ2, N
Pct.
χ2, N
Pct.
χ2, N
Annual Income
Under

$

50k
15%
21.96***
33%
0.02
86%
0.90
64%
0.10

$

50k or Greater
42%
N=313
34%
N=321
81%
N=324
66%
N=324
Gender
Male
30%
7.93***
39%
4.10**
82%
0.81
66%
0.52
Female
17%
N=330
29%
N=338
86%
N=341
62%
N=341
Age
18 – 30
14%
13.10***
N=325
35%
5.12*
N=333
87%
3.18
N=336
60%
2.12
N=336
31 – 45
26%
37%
84%
69%
Over 45
37%
21%
77%
63%
Immigrant
Yes
25%
1.70
31%
0.61
85%
0.56
65%
0.21
No
19%
N=317
36%
N=325
82%
N=328
63%
N=328
Note: Asterisks, boldface font, and shading used to indicate statistical significance of χ2 tests. *** Indicates

p

-value < 0.01, ** Indicates

p

-value between 0.01 and 0.05, * Indicates

p

-value between 0.05 and 0.10. Darker shading and boldface font indicate standard statistical significance with

p

-values < 0.05. Light shading indicates marginal statistical significance with

p

-values between 0.05 and 0.10.
| City Buses | Commuter Van Average Time (Minutes) | Observed MTA Bus Trip Time (Minutes) | Official MTA Scheduled Trip Time (Minutes) | Commuter Vans on Parallel Routes |
| --- | --- | --- | --- | --- |
| Q5 | 29 | 49 | 42 | Green Acres Mall |
| Q83 | 22 | 27 | 31 | Cambria Heights |
| Q4 | 23 | 31 | 32 | Linden |
| Q111 | 27 | 40 | 43 | Rosedale |
| Q114, Q113 | 42 | 55 | 68 | Far Rockaway |
Fast
Convenient
Cheap
Short Wait
Pct.
χ2, N
Pct.
χ2, N
Pct.
χ2, N
Pct.
χ2, N
Car Available
61%
0.04
44%
0.80
42%
3.98**
38%
0.08
Car Not Available
62%
N=358
39%
N=358
54%
N=358
40%
N=358
Unlimited MetroCard
70%
4.30**
43%
1.42
46%
3.13*
42%
0.44
No Unlimited MetroCard
58%
N=368
37%
N=368
56%
N=368
38%
N=368
Use Van 1x/Week or Less
49%
4.91**
41%
0.05
42%
2.62*
36%
0.36
Use Van More Than 1x/Week
64%
N=371
39%
N=371
54%
N=371
40%
N=371
Paying

$

2 Premium
64%
1.17
41%
1.21
49%
1.89
43%
3.64*
Saving Money
58%
N=371
36%
N=371
57%
N=371
33%
N=371
Note: Asterisks, boldface font, and shading used to indicate statistical significance of χ2 tests. *** Indicates

p

-value < 0.01, ** Indicates

p

-value between 0.01 and 0.05, * Indicates

p

-value between 0.05 and 0.10. Darker shading and boldface font indicate standard statistical significance with

p

-values < 0.05. Light shading indicates marginal statistical significance with I-values between 0.05 and 0.10.
Car Available for This Trip
Unlimited MetroCard
Use Van More Than 1x/Week
Pct.
χ2, N
Pct.
χ2, N
Pct.
χ2, N
Unlimited MetroCard
19%
1.27
No Unlimited MetroCard
24%
N=359
Use Van 1x/Week or Less
37%
9.02***
49%
7.84***
Use Van More Than 1x/Week
19%
N=362
30%
N=372
Paying

$

2 Premium
21%
0.72
n/a
n/a
84%
0.07
Saving Money
25%
N=362
n/a
n/a
85%
N=376
Note: Asterisks, boldface font, and shading used to indicate statistical significance of χ2 tests. *** Indicates

p

-value < 0.01, ** Indicates

p

-value between 0.01 and 0.05, * Indicates

p

-value between 0.05 and 0.10. Darker shading and boldface font indicate standard statistical significance with

p

-values < 0.05. Light shading indicates marginal statistical significance with

p

-values between 0.05 and 0.10.

© 2019 by the authors. Licensee MDPI, Basel, Switzerland. This article is an open access article distributed under the terms and conditions of the Creative Commons Attribution (CC BY) license (http://creativecommons.org/licenses/by/4.0/).