Open Access This article is
freely available
re-usable
Review
Food and Nutrition Security as a Measure of Resilience in the Barents Region
Northern Institute of Environmental and Minority Law, Arctic Centre, University of Lapland, 96101 Rovaniemi, Finland
Received: 5 July 2018 / Accepted: 20 August 2018 / Published: 22 August 2018
Abstract
:
Food and nutrition security builds resilience in a society when people have access to safe and nutritious foods. The Barents region, covering the Northern parts of Finland, Norway, and Sweden, and the North-western part of Russia, seeks common goals that include the well-being of the region's inhabitants by ensuring preservation of local culture and social and environmental sustainability. This paper reviews existing literature on food and nutrition security in relation to building resilience and promoting well-being in the region. Amongst the local communities, traditional foods have served as a major source of healthy diet that ensures food security. Access to secure, nutritious, and healthy food is one of the aspects offering greater human security and societal stability. Traditional food has served as a major source of healthy diet, in particular, in the remote sparsely populated Barents region and amongst the local communities of the region. However, there is concern about global climate change and its effect on the region and pollution from human activities, such as the extractive industrial activities, that are detrimental to safe and secure food supply chain. In this paper, I highlight the contribution of traditional foods to food security in the Barents region. In addition, the paper emphasized that value addition to these traditional foods will help to stimulate the economy by creating new jobs. Ultimately, ensuring food and nutrition security in a sustainable way within the region will help to build resilience and promote culture and ecology with a view to offering greater human and societal security.
Keywords:
Barents region; food security; human security; traditional food; resilience
2. Vulnerability and Resilience in the Barents Region
3. Food Security in the Barents Region
The FAO regarded resilience as a combination of three capacities: adaptive (such as coping strategies, risk management, and savings groups), absorptive (use of assets, attitudes/motivation, livelihood diversification, and human capital), and transformative (governance mechanisms, policies/regulations, infrastructure, community networks, and formal safety nets) [
36
]. In emphasizing food and nutrition security as a measure of resilience, the local people need to be empowered in taking active roles on how they produce food. This calls for a new system thinking that does not focus on food security only but includes food sovereignty. The Food and Agriculture Organization (FAO)'s states that "food security exists when all people, at all times, have physical and economic access to sufficient, safe and nutritious food that meets their dietary needs and food preferences for an active and healthy life" [
37
]. This definition clearly favors the access to food based on the level of income, processing, storage, transport, and retailing methods. These parameters do not encourage food sovereignty. In an effort to reverse this bias, a distinction was made at the 2001 World Forum on Food Sovereignty where it was emphasized that food security differs from food sovereignty. Food sovereignty was defined
as the ability and the right of people to define their own policies and strategies for the sustainable production, distribution and consumption of food that guarantee the right to food for the entire population, on the basis of small and medium-sized production, respecting their own cultures and the diversity of peasant, fishing and indigenous forms of agricultural production, marketing and management of rural areas, in which women play a fundamental role [

38

].
In the Barents region context, many communities have relied on traditional foods that has contributed to food sovereignty for many generations in the past. For example, the local Northern Finncattle native to Finnish Lapland is well suited for the Arctic condition but sadly almost went into extinction when other breeds were introduced into the region. An ongoing project at the Arctic Centre is trying to revive the Northern Finncattle by working closely with the dairy farmers to capitalize on business opportunities offered by the breed and its milk [
39
]. Most Finnish Lapland inhabitants prefer the unique taste of the dairy products from Northern Finncattle milk, and it is exotic for tourists, so it will thus help to create jobs for the dwindling dairy farms in the Finnish Lapland region. Food security results when a food system adapts to ensure availability, access, utilization, and stability. If there are changes in the drivers of a food system, they will give rise to changes in food security outcomes [
40
]. Henceforth, it is important to evaluate the food system drivers in terms of how they can affect both food security and sovereignty in the Barents region.
3.1. Importance of Traditional and Nutritious Food for a Healthy Barents Community
The traditional foods obtained from nature by harvesting in the wild, hunting game, and fishing are known to be nutritious and free from chemical preservatives. Generally, they are consumed with minimal processing and packaging at household levels. Studies have confirmed that these foods are healthier, as incidence of obesity and other cardiovascular diseases are less rampant in those communities where traditional foods are frequently consumed [
41
,
42
]. The traditional foods that are obtained through hunted game animals, wild plants, and caught fish provide the communities with excellent nutrition, promote social cohesion, meet some of their spiritual needs for connectedness to the land and water, reinforce cultural ties, are economically important, and promote overall good health [
43
,
44
]. There is a Nordic nutrition recommendation (NNR) for Finland, Sweden, and Norway in the Barents region. The NNR lays emphasis on the quality of food that provide fats and carbohydrates; plenty of vegetables, fruit, and berries; regular intake of fish, vegetable oils, wholegrain, low-fat alternatives of dairy, and meat; and limited intake of red and processed meat, sugar, salt, and alcohol [
45
] (see also: [
11
]). The NNR also gives recommendations for adequate physical activity that will contribute to the prevention of lifestyle-related diseases. Russia has adopted the conception of state policy of the healthy nutrition (1998–2005). It recommended that the daily ration of Russian northern inhabitants (Barents region) with an average physical activity should be 4500 kcal [
46
]. Out of this, about 150 g of protein (this is 15% of the caloric value) and increased amounts of fat—up to 150 g per day—were also recommended. It will be important to safeguard the contribution of traditional foods to health by ensuring there are regulatory measures that monitor their safety from pollutants in the soil, water, or air. The risk and benefit balance associated with consumption of traditional Arctic-Barents foods with increased human activities was rightly captured and has been referred to as the "Arctic Dilemma" [
41
].
3.2. Specific Challenges Affecting Food Security in the Barents Region
Food systems will fail to deliver food security when the links between them are disrupted. An example of such disruption is global warming in the region. Global warming has resulted in the thawing of snow at a faster rate in the Arctic Barents region. One critical consequence of this is the degradation of permafrost leading to floods and storms resulting in limited access to hunt for games and fishing. Responding to such disruption will require a better understanding to identify and document coping mechanisms in the food supply. It will be important to analyze and strengthen the capability of communities to adapt by identifying the most suitable level (either at local, regional, or national levels) at which adaptation strategy should be implemented [
47
,
48
]. Food security in the Barents region is linked to climate change, wildlife management, economic vulnerability, pollution, and cultural security.
Despite the fact that Arctic-Barents residents have a history of adapting to change, the complex interlinkages among societal, economic, and political factors and climatic stresses present unprecedented challenges for northern communities, particularly if the rate of change will be faster than the social systems can adapt [
49
].
The remote nature of communities in this region often results in limited job opportunities, low income and insufficient money to cover basic food needs that are nutritious. The market food or store-bought foods are more expensive in this region, and they are usually high-sugar, high-fat foods that have negative health implications such as diabetes, obesity, and other cardiovascular diseases [
50
]. Traditional foods compensate for providing nutritious foods that can be shared within the community at affordable prices. In considering the contribution of traditional foods to food security in the Barents region, there is a need to research the barriers that prevent households from acquiring traditional foods on a regular basis. Other important research topics should include the contaminants in these foods, their levels, and possible health effects.
4. Food Security Indicators in Finland, Norway, Russia, and Sweden
Food security in the Barents region can be better understood through its four main dimensions: availability, accessibility, utilization, and food systems stability [
12
,
19
]. The availability of food is the physical quantities of food that are produced, stored, processed, distributed, and exchanged [
19
]. Accessibility is a measure of the ability to secure entitlements, which are those set of resources (legal, political, economic, and social) that an individual requires to obtain access to food [
19
]. Food utilization refers to the appropriate nutritional content of the food and ability of the body to use it effectively [
51
]. Food systems stability refers to the overall balance of food supply and is determined by the temporal availability of and access to food [
12
]. An instability in the food system results when one or more of the four dimensions of food security mentioned above is uncertain and insecure.
The Committee on World Food Security (CFS) experts on hunger measurement, hosted at FAO headquarters in 2011, recommended an initial set of nutrition indicators to capture the various aspects of food insecurity [
36
]. Nutrition indicators are increasingly being used to monitor the impact of resilience program, they are often included in resilience index measurement and analysis. Due to lack of data that are specific for the Barents region, some of the indicators for food security in the countries of the Barents region are shown in
Table 1
. The average national food production from 2006 to 2014 are shown in the table, and the domestic food price index is also shown. Food production and the price indices are shaped by policies in the national countries. Similarly, market forces in a global economy determine the cost of foods that are completely out of control for the local people in the Barents region.
Food production is a measure of availability, and the domestic price index measures accessibility. The value of food production expresses the food net production value and it measures the economic size of the food production sector in a country. It is a cross-country comparable measure of the relative economic size of the food production computed using a weighted population average [
36
]. The average production of food in Finland, Norway, and Sweden decreased slightly, while there was a slight increase for Russia at the period considered in
Table 1
. The domestic food price index compares the relative price of foods across countries over time. The relative price of food in each country was calculated in terms of the purchasing power of the country relative to the US population. Since market forces affect the global economy, other intricacies will affect domestic prices in the Barents region. Therefore, it will be appropriate to gather empirical results on food accessibility and domestic food price indices specifically for the Barents region of these countries.
5. Diversification and Promotion of Food Security in the Barents Region
Food and nutrition security in the Barents region can be promoted by creating a value chain that is relevant to modern times and for the future generation. The changes that occur in the communities of the region that are associated with livelihood patterns have affected how traditional foods are processed, distributed and consumed.
Nowadays, with people having more stable and permanent settlements, the food patterns are changing as they move from a nutrient-dense traditional diet to store-bought foods [
57
]. Some of these store-bought foods (especially fruits and vegetables), may be expensive and not affordable to those with less income. Cheaper store=bought foods such as wheat flour products, over processed foods with high sugar content and other chemical additives are limited in diversity and freshness which can contribute to a decline in diet quality. Ensuring food security in the Arctic-Barents context will require adopting effective and specific actions at individual, household, regional and national levels [
58
].
There is a tendency to buy local food, which is partly due to limiting the carbon footprint by keeping food-processing local and close to the consumers. The drive for consumers to know more about the origin of their food are related to the issues of food safety, food adulteration, and food frauds. Such drives encourage more interest in "designated protected geographical origin" brands. Policies that encourage the opportunities to diversify the traditional foods of the region without compromising on quality and safety will be beneficial in the Barents region.
6. Conclusions
The paper reviews the food and nutrition security in the Barents region, a region of four different countries. Sustainable local food processing that adds value to the traditional foods that are available in the region will encourage food sovereignty in the communities of the Barents region. Access to clean water, disposal of waste, and less contaminants and pollutants in the environment will be important to ensure food security and safety. In order for the region to build resilience, cross-cutting issues that pose challenges were identified. This is especially important in a region that is facing the direct consequences of climate change and urbanization. Encouraging cross-border collaboration amongst the countries will result in sharing best practices that takes into consideration the unique circumstances of the region. National government policies of the four distinct nations may be harmonized toward the support of infrastructures and job creation in the region. This will help to retain the youth, limit emigration to urban cities, and keep the region more viable. One limitation in this review is the lack of in-depth analyses on food security and its link to the resilience offered by communities in different parts of the Barents region.
Funding
This research received no external funding.
Acknowledgments
The author will like to thank the reviewers for their constructive criticisms. The organizers of the international conference on Human and Societal Security in the Circumpolar Arctic with specific focus on the Barents region are warmly thanked for the opportunity to take part in the conference as an oral presenter.
Conflicts of Interest
The author declares no conflict of interest.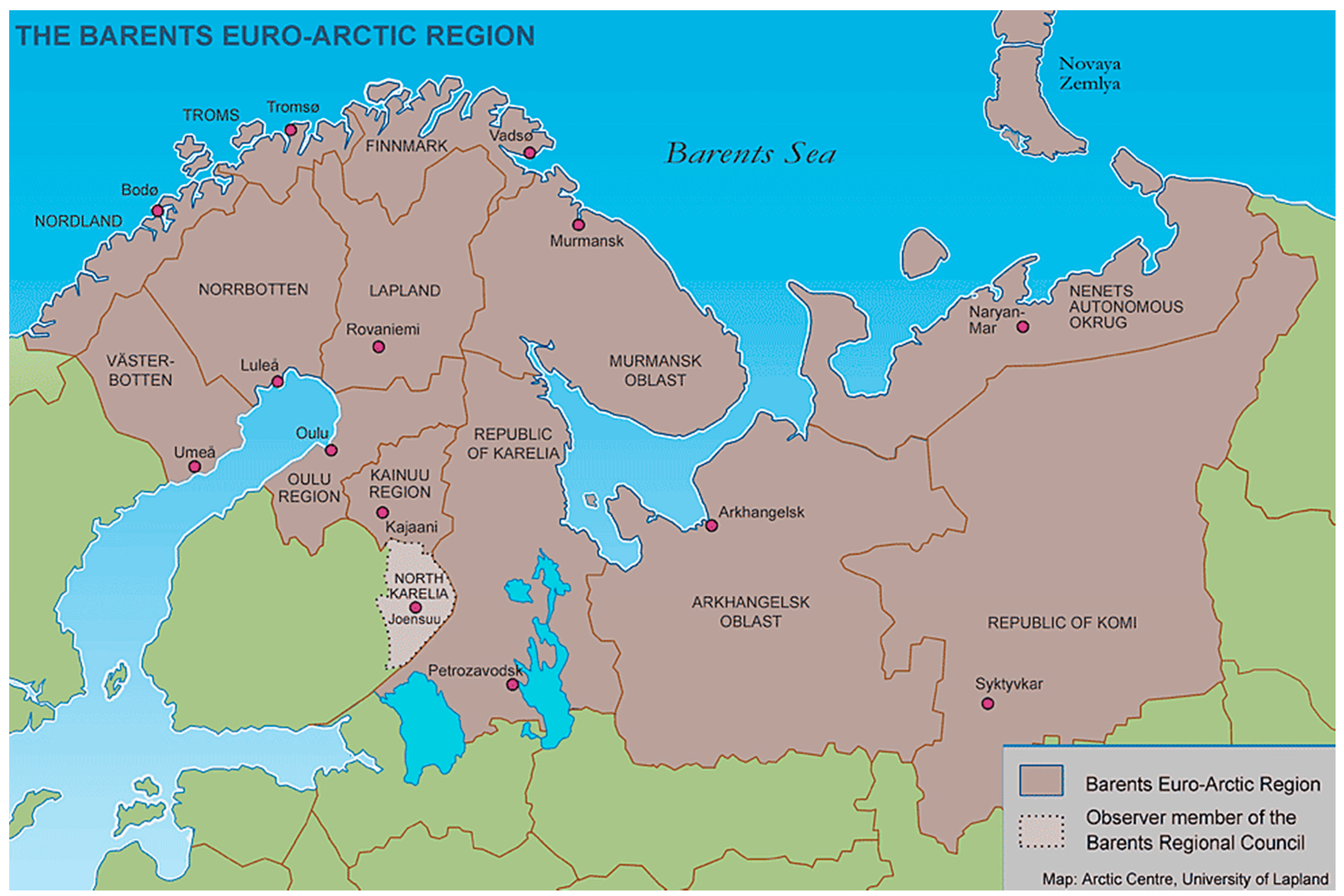 Table 1.
Average value of food production (1
$
/caput) and the domestic food price index in Finland, Norway, Sweden, and Russia (2006–2014).
Finland
Norway
Sweden
Russia
Average food production (1

$

/caput)
2006–2008
367
269
295
271
2007–2009
365
265
293
282
2008–2010
354
263
290
276
2009–2011
348
256
286
286
2010–2012
337
254
281
288
2011–2013
342
258
277
305
2012–2014
345
254
279
305
Domestic food price index
2006–2008
1.54
1.57
1.40
4.12
2007–2009
1.54
1.57
1.41
4.14
2008–2010
1.53
1.55
1.44
4.19
2009–2011
1.52
1.54
1.44
4.19
2010–2012
1.52
1.52
1.43
4.20
2011–2013
1.55
1.51
1.43
4.22
2012–2014
1.57
1.54
1.51
4.24
Adapted from (FAO, 2017).
| Country | | Median (NFB) % |
| --- | --- | --- |
| Finland | | |
| | Helsinki | 12.7 |
| | Oulu | 16.6 |
| | Rovaniemi * | 22.0 |
| Norway | | |
| | Oslo | 12.5 |
| | Tromso * | 13.7 |
| Russia | | |
| | Yamalo-Nenets * | 21.3 |
| | Chukotka * | 45.3 |
| | Arckhangelsk * | 33.0 |
| Sweden | | |
| | Västerbotten | 15.5 |
| | Norrbotten * | 16.0 |
* Within the Barents region. Adapted from (Nilsson, 2016).

© 2018 by the author. Licensee MDPI, Basel, Switzerland. This article is an open access article distributed under the terms and conditions of the Creative Commons Attribution (CC BY) license (http://creativecommons.org/licenses/by/4.0/).