Open Access This article is
freely available
re-usable
Article
Milk Production and Sanitary Risk along the Food Chain in Five Cities in Burkina Faso
Laboratory of Applied Biochemistry and Immunology, University Ouaga, 1 Pr Joseph KI-ZERBO, 03 BP 7021 Ouagadougou 03, Burkina Faso
*
Author to whom correspondence should be addressed.
Received: 24 June 2018 / Accepted: 11 July 2018 / Published: 13 July 2018
Abstract
:
Livestock is the third largest currency provider in Burkina Faso after gold and cotton. The objective of this study was to assess the socio-economic characteristics of actors, level of production and sanitary risks along the food chain of local fermented milk. A literature search and an investigation were conducted. Sphinx Plus
2
-V5 software was used for data processing and analysis. Results obtained show that milk processing is essentially a female activity and
Fulani
is the most active tribe in the milk sector. The curdling is done mainly using a curdled whey. Nutritional characteristics of fermented milk depend on the milk used, the milking conditions, the technology used, and a good curd must have a pleasant smell with a sweet and sour taste. The precariousness of milking, the lack of training in hygiene, the ignorance of the rules of hygiene, the state of environment of processing/sale, the strong use of antibiotics, the negligence of campaigns of vaccinations, and the non-compliance with the waiting period generate significant sanitary risks for consumers and animals. Livestock is the mainstay of the white revolution in Burkina Faso and contributes to food and socio-economic security.
Keywords:
livestock; milk; processing; sanitary risk; Burkina Faso
1. Introduction
Milk is an important food for many populations in West Africa, mainly in Burkina Faso, where it forms the basis of diet in Sahel and Hauts-Bassins populations [
1
]. Milk is the main source of animal protein available in rural areas and highly consumed (in winter or throughout the year) especially during Ramadan. It is often added to certain foods at fresh state or curd (couscous, rice,
galettes
,
tô
,
tchobal
). It is a food of paramount importance in the nutrition of pregnant, lactating women, and infants. Although livestock farming has long been regarded as an activity reserved for the
Fulani
, its practice has today intensified and spread to all regions of the country because of the socio-economic and food benefits it offers [
2
,
3
].
Currently, the country's breeding is more focused on ruminants and poultry. Regarding the importance of livestock for the country's food security, the milk sector has been selected as a priority sector for revival of the livestock sector in the National Policy for Sustainable Development of Livestock with the horizon of 2025. This policy displays the guidelines for livestock development in Burkina Faso, and serves as a benchmark for medium- and long-term actions aimed at making Burkina Faso livestock farming "
A competitive and environmentally friendly livestock farming around the world which organizes real value chains carried by professional sectors, turned the market and which contributes as much the food security as to improvement the level of well-being in Burkina Faso
" [
2
].
The demand of animal products, especially milk, is growing steadily thanks to rising incomes, changing dietary patterns in recent years and lower prices compared to the period of the year. Therefore, if the actors of this sector obtained more training, equipment and worked to improve cattle breeds, milk production could reach 250 million liters per year [
2
]. The main products derived from its processing are curd, yogurt,
wagashi
, pasteurized milk, cream, butter and
Katarè
[
4
]. According to consumers, the quality of milk and dairy products varies enormously. Ignorance (or neglect) of hygiene rules during milk processing and the use of certain agricultural and veterinary inputs are often suspected as factors affecting this quality [
5
,
6
].
The processing and marketing of dairy products is an income-generating activity practiced in both urban and rural areas and has intensified in Burkina Faso and in the West Africa sub-region. It would be interesting to evaluate the sanitary risks associated with the production and sale of local milk to inform processors about the corrective measures to be applied for reducing food poisoning without compromising the availability of food, dairy farmers' income, and economic development. The methods used to carry out this study are the literature search and the use of a participatory risk analysis process associated with the practices of actors and risks to the contamination of dairy products along the food chain. The research questions and the resulting hypotheses make it possible to define the objectives of this work. The exploitation of different practices of actors in the milk sector can make it possible to meet the requirements for the safety of milk and dairy products in Burkina Faso, which leads to the following questions: what are the risky practices of actors from the production to sale of milk? What are the consumer's opinions on the sanitary quality of milk and dairy products consumed in Burkina Faso?
This study, therefore, aims to assess the socio-economic characteristics of actors, the level of consumption, the consumers' opinion on the quality of local curd and sanitary risk factors associated with it along the food chain.
4. Materials and Methods
4.1. Literature Research
Literature search was conducted to better understand the theoretical and practical aspects and to raise the interest of this study. Thus, the libraries of University Ouaga 1 Pr Joseph KI-ZERBO, Research Institute for Development (RID-Ouaga), Food and Agriculture Organization (FAO-Ouaga), Ministry of Animal and Halieutic Resources (MAHR) and Livestock Direction (LD) were consulted and additional information was obtained on the Internet using the following keywords: Livestock and Burkina Faso; Milk Sector and Burkina Faso; Milk and Dairy Products and Burkina Faso.
4.2. Study Area and Period
This study was conducted from December 2016 to February 2017 in five cities in Burkina Faso: Bobo (11°10′59.999″ N; 4°16′59.999″ W), Djibo (14°5′60″ N; 1°37′59.999″ W), Dori (14°1′48″ N; 0°1′48″ W), Gorom-Gorom (14°26′60″ N; 0°13′59.999″ W) and Sebba (32°18′56.005″ N; 111°1′57.817″ W).
Figure 9
shows the study areas, the capital, and some provincial capitals. These five cities have been chosen because of their cosmopolitan character, the high density of livestock and the cultural diversity of people in social and food.
4.3. Investigation
A pre-investigation was used to test a pre-established questionnaire with dairy sector stakeholders (breeders, processors-sellers, and consumers) speaking different local dialects. This technique made it possible to adapt the questionnaire to sociological realities. Then, the questionnaire was sent individually to the people concerned. A total of 240 stakeholders of the local milk sector were investigated, including 80 breeders, 80 processor-sellers and 80 consumers (16 per city and category). The information mentioned on questionnaires serving as a maintenance guide is related to the sociodemographic status of the respondent, to technological aspects of processing fresh milk into curdled milk, consumer assessments, animal health status and sanitary risks involved.
4.4. Statistical Analysis
Sphinx Plus
2
-V5 software was used for survey data processing and a Chi
2
test was used for analysis variance (ANOVA) at a significance threshold of
p
< 0.05.
5. Conclusions
The results of this study on different practices and risk analysis along the food chain in urban and rural areas challenge all actors working toward access of a healthy diet to educate and raise awareness about good hygiene practices, sanitation, use of veterinary or agricultural inputs and strict adherence to waiting times to protect the health of consumers. Thus, it is necessary to not only put special emphasis on good hygienic practices among producer-sellers and consumers, but also monitor the health status of animals. In the current context of globalization, the livestock sector is threatened by free-trading in food products, veterinary inputs, and its closely linked economy, which are at risk in coastal countries. Thus, the socio-economic incomes related to the activity of breeding are threatened, and it is essential to anticipate corrective measures to prepare Burkina Faso to facing and preserving its hegemony and animal inheritance.
Author Contributions
Investigation, Analysis and Writing-Original Draft Preparation are realized by H.C.; Data is organized by B.K.; Paper revised by A.S. and C.Z.; the validation of Results from Investigation and review of paper are supervised by Y.T. and A.S.
Funding
This research received no external funding.
Acknowledgments
We thank Aboubacar Ly, founder of the School of Wisdom in Dori for his collaboration and Gaston Sangaré for his help.
Conflicts of Interest
The authors declare no conflict of interest.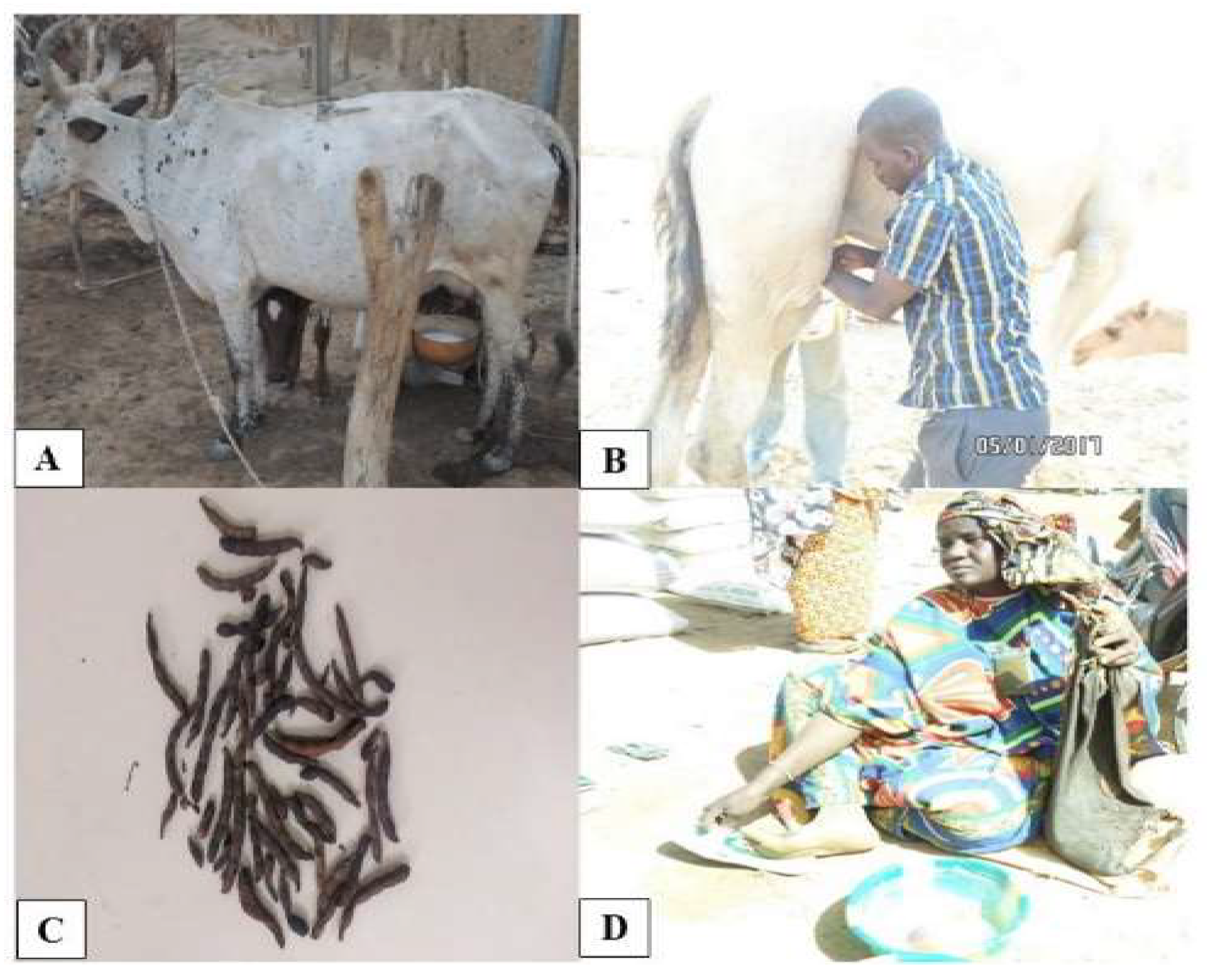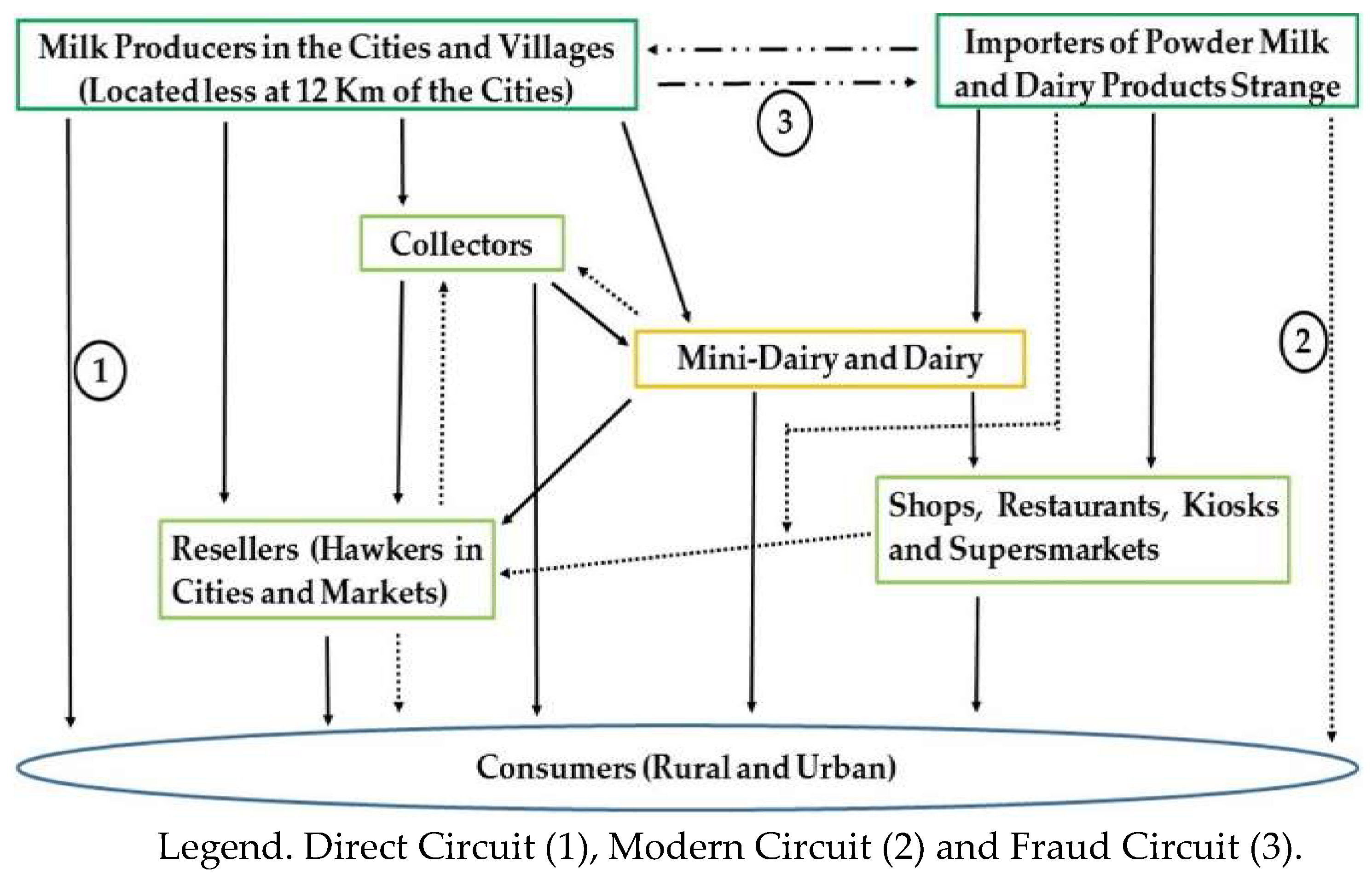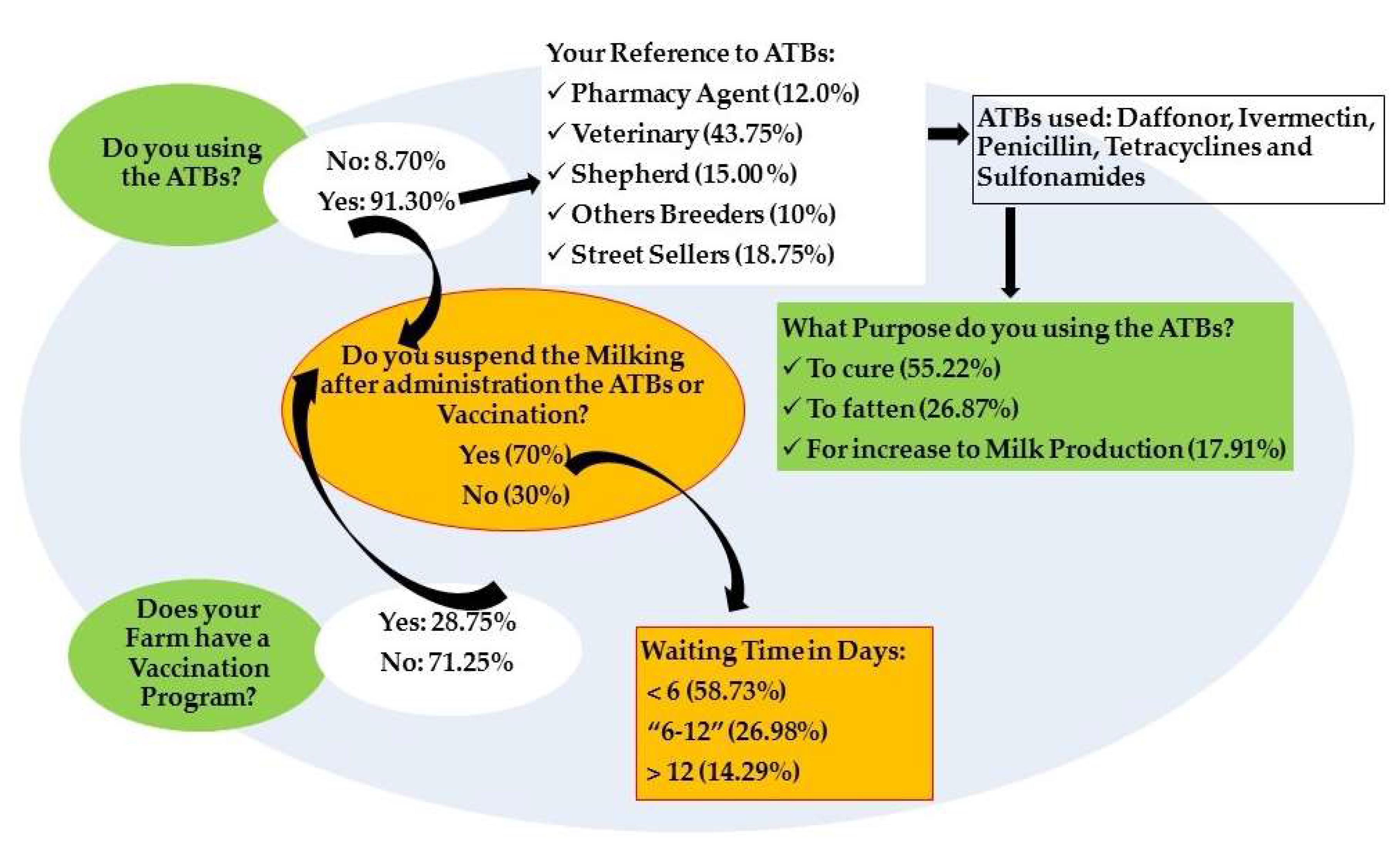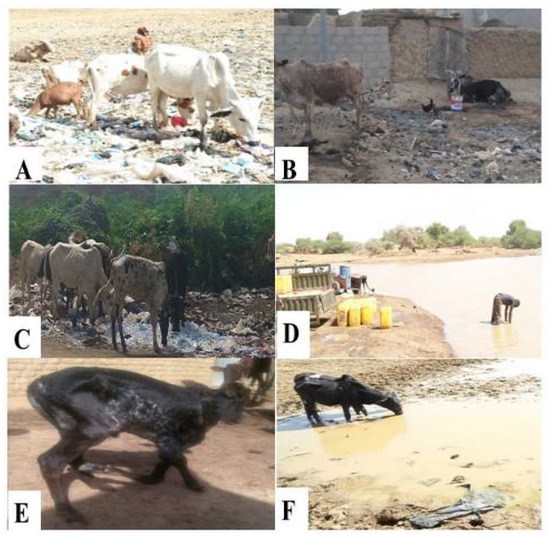 Figure 4. Exposure of Animals to the Human Excreta (A,B), Plastic Waste (C), Taking Water by the Mining in Activities (D), Newborn deformities (E) and Drinking in Mare (F).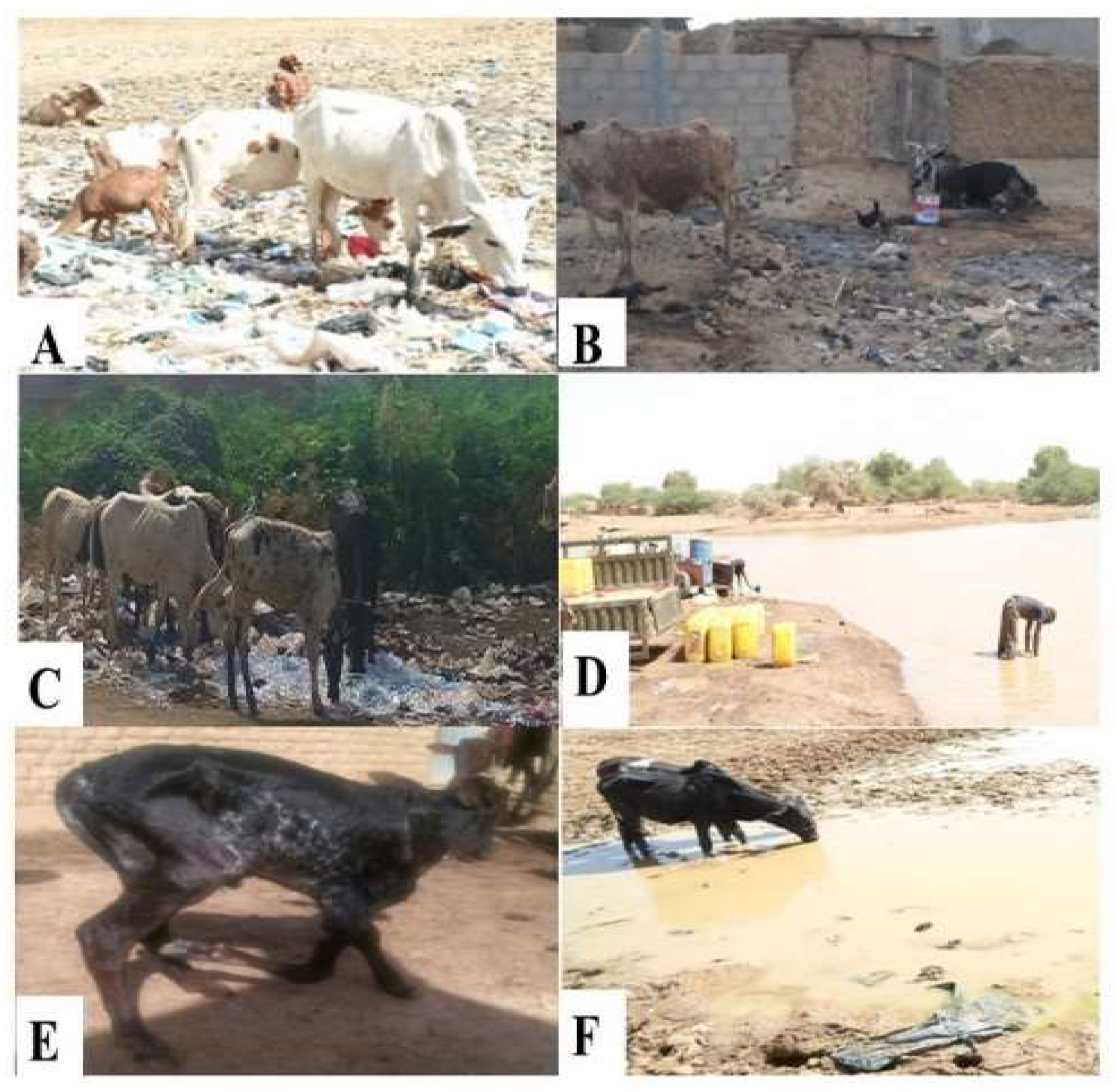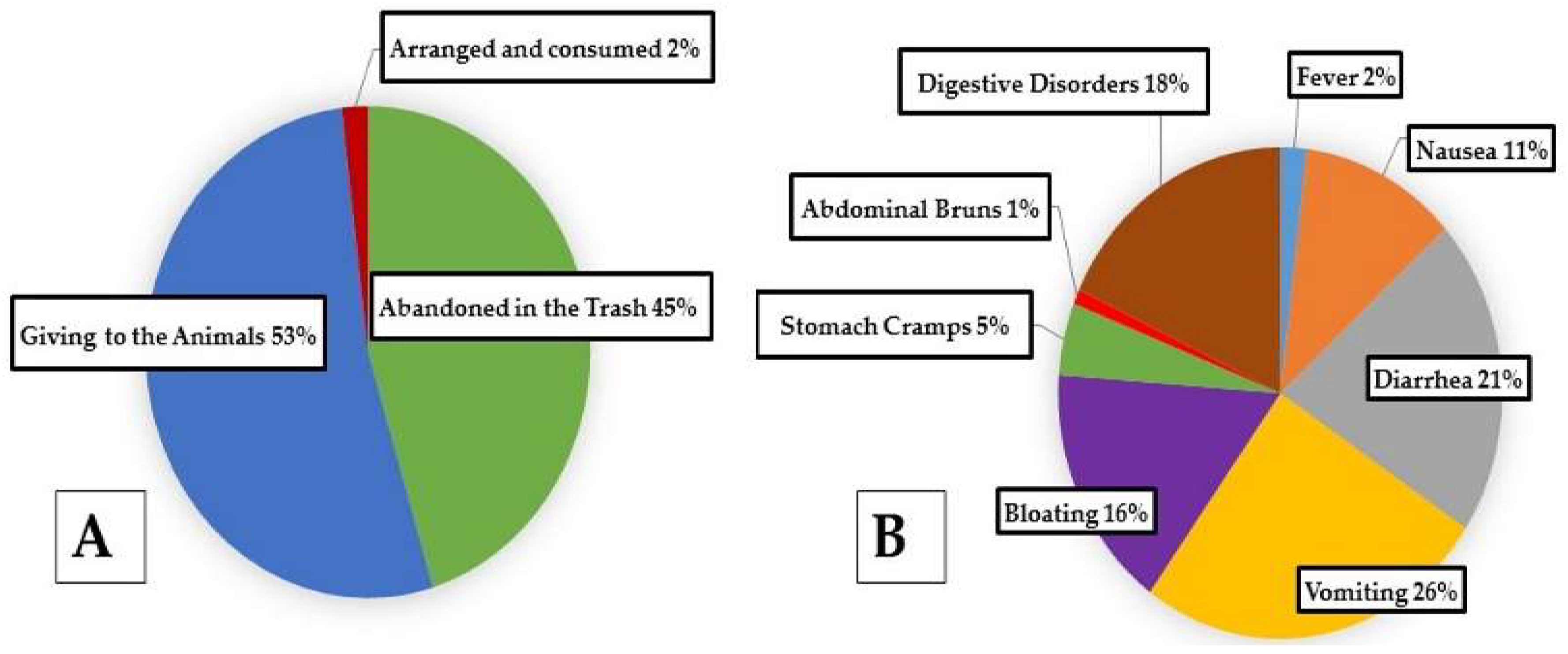 Figure 7. Sales environment (1), Opinion of consumers (2) and Limiting factors to consumption local milk's (3).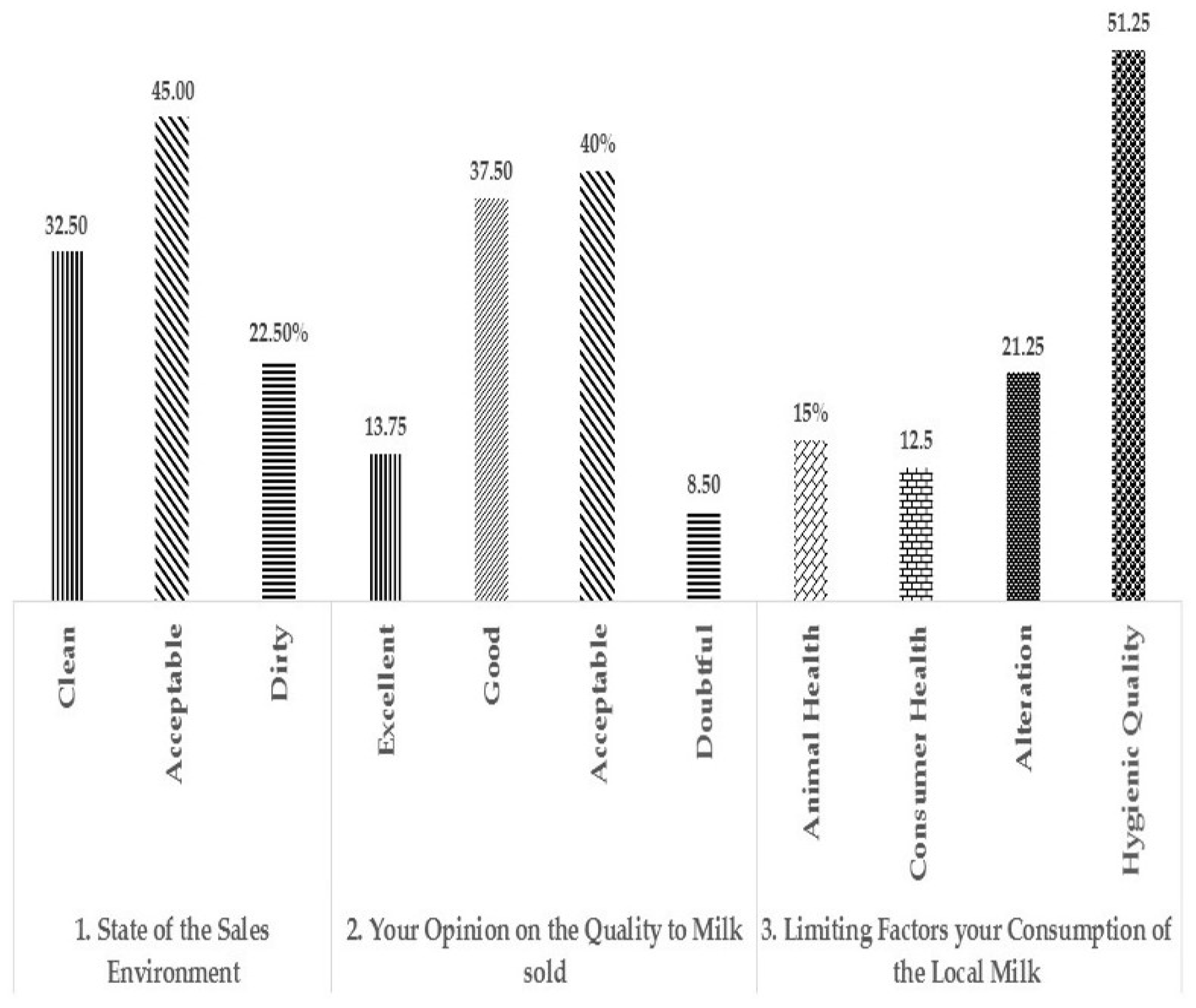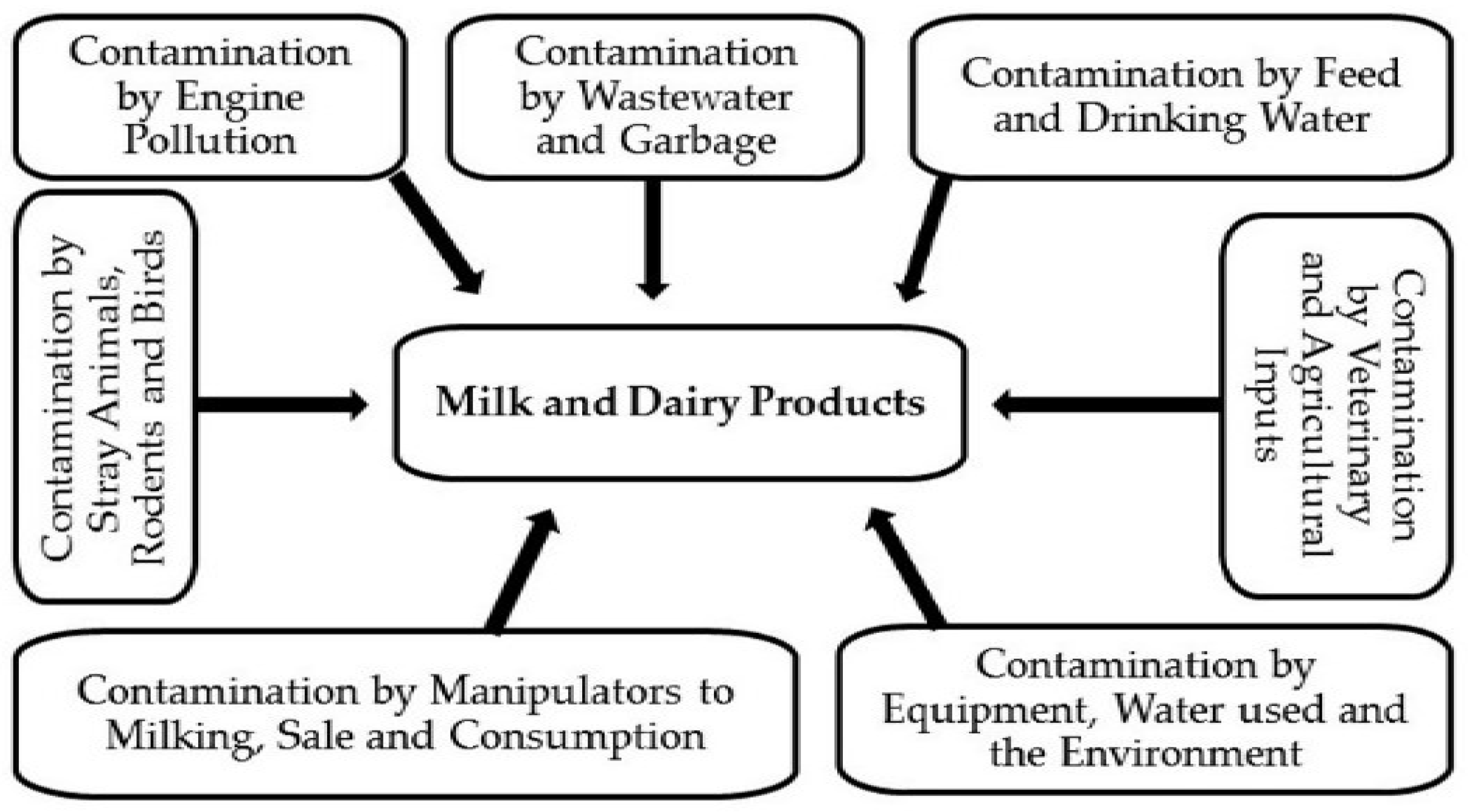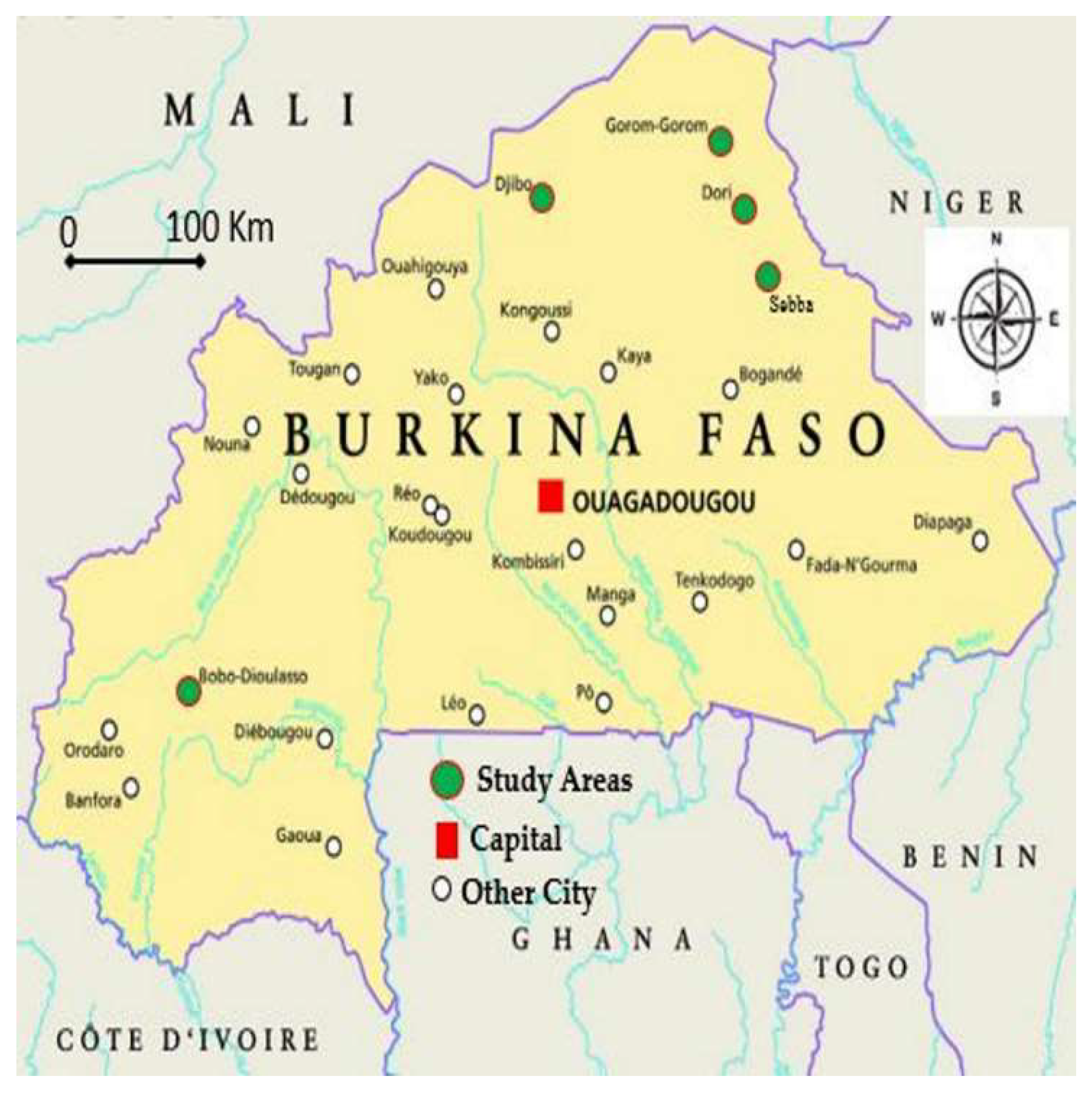 Variable
Breeder
Transformer-Seller
Consumers
Total
N (80)
F (%)
N (80)
F (%)
N (80)
F (%)
N (240)
F (%)
Sex
Female
33
41.25
63
78.75
49
61.25
145
60.42
Male
47
58.75
17
21.25
31
38.75
95
39.58
Ages
≤18
-
-
1
1.25
3
3.75
4
1.66
18–24
7
8.75
13
16.25
29
36.25
49
20.42
24–28
11
13.75
12
15
13
16.25
36
15
≥28
62
77.50
54
67.50
35
43.75
151
62.92
Instruction
Illiterate
28
35
24
30
19
23.75
71
29.58
Koranic
13
16.25
8
10
9
11.25
30
12.50
Local
15
18.75
19
23.75
12
15
46
19.17
Primary
18
22.50
15
18.75
20
25
53
22.09
College
6
7.50
9
11.25
8
10
23
9.58
Secondary
-
-
3
3.75
8
10
11
4.58
University
-
-
2
2.50
4
5
6
2.50
Ethnos Group

Bella

9
11.25
13
16.25
7
8.75
29
12.08

Bissa

-
-
2
2.50
4
5
6
2.50

Bobo

/

Dioula

4
5
4
5
6
7.50
14
5.83

Foulché

7
8.75
9
11.25
7
8.75
23
9.58

Gourmantché

6
7.50
5
6.25
4
5
15
6.25

Gourounsi

-
-
2
2.50
3
3.75
5
2.08

Haoussa

7
8.75
10
12.50
5
6.25
22
9.17

Mossi

7
8.75
7
8.75
11
13.75
25
10.42

Fulani

35
43.75
28
35
23
28.75
86
35.83

Sam

-
-
-
-
2
2.50
2
0.83

Touareg

5
6.25
-
-
8
10
13
5.43
Variables
Modalities and Frequency
Livestock and Milking
Type of Livestock
Modern (16.25%), Traditional (83.75%)
Animals for Milk Production
Sheep (23.49%), Camel (11.45%), Goat (25.30%), Cow (39.76%)
Number of Female
1–2 (2.50%), 2–6 (60%), 6–12 (27.50%), 12–20 (10%)
Type of Milking
Manual (100%), Mechanical (00%)
Quantity Produced per Day
1–4 (8.75%), 4–8 (35%), 8–12 (26.25%), 12–20 (30%)
Livestock Feed
Cakes, Animal Meal, Herbs, Cereals (Stems and Bran), Leftovers
Milk Processing
Type of Production
Artisanal (31.25%), Family (53.75%), Semi-industrial (15%), Industrial (0%)
Number of Employees
1–3 (78.75%), 3–6 (17.50%), 6–9 (2.50%), 9–15 (1.25%)
Type of Milk used
Camel (15.54%), Goat (21.62%), Powdered Milk (19.59%), Cow (43.24%)
Quantity of processed milk
1–6 (32.50%), 6–14 (38.75%), 14–50 (28.75%)
Milk Supply
Collection (23.53%), Suppliers (55.88%), Self (20.59%)
Fermentation Technology
Industrial Lactic Ferments (31.25%), Whey Curd (55%), Spontaneous (13.75%)
Material of Fermentation
Calabash, Gourd, Dishes
Products obtained after Fermentation
Curd, Pasteurized Milk, Yogurt, Stirred Yogurt (Moringa, Pineapple, Lemon), Butter, Butterbur, Cream, Cheese and Soap Fulani
Profitability of the Activity
Yes (95%), No (5%)
Becoming Milk after the Sale
Consumption (53.06%), Traditional Practices (16.33%), Resale (30.61%)
Variables
Modalities and Frequency
Consumption of Milk
Yes (100%), No (00%)
Daily (31.25%), Weekly (53.75%), Monthly (15%)
Type of Milk consumed
Camel (17.50%), Goat (21.25%), Cow (47.50%), Milk Powder (11.25%), Soy Milk (2.50%)
Form of Milk consumed
Brewed (8.59%), Curd/Yogurt (39.88%), Fresh (43.55%), Pasteurized (7.98%)
Reason of Choice
Available, Less Expensive, Therapeutic, Beneficial, Pleasant Oder
Knowledge of the Origin of Milk
Yes (73.75%), No (26.25%)
Places of Supply
Shops (15.79%), Farms/Home of Producer (46.19%), Dairies (7.02%), Markets/Streets (25.15%), Restaurants (5.85%)
Do you like Local Curd
Yes (93.75%), No (6.25%)
Taste of the Curd Consumed
Sour (42.74%), Bitter-Sweet (30.78%), Salted (19.65%), Sweet (6.83%)
Do you doubt the Quality this Milk?
Yes (31.25%), No (68.78%)
Does milk meet your expectation?
Yes (62.50%), No (37.50%)
Level
Variables
Modalities and Frequency
Animal Feed
System Management of the Mud
None (66.25%), Manure Pit (18.75%), Enclosure (15%)
Feed Storage System
Free covered Area (29.41%), Uncovered Free Area (36.03%), Space arranged and covered (34.56%)
Origin of Drinking Water
Faucet (18.09%), Well (28.64%), Drilling (20.60%), Pond/Backwater (32.67%)
Nature of the Feeding Trough
Wood (12.44%), Cement (4.97%), Hollow (6.47%), Reserve (23.38%), Metal/Plastic Dishes (52.74%)
Contamination of Water and Provender by
Human and Animal Excreta (48.86%), Mining Activities (18.56%), Toxic Substances (32.58%)
State Sanitary of Animals
Bovines Mastitis
Yes (48.75%), No (51.25%)
Staff contacted in the Event of Diseases
Others (31.25%), Shepherd (38.75%), Veterinary (30%)
Diseases and Damages recorded
Abortion (2.89%), Premature Calving (4.81%), Newborns deformities (2.40%), Diarrhea (33.17%), Deaths (20.67%), Respiratory Diseases (22.60%), Scabies (13.46%)
Animals deformed Further to Diseases
None (77.50%), 1–2 (15%), 2–4 (7.50%)
Conditions of Milking
Place of Milking
Enclosure (26.25%), Space arranged (13.75%), Pasture (18.75%), Attachment Point (41.25%)
Cleaning the Material of the Milking
Before and After (57.50%), Before (3.75%), Before (38.75%)
The Dress of the Milker
Clean (18.75%), Acceptable (56.25%), Sale (25%)
Washing the Hand of the Milker
Before Milking (8.75%), After Milking (35%), Before and After Milking (20%), Simple Rubbing the Hands or Clothing by Milkers (5%), Do not pay attention (31.25%)
Cleaning of Teat before the Milking
Simple Water (7.50%), Material (2.50%), Hands of the Milker (17.50%), Teat abandoned to Calf (72.50%)
Rejection of the First Gush
Yes (13.75%), No (86.25%)
Cleaning of Teat after the Milking
Simple Water (5%), Material (2.50%), Teat abandoned to Calf (92.50%)
Treatment of Milk
None (13.75%), Decanting (6.25%), Decanting and Filtration (35%), Filtration (31.25%), Heating (13.75%)
State
Variables
Modalities and Frequency
Processing and Sales Environment
Place of Processing
Free Area (13.75%), House (45%), Shed (41.25%)
Clean (31.25%), Acceptable (50%), Dirty (18.75%)
Presence of
Dust: Yes (58.75%), No (41.25%)
Puddles: Yes (15%), No (85%)
Stray Animals, Insects and Poultry: Yes (68.75%), No (31.25%)
State the Point of Sale
Clean (32.50%), Acceptable (45%), Dirty (22.50%)
Hygiene
Hygiene Training
Yes (22.50%), No (77.50%)
Quality Controller
Yes (6.25%), No (93.75%)
Monitoring Manual
Yes (2.50%), No (97.50%)
Special Dress to Activity
Yes (17.50%), No (82.50%)
State of the Dress
Clean (26.25%), Acceptable (50%), Dirty (23.75%)
Cleaning of the Material
Before and After (66.25%), Before (8.75%), After (25%)
Disinfectant used
Bleach (14.55%), Hot Water (4.55%), Soaps (80.90%)
Origin of Water
Faucet (50%), Boring (26.25%), Well (23.75%)
Quality at Sight of Eye
Clean (48.75%), Acceptable (41.25%), Dirty (10%)
Unitary Operation before Transformation
Heating (10%), Decanting (20%), Filtration (21.25%), Heating/Filtration (48.75%)
Opinion of Customers on Quality at Sight of Eye
Clean (51.25%), Acceptable (40%), Dirty (8.75%)

© 2018 by the authors. Licensee MDPI, Basel, Switzerland. This article is an open access article distributed under the terms and conditions of the Creative Commons Attribution (CC BY) license (http://creativecommons.org/licenses/by/4.0/).