Molecular Analysis of Carbon Ion-Induced Mutations in DNA Repair-Deficient Strains of
Saccharomyces cerevisiae
1
Department of Nuclear Power and Energy Safety Engineering, University of Fukui, 3-9-1 Bunkyo, Fukui, Fukui 910-8507, Japan
2
Research Institute of Nuclear Engineering, University of Fukui, 1-3-33 Kanawa-chou, Tsuruga, Fukui 914-0055, Japan
3
Department of Radiation-Applied Biology Research, Takasaki Advanced Radiation Research Institute (TARRI), National Institutes for Quantum and Radiological Science and Technology (QST), 1233 Watanuki-machi, Takasaki, Gunma 370-1292, Japan
4
Radioisotope Research Center, Institute for Radiation Sciences, Osaka University; 1-1 Machikaneyama-chou, Toyonaka, Osaka 560-0043, Japan
*
Author to whom correspondence should be addressed.
Received: 16 May 2019 / Revised: 20 June 2019 / Accepted: 26 June 2019 / Published: 2 July 2019
Abstract
Mutations caused by ion beams have been well-studied in plants, including ornamental flowers, rice, and algae. It has been shown that ion beams have several significantly interesting features, such as a high biological effect and unique mutation spectrum, which is in contrast to low linear energy transfer (LET) radiation such as gamma rays. In this study, the effects of double strand breaks and 8-oxo-2′-deoxyguanosine (8-oxodG) caused by ion-beam irradiation were examined. We irradiated repair-gene-inactive strains
rad52
,
ogg1
, and
msh2
using carbon ion beams, analyzed the lethality and mutagenicity, and characterized the mutations. High-LET carbon ion-beam radiation was found to cause oxidative base damage, such as 8-oxodG, which can lead to mutations. The present observations suggested that nucleotide incorporation of oxidative damage gave only a limited effect on cell viability and genome fidelity. The ion-beam mutations occurred predominantly in 5′-ACA-3′ sequences, and we detected a hotspot at around +79 to +98 in
URA3
in wild-type and mutant lines, suggesting the presence of a mutation-susceptible region.
View Full-Text
►

▼

Figures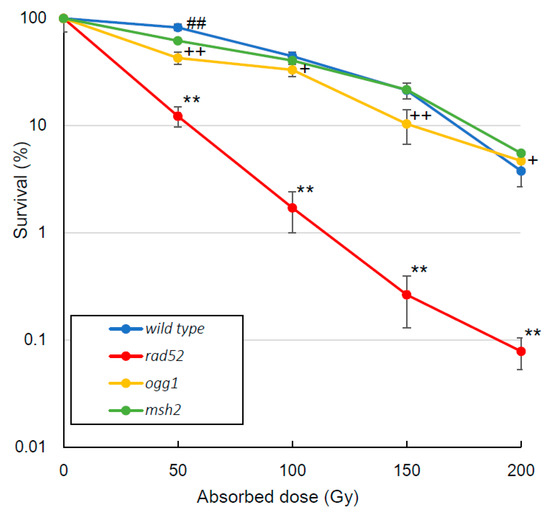 Figure 1
This is an open access article distributed under the
Creative Commons Attribution License
which permits unrestricted use, distribution, and reproduction in any medium, provided the original work is properly cited (CC BY 4.0).

Share & Cite This Article
MDPI and ACS Style
Matuo, Y.; Izumi, Y.; N. Sakamoto, A.; Hase, Y.; Satoh, K.; Shimizu, K. Molecular Analysis of Carbon Ion-Induced Mutations in DNA Repair-Deficient Strains of Saccharomyces cerevisiae. Quantum Beam Sci. 2019, 3, 14.
Note that from the first issue of 2016, MDPI journals use article numbers instead of page numbers. See further details here.
Comments
[Return to top]