Open Access This article is
freely available
re-usable
Article
Dimensionally Specific Capture of Attention: Implications for Saliency Computation
1
Department of Psychology, Ben-Gurion University, Beersheba 8410501, Israel
2
School of Psychology, Bangor University, Bangor LL57 2AS, UK
*
Author to whom correspondence should be addressed.
Received: 7 November 2017 / Accepted: 13 February 2018 / Published: 17 February 2018
Abstract
:
Observers automatically orient to a sudden change in the environment. This is demonstrated experimentally using exogenous cues, which prioritize the analysis of subsequent targets appearing nearby. This effect has been attributed to the computation of saliency, obtained by combining features specific signals, which then feed back to drive attention to the salient location. An alternative possibility is that cueing directly effects target-evoked sensory responses in a feed-forward manner. We examined the effects of luminance and equiluminant color cues in a dual task paradigm, which required both a motion and a color discrimination. Equiluminant color cues improved color discrimination more than luminance cues, but luminance cues improved motion discrimination more than equiluminant color cues. This suggests that the effects of exogenous cues are dimensionally specific and may not depend entirely on the computation of a dimension general saliency signal.
Keywords:
attention; exogenous cuing; saliency signal; luminance; motion discrimination; color discrimination
Author Contributions
K.E.B., G.dA. and A.S. conceived and designed the experiments; K.E.B. performed the experiments; K.E.B. analyzed the data; and K.E.B., G.dA. and A.S. wrote the paper.
Conflicts of Interest
The authors declare no conflict of interest.
Figure 1. Schematic illustrations of (A) luminance and (B) color cues. Four dots were present throughout the trial as on the left and right rows, and changed in luminance or color during the cue period, as shown in the center row.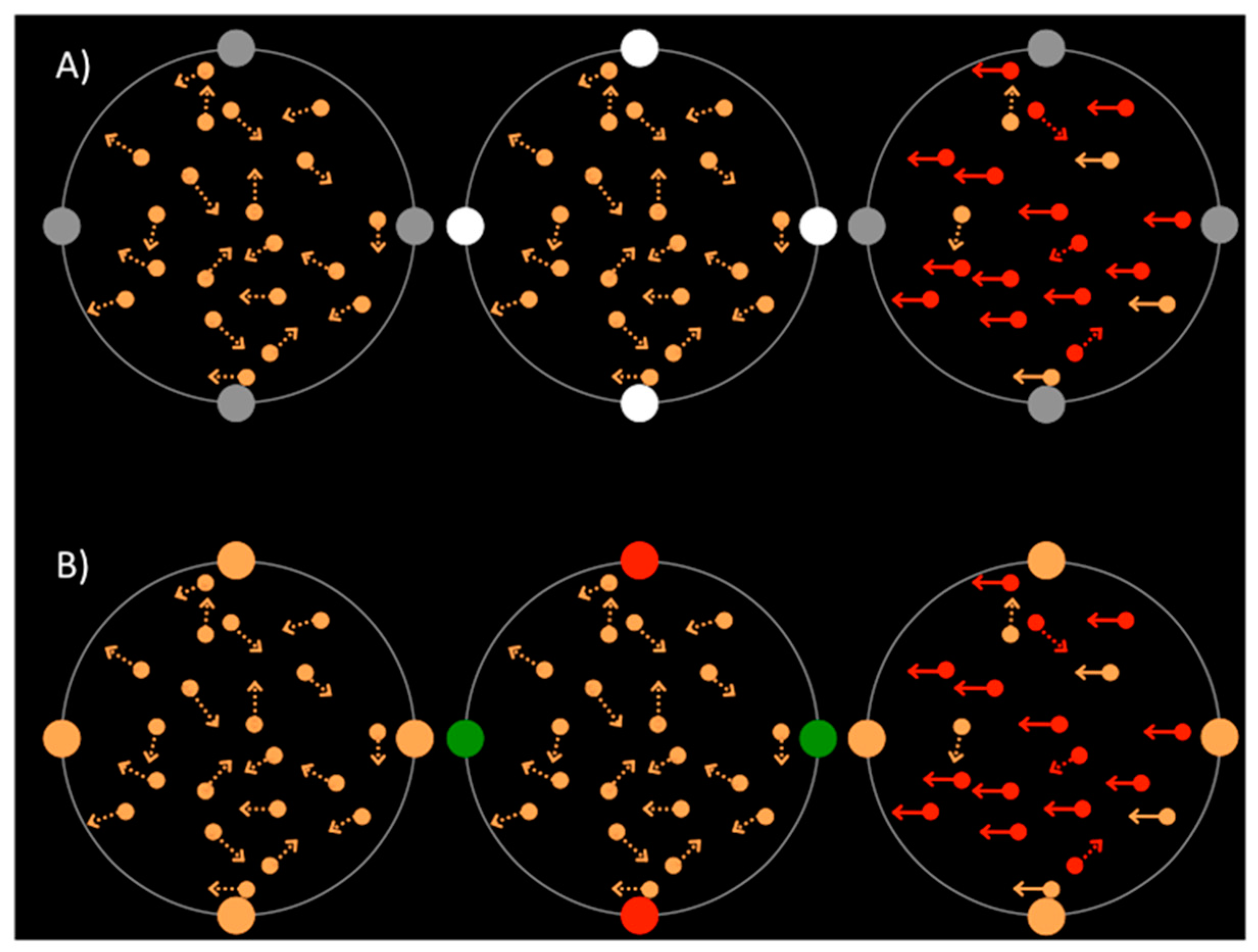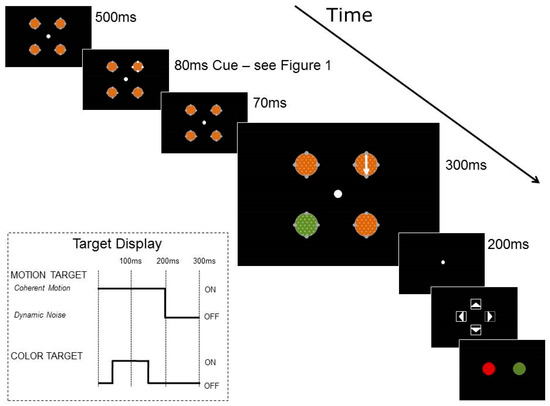 Figure 2.
Trial structure for cueing experiment with motion discrimination and color discrimination, cues are shown in more detail in
Figure 1
. Trial shown is a luminance cue trial, in which motion appears at the cued location and color appears at an uncued location.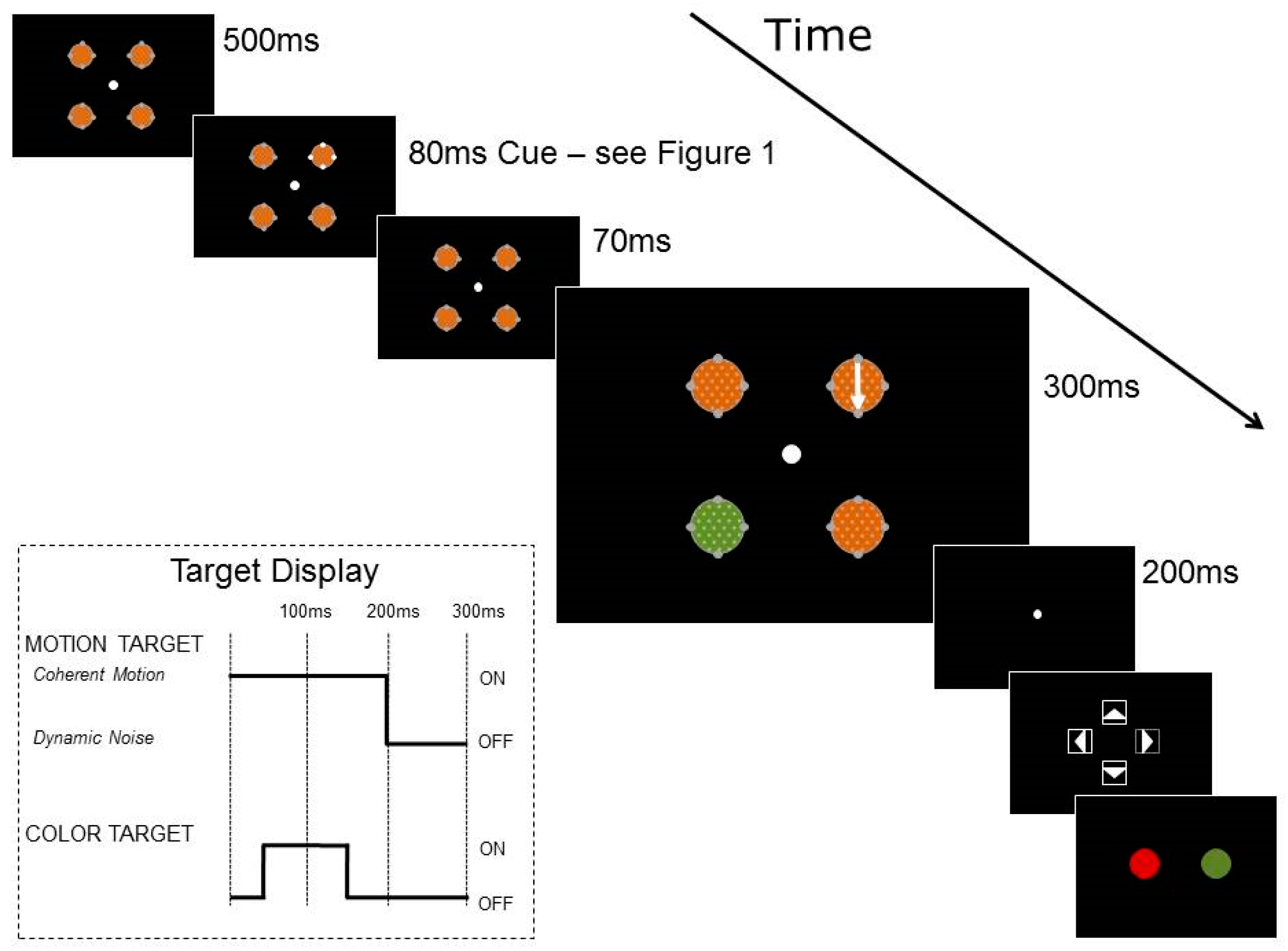 Figure 3. Validity effects in the motion and color discrimination tasks were calculated by subtracting the percent correct on uncued trials from percent correct on cued trials. White bars represent the validity effect following a luminance cue, and grey bars represent the validity effect following a color cue. Error bars represent standard error of the means.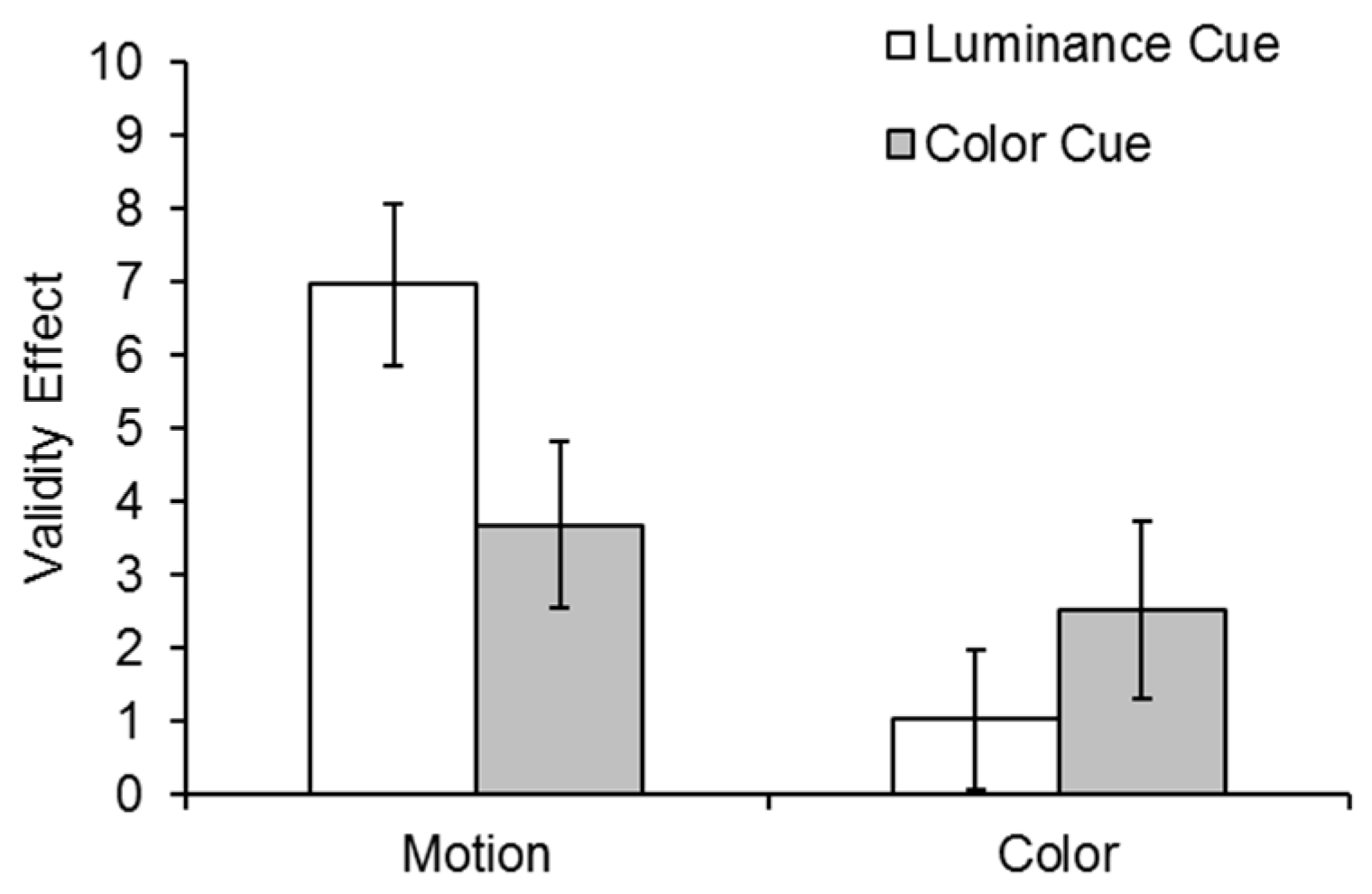 Table 1. Mean accuracy (%) for motion discrimination and color discrimination tasks on cued and uncued trials.
Motion
Color

M

(SD)
95% CI 1

M

(SD)
95% CI 1
Luminance cue
Cued
78.29 (10.84)
[74.3, 82.3]
71.48 (11.22)
[67.4, 75.6]
Uncued
71.32 (10.19)
[67.6, 75.1]
70.45 (8.67)
[67.3, 73.6]
Color cue
Cued
76.58 (10.62)
[72.7, 80.5]
69.9 (9.81)
[66.3, 73.5]
Uncued
72.9 (9.39)
[69.5, 76.3]
67.3 (7.55)
[64.6, 70.2]
1 CI = confidence interval.

© 2018 by the authors. Licensee MDPI, Basel, Switzerland. This article is an open access article distributed under the terms and conditions of the Creative Commons Attribution (CC BY) license (http://creativecommons.org/licenses/by/4.0/).