Open Access This article is
freely available
re-usable
Article
The Effect of Resistance Training on Telomere Length in Women Recovering from Breast Cancer
School of Science and Technology, University of New England, Armidale 2350, Australia
*
Authors to whom correspondence should be addressed.
Received: 10 January 2018 / Accepted: 23 January 2018 / Published: 26 January 2018
Abstract
:
The purpose of this exploratory analysis was to examine the effects of resistance training (RT) on leukocyte telomere length in breast cancer survivors. Samples from 33 breast cancer survivors were analysed following a 16-week RT or usual care intervention (RT:
n
= 19, control:
n
= 14). The RT group performed supervised exercise three times per week. Leukocyte telomere length was assessed before and after training using quantitative PCR. Changes in telomere length were analysed using ANCOVA, with the change score being the dependent variable, and the baseline value the covariate. Effect sizes (ES) were calculated via partial eta squared. We found a non-statistically significant change in telomere length, and a small associated ES in the RT group compared to the control group for change in telomere length (
p
= 0.78, ES = 0.003). Our exploratory study demonstrates that a 16-week RT intervention does not have a significant effect on telomere length in women recovering from breast cancer. Therefore, RT is a safe intervention that does not accelerate biological ageing.
Keywords:
resistance training; telomere; breast cancer
3. Results
3.1. Baseline Characteristics
There were no significant differences between groups at baseline for age or treatment regimens, including chemotherapy, radiotherapy, and hormone therapy (all
p
> 0.05) (
Table 1
).
3.2. Adherence and Adverse Events
Adherence and adverse event data has previously been reported for the entire cohort [
14
]. Briefly, no adverse events occurred during this study. Adherence to the exercise intervention for this subset of the cohort was 85.9% attendance at exercise sessions (range: 46.8–100%).
3.3. Telomere Length
There were no statistically significant differences in leukocyte telomere length at baseline between groups (mean T/S ratio ± SD: RT, 0.43 ± 0.11; control, 0.37 ± 0.10,
p
= 0.11). There was no significant difference in change in telomere length between groups (
p
= 0.78, ES = 0.003,
Figure 1
). While the RT group telomeres were relatively unchanged after the 16-week intervention (0.43 ± 0.11 to 0.44 ± 0.09,
p
= 0.82), the control group showed a modest increase in telomere length (0.37 ± 0.10 to 0.42 ± 0.13,
p
= 0.13). Thirteen (39.4%) and 20 (60.6%) participants experienced telomere shortening and lengthening, respectively.
3.4. Response to the Resistance Training Intervention
Within the RT group, there was no significant change in body mass index (BMI) (27.7 ± 4.3 to 27.8 ± 3.9 kg/m
2
,
p
= 0.48) or body weight (72.7 ± 9.3 to 73.0 ± 8.7 kg,
p
= 0.59) over the course of the intervention. There was also no significant change with in the control group in BMI (30.2 ± 6.2 to 30.5 ± 6.6 kg/m
2
,
p
= 0.42) or body weight (80.1 ± 16.7 to 80.8 ± 18.3 kg,
p
= 0.38) over the course of the intervention. There was no significant difference in change in BMI (kg/m
2
) or body weight (kg) between the two groups (
p
= 0.75, ES = 0.004;
p
= 0.87, ES = 0.001).
In the subset of participants included in this post hoc analysis, muscular strength (mean percent change ± SD) improved in the RT group in all measurements (Surgical arm, 28.97 ± 22.68%; other arm, 34.50 ± 27.27%; lower body (via leg press), 42.55 ± 19.85%). There was a significant within-group difference over time (
p
< 0.001) for all variables in the RT group. In comparison, the muscular strength of those assigned to the control group did not change (Surgical arm; −5.38 ± 17.86%, other arm; 1.03 ± 17.02%, lower body; −6.54 ± 20.09%). There were no within-group differences over time in the control group (
p
= 0.28,
p
= 0.82, and
p
= 0.28, respectively).
3.5. Relationships between Telomere Length and Muscular Strength
No significant correlations were found between changes in muscular strength and telomere length (
Table 2
).
4. Discussion
We are the first to examine the longitudinal effect of RT on telomere length in breast cancer survivors. Our hypothesis was supported, and the null hypothesis was rejected as we observed no statistically significant difference in telomere length change between the RT and control groups. Additionally, strength was not associated with telomere length.
Whilst multiple studies have demonstrated that those individuals who are physically active possessed longer leukocyte telomeres compared to less active controls [
9
], longitudinal intervention-based research is lacking. In one of the few longitudinal studies, a four-month RT intervention in women with polycystic ovary syndrome, a shortening of telomeres was demonstrated [
13
]. In our study, 56% and 44% of participants experienced telomere shortening and lengthening, respectively. Similarly, in a longitudinal study examining telomere length in breast cancer survivors it was found that 32% of participants exhibited a lengthening of telomeres, whereas 68% showed shortening [
22
]. We also observed variation in telomere length changes after the intervention, such that telomere attrition was observed in 39% of patients (61% showed telomere extension). These studies highlight the large inter-individual variation in telomere dynamics and in response to resistance exercise. Indeed, whilst the large inter-individual responses to telomere length in the RT and control groups could be responsible for the lack of statistically significant changes, an alternate interpretation is that RT does not impact telomere length over a relatively short period. However, it is possible that longer interventions may uncover the potential benefit of RT on telomere dynamics and biological ageing.
As telomere length is affected by multiple environmental factors including psychological stress, nutrition, body composition, sleep quality, and ageing [
23
], it may be difficult to deduce the isolated effects of exercise without controlling for these variables. In our study, all but four participants were on some form of hormone-modulating medication, which may partially explain the lack of consistent telomere length change observed in both groups following our intervention. Although not statistically significant, there was a large difference in body weight between cases and controls at baseline. This is a limitation as there seems to be a link between obesity and telomere shortening, particularly in women [
24
,
25
]. In addition, due to the nature of the study we were unable to control for all chronic diseases (e.g., hypertension), as such there is a possibility that underlying disease may have influenced our findings. We did, however, use an established method for quantifying average telomere length. An assessment of the frequency of short and long telomeres using quantitative fluorescent in situ hybridization or Southern Blot was not possible due to sample storage and processing restrictions. These methods should be considered in future analyses to quantify frequencies of minimum and maximum telomere length. Although telomere length was not significantly different between groups in our study, it is possible that the small sample size and duration of the exercise intervention may have influenced our findings. Therefore, future research utilising larger samples and longer interventions is warranted.
5. Conclusions
In conclusion, we did not observe a marked difference in telomere length amongst breast cancer survivors after 16 weeks of RT. Resistance exercise did not accelerate telomere attrition in breast cancer survivors and the inter-individual responses in telomere dynamics after RT should be explored in larger studies. Therefore, due to the myriad of health benefits resulting from RT in this population, this modality of exercise should still be recommended as part of a multifaceted rehabilitation program.
Acknowledgments
The initial study was covered by a grant from Western Sydney University (WSU). All subsequent analysis undertaken at the University of New England was not covered by any external funding source.
Author Contributions
Amanda D. Hagstrom conceived and designed the original trial. Amanda D. Hagstrom and Joshua Denham conceived the follow-up study. Amanda D. Hagstrom performed the experiments and initial data collection; Joshua Denham conducted all subsequent lab-based telomere analysis. Amanda D. Hagstrom and Joshua Denham analysed and interpreted the data. Amanda D. Hagstrom and Joshua Denham wrote the paper.
Conflicts of Interest
The authors declare no conflict of interest.
Figure 1.
Leukocyte telomere length before and after 16 weeks of resistance training in breast cancer survivors. Mean telomere length (mean ± SD, (
A
)) and telomere length change (
B
) are presented in arbitrary units relative to the T/S ratio of an apparently healthy 30-year-old woman (RT:
n
= 19, control:
n
= 14). DNA purity was acceptable with 260/280 and 260/230 ratios of 1.72 ± 0.14 and 1.26 ± 0.34, respectively. Experiments were repeated and demonstrated excellent reliability for telomere (
R
2
= 0.94) and
36B4
(
R
2
= 0.97) primer sets. The intra- and inter-assay co-efficient of variation (CV) for experimental samples were acceptable (telomere CV ± SD: 1.45 ± 3.49% and 1.62 ± 3.28%;
36B4
CV ± SD: 0.53 ± 2.08% and 1.34 ± 2.16%, respectively). T, telomere; S, single copy gene (
36B4
).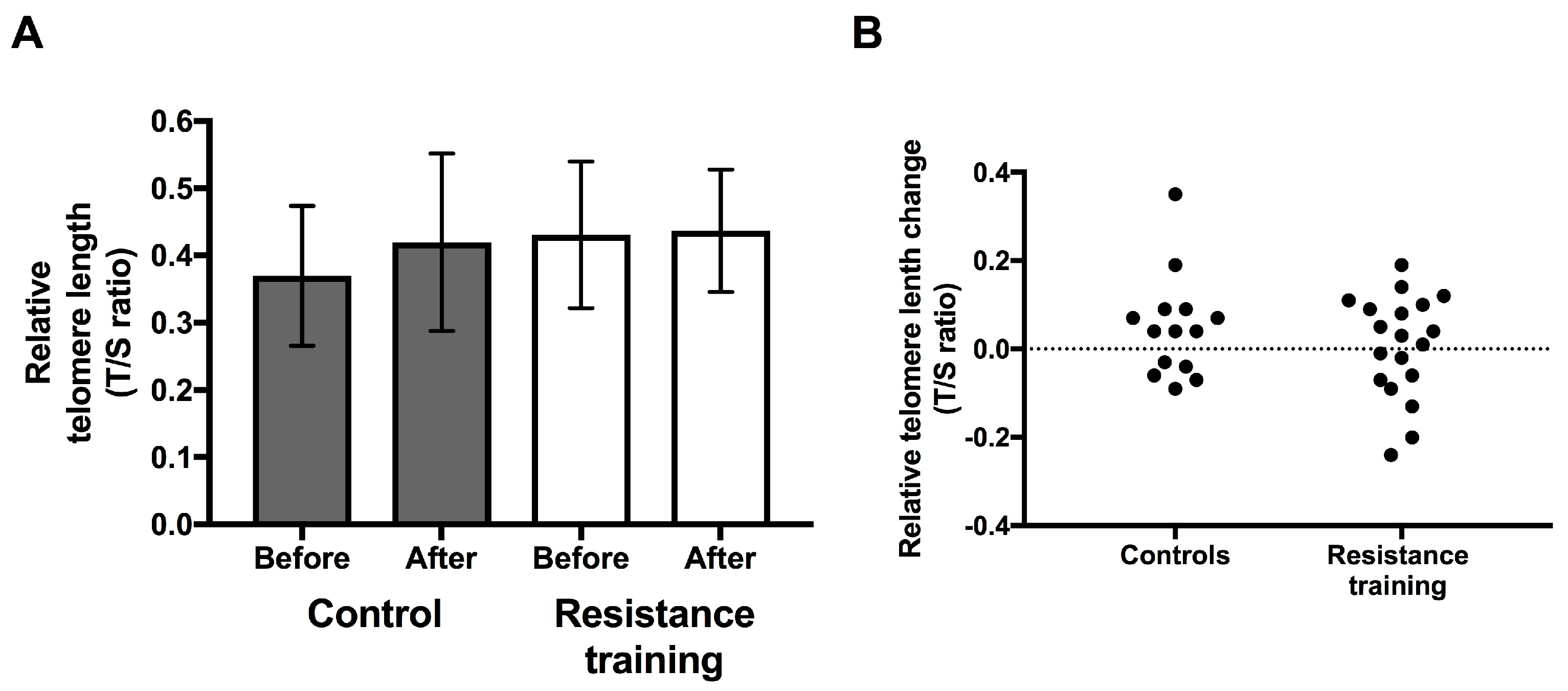 Variable
RT Group (

n

= 19)
Control Group (

n

= 14)

p

-Value
Age (years)
50.8 ± 8.3
52.1 ± 8.5
0.67
Body mass index (BMI) (kg/m2)
27.7 ± 4.3
30.3 ± 6.3
0.23
Weight (kg)
72.7 ± 9.3
80.1 ± 16.7
0.15
Time since treatment (months)
8.5 ± 8.8
8.4 ± 10.5
0.99
Chemotherapy (

n

)
16
12
0.90
Radiotherapy (

n

)
18
13
0.82
Hormone therapy (

n

)
16
13
0.45
Data are from two-tailed independent samples

t

-tests or Chi2 tests and are expressed as mean ± SD or frequencies.
Variable (%)

r

-Value

p

-Value
Upper body strength change in the surgical arm
0.035
0.85
Upper body strength change in the other arm
0.05
0.78
Lower body strength change
−0.02
0.93
Data are from two-tailed Pearson's correlation (

n

= 28–33).

© 2018 by the authors. Licensee MDPI, Basel, Switzerland. This article is an open access article distributed under the terms and conditions of the Creative Commons Attribution (CC BY) license (http://creativecommons.org/licenses/by/4.0/).