Open Access This article is
freely available
re-usable
Article
First-Principles Study of the Impact of Grain Boundary Formation in the Cathode Material LiFePO4
1
Department of Low Temperature Physics, Faculty of Mathematics and Physics, Charles University, V Holešovičkách 2, 180 00 Prague, Czech Republic
2
Department of Physics, School of Engineering Science, LUT University, 53851 Lappeenranta, Finland
3
Physics Department, Northeastern University, Boston, MA 02115, USA
*
Author to whom correspondence should be addressed.
Received: 5 August 2019 / Accepted: 28 August 2019 / Published: 3 September 2019
Abstract
:
Motivated by the need to understand the role of internal interfaces in Li migration occurring in lithium-ion batteries, a first-principles study of a coincident site lattice grain boundary in LiFePO4 cathode material and in its delithiated counterpart FPO4 is performed. The structure of the investigated grain boundary is obtained, and the corresponding interface energy is calculated. Other properties, such as ionic charges, magnetic moments, excess free volume, and the lifetime of positrons trapped at the interfaces are determined and discussed. The results show that while the grain boundary in LiFePO4 has desired structural and bonding characteristics, the analogous boundary in FePO4 needs to be yet optimized to allow for an efficient Li diffusion study.
Keywords:
Li-ion batteries; LiFePO
4
; grain boundary; density functional theory
1. Introduction
A key challenge for developing efficient lithium-ion batteries (LIBs) is to preserve homogeneous Li flows. Li inhomogeneity can appear at internal interfaces within the LIB. Therefore, the grain boundaries that result from heat treatments aimed to improve the phase crystallinity of LIB cathodes can hinder the homogeneity of the Li distribution. Among LIB cathodes, LiFePO
4
or triphylite (aka lithium iron phosphate, LFP) is an environmentally friendly and cheap material [
1
]. It has an orthorhombic structure [
1
,
2
], where the Li atoms occupying octahedral lattice sites diffuse in and out while the LIB works. A major challenge for LIB durability is the aging produced by several factors that have a complex hierarchical structure on various lengths and time scales. Due to these issues, in spite of several decades of research, the understanding of battery aging remains challenging. Recent investigations [
3
,
4
,
5
,
6
,
7
] aimed at studying LFP have combined X-ray spectroscopy and theoretical modeling to monitor the evolution of the redox orbitals in nanoparticles and single-crystal LFP cathodes under different lithiation levels. These studies have provided advanced characterizations techniques for cathodes such as general methods for understanding the relation between lattice distortions and potential shifts [
6
]. A recent review [
8
] summarizes the status and perspectives of LIB cathodes based on the olivine structure, including LFP. Since LIB cathodes are made of powders, grain surfaces and interfaces come into play. Grain boundaries (GBs)—i.e., interfaces between the grains of the same material—are the simplest interfaces that can be studied using reliable density functional theory (DFT) calculations. Recently, Lachal et al. [
9
] have surmised that strong chemical delithiation kinetic degradation in LFP can be explained by grain boundaries that drastically hinder the lithium mobility via the obstruction of the phase propagation, which may cause stress at the GBs and crack formation. In this paper, we present a theoretical study based on DFT calculations that aims to be a first step in clarifying this hypothesis. In particular, we examine one type of GB both for lithiated and delithiated systems, explore various GB properties, and discuss differences between the GB in LFP and its delithiated equivalent. This constitutes the basis for a future study of Li diffusion at the GBs in LFP. Li diffusion at GBs represents another aspect of the GB effect on the LIB operation [
10
], since the diffusion along and across the GB may substantially differ.
2. Grain Boundary Construction and Computational Methods
3. Results and Discussion
4. Conclusions and Outlook
The study of a special grain boundary in LFP (LiFePO
4
) and FP (FePO
4
) shows the interesting and to some extent peculiar properties of GBs in these materials. In particular, we examined a near-CSL tilt Σ 3 (101)/[010] GB in LFP and its counterpart Σ 4 (101)/[010] GB in FP. For each GB type, two configurations (C1 and C2) were constructed with the aim of optimizing the reconnection of atomic bonds at the GBs. In the case of Σ3 GB (LFP), both configurations exhibit an acceptable coherence, and C2 provides a lower GB energy. In addition, C1 GBs are slightly charged, whereas this effect is negligible for C2. Positron lifetime calculations suggest that both GB configurations trap positrons, which requires further experimental verification. GB excess free volumes do not correlate well with positron lifetimes, which is likely due to the complex morphology of the GB interstitial space. When Σ 4 GB (FP) is considered, the level of coherence at the GB interfaces decreases compared to LFP. We trace back this effect to the changed (Σ 3 → Σ 4) GB coincidence conditions and the modified character of the bonds in FP, which becomes a more covalent system when Li is removed from LFP. As a result, we observe a weak GB cohesion, a slight charge modulation within the supercells, and asymmetry in the GB structure between the two GB interfaces in the supercell. Nevertheless, the calculated ionic charges and magnetic moments are reasonable both in the bulk and in regions close to the interfaces. Positron lifetime calculations again suggest that positrons are trapped at the GB interfaces. Configuration C2 is regarded as having more regular properties than C1, including possessing a lower GB energy. Thus, we expect that C2 has less influence than C1 on the performance and the degradation of LFP electrodes, although it should be studied in more detail. On the other hand, both C1 and C2 trap positrons and most likely Li atoms as well. Therefore, this observation supports the hypothesis that both C1 and C2 lead to inhomogeneous Li distributions producing stresses and damages inside the cathode of LIBs. For the sake of completeness, it should also be mentioned that Lachal et al. [
9
] employed a chemical delithiation procedure, whereas in real LIBs, electrochemical processes take place during delithiation, which might affect the GB behavior in a somewhat different way.
In order to proceed with the Li diffusion study in the GB examined, we intend to improve the FP Σ 4 GB properties, e.g., by putting a few cations (Li or Fe) at the interfaces or shifting slightly the interface plane to become occupied by Fe cations. One could also attempt to relax a Σ 3 GB, despite its poor coincidence properties. Independently, we plan to explore how the choice of exchange–correlation functional may influence the results of GB studies in LFP and FP materials. Specifically, GGA +
U
[
33
] and SCAN [
36
] functionals will be tested. Upon refining the characteristics of the examined FP GB, the affinity of Li to the GBs in LFP and FP will be checked to see the preferred Li ion position. As a next step, an ab initio molecular dynamics study will be undertaken. The Li diffusion mechanism is of primary interest—that is, whether Li ions can move just via one-dimensional channels along the [010] direction, or whether an interstitial mechanism is involved, or other cation vacancies are needed for Li to move [
37
]. Such a study should help to answer the question of how the GBs in LFP can affect the Li ion transport, and especially if they can block it. In this way, DFT calculations and simulations provide a solid foundation to understanding GB formation and the impact of this effect on the impedance and state of health of the battery [
38
]. Therefore, the current preparatory study motivates future research focusing on important GB issues affecting the battery performance and aging.
Author Contributions
Conceptualization, J.K. and B.B.; Methodology, J.K.; Computations, A.P. and J.K.; validation, J.K.; Writing—review and editing, J.K., A.P., and B.B.
Funding
J.K. was partially supported by the Czech Republic's Ministry of Education, Youth and Sports from the Large Infrastructures for Research, Experimental Development and Innovations project "IT4Innovations National Supercomputing Center–LM2015070". J.K. also appreciates the support by the Czech Science Foundation under project 17-17016S. B.B. acknowledges support from the COST Action CA16218.
Acknowledgments
The authors wish to acknowledge the CSC—IT Center for Science, Finland for computational resources.
Conflicts of Interest
The authors declare no conflict of interest.
References and Notes
Padhi, A.K.; Nanjundaswamy, K.S.; Goodenough, J.B. Phospho-olivines as positive-electrode materials for rechargeable lithium batteries.

J. Electrochem. Soc.

1997,

144

, 1188–1194. [Google Scholar] [CrossRef]
Streltsov, V.A.; Belokoneva, E.L.; Tsirelson, V.G.; Hansen, N.K. Multipole analysis of the electron density in triphylite, LiFePO4, using X-ray diffraction data.

Acta Crystallogr. B

1993,

49

, 147–153. [Google Scholar] [CrossRef]
Liu, X.; Liu, J.; Qiao, R.; Yu, Y.; Li, H.; Suo, L.; Hu, Y.-s.; Chuang, Y.-D.; Shu, G.; Chou, F.; et al. Phase transformation and lithiation effect on electronic structure of LixFePO4: An in-depth study by soft x-ray and simulations.

J. Am. Chem. Soc.

2012,

134

, 13708–13715. [Google Scholar] [CrossRef] [PubMed]
Lim, J.; Li, Y.; Alsem, D.H.; So, H.; Lee, S.C.; Bai, P.; Cogswell, D.A.; Liu, X.; Jin, N.; Yu, Y.-s.; et al. Origin and hysteresis of lithium compositional spatiodynamics within battery primary particles.

Science

2016,

353

, 566–571. [Google Scholar] [CrossRef] [PubMed]
Liu, X.; Wang, Y.J.; Barbiellini, B.; Hafiz, H.; Basak, S.; Liu, J.; Richardson, T.; Shu, G.; Chou, F.; Weng, T.-C.; et al. Why LiFePO4 is a safe battery electrode: Coulomb repulsion induced electron-state reshuffling upon lithiation.

Phys. Chem. Chem. Phys.

2015,

17

, 26369–26377. [Google Scholar] [CrossRef] [PubMed]
Hafiz, H.; Suzuki, K.; Barbiellini, B.; Orikasa, Y.; Callewaert, V.; Kaprzyk, S.; Itou, M.; Yamamoto, K.; Yamada, R.; Yamamoto, Y.; et al. Visualizing redox orbitals and their potentials in advanced lithium-ion battery materials using high-resolution x-ray Compton scattering.

Sci. Adv.

2017,

3

, e1700971. [Google Scholar] [CrossRef] [PubMed]
Huang, W.; Marcelli, A.; Xia, D. Application of synchrotron radiation technologies to electrode materials for Li- and Na-ion batteries.

Adv. Energy Mater.

2017,

7

, 1700460. [Google Scholar] [CrossRef]
Mauger, A.; Julien, C.M. Olivine positive electrodes for Li-ion batteries: Status and perspectives.

Batteries

2018,

4

, 39. [Google Scholar] [CrossRef]
Lachal, M.; Bouchet, R.; Boulineau, A.; Surblé, S.; Rossignol, C.; Alloin, F.; Obbade, S. Remarkable impact of grains boundaries on the chemical delithiation kinetics of LiFePO4.

Solid State Ion.

2017,

300

, 187–194. [Google Scholar] [CrossRef]
Moriwake, H.; Kuwabara, A.; Fisher, C.A.J.; Huang, R.; Hitosugi, T.; Ikuhara, Y.H.; Oki, H.; Ikuhara, Y. First-principles calculations of lithium-ion migration at a coherent grain boundary in a cathode material, LiCoO2.

Adv. Mater.

2013,

25

, 618–622. [Google Scholar] [CrossRef]
Kronberg, M.L.; Wilson, F.H. Secondary recrystallization in copper.

Trans. AIME

1949,

185

, 501–514. [Google Scholar] [CrossRef]
Gertsman, V.Y. Coincidence site lattice misorientations of crystals in orthorhombic systems, with application to YBa2Cu3O7.

Scr. Metall. Mater.

1992,

27

, 291–296. [Google Scholar] [CrossRef]
Kresse, G.; Furthmüller, J. Efficient iterative schemes for ab initio total-energy calculations using a plane-wave basis set.

Phys. Rev. B

1996,

54

, 11169–11186. [Google Scholar] [CrossRef] [PubMed]
Kresse, G.; Joubert, D. From ultrasoft pseudopotentials to the projector augmented-wave method.

Phys. Rev. B

1999,

59

, 1758–1775. [Google Scholar] [CrossRef]
Blöchl, P.E. Projector augmented-wave method.

Phys. Rev. B

1994,

50

, 17953–17979. [Google Scholar] [CrossRef] [PubMed]
Perdew, J.P.; Burke, K.; Ernzerhof, M. Generalized gradient approximation made simple.

Phys. Rev. Lett.

1996,

77

, 3865–3868. [Google Scholar] [CrossRef] [PubMed]
Perdew, J.P.; Chevary, J.A.; Vosko, S.H.; Jackson, K.A.; Pederson, M.R.; Singh, D.J.; Fiolhais, C. Atoms, molecules, solids, and surfaces: Applications of the generalized gradient approximation for exchange and correlation.

Phys. Rev. B

1992,

46

, 6671–6687. [Google Scholar] [CrossRef]
Andersson, A.S.; Thomas, J.O. The source of first-cycle capacity loss in LiFePO4.

J. Power Sources

2001,

97–98

, 498–502. [Google Scholar] [CrossRef]
Bader, R.F.W.

Atoms in Molecules: A Quantum Theory

; Oxford University Press: England, UK, 1990. [Google Scholar]
Tang, W.; Sanville, E.; Henkelman, G. A grid-based Bader analysis algorithm without lattice bias.

J. Phys. Condens. Matter

2009,

21

, 084204. [Google Scholar] [CrossRef]
Tuomisto, F.; Makkonen, I. Defect identification in semiconductors with positron annihilation: Experiment and theory.

Rev. Mod. Phys.

2013,

85

, 1583–1631. [Google Scholar] [CrossRef]
Kuriplach, J.; Barbiellini, B. Improved generalized gradient approximation for positron states in solids.

Phys. Rev. B

2014,

89

, 155111. [Google Scholar] [CrossRef]
Blaha, P.; Schwarz, K.; Madsen, G.K.H.; Kvasnicka, D.; Luitz, J.; Laskowski, R.; Tran, F.; Marks, L.D.

WIEN2k, An Augmented Plane Wave + Local Orbitals Program for Calculating Crystal Properties

; Vienna University of Technology: Vienna, Austria, 2018; ISBN 3-9501031-1-2. [Google Scholar]
Barbiellini, B.; Kuriplach, J. Proposed parameter-free model for interpreting the measured positron annihilation spectra of materials using a generalized gradient approximation.

Phys. Rev. Lett.

2015,

114

, 147401. [Google Scholar] [CrossRef] [PubMed]
Drummond, N.D.; López Ríos, P.; Needs, R.J.; Pickard, C.J. Quantum Monte Carlo study of a positron in an electron gas.

Phys. Rev. Lett.

2011,

107

, 207402. [Google Scholar] [CrossRef] [PubMed]
Kuriplach, J. Comparison of grain boundary structure in metals and semiconductors as probed by positrons.

Acta Phys. Polon. A

2014,

125

, 722–725. [Google Scholar] [CrossRef]
Kuriplach, J.; Melikhova, O.; Čížek, J.; Procházka, I.; Brauer, G.; Anwand, A. Positron annihilation at planar defects in oxides.

Mater. Sci. Forum

2013,

733

, 240–244. [Google Scholar] [CrossRef]
Kuriplach, J.; Barbiellini, B. Parameter-free gradient correction for positron states in oxides.

Defect Diffus. Forum

2016,

373

, 35. [Google Scholar] [CrossRef]
Barbiellini, B.; Kuriplach, J. Advanced characterization of lithium battery materials with positrons.

J. Phys. Conf. Ser.

2017,

791

, 012016. [Google Scholar] [CrossRef]
Here the numerical precision of calculated lifetime is somewhat lower (~0.5 ps) compared to Refs. [28,29].
Zhang, P.; Wang, Y.; Lin, M.; Zhang, D.; Ren, X.; Yuan, Q. Doping effect of Nb5+ on the microstructure and defects of LiFePO4.

J. Electrochem. Soc.

2012,

159

, A402–A409. [Google Scholar] [CrossRef]
We note that in our case the value of Σ does not need to be an odd number in contrast to cubic systems.
Cococcioni, M.; Marzari, N. Energetics and cathode voltages of Li

M

PO4 olivines (

M

= Fe, Mn) from extended Hubbard functionals.

Phys. Rev. Mater.

2019,

3

, 033801. [Google Scholar] [CrossRef]
Puska, M.J.; Nieminen, R.M. Defect spectroscopy with positrons: a general calculational method.

J. Phys. F Met. Phys.

1983,

13

, 333–346. [Google Scholar] [CrossRef]
Premila, M.; Abhaya, S.; Rajaraman, R.; Ravindran, T.R.; Amarendra, G.; Sundar, C.S. Probing the local structural changes across the amorphous to crystalline transition in iron phosphate glass: Positron annihilation and micro Raman studies.

J. Non-Cryst. Solids

2012,

358

, 1014–1018. [Google Scholar] [CrossRef]
Sun, J.; Ruzsinszky, A.; Perdew, J.P. Strongly constrained and appropriately normed semilocal density functional.

Phys. Rev. Lett.

2015,

115

, 036402. [Google Scholar] [CrossRef]
Guo, H.; Song, X.; Zhuo, Z.; Hu, J.; Liu, T.; Duan, Y.; Zheng, J.; Chen, Z.; Yang, W.; Amine, K.; et al. Storage and effective migration of Li-ion for defected β-LiFePO4 phase nanocrystals.

Nano Lett.

2016,

16

, 601–608. [Google Scholar] [CrossRef] [PubMed]
Gu, M.; Shi, W.; Zheng, J.; Yan, P.; Zhang, J.; Wang, C. Probing the failure mechanism of nanoscale LiFePO4 for Li-ion batteries.

Appl. Phys. Lett.

2015,

106

, 203902. [Google Scholar] [CrossRef]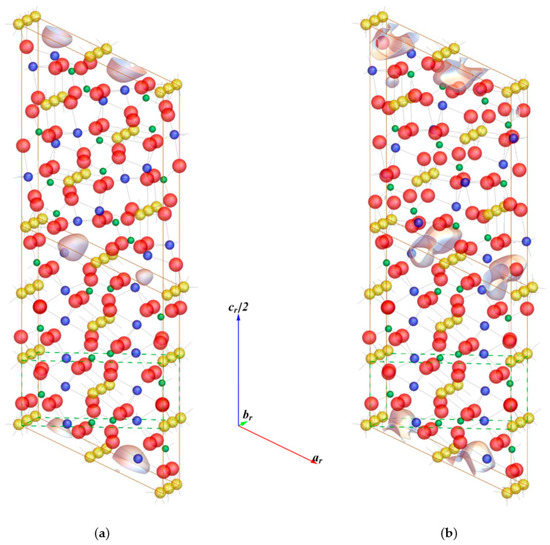 Figure 1. Σ 3 (101)/[010] Grain boundaries (GB) for lithium iron phosphate (LFP): (a) Configuration 1 (C1); (b) configuration 2 (C2). Color scheme is as follows: Li—yellow, Fe—blue, P—green, O—red; the LFP unit cell is also shown as a dashed green cuboid. The GBs in the middle of the boxes are indicated by tilted rectangles. The supercell translation vectors are also outlined. The grayish objects identify the regions with the highest positron density (see the text for explanations).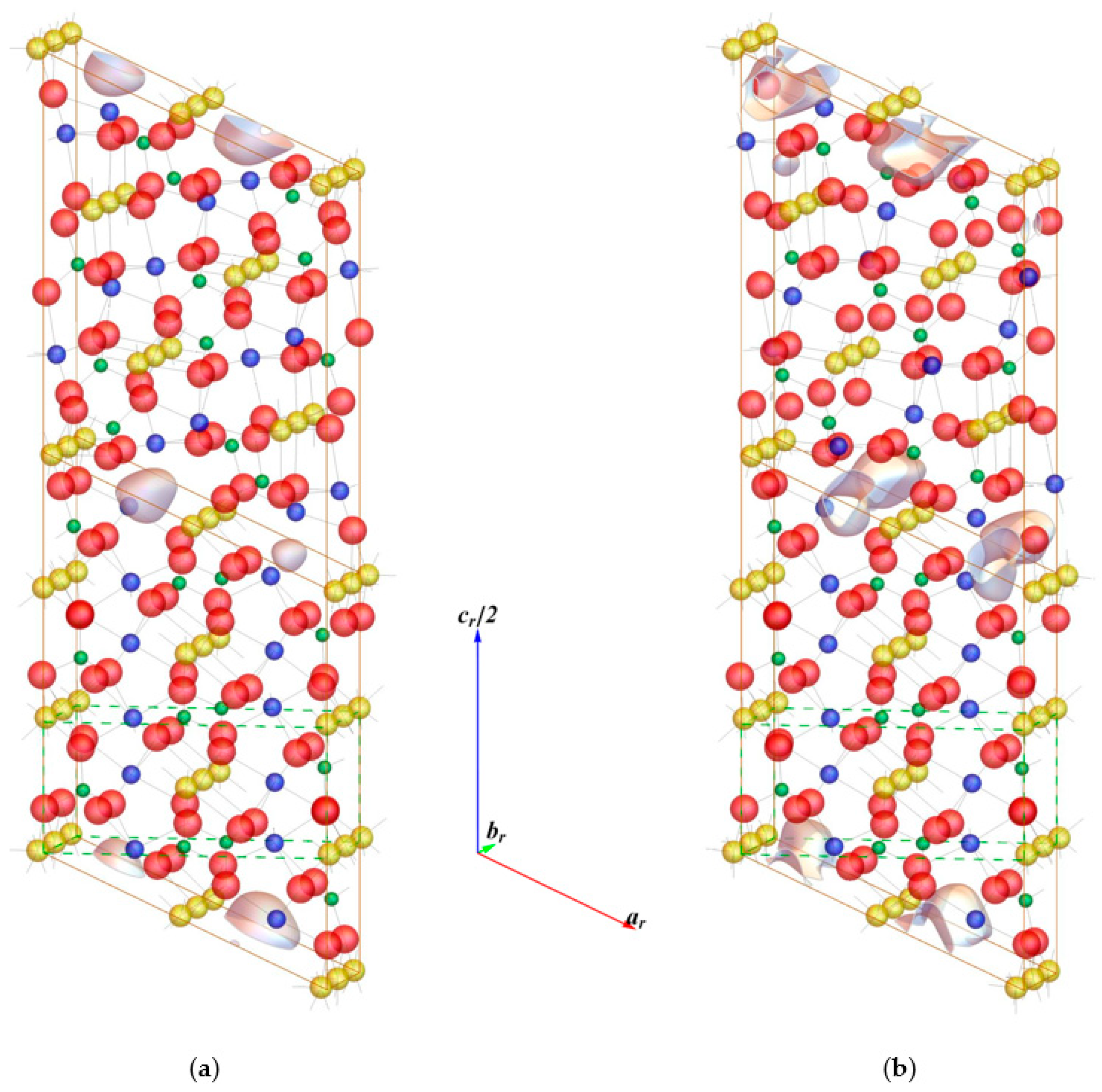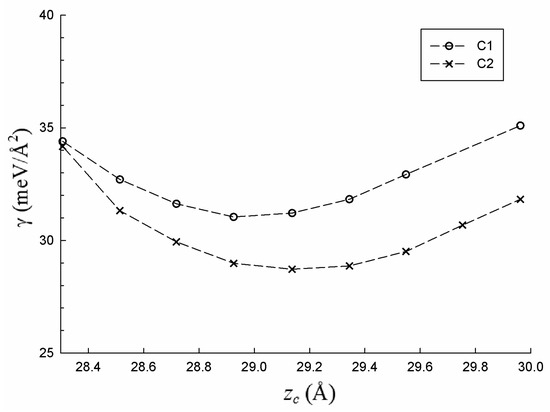 Figure 2. Relaxation of the LFP GB boxes along the last cell vector for configurations C1 and C2: grain boundary energy (γ) versus box last dimension (zc).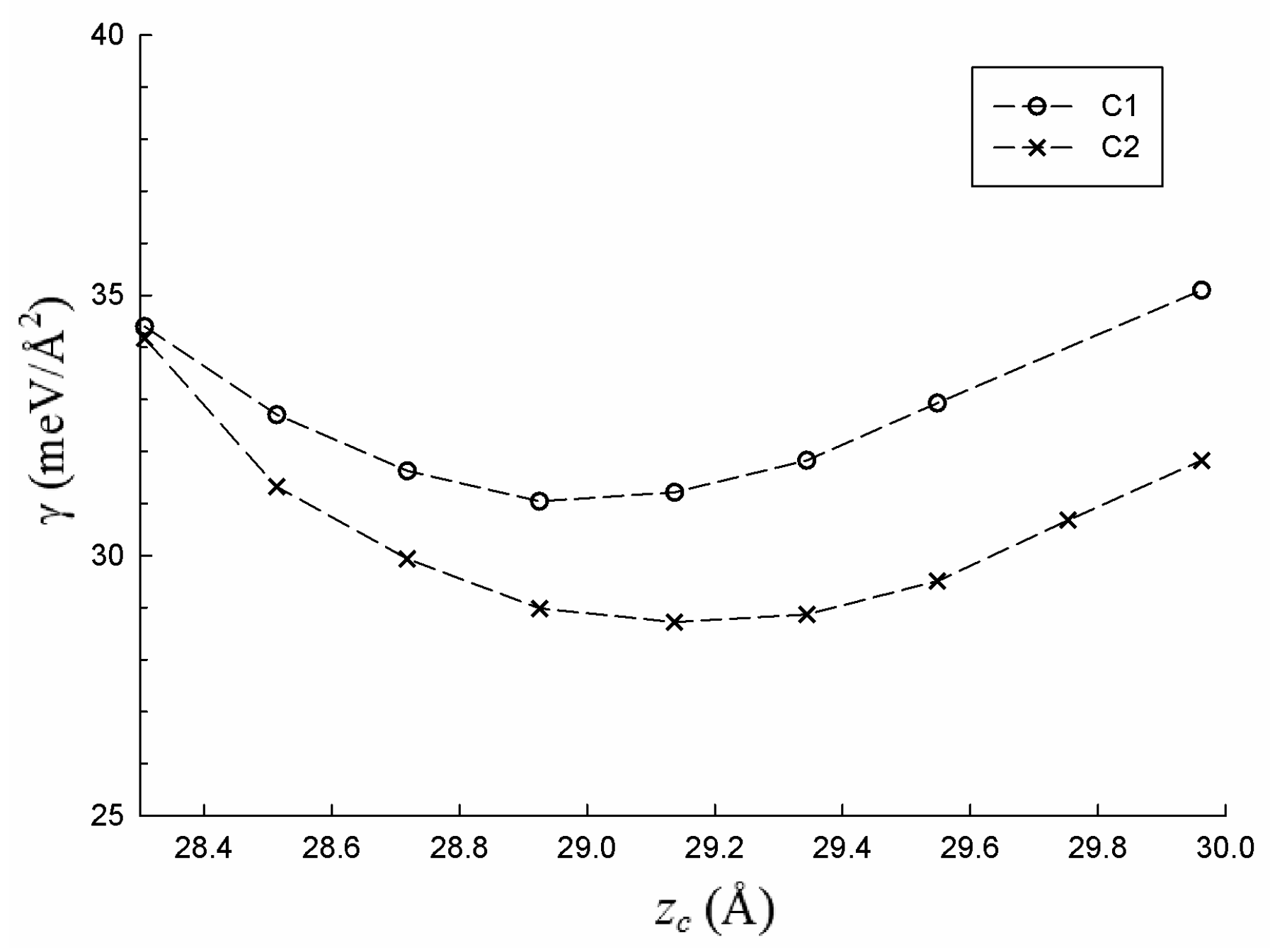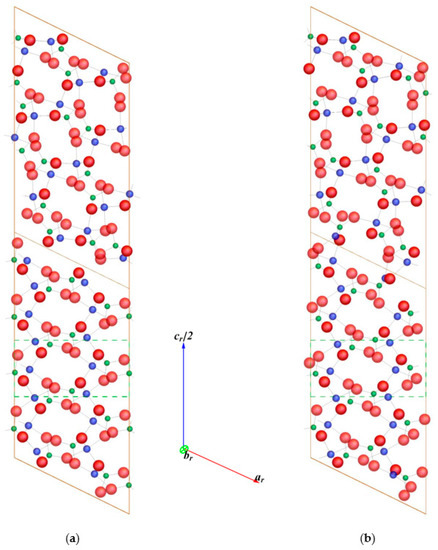 Figure 3.
Σ4 (101)/[010] GB for FP: (
a
) Configuration 1; (
b
) FP configuration 2. The color scheme is the same as in
Figure 1
, including the FP unit cell and supercell translation vectors.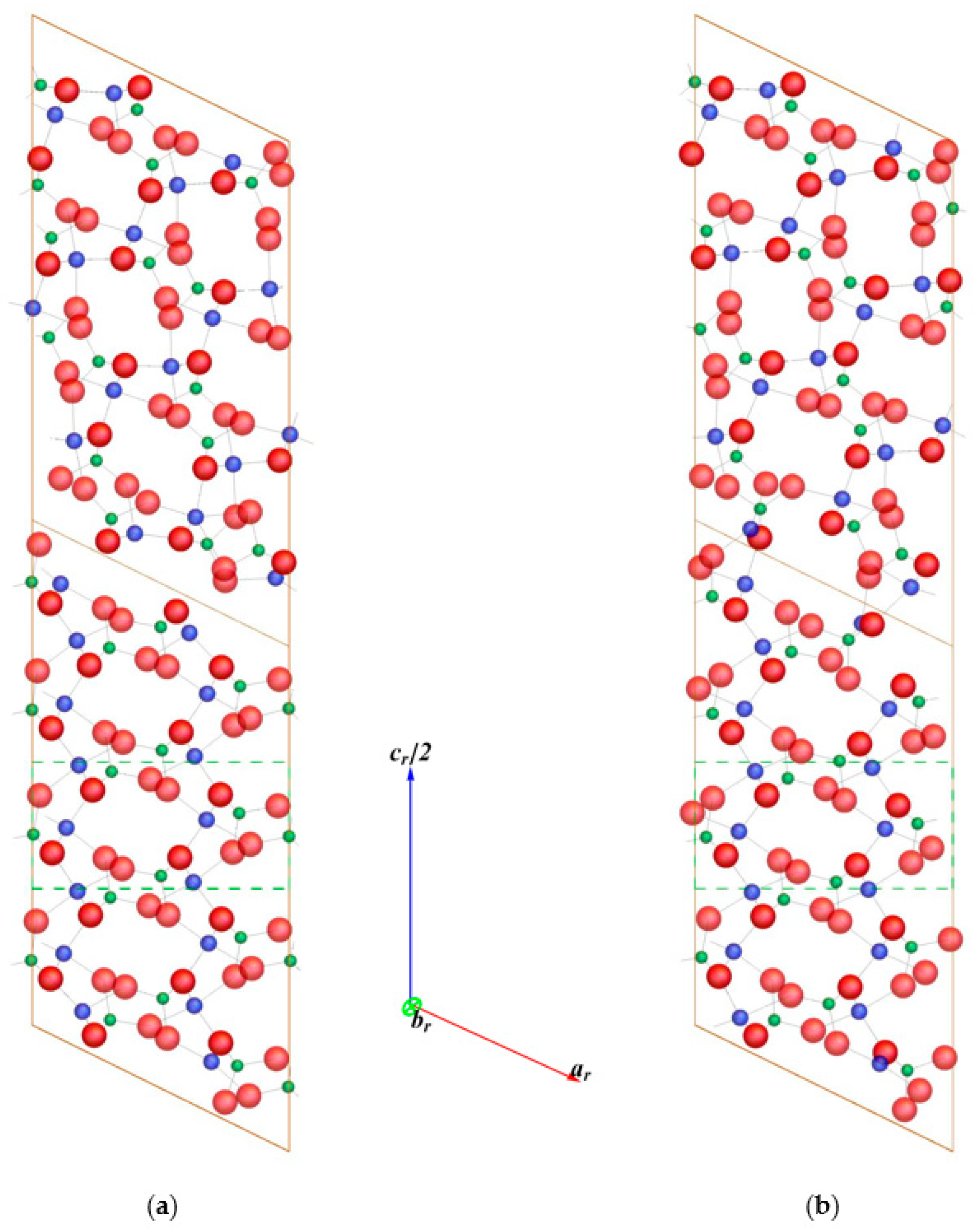 | GB Configuration | γ (meV/Å2) | γ (J/m2) |
| --- | --- | --- |
| LFP C1 | 31 | 0.50 |
| LFP C2 | 29 | 0.46 |
| FP C1 | 69 | 1.11 |
| FP C2 | 58 | 0.92 |

© 2019 by the authors. Licensee MDPI, Basel, Switzerland. This article is an open access article distributed under the terms and conditions of the Creative Commons Attribution (CC BY) license (http://creativecommons.org/licenses/by/4.0/).