Open Access This article is
freely available
re-usable
Article
Proximity-Induced Superconducting States of Magnetically Doped 3D Topological Insulators with High Bulk Insulation
1
Department of Applied Physics, Nagoya University, Furo-cho, Chikusa-ku, Nagoya 464-8603, Japan
2
Laboratory for Materials and Structures, Tokyo Institute of Technology, Yokohama 226-8503, Japan
3
National Institute of Advanced Industrial Science and Technology (AIST), Tsukuba 305-8568, Japan
†
Current address: National Institute for Materials Science (NIMS), Tsukuba, Ibaraki 305-0003, Japan.

Received: 25 November 2018 / Accepted: 7 January 2019 / Published: 12 January 2019
Abstract
:
We studied magnetized topological insulator/superconductor junctions with the expectation of unconventional superconductive states holding Majorana fermions induced by superconductive proximity effects on the surface states of magnetized topological insulators (TIs), attached by conventional superconductors. We introduced Fe-doped BiSbTe2Se as an ideal magnetic TI and used the developed junction fabrication process to access the proximity-induced surface superconducting states. The bulk single crystals of the Fe-doped TI showed excellent bulk-insulating properties and ferromagnetism simultaneously at a low temperature. Meanwhile, the fabricated junctions also showed an insulating behavior above 100 K, as well as metallic conduction at a low temperature, which reflects bulk carrier freezing. In addition, we observed a proximity-induced gap structure in the conductance spectra. These results indicate that the junctions using the established materials and process are preferable to observe unconventional superconducting states which are induced via the surface channels of the magnetized TI. We believe that the developed process can be applied for the fabrication of complicated junctions and suites for braiding operations.
Keywords:
unconventional superconducting states; magnetized topological insulators; proximity effects; crystal growth; junction fabrication process
1. Introduction
Unconventional superconductive states hosting non-Abelian anyons [
1
,
2
,
3
], including Majorana fermions [
4
] on their surface Andreev bound states [
5
,
6
,
7
], are indispensable constituents for future fault-tolerant quantum computing [
8
,
9
]. In principle, superconductive proximity-induced states with strong spin-orbit coupling (SOC) and magnetic fields emulate topological superconductors and odd-frequency superconductors [
7
,
10
,
11
]. Indeed, signatures of Majorana fermions have been observed in Rashba nanowires [
12
,
13
,
14
] and two-dimensional (2D) topological insulator (TI)-based junctions [
15
,
16
]. These induced superconductive states are expected to have
p
-wave symmetry as a gap function Δ [
2
,
11
]. In three-dimensional (3D) TI-based junctions, although the origins of zero-bias conduction peaks are still controversial due to the existing bulk carriers [
17
], such signals are considered to also represent the
p
-wave superconductivity states [
18
,
19
]. Furthermore, the 3D TI-based junctions potentially induce further unconventional superconductivity states, which provide another possible way to access Majorana fermions; the proximity-induced superconductive states depend on the strength and direction of the applied magnetic fields and moments [
20
,
21
,
22
,
23
].
Recently, we reported the observation of an unconventional proximity effect on an Fe-doped Bi
2
Te
2
Se (Fe-BTS)-based Josephson junction [
24
]. The differential conductance spectra showed an unusual three-peak structure with a tiny peak width (~6 μeV) around a zero-bias voltage. One particularly notable signature was the 4π-periodic Josephson supercurrent under high-power radio-frequency irradiation, which implied the existence of peculiar surface Andreev bound states. However, it was difficult to identify the symmetries of Cooper pairs induced on the junction, due to the complicated conductance spectra, which were possibly derived from the coexistence of several conductance channels: (i) the 2D surface states of magnetic TI; (ii) the 1D edge channel which emerged at the edge of the crystal flakes; and (iii) bulk conduction. Establishing ideal junctions without the contributions of the 1D edge channel and bulk conduction is crucial to observing the proximity effect through the surface states of magnetic TI.
Regarding the contribution of the 1D edge channel, we have to develop a new junction fabrication process avoiding electrical contacts between the electrodes and crystal edges of crystal flakes. As for the contribution of bulk conduction, on the other hand, reducing the number of bulk carriers of the magnetic TIs is essential. The junctions of the Fe-doped Bi
2
Te
2
Se were found to exhibit
n
-type conduction with metallic resistivity (several mΩcm, calculated from reference [
24
]), whereas non-doped Bi
2
Te
2
Se bulk crystals have been reported to have large bulk resistivity [
25
,
26
,
27
] (the carrier type depended on the small amount of composition fluctuation [
25
,
28
]). This comparison implies that Fe-substitution acted with electron-doping characteristics. Therefore, in our strategy for achieving a high bulk-insulating nature of magnetized TIs, we focused on the
p
-type semiconductor BiSbTe
2
Se [
29
], and attempted Fe-substitution in the (Bi, Sb) sites.
In this paper, we successfully grew new magnetized TI single crystals with excellent bulk-insulating properties and report a newly developed fabrication process to avoid electrical contacts between electrodes and the crystal edges of the grown crystal flakes (the contribution of the 1D edge channel). As a result, we confirmed the emergence of a proximity effect through the surface states on the grown magnetic TIs. We believe that the established experimental technique and samples will reveal the predicted unusual unique superconductive states on the magnetic TI-based junctions.
2. Results and Discussion
2.1. Crystal Growth and Characterization
2.2. Junction Fabrication and Transport Properties
3. Materials and Methods
The single crystals of Fe-BSTS were grown by a modified Bridgman method similar to the case for Fe-BTS [
24
] and Fe- and Mn-doped Bi
2
Se
3
single crystals [
31
]. The starting material composition was Fe:Bi:Sb:Te:Se = 0.1:0.95:0.95:2:1, and the appropriated amount of high purity elements was loaded into an evacuated quartz tube with a long, sharp-pointed bottom. The homogeneously melted samples achieved by the method described by Chen et al. [
31
] were slowly cooled down to 200 °C, and then rapid water quenching was performed. Sample characterization was performed by a conventional XRD measurement using Cu
Kα
(D2 PHASER powder diffractometer with LynxExe 1D detector; Bruker, Billerica, MA, USA), and XRF analysis with XGT-5000 (HORIBA: Kyoto, Japan). Magnetization was confirmed using a commercial SQUID magnetometer (MPMS-XL: Quantum Design, San Diego, CA, USA). The resistivity, Seebeck coefficient and Hall coefficient of grown bulk crystals were analyzed with a homemade apparatus with a closed-cycle refrigerator equipped with a superconducting electromagnet.
The junction fabrication process was described in the text in detail. These procedures were performed at National Institute of Advanced Industrial Science and Technology (AIST) and National Institute for Materials Science (NIMS). The transport properties of the fabricated junctions were investigated by a standard lock-in technique with a modulation frequency of 961.1 Hz.
4. Conclusions
To establish the proximity effect through the surface-dominant channels of magnetic TIs, we prepared Fe-BSTS bulk single crystals and developed a fabrication process to avoid contact with the 1D edge channels. The Fe-BSTS bulk crystals had an excellent bulk-insulating nature, which reached 10 Ωcm at low temperatures. The Nb/Fe-BSTS/Nb junctions also showed a surface-dominant transport nature, and the emergence of a superconducting proximity effect was confirmed. These results imply that the junctions based on the Fe-BSTS fabricated by the developed process are promising systems for observing the unconventional proximity effects which are expected to emerge on the magnetic TIs.
Author Contributions
Conceptualization, T.S. and S.K.; Crystal Growth, H.T.H., S.Y. and M.K.; Junction Fabrication, K.T., M.K. and H.K.; Data Curation of Crystals, H.T.H.; Data Curation of Junctions, R.Y.; Writing-Original Draft Preparation, R.Y.; Writing-Review & Editing, all co-authors; Supervision, S.K.; Project Administration, S.K.; Funding Acquisition, T.S. and S.K.
Funding
This research was funded by JST CREST: grant no. JPMJCR16F2 and KAKENHI: grant nos. JP15H05851, 15H05853, 16H03847, 17K05485 and 18H01243.
Acknowledgments
The fabrication process was performed using the NIMS Nanofabrication Platform and AIST Nano-Processing Facility in the "Nanotechnology Platform Project" sponsored by the Ministry of Education, Culture, Sports, Science and Technology (MEXT), Japan.
Conflicts of Interest
The authors declare no conflict of interest.

Figure 1.
(
a
) XRD patterns of Fe- BiSbTe
2
Se (BSTS) and BSTS crystals from cleaved planes. The simulated pattern from the 00
l
peaks of Fe-BSTS crystal was placed at the bottom; (
b
) the 0 0 18 peak of Fe-BSTS and BSTS; (
c
) photograph of typical Fe-BSTS crystals; (
d
) magnetization of Fe-BSTS recorded at 5 K in the in-plane fields; (
e
) temperature dependence of in-plane resistivity for Fe-BSTS and BSTS crystals.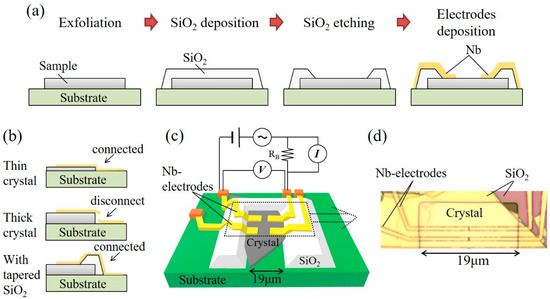 Figure 2. (a) The developed junction fabrication procedure; (b) schematic pictures describing the possible occurrence of connected (upper) and disconnected (middle) electrical contacts for thin and thick crystals. The bottom represents a conceptual picture for the samples covered by SiO2 with natural tapers; (c) schematic image of fabricated Nb/Fe-BSTS/Nb junctions using the developed process; (d) optical micrograph image of the junctions around the rectangular dotted line of (c).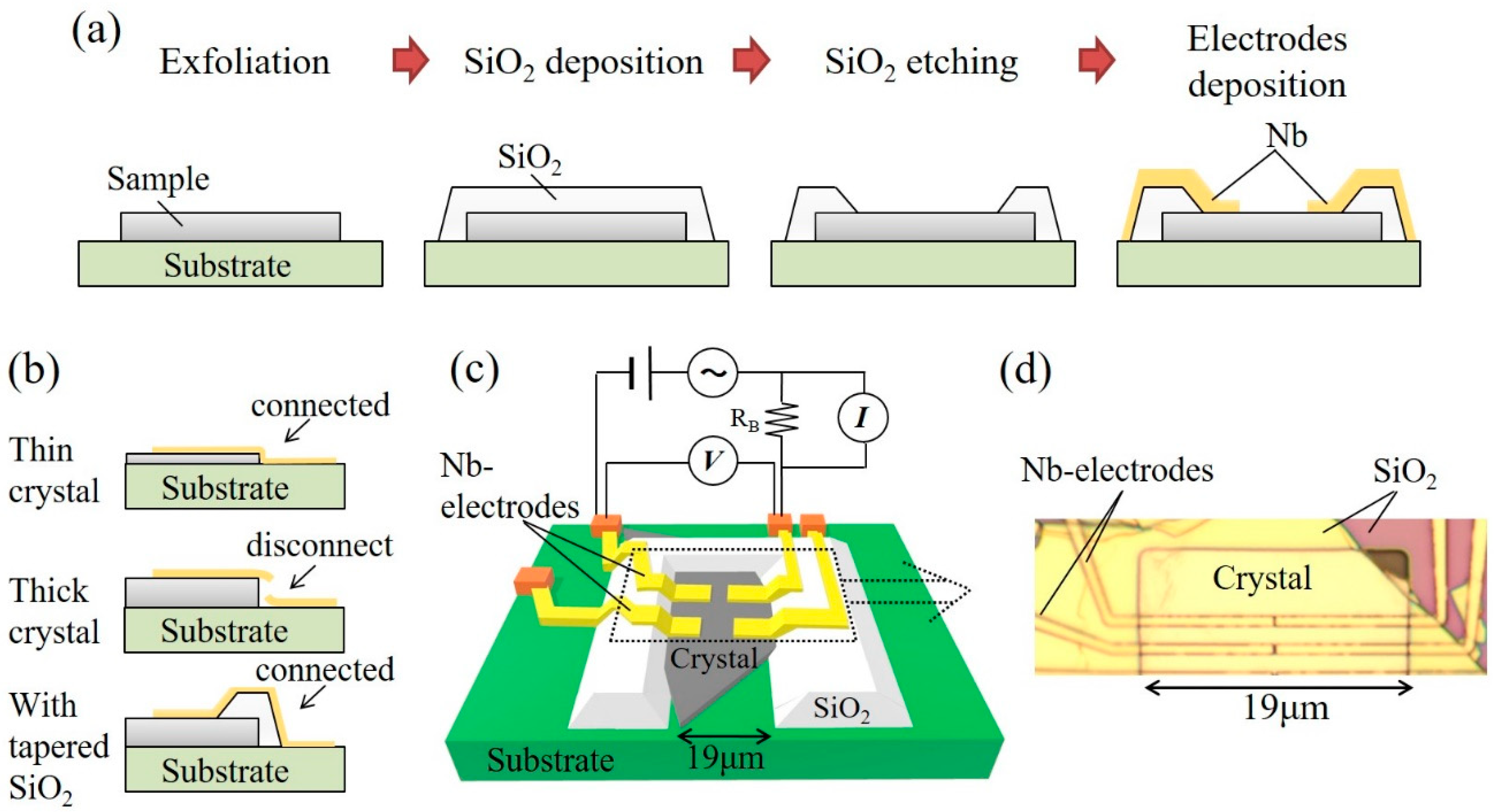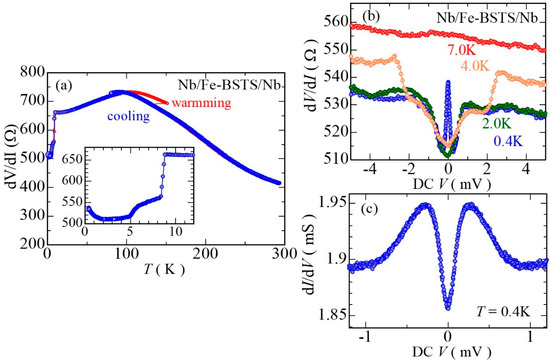 Figure 3.
(
a
) The temperature dependence of the zero-bias differential resistance of the S/Fe-BSTS/S junction. Due to a technical reason, the resistance showed hysteresis only at around 100 K. Inset is an enlarged graph around 10 K; (
b
) differential resistance d
V
/d
I
of the junctions at 0.4, 2.0, 4.0, and 7.0 K; (
c
) differential conductance d
I
/d
V
of the junctions recorded at 0.4 K. The data itself are same as the d
V
/d
I
at 0.4 K.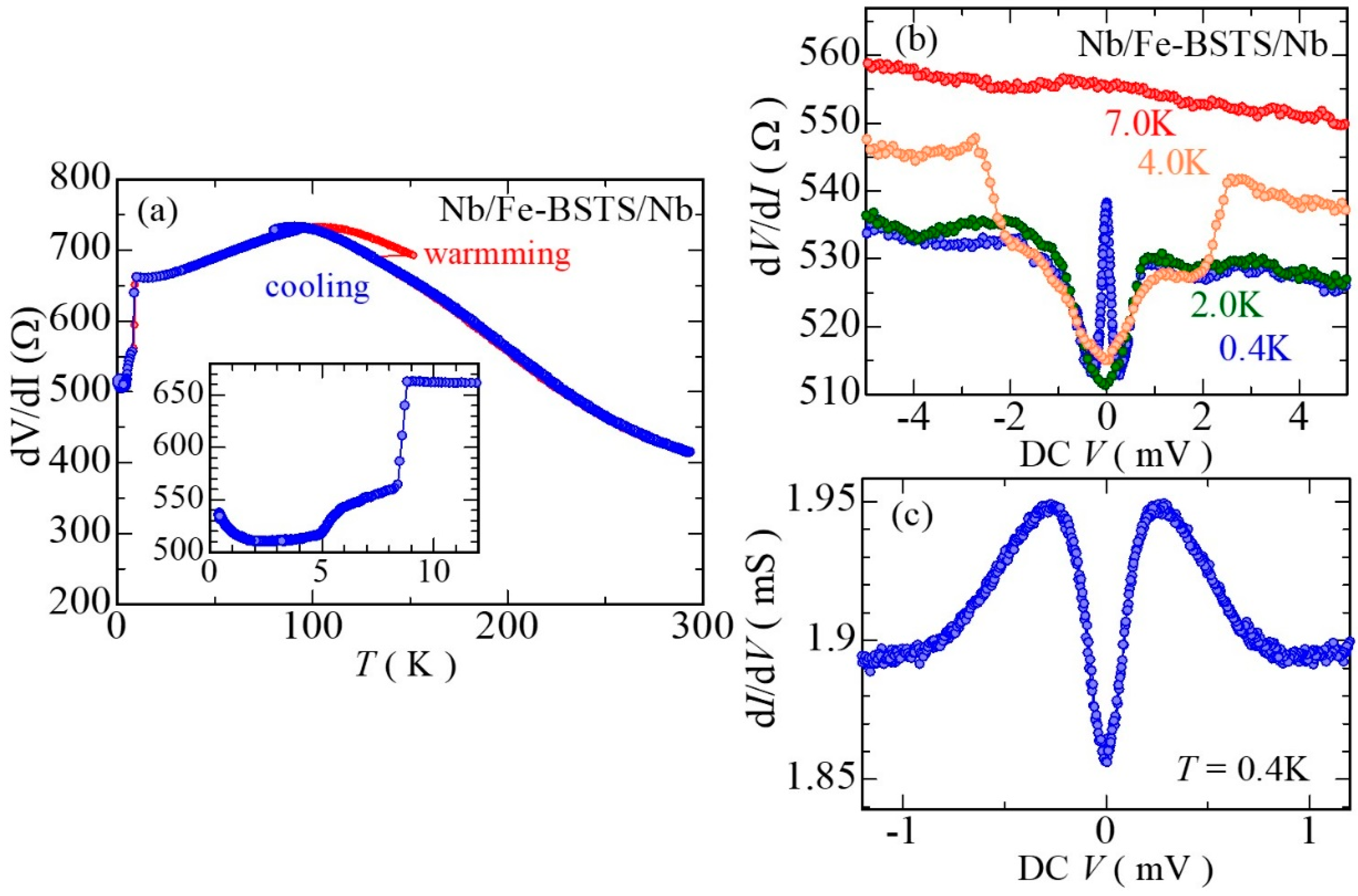 © 2019 by the authors. Licensee MDPI, Basel, Switzerland. This article is an open access article distributed under the terms and conditions of the Creative Commons Attribution (CC BY) license (http://creativecommons.org/licenses/by/4.0/).