Taxonomy, Distribution and Evolution of Trisopterine Gadidae by Means of Otoliths and Other Characteristics
Joost van den Vondelstraat 30, 7103 XW Winterswijk, The Netherlands
Academic Editor: Eric Hallerman
Received: 1 April 2016 / Revised: 2 July 2016 / Accepted: 7 July 2016 / Published: 17 July 2017
Abstract
In a greater study of the recent fossil Gadidae, the object of this paper is to better define the trisopterine species and their relationships. The taxonomy of the four recent species usually included in the genus
Trisopterus
is further elaborated by means of published and new data on their otoliths, by published data on general external features and meristics of the fishes, and their genetics. Fossil otoliths, from the beginning of the Oligocene up to the present, reveal much of their evolution and throw more light on their relationships. Several succeeding and partly overlapping lineages representing different genera are recognized during this time interval. The genus
Neocolliolus
Gaemers, 1976, for
Trisopterus esmarkii
(Nilsson, 1855), is more firmly based. A new genus,
Allotrisopterus
, is introduced for
Trisopterus minutus
(Linnaeus, 1758). The similarity with
Trisopterus capelanus
(Lacepède, 1800) is an example of convergent evolution. The tribe Trisopterini Endo (2002) should only contain
Trisopterus
,
Allotrisopterus
and
Neocolliolus
as recent genera. Correct identification of otoliths from fisheries research and from sea bottom samples extends the knowledge of the present day geographical distribution of
T. capelanus
and
T. luscus
(Linnaeus, 1758).
T. capelanus
is also living along the Atlantic coast of Portugal and at least up to and including the Ría de Arosa, Galicia, Spain. There it can easily be mistaken for
A. minutus
that is also living there. Otoliths of
T. luscus
have been identified from the Evvoïkós Channel between Euboia and the mainland of Greece, thus it must live also in the Aegean Sea. Otoliths prove to be a powerful tool in taxonomy, biogeography and evolution of teleosts.
View Full-Text
►

▼

Figures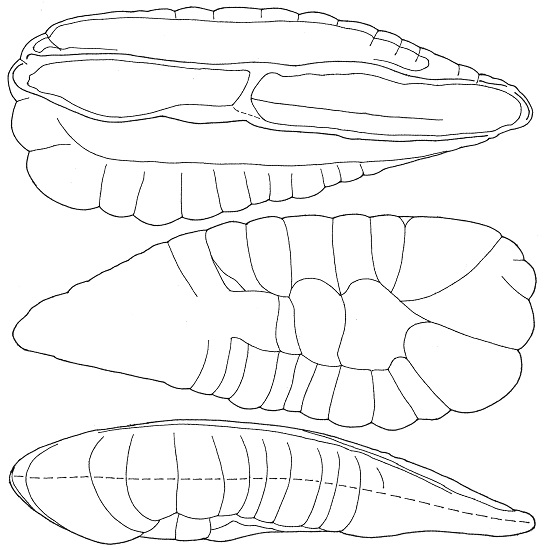 Graphical abstract
This is an open access article distributed under the
Creative Commons Attribution License
which permits unrestricted use, distribution, and reproduction in any medium, provided the original work is properly cited (CC BY 4.0).

Share & Cite This Article
MDPI and ACS Style
Gaemers, P.A.M. Taxonomy, Distribution and Evolution of Trisopterine Gadidae by Means of Otoliths and Other Characteristics. Fishes 2016, 1, 18-51.
Comments
[Return to top]