Cystic Fibrosis Newborn Screening in Portugal: PAP Value in Populations with Stringent Rules for Genetic Studies
1
National Institute of Health Dr Ricardo Jorge, Human Genetics Department, Newborn Screening, Metabolism and Genetic Unit, Rua Alexandre Herculano 321, 4000-055 Porto, Portugal
2
Cystic Fibrosis Center, Department of Pediatrics, Hospital de Santa Maria (CHLN), Lisbon Academic Medical Center, Av. Professor Egas Moniz, 1649-028 Lisboa, Portugal
3
Cystic Fibrosis Center, Department of Pediatrics, Centro Hospitalar S. João, Alameda do Professor Hernâni Monteiro, 4200-319 Porto, Portugal
4
Cystic Fibrosis Center, Centro Hospitalar de Lisboa Central, Rua Jacinta Marto, 1169-045 Lisboa, Portugal
5
Cystic Fibrosis Center, Department of Pediatrics, Centro Hospitalar e Universitário de Coimbra, Rua Doutor Afonso Romão 3030, 3000-609 Coimbra, Portugal
6
Cystic Fibrosis Center, Department of Pediatrics, Centro Hospitalar do Porto, Largo da Maternidade de Júlio Dinis 4050-651, Porto, Portugal
7
Department of Pediatrics, Funchal Central Hospital, Avenida Luís de Camões 57, 9004-514 Funchal, Portugal
8
BioISI—Biosystems & Integrative Sciences Institute, Faculty of Sciences, University of Lisboa, Campo Grande, C8, 1749-016 Lisboa, Portugal
†
These authors contributed equally to this work.
*
Authors to whom correspondence should be addressed.
Received: 10 May 2018 / Revised: 18 June 2018 / Accepted: 25 June 2018 / Published: 29 June 2018
Abstract
Newborn screening (NBS) for cystic fibrosis (CF) has been shown to be advantageous for children with CF, and has thus been included in most NBS programs using various algorithms. With this study, we intend to establish the most appropriate algorithm for CF-NBS in the Portuguese population, to determine the incidence, and to contribute to elucidating the genetic epidemiology of CF in Portugal. This was a nationwide three-year pilot study including 255,000 newborns (NB) that were also screened for congenital hypothyroidism (CH) and 24 other metabolic disorders included in the Portuguese screening program. Most samples were collected in local health centers spread all over the country, between the 3rd and 6th days of life. The algorithm tested includes immunoreactive trypsinogen (IRT) determination, pancreatitis associated protein (PAP) as a second tier, and genetic study for cases referred to specialized clinical centers. Thirty-four CF cases were confirmed positive, thus indicating an incidence of 1:7500 NB. The p.F508del mutation was found in 79% of the alleles. According to the results presented here, CF-NBS is recommended to be included in the Portuguese NBS panel with a small adjustment regarding the PAP cut-off, which we expect to contribute to the improvement of the CF-NBS performance. According to our results, this algorithm is a valuable alternative for CF-NBS in populations with stringent rules for genetic studies.
View Full-Text
►

▼

Figures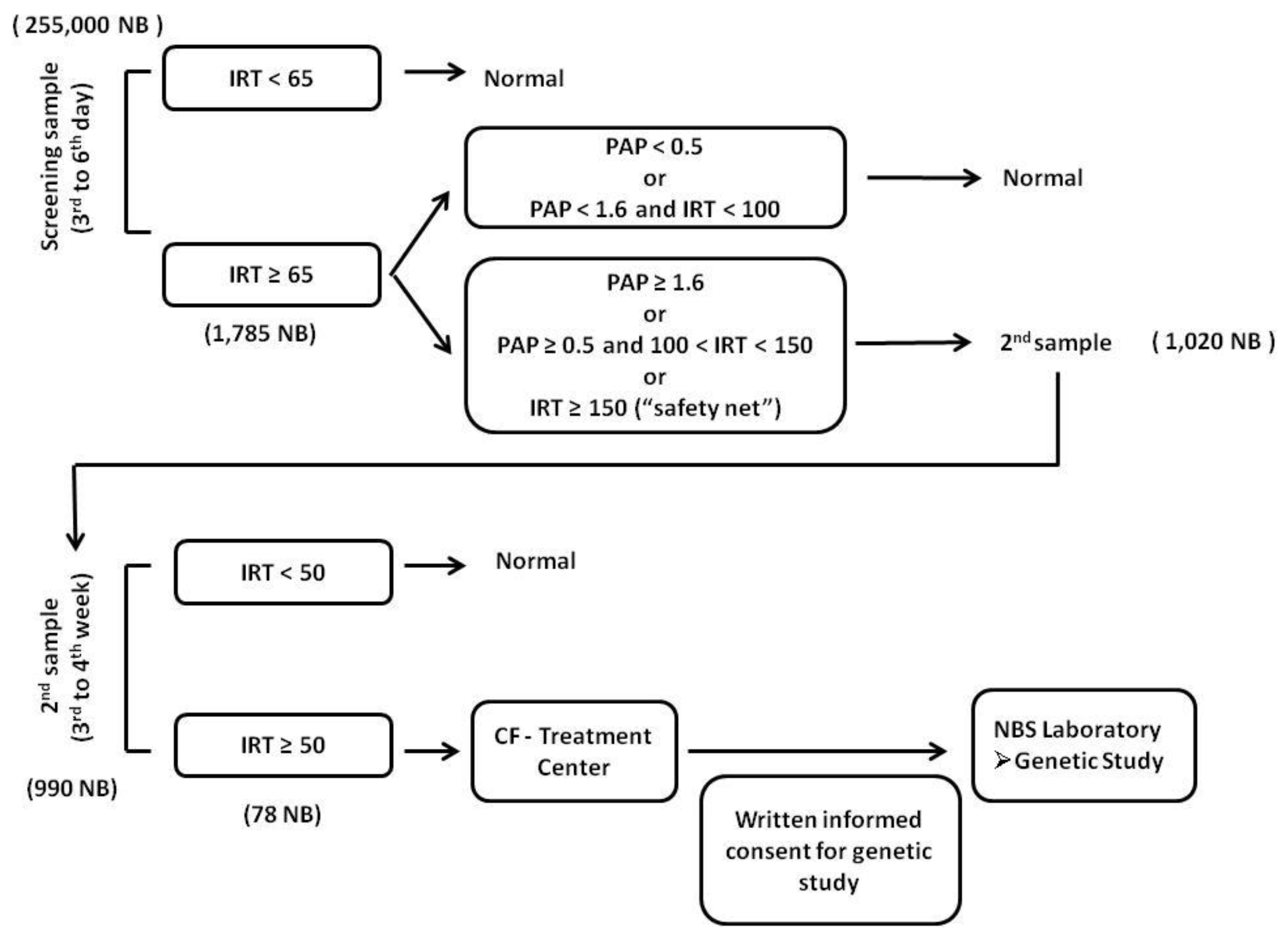 Figure 1
This is an open access article distributed under the
Creative Commons Attribution License
which permits unrestricted use, distribution, and reproduction in any medium, provided the original work is properly cited (CC BY 4.0).

Share & Cite This Article
MDPI and ACS Style
Marcão, A.; Barreto, C.; Pereira, L.; Vaz, L.G.; Cavaco, J.; Casimiro, A.; Félix, M.; Silva, T.R.; Barbosa, T.; Freitas, C.; Nunes, S.; Felício, V.; Lopes, L.; Amaral, M.; Vilarinho, L. Cystic Fibrosis Newborn Screening in Portugal: PAP Value in Populations with Stringent Rules for Genetic Studies. Int. J. Neonatal Screen. 2018, 4, 22.
Note that from the first issue of 2016, MDPI journals use article numbers instead of page numbers. See further details here.
Comments
[Return to top]