Fibroblast Fatty-Acid Oxidation Flux Assays Stratify Risk in Newborns with Presumptive-Positive Results on Screening for Very-Long Chain Acyl-CoA Dehydrogenase Deficiency
1
Department of Clinical Chemistry, Sheffield Children's Hospital Sheffield, Sheffield S10 2TH, UK
2
Department of Biochemistry and Molecular Biology, University of Southern Denmark, DK-5230 Odense M, Denmark
3
Department of Medical Genetics & Paediatrics, Alberta Children's Hospital, Calgary, AB T3B 6A8, Canada
4
Department of Molecular Genetics, Sheffield Children's Hospital, Sheffield S10 2TH, UK
5
Department of Medical Genetics, University of Alberta, Calgary, AB T3B 6A8, Canada
6
National Metabolic Service, Starship Children's Hospital, Auckland 1042, New Zealand
7
Inserm U747, Université Paris Descartes, UFR Biomédicale des Saints-Pères, 75270 Paris CEDEX 06, France
*
Author to whom correspondence should be addressed.
Academic Editor: Ralph Fingerhut
Received: 13 January 2017 / Revised: 15 February 2017 / Accepted: 17 February 2017 / Published: 24 February 2017
Abstract
Very-long chain acyl-CoA dehydrogenase deficiency (VLCADD) is a clinically heterogeneous disorder with three major phenotypes: severe neonatal/infantile, milder childhood and late onset myopathic. VLCADD is genetically heterogeneous with numerous pathogenic mutations and variants of uncertain significance. VLCADD is included in many newborn screening programs but these suffer from high false positive rates, primarily due to positive screens in heterozygotes. Separating these and newborns with two low-risk "mild" variants from clinically at risk patients can be problematic, as clinical and biochemical markers are often unreliable, particularly in stable neonates. We have measured fibroblast fatty acid oxidation flux using [9,10-H
3
]myristic acid and [9,10-H
3
]oleic acid from 69 clinically presenting VLCADD patients including myopathic and infantile phenotypes and 13 positive newborn screened patients. We also measured fibroblast VLCADD enzyme activity by UV-HPLC detection of product in a sub-set of patients and compared these results to oleate FAO-flux. Fibroblast enzyme assay by UV-HPLC detection failed to clearly discriminate between some clinically presenting VLCADD patient cell lines and cell lines from some simple heterozygotes. FAO-flux clearly discriminated between clinically presenting VLCADD patients and the false positive screened patients. FAO-flux at 37 °C provides information as to the likely clinical phenotype but FAO-flux at 41 °C is the best discriminator for identifying clinically at risk patients.
View Full-Text
►

▼

Figures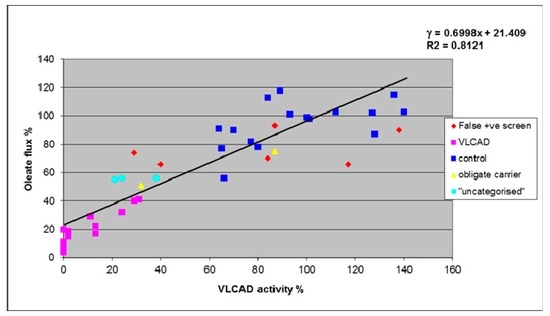 Figure 1
This is an open access article distributed under the
Creative Commons Attribution License
which permits unrestricted use, distribution, and reproduction in any medium, provided the original work is properly cited (CC BY 4.0).

Share & Cite This Article
MDPI and ACS Style
Olpin, S.E.; Clark, S.; Dalley, J.; Andresen, B.S.; Croft, J.; Scott, C.A.; Khan, A.; Kirk, R.J.; Sparkes, R.; Chard, M.; Chan, A.; Glamuzina, E.; Bastin, J.; Manning, N.J.; Pollitt, R.J. Fibroblast Fatty-Acid Oxidation Flux Assays Stratify Risk in Newborns with Presumptive-Positive Results on Screening for Very-Long Chain Acyl-CoA Dehydrogenase Deficiency. Int. J. Neonatal Screen. 2017, 3, 2.
Note that from the first issue of 2016, MDPI journals use article numbers instead of page numbers. See further details here.
Comments
[Return to top]