Open Access This article is
freely available
re-usable
Review
Gulf of Mexico Seafood Harvesters: Part 1. Occupational Injury and Fatigue Risk Factors
1
Rollins School of Public Health, Emory University, Atlanta, Georgia, GA 30322, USA
2
Southeastern Coastal Center for Agricultural Health and Safety, University of Florida, Gainesville, FL 32611, USA
3
Land Grant Program and State Extension Specialist for Aquaculture, Kentucky State University, Frankfort, KY 40601, USA
4
Department of Environmental and Global Health, College of Public Health and Health Professions, University of Florida, Gainesville, FL 32611, USA
*
Author to whom correspondence should be addressed.
Received: 10 April 2018 / Accepted: 19 July 2018 / Published: 24 July 2018
Abstract
:
During 2000–2009, 116 Gulf of Mexico (GoM) fishers were killed (23% of the US total) while working in the shrimp, finfish, oyster, clam, and crab fisheries. The purpose of this literature review is to identify injury-related risk factors to better assess the frequency and severity of injuries experienced by fish harvesters in the GoM. Methods: The method of this study is a comprehensive narrative literature review of findings useful for the prevention of fatal and non-fatal injuries among GoM fish harvesters published since 2005. Search engine terms were used to identify relevant literature that included fatalities, injuries, fatigue, and several other terms in combination (e.g., string search with "fishing"). Results: We reviewed 48 articles; the most common cause of fish harvester deaths in the GoM is falls overboard with scant use of personal flotation devices and vessel disasters in which flooding and collision were the most lethal. The root cause of errors resulting in many disasters may have been operator fatigue, but fatigue is also an adverse health effect resulting from working conditions. Non-fatal injuries arise from multiple sources that include working with gears, slips and trips, struck-by or against objects, machine or line entanglements, and falls. Conclusion: Principal risk factors are a lack of sleep aboard fishing vessels, vessel flooding and collisions, poor weather, slips on deck, contact with gear, not wearing personal flotation devices, poor swimming ability, and fishing alone on a vessel or the deck.
Keywords:
safety; injuries; fatalities; fishers; fish harvesters; hazards; fishing; fatigue
1. Introduction
To better understand the causes of these injuries as well as fatigue, this literature review aims to identify risk factors (i.e., hazards) that contribute to occupational injuries and fatigue, which exist or may exist among GoM seafood harvesters. The review informs a broader study with an aim to assess the frequency and severity of injuries and illnesses experienced by GoM fishers based on interviews and vessel and task observations.
2. Method and Materials
A study, Occupational Health and Safety of Gulf Seafood Workers, was launched to address the health and safety of workers in five GoM fisheries: shrimp, crab, finfish, oyster, and clam. Other fisheries in the GoM were excluded because of their small size that include the sponge and the emerging jellyfish fisheries. We identified studies that examined safety risks relevant to the study with an interest in two criteria: (1) frequency of the condition and (2) severity in the individual case [
15
]. Selection was based upon three priorities: (1) relevance to GoM fisher safety and health, (2) recent investigations that built on earlier investigations, and (3) research designs that can inform our study. Sources for this literature review follow: NIOSH bibliography (
n
= 156) [
16
] and string search results—Google Scholar: "Gulf of Mexico occupational injuries fishing" (
n
= 21); Google: "fishermen stress" (
n
= 19); PubMed: "fishing occupational injury Gulf of Mexico" (
n
= 3), "commercial fishing occupational injury" (
n
= 45), "occupational fatalities fishing" (
n
= 22), "commercial fishing fatigue" (
n
= 4), "commercial fishing stress" (
n
= 20), and "commercial fishing epidemiology" (
n
= 75). Exclusion criteria follow: studies before 2005 except for GoM studies and six studies that add information related to the post-2004 studies, non-traumatic injuries (except for drownings), non-injury studies, non-risk factor studies, studies of sport fishing, studies of subsistence fishing, biological animal stings and bites (to be covered in Part 2 in this series), and studies outside North America and Europe (for technological reasons). We examined 365 studies.
Forty-eight articles were selected for this review (listed in the
Appendix A
). Research geographically distant from the GoM is relevant to fisher safety and health problems in the GoM, especially regarding cross-regional patterns, technology, and study design.
3. Results
Results are presented in three categories: fatality hazards, non-fatal injury hazards, and fatigue-related hazards. Fatal and non-fatal injury hazards are further divided into studies within the GoM and outside of the GoM. The term "hazard" means an energy, biological, or other source with potential to do damage to people. Fatigue is a special concern because of its potential high prevalence and threat to safety for fishers and vessels.
3.1. Fatality Hazards
For the period 2003–2009, the US Bureau of Labor Statistics reported the fatal injury rate among fishers as 203.6 per 100,000 full-time equivalents (FTE) workers, more than 50 times the all-worker rate of 3.5 per 100,000 FTEs [
17
]. Below, injury and fatality outcomes are examined that relate directly and indirectly to GoM fisheries.
3.1.1. Gulf of Mexico (GoM)-Related Fatality Studies
Across the studies, FOB ranked high as related to death, primarily associated with slips and trips and losing balance. Vessel disasters ranked high as well with flooding as the most significant cause. The most hazardous fishery in terms of frequency of death was shrimping and the reef fishery (snapper and grouper) that had the highest fatality rate based on hours of exposure at sea.
3.1.2. Non-GoM Fatality Studies
3.2. Non-Fatal Traumatic Injury Hazards
"Less is known of the variables related to occupational morbidity and non-fatal injuries in commercial fishing both in quantity and severity."

—Jeffery L. Levin, Karen Gilmore, Amanda Wickman, Sara Shepard, Eva Shipp, Mathew Nonnenmann, and Ann Carruth [

28

]
While fatalities are threshold events for many investigations, less attention had been given to non-fatal injuries. However, the USCG classifies injuries by severity based on the Abbreviated Injury Scale (AIS). This scale covers a range of injuries as follows: 1 (minor), 2 (moderate), 3 (serious), 4 (severe), 5 (critical) and 6 (maximal, untreatable), based on the risk of death [
29
]. Some researchers in the United States used USCG AIS classifications in studies of fisher non-fatal injuries. Below, we review two studies in the GoM followed by 13 other studies of non-fatal injuries outside of the GoM.
3.2.1. GoM Non-Fatal Injury Studies
A study in the US Southern Shrimping Fleet (the GoM, Florida east coast, and North Carolina) focused on winch-related injuries and identified risk factors for both fatal and non-fatal injuries of fish harvesters. Both try-net (used to sample catch size) and main winches have caused injuries and are depicted in
Figure 4
on a drawing of a trawler vessel. Lucas et al. studied winch-related entanglements among fishers in the GoM that involved both fatal (
n
= 8) and non-fatal injuries (
n
= 27). Half of the incidents occurred during nighttime hours. Clothing was entangled in 14 cases (39%), and the deaths were from asphyxiation and multiple injuries [
30
]. Double rig side trawlers in the GoM as shown in
Figure 5
pose a significant hazard of non-fatal as well as fatal injuries among shrimpers; many of which were associated with winches, mostly with clothing entanglement.
A study of fatal and non-fatal injuries identified the following factors that affect fisher safety along the Texas coast. The vessel-related factors included machinery and the work environment (e.g., slippery and unstable work surfaces); the environmental factors were the conditions at sea that include temperature extremes and weather; and the human factors were fatigue, inexperience, and failure to use safety practices and equipment. The aim of the study was to identify risk factors so as to guide culturally appropriate safety training [
2
].
3.2.2. Non-GoM Non-Fatal Injury Studies
Injury studies within the United States can inform potential preventive actions within the GoM. Contact injuries dominated the frequency of injury, and working with gear was a major hazard. Falls onto hard surfaces was another frequent hazard. Fractures were a major injury type, but head injuries and limb amputations were likely the most severe non-fatal injuries. Minor injuries such as cuts, punctures, and bruises to the hands and wrists were considered routine. Injuries occurred when boarding and disembarking the vessel, and loading and unloading gear and catch. Poor swimming ability is a problem for about one-third of the workers as reported in one study.
3.3. Fatigue-Related Hazards
"Fatigue has been identified as a major root cause of human error in a number of extremely high-profile disasters."

—Angela Baker and Sally Ferguson, 2003 [

47

]
4. Discussion
Fish harvesters in the GoM are at a high risk of fatal injury associated with FOBs and vessel disasters. Much less is known about non-fatal injuries in the GoM with the exception of winch entanglements. This review of the literature about both GoM and non-GoM fishing hazards identified articles and documents with an aim of identifying risk factors related to both fatal and non-fatal injuries as well as for fatigue on fishing vessels. Fatigue is a work-related condition that is a widespread risk factor associated with vessel disasters and individual injuries. Identifying these risk factors will provide insight into potential countermeasures to mitigate or eliminate the injuries in the GoM. The results of this review are aimed at informing preventive actions in the GoM, but are likely to be helpful to the broader population of interveners nationally and internationally.
The overall approach to the review was to identify literature that dealt with the severity and frequency of injuries among fish harvesters and identify risk factors faced by them including the problem of fatigue. Fatal and non-fatal injuries were examined separately (although there is an overlap between the two such as with winch entanglements), since the literature typically makes this distinction. Moreover, many of the official databases also report fatal and non-fatal injuries separately, which are used as sources for many injury studies. A second framing concept was the use of Haddon's epidemiological approach to classifying risk factors by agent (e.g., vessel and gear), environment, and personal factors as shown in
Table 1
. The result of this approach is the recognition that in the fishing environment, three strategies, respectively, can focus the type of intervention on equipment redesign and maintenance, weather condition warnings, and health promotion and job redesign.
The existing literature was valuable for informing prevention efforts in the GoM. While GoM sources were scarce, the broader literature added many insights into the range and importance of different risk factors, fatality research, and investigations in North Carolina and Europe in regard to non-fatal injuries and hazards onshore, including the dock and the moored vessel. The literature also helped to provide a valuable understanding of fatigue causes and effects.
This review's results fit well with the existing literature regarding fatalities, non-fatal injuries, and fatigue. Fatality research literature maintained consistency in results across national and international borders with the exception of cold-related conditions. Research on non-fatal injuries was limited. One discovery of value was a study conducted in the GoM outside of the public health literature regarding stress among fishers as it relates to fatigue.
This is a narrative review and not a systematic review. Thus, the findings are generalized and descriptive and do not necessarily reflect statistically significant results or countermeasures. Another limitation is the recognized serious underreporting of non-fatal injuries regarding small, sometimes single operator fishing vessels. In addition, this review depends on an abundance of literature from outside the GoM but, nonetheless, elements of this literature informs the research plans of GoM fishers with cross-regional patterns and investigation methods. There was a lack of accurate GoM-based denominator data for calculating injury rates on which risk assessments rely, and the US literature generally omitted data regarding onshore fish harvester injuries, likely because USCG data excluded these incidents. The review did not address recreational (sport) or subsistence and artisanal fishing. While diving is an additional cause of fisher deaths, no study was found that addressed diving hazards in the GoM regarding fish harvesting. Diving hazards is addressed in Part 2 of this review series.
Future directions as informed by this review include the two companion reviews of risk factors associated with non-injury health effects (e.g., musculoskeletal disorders, eye diseases) and known countermeasures for risk reduction. These reviews inform a GoM study to conduct interviews and workplace observations and target interventions. Moreover, the review provides insights to conduct a review of USCG data from the GoM to better understand the circumstances of fishing-related fatalities, missing persons, and serious injuries as well as vessel disasters.
The major impact of this review is an understanding of the broader professional efforts involved in prevention activities worldwide regarding injuries among fish harvesters. Some specific insights are the importance of a focus on reducing hazards when working with gear and the need to identify onshore hazards; to consider dangerous wind and cyclone weather conditions in warnings to avoid going to sea; and personal factors such as overcoming stigmas against wearing PFDs, encourage the wearing slip-resistant footwear, and to regard vessel motion as related to motion sickness that is a principal risk factor for fisher fatigue.
As was done in Denmark and some US studies, mapping injuries against tasks (processes) provides an opportunity to target interventions. Fatigue is also addressed as a serious problem among fish harvesters and needs further analysis regarding its causes, extent, and interventions in future research, especially among small crews.
5. Conclusions
The most significant injury problem for both severity in the individual case and frequency of the condition identified in this review was FOB fatalities in the GoM which, along with non-fatal injuries, are linked to slippery and inherently unstable work platforms. Moreover, working alone in a boat or on deck negates or compromises rescue assistance as does not wearing PFDs when exposed to a FOB. Lack of swimming ability among many fishers is also a problem. FOBs were followed in frequency by fatalities related to vessel casualties for which knowledge of emergency circumstances of the incidents and response time would aid in developing interventions. Much less is known about non-fatal injuries and other health-related problems in the GoM with the exception of targeted problems such as winch entanglements, thus filling this information gap is an important avenue of study. Fatigue is a factor to be considered for further research including the nexus between safety and fishing cultures and a better understanding of work exhaustion. Body sway controls (e.g., sea legs) as well as medication may reduce motion sickness, an important risk factor regarding fatigue. Caffeine use is another potential control of sleepiness that can be considered.
Based on studies outside the GoM, risk of injury was high for (1) working with gear; (2) working on decks particularly regarding slips, sways, and trips; and (3) contact with hard surfaces. When examined against exposure time, boarding and disembarking vessels register as a high risk of injury. More information is needed about onshore injuries among fishers. A survey is needed that fills the gap in unreported injuries along with linking the outcomes with causes. Little research has been done about the isolation from medical care for an injured victim on board a vessel (including health risks such as heart attacks). Two companion articles follow this one and will address health effects other than injuries and potential known interventions to prevent work-related injuries and illnesses among fishers.
Author Contributions
M.L.M. conducted the search and initial composition of the manuscript. R.M.D. and A.S.K. provided ongoing reviews and edits of the manuscript, and A.S.K. directed the project.
Funding
The US National Institute for Occupational Safety and Health, Centers for Disease Control and Prevention funded this research through a grant to the University of Florida South-Eastern Coastal Center for Agricultural Safety and Health, Gainesville, Florida, USA.
Conflicts of Interest
The authors declare no conflicts of interest.
Appendix A. Literature Reviewed

Table A1.
The geographic origin (area) of the study and topic, the safety problem, and a reference to the literature source,
n
= 48.
Area and Topic
Problem
Source
Gulf of Mexico USA,

n

= 9
Fishing
Fatalities
Kennedy and Lincoln 1997 [6]
Fishing
Fatigue, stress
Johnson et al. 1998 [57]
Fishing
Fatalities
Lincoln and Lucas 2010 Nov. [4]
Shrimping
Risk factors
Levin et al. 2010 [30]
Fishing
Injuries, illnesses, fatalities
Janocha 2012 [17]
Shrimping
Fatal and non-fatal injuries
Lucas et al. 2013 [30]
Fishing
Fatality rates
Marvasta 2014 [7]
Fishing
Fatal and non-fatal injuries
Syron et al. 2017 [5]
Fishing
Fatality risk factors
Marvasta 2017 [22]
Atlantic Coast,

n

= 6
Fishing (NC)
Non-fatal injuries
Marshall 2004 [31]
Fishing (NJ)
Fatal and non-fatal injuries
Day et al. 2010 [23]
Fishing
Weather
Rezaee 2015 [10]
Lobster (MA, ME)
Non-fatal injuries
Fulmer et al. 2016 [32]
Fishing
Non-fatal injuries
Syron, et al. 2016 [37]
Fishing
Weather
Rezaee et al. 2016 [27]
Alaska USA,

n

= 5
Fishing
Non-fatal injury
Husberg and Lincoln 2006 [34]
Fishing
Falls overboard
Lucas and Lincoln 2007 [19]
Fishing
Fatalities
Lincoln and Lucas 2010 Jul. [18]
Fishing
Fatalities
Lincoln and Lucas 2010 Oct. [21]
Shrimping
Winch injuries
Lucas et al. 2013 [30]
Australia and New Zealand,

n

= 3
Fishing
Fatigue
Baker and Ferguson 2006 [47]
Fishing
Fatigue
Gander et al. 2008 [51]
Fishing
Mortality
Byarb 2013 [25]
Europe,

n

= 21
Fishing
Fall and slip non-fatal injuries
Jensen 2000 [38]
Fishing
Gap analysis
Matheson et al. 2001 [9]
Mariculture
Injuries
Norwegian Labor Inspection Authority 2001 [45]
Fishing
Fatigue
Ólafsdóttir et al. 2004 [52]
Fishing
Injury, work process coding
Jensen 2005 [33]
Fishing
Injury incidents
Wang et al. 2005 [41]
Fishing
Work process exposure
Jensen et al. 2006 [40]
Seafarers
Fatigue
Smith et al. 2006 [54]
Seafarers
Fatigue
Allen et al. 2008 [53]
Fishing
Fatigue
Allen et al. 2010 [50]
Fishing
Footwear
Jensen and Laursen 2010 [39]
Fishing
Fatigue
Sąlyga and Kušleikaitė 2011 [49]
Fishing
Injuries
McGuinness et al. 2013 [36]
Fishing
Fatal injury trends
Jensen et al. 2014 [55]
Fishing
Fatigue
Høvdanum et al. 2014 [48]
Fishing
Injuries, diseases
Kaustell et al. 2016 [42]
Fishing
Fatalities and injuries
McGuinness 2016 [36]
Seafarers
Fatigue
Jepsen et al. 2017 [58]
Fishing
Non-fatal injury
Chauvin et al. 2017 [43]
Mariculture
Injuries
Holen, et al. 2017 [46]
Mariculture
Fatalities
Holen, et al. 2017 [26]
Other,

n

= 3
Marine safety
Human error
Rothblum 2000 [8]
Mariculture
Injuries, diseases
Myers and Durborow 2012 [44]
Crab, US West
Traumatic injuries
Case et al.2015 [24]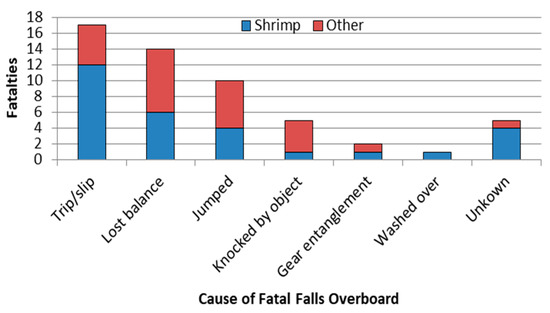 Figure 1.
Causes of fatal falls overboard, Gulf of Mexico, 2000–2009,
n
= 54 deaths [
18
].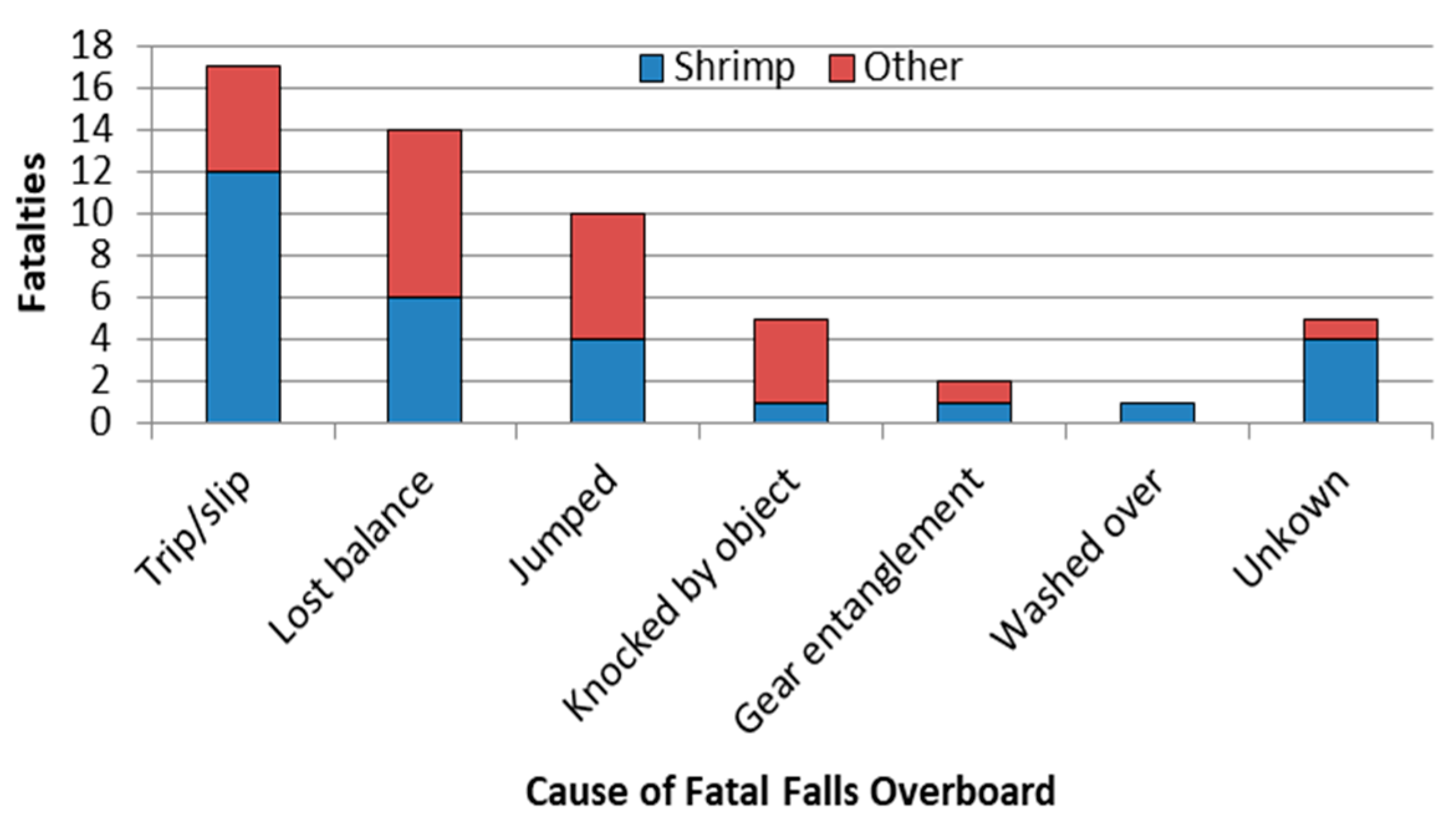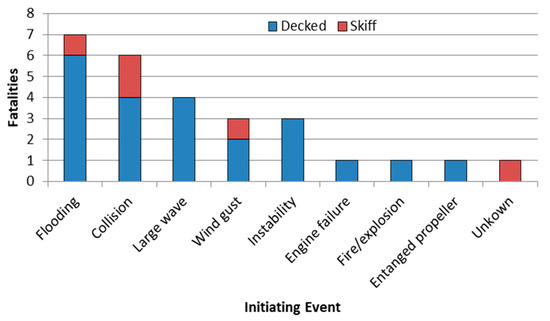 Figure 2.
Initiating events contributing to vessel disasters, Gulf of Mexico, 2000–2009 [
18
].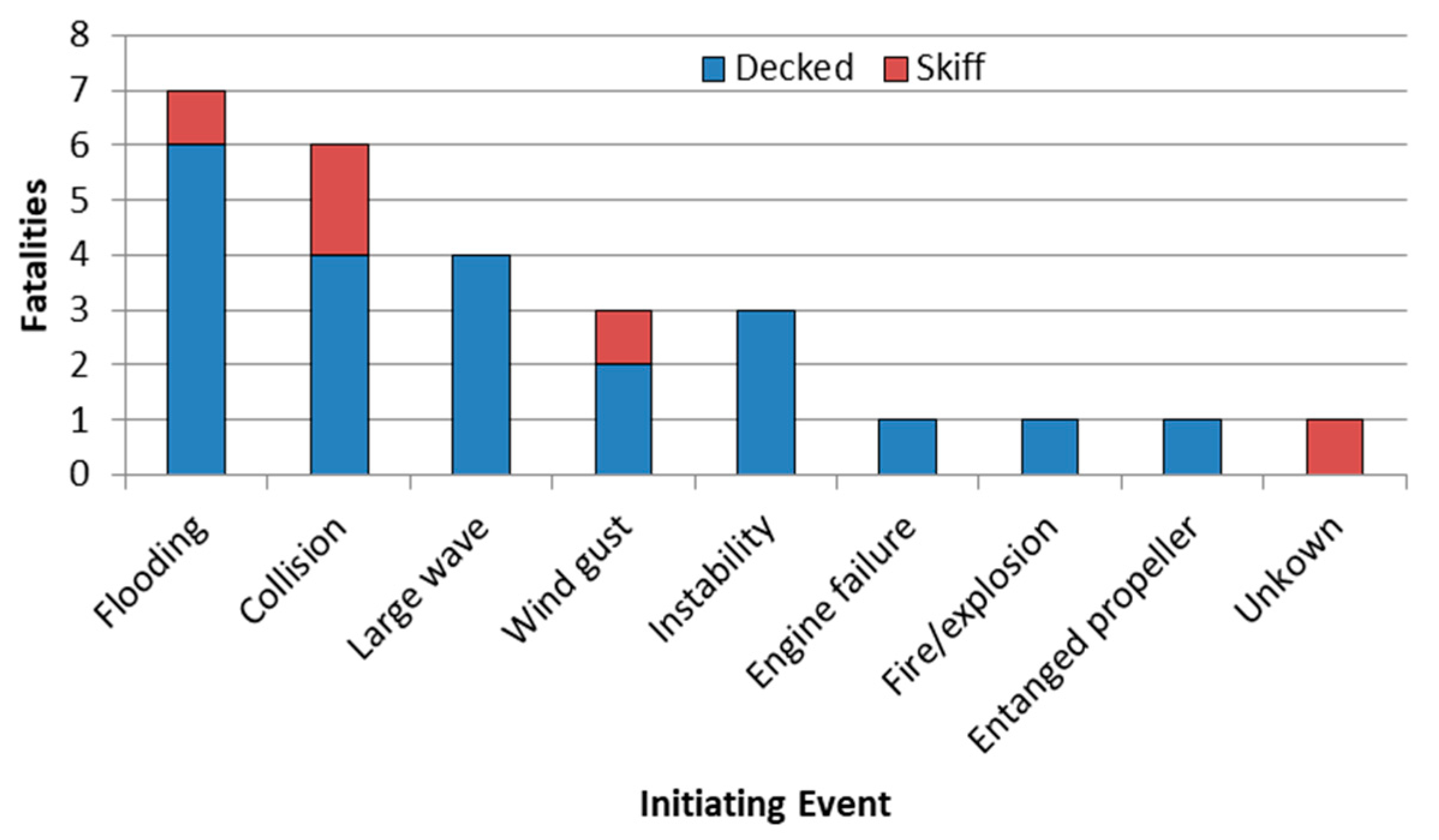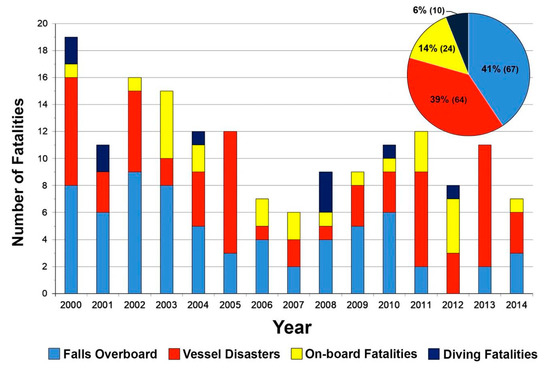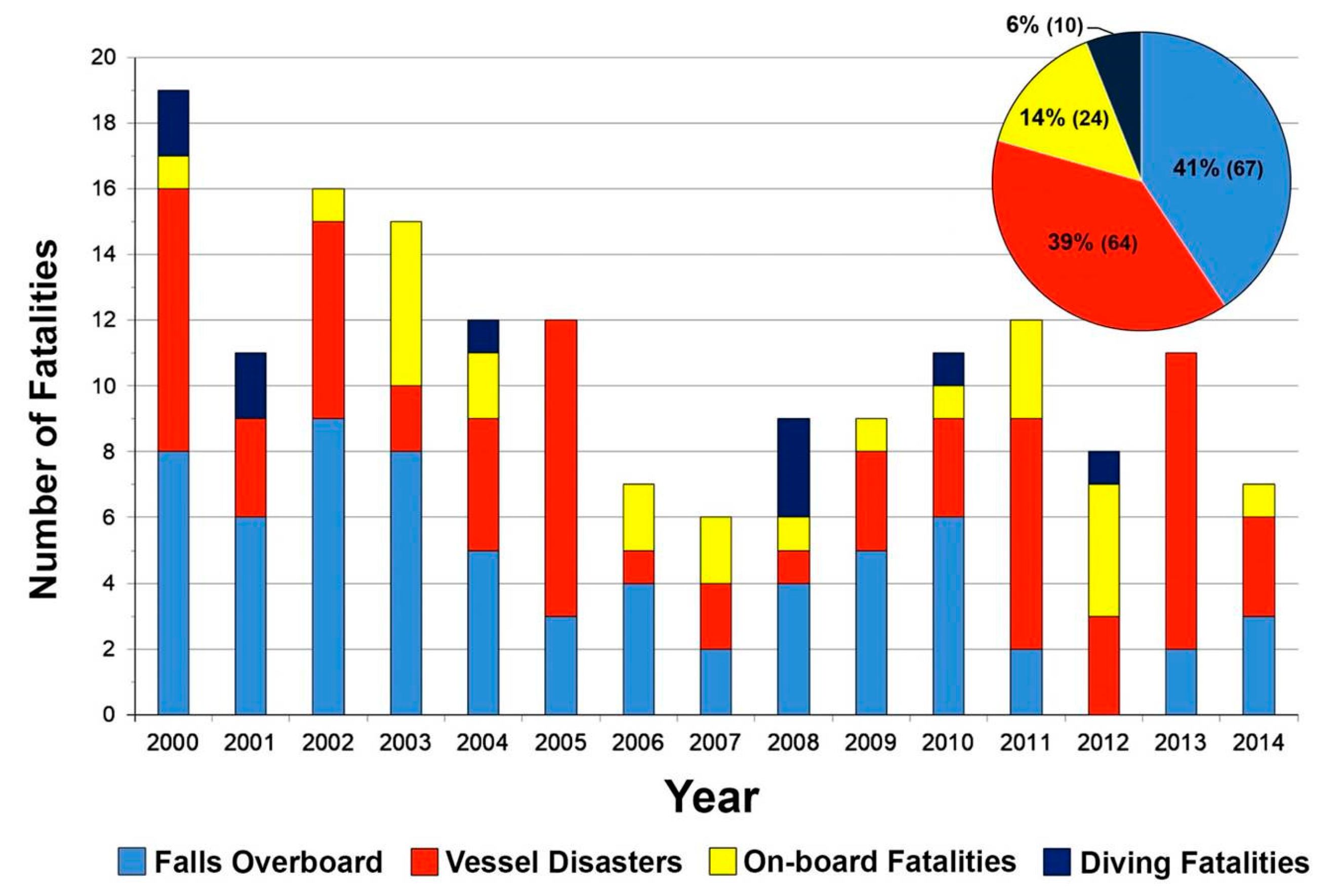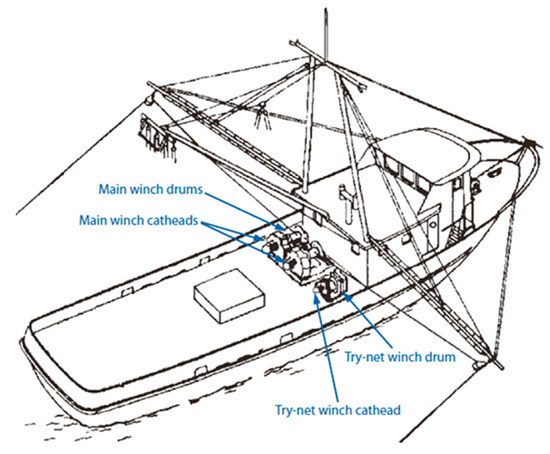 Figure 4.
Main and try-net winches shown on a drawing of a double rig shrimp trawling vessel, Courtesy NIOSH [
30
].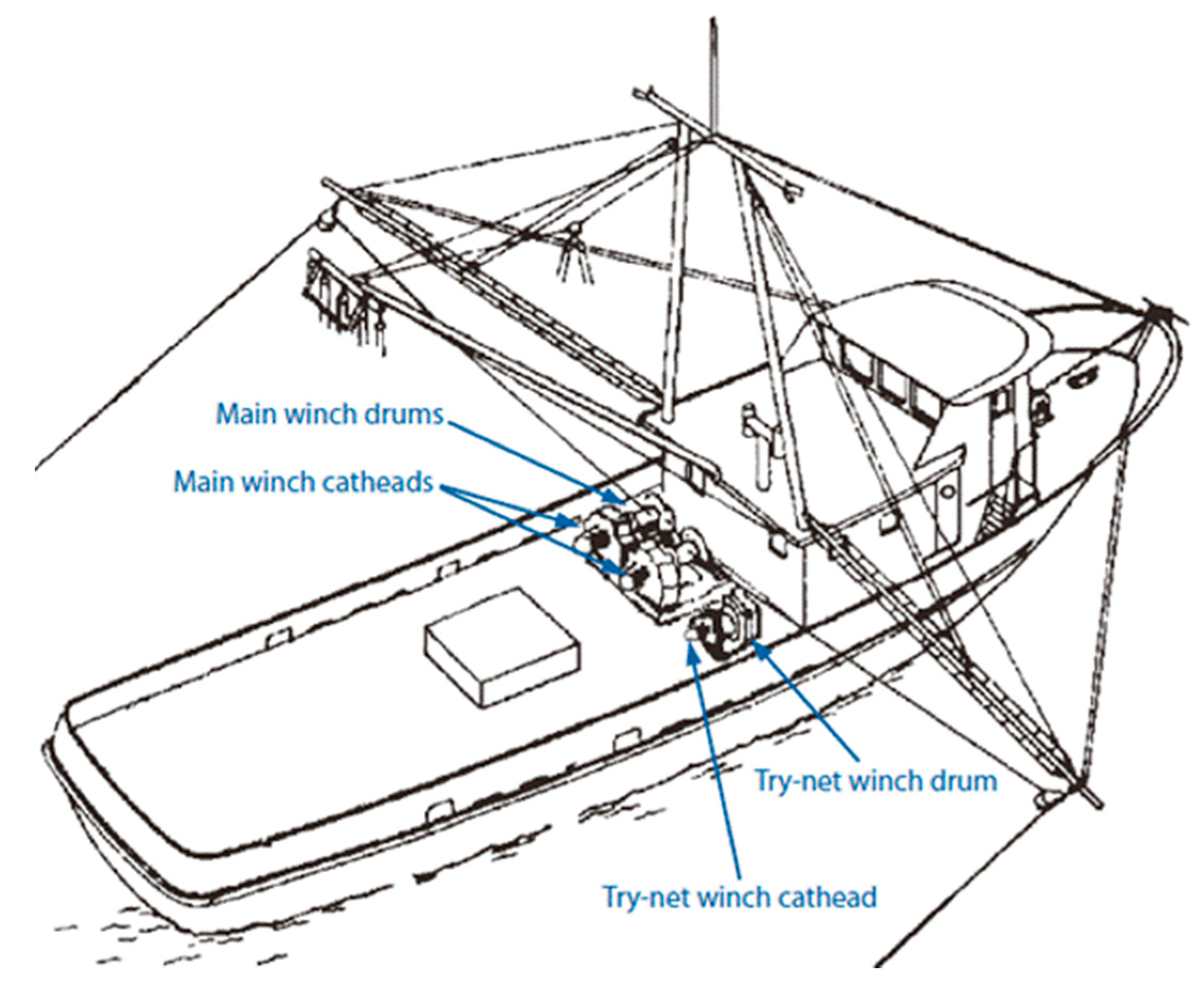 Figure 5.
Number of winch-related fatal (
n
= 8) and non-fatal (
n
= 27) injuries in the Gulf of Mexico, Florida Eastern Seaboard, and North Carolina, 2000–2011 on the US Southern shrimp fleet. Source: NIOSH [
30
].


Table 1. Analysis of risk factors of commercial fishing fatality events in Alaska using the Haddon Matrix, 1997.
Phase
Agent/Vessel/Vector
Environment
Host/Human
Pre-event
Unstable vessel.
Unstable work platform.
Complex machinery and operations.
High winds.
Large waves.
Icing.
Short daylight.
Limited fishing seasons.
Vessels far apart.
Captain and crew fatigue, stress.
Drugs/alcohol.
Inadequate training/exposure.
Event
Listing or capsizing vessel.
Delayed abandonment.
Emergency circumstance misunderstood.
Fall overboard (FOB).
High winds.
Large waves.
Darkness.
Poor radio communication.
Cold water.
Captain and crew reaction to emergency.
Personal flotation devices unavailable or not working.
Post-event
Vessel sinking.
Poor crew response to FOB.
High winds.
Large waves.
Cold water.
Hypothermia.
Drowning.
Lost at sea.
Poor use of emergency equipment.
Source: National Institute for Occupational Safety and Health [12].
Risks
Technology
Environment
Fish Harvesters
Gulf of Mexico Studies (

n

= 7)
Fall overboard (FOB)
Trip or slip, knocked by object, gear entanglement
Washed overboard
Lost balance, jumped, not wearing personal flotation devices (PFDs)
Disasters
Flooding, collision, instability, engine failure, fire or explosion, entangled propeller, plastic or wood hulls
Large wave, severe weather
Small crew size, fatigue
On-board
Winch entanglement *
Diving
Not addressed
Non-Gulf of Mexico Studies (

n

= 6)
FOB
Pulled or knocked overboard by gear, slips,
Washed overboard by wave, heavy weather, wind speed, poor visibility (rain)
Loss of balance, not wearing PFDs, alcohol consumption, falls into water, poor swimming ability
Disasters
Flooding, propeller entanglement, vessel size
Strikes by large waves, wind speed, poor visibility, sea surface temperature, darkness, cyclone activity
Fatigue; lack of time to don survival equipment, launch rafts, and send maydays
On-board
Working with gear, gear entanglement, crushed between objects
Exposure
Diving **
Repair vessel hulls and piers
Shellfish harvesting
* Both for fatal and non-fatal injuries, ** Mariculture: stuck in drain pipe onshore, possible net entanglement.
Active: * dynamic capture
Trawl: Pull nets across the bottom of shrimp beds in order to scoop the catch into the nets (typically at night when shrimp are active).
Seines: Encircle and bag fish for capture with a drag line and net.
Dredge: Drag chain mesh that is open on one end and scrape across a bottom-dwelling shellfish bed to scoop up a catch.
Passive: * stationary capture or culture
Gillnets: Roll out a length of stationary vertical net and wait to entangle the gills of finfish for harvest.
Pots: Set pots (cages) with bait to trap crustaceans (e.g., crabs) for retrieval.
Lines: Traditional hook, bait, and line.
Tongs: Grasp and lift shellfish (e.g., oysters) with wide tongs onto the boat deck.
Polyester mesh grow-out bags: Mariculture involves pea-sized juveniles (clams raised onshore) staked in shallow estuarine or coastal waters where they remain for about a year while they reach harvestable size and are lifted onto boats.

Table 4. Summary of non-fatal injury risk factors that potentially affect Gulf of Mexico fish harvesters.
Risks
Technology
Environment
Fish Harvesters
Gulf of Mexico Studies (

n

=

2

)
GoM winch entanglements
Double rig trawlers, unguarded winch drums.
Shrimp fishery, nighttime work.
Loose clothing.
Non-fatal and fatal injuries (TX)
Machinery, unstable and slippery work surfaces.
Extreme temperatures, weather.
Fatigue, inexperience, failure to use safety practices and equipment.
Non- Gulf of Mexico Studies (

n

= 11)
Injuries (NC)
Working with catch, loading and boarding vessel, hooks and knife blades, loading boat, small boats, working with nets, pots, and lines.
On the water, dock work, crab, finfish, shrimp, clam, and oyster fisheries.
Fall on hard surface, poor swimming ability.
Injuries (NJ, AK, and US West coast)
Falls on surface, stuck by or between object, caught in lines, handling gear, traffic onboard. Working with catch.
Collision with fixed object.
Falls into water, Injured when abandoning vessel.
Injuries (Europe)
Knives, fish spikes, entanglement, stuck by or against, ladders, vessel loss, boarding and demarking boat, lack of vessel maintenance, working with winches, lines, nets, and machinery.
Onshore work (repairs, fish handling), slippery surfaces.
Slips and falls, non-slip soles on boots.

© 2018 by the authors. Licensee MDPI, Basel, Switzerland. This article is an open access article distributed under the terms and conditions of the Creative Commons Attribution (CC BY) license (http://creativecommons.org/licenses/by/4.0/).