Correlation between Slow Magnetic Relaxations and Molecular Structures of Dy(III) Complexes with
N

5

O

4 Nona-Coordination

1

Department of Chemistry, Biology, and Environmental Science, Faculty of Science, Nara Women's University, Kita-uoya Nishi-machi, Nara 630-8506, Japan

2

Department of Materials Engineering Science, Graduate School of Engineering Science, Osaka University, Toyonaka, Osaka 560-8531, Japan

3

Institute for Molecular Science, Myodaiji, Okazaki 444-8585, Japan

*

Authors to whom correspondence should be addressed.

Received: 30 March 2019 / Revised: 10 April 2019 / Accepted: 13 April 2019 / Published: 18 April 2019
Abstract
A series of Dy(III) mononuclear complexes [DyA
2
L]
+
(L denotes Schiff base
N
5
ligand that occupies equatorial positions and A
−
denotes bidentate anionic
O
-donor ligands such as NO
3
−
(
1
), AcO
−
(
2
), and acac
−
(
3
)) were synthesized to investigate the correlation between the slow magnetic relaxation phenomena and the coordination structures around Dy(III). The Dy(III) ion in each complex is in a nona-coordination with the anionic
O
-donor ligand occupying up- and down-side positions of the
N
5
equatorial plane.
2
and
3
show slow magnetic relaxation phenomena under a zero bias-field condition, and all complexes showed slow magnetic relaxation under the applied 1000-Oe bias-field conditions. Arrhenius analyses revealed that the Δ
E/k
B
, the barrier height for magnetization flipping, increases in this order, with the values of 24.1(6), 85(3), and 140(15) K. The effects of the exchanging axial ligands on the magnetic anisotropy were discussed together with the DFT calculations.
View Full-Text
►

▼

Figures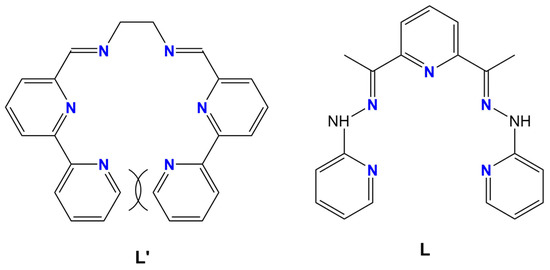 Figure 1
This is an open access article distributed under the
Creative Commons Attribution License
which permits unrestricted use, distribution, and reproduction in any medium, provided the original work is properly cited (CC BY 4.0).

Share & Cite This Article
MDPI and ACS Style
Kobayashi, K.; Harada, Y.; Ikenaga, K.; Kitagawa, Y.; Nakano, M.; Kajiwara, T. Correlation between Slow Magnetic Relaxations and Molecular Structures of Dy(III) Complexes with N5O4 Nona-Coordination. Magnetochemistry 2019, 5, 27.
Note that from the first issue of 2016, MDPI journals use article numbers instead of page numbers. See further details here.
Related Articles
Comments
[Return to top]