Open Access This article is
freely available
re-usable
Communication
Towards Nanomaterials for Cancer Theranostics: A System of DNA-Modified Magnetic Nanoparticles for Detection and Suppression of RNA Marker in Cancer Cells
1
Department of Chemistry and Biomolecular Science, Clarkson University, Potsdam, NY 13699-5810, USA
2
Nanostructured Materials Lab, University of Georgia, Athens, GA 30602, USA
3
Chemistry Department, University of Central Florida, 4000 Central Florida Boulevard, Orlando, FL 32816-2366, USA
*
Authors to whom correspondence should be addressed.
Received: 24 January 2019 / Accepted: 1 April 2019 / Published: 4 April 2019
Abstract
:
Theranostics of cancer using smart biocompatible materials can enable early cancer diagnostics and treatment. Here, we report on a DNA-nanoparticle functional material, which can simultaneously report the presence of an mRNA cancer biomarker and trigger its degradation in cultured cells. The nanodevice consists of two species of magnetic beads, each of which is conjugated with different components of a multicomponent deoxyribozyme (DZ) sensor. The system is activated only under two conditions: (i) in the presence of a specific target mRNA and (ii) when a magnetic field is applied. We demonstrate that delivery of such a system is markedly enhanced by the application of a magnetic field. The system not only fluorescently detects target mRNA in cultured MCF-7 cancer cells, but also induces its downregulation. Thus, the two-component magnetic nanoparticle system has characteristics of a material that can be used for cancer theranostics.
Keywords:
RNA analysis; magnetic nanoparticles; theranostics; cancer biomarker; deoxyribozyme; biosensor
In summary, we have designed, synthesized, and characterized a nanoconjugate that can both detect and regulate intracellular mRNA levels. These nanoconjugates signal the presence of target mRNA with the cleavage of a fluorophore-quencher pair, which results in an increase in fluorescence. The target binding and response of the MaBiDz is highly efficient and depletes mRNA levels by as much as 99% in a dose-dependent manner. Although similar gene regulation and detection strategies have been used in the past, this work represents a combination of gene regulation and detection in a single material that operates in a highly efficient manner. MaBiDz is thus a promising first step toward the development of mRNA-directed theranostics and is expected to combine the advantages of gene therapy with personalized medicine.
Author Contributions
S.B. performed most of the experiments with RNA sensing in cells and prepared the paper draft, A.Z. prepared magnetic nanoparticles, S.M. supervised the work with nanoparticles, D.M.K. advised on the work with DNAzymes and edited the paper draft, E.K. supervised the project and edited the final paper draft.
Acknowledgments
This work at Clarkson University (E.K.) and at the University of Georgia (S.M.) was supported by the NSF awards CBET-1403208 and DMR-1309469. The work at University of Central Florida (D.M.K.) was supported by NIH awards R15AI10388001A1 and 1R15CA173703-01. The authors thank Craig Woodworth, Guz, Han Deng, and Elham Honarvarfard for technical assistance and scientific discussions.
Conflicts of Interest
The authors declare no conflicts of interest.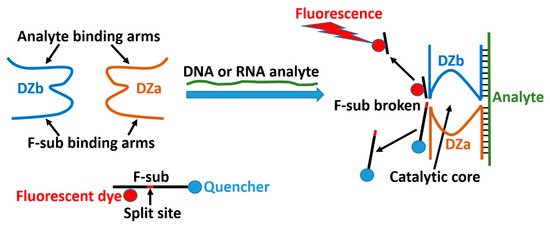 Figure 1.
Binary deoxyribozyme sensor (BiDZ) as reported earlier [
15
]. DNA strands DZa and DZb hybridize to an adjacent position of the analyte and form a deoxyribozyme catalytic core, which cleaves fluorogenic F-sub and increases sample fluorescence. Note that the BiDZ operates in a solution and it is not responsive to the magnetic field. The present scheme illustrates the general concept of the BiDZ sensor operation and it does not correspond to the magneto-activated system used in the present study.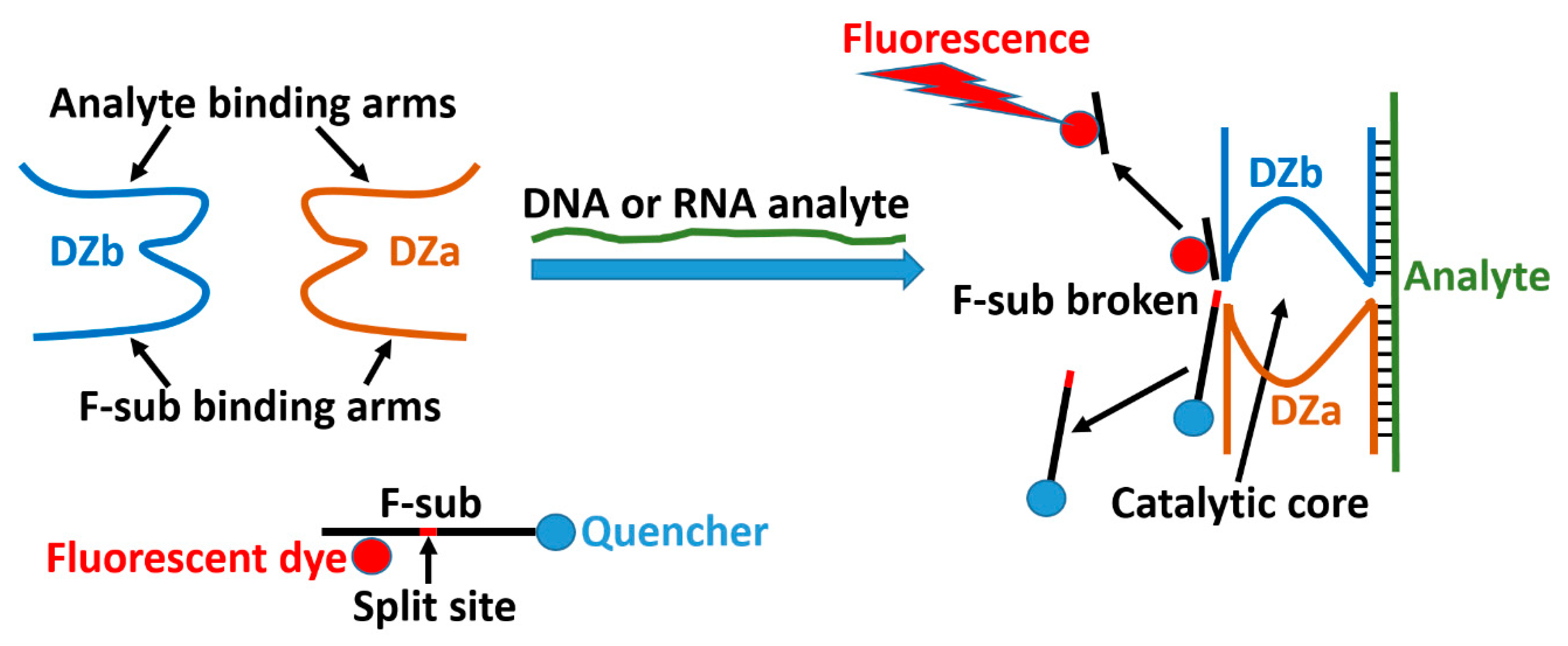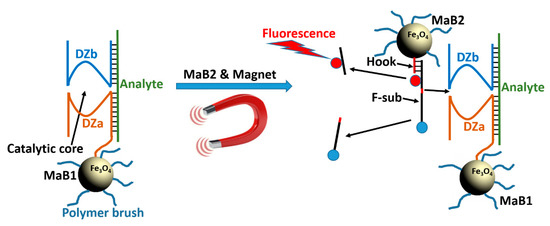 Figure 2.
MaBiDZ used in this study. Magnetic bead (MaB1)-bound DZa forms a catalytic core with DZb in the presence of an analyte. The activated nanoreactor produces signal only when: (i) a second species of magnetic beads, MaB2 carrying F-sub is present, and (ii) a magnetic field that aggregates MaB1 and MaB2 is applied. See the DNA sequences in
Table 1
.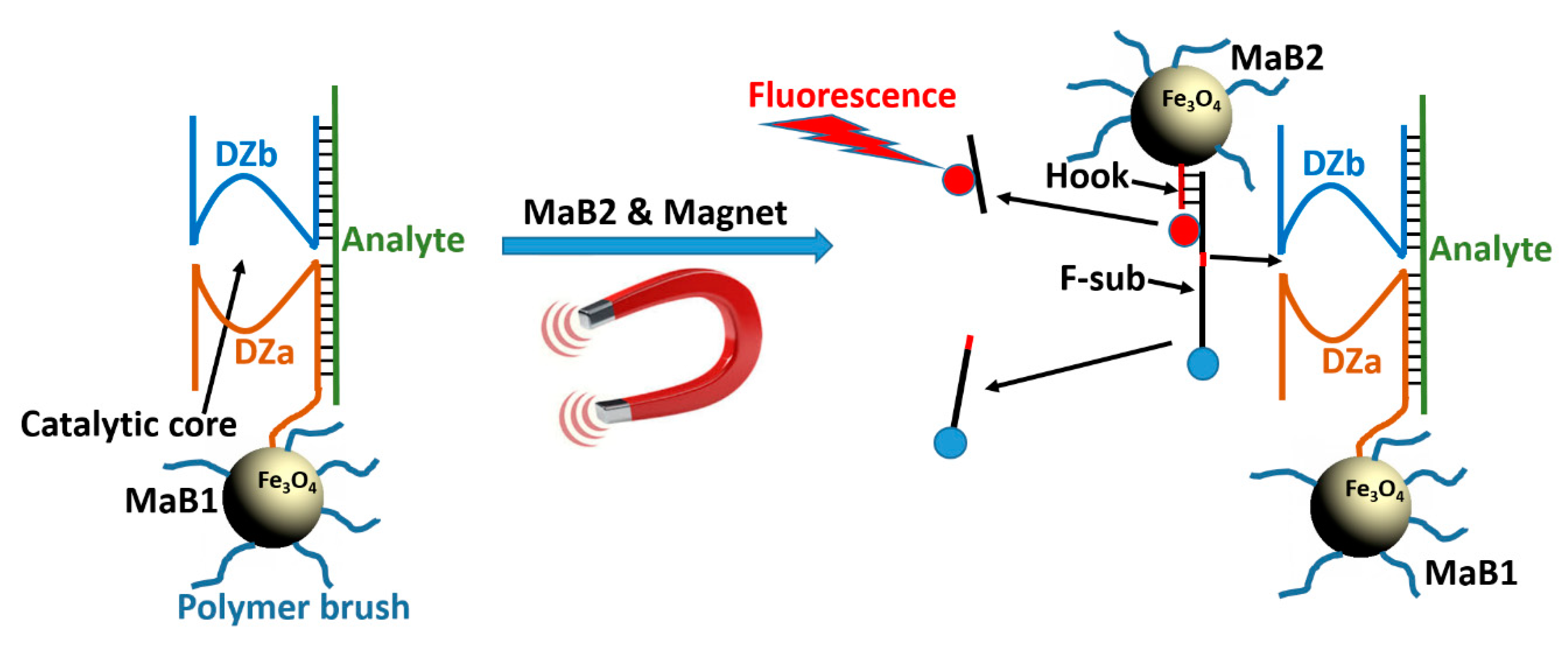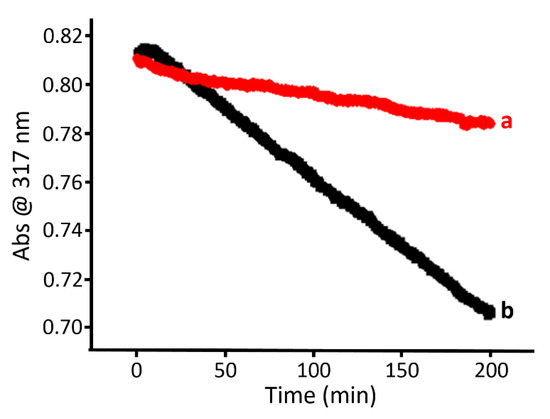 Figure 3. In vitro characterization of magnetic beads (MaB) mobility: (a) optical changes due to sedimentation of the MaB in the absence of a magnetic field, (b) optical changes due to magnetophoretic mobility of the MaB in the presence of a magnetic field (ca. 0.3 T).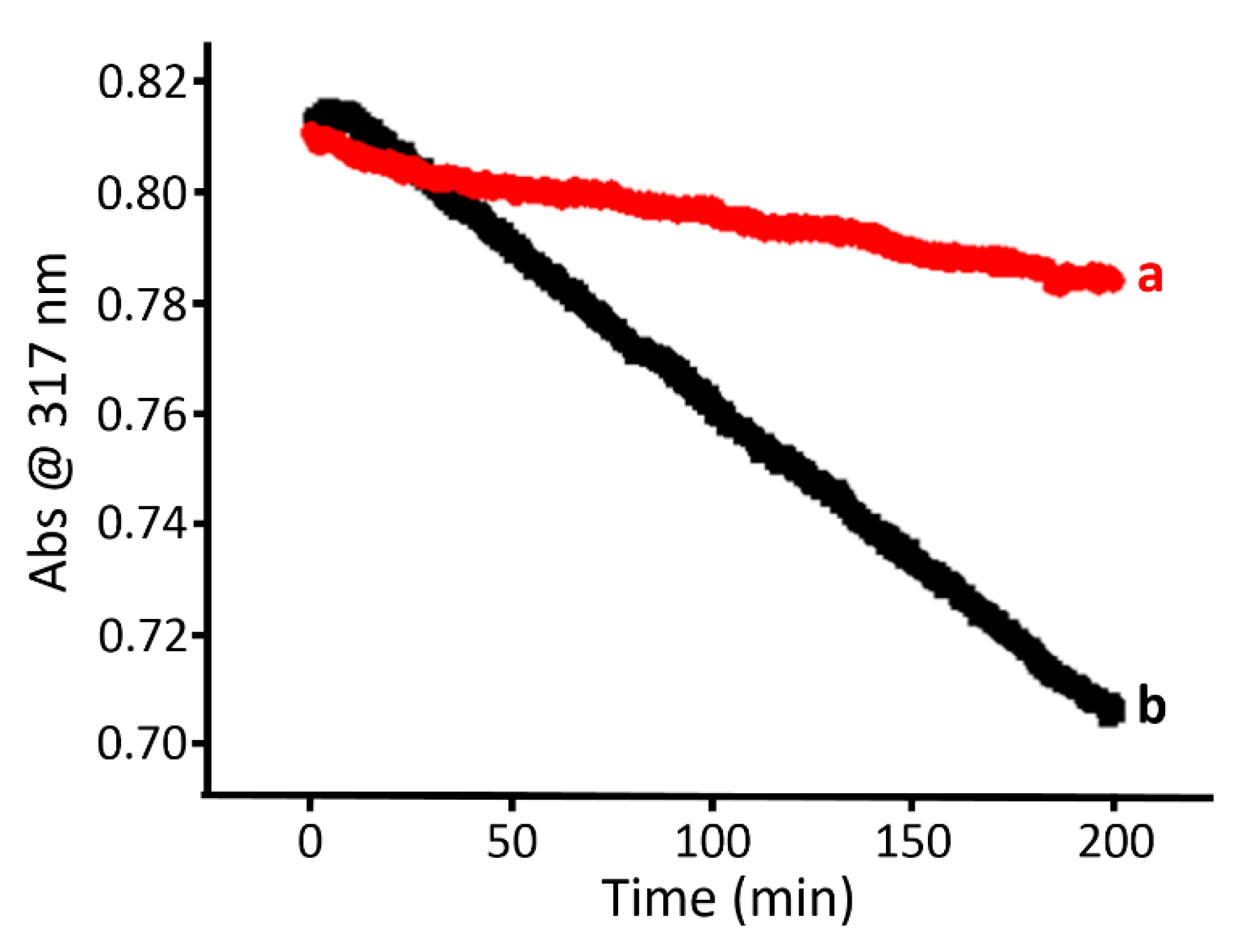 Figure 4. Graphs of pivot tables showing distribution of relative light units (RLU) in MCF-7 cells at (A) 1 h, (B) 2 h, and (C) 3 h for cells incubated with Quasar-670-modified MaB, with (blue bars—b) and without (green bars—a) an applied magnetic field. Fluorescence intensities per cell were measured using Image J software using a collection of confocal microscopy images taken at the respective time points.


Figure 5.
Levels of Twist mRNA as determined by qPCR experiments. (
A
) Dose-dependent knockout for (
a
) 2, (
b
) 4, (
c
) 6, and (
d
) 8 h with (red) and without (blue) an applied magnetic field. (
B
) The effect of the magnetic field on % knockdown of Twist mRNA was examined over time. MaBiDz were incubated in MCF-7 cell culture for various time intervals (2, 4, 6, and 8 h), with and without a magnetic field applied. The % knockdown was determined by qPCR at each time point for both controls. The ratios (unitless) of mRNA knockdown with and without a magnetic field are shown at the highest concentration used (2.00 pM, blue) and lowest concentration used (0.5 pM, red), while the % knockdown of the "Magnet ON" control at 2.00 pM MaB is shown in green. Results show that as the extent of Twist knockdown progresses, the effect of the magnet is less pronounced. This diminishing enhancement in knockdown due to the magnetic field application is more pronounced at higher concentrations of MaB. Each bar in panel A represents the average of a set of three measurements. Calculations for standard deviation are shown in
Table S10 in the Supplementary Materials
.

Name a
Sequence
DZa
5′-NH2/AAA AAA AAA AAA AAA AAA AAC GAG CGG
CTC AGC TAC GCC T AC AAC CGA GAG AGG AAA C
DZb
5′-CCA GGG A GG CTA GCT TCT CGG TCT GGA GGA TGG AG
F-Sub
5′-CGGT ACA TTG TAG AAG TT AAG GTTFAM TCC TCg uCC CTG GGC A-BHQ1
Hook
5′-NH2/AAA AAA AAA AAA AAA AAA AA/iSp9/AAC
TTC TAC AAT GTA CCG
Forward Twist Primer
5′-GGAGTCCGCAGTCTTACGAG
Reverse Twist Primer
5′-TCTGGAGGACCTGGTAGAGG
a iSp9—triethylene glycol linker; FAM attached to the DNA is a fluorescein derivative; BHQ1—"Black Hole Quencher" is a fluorescence quencher; ribonucleotides are in lower case.

© 2019 by the authors. Licensee MDPI, Basel, Switzerland. This article is an open access article distributed under the terms and conditions of the Creative Commons Attribution (CC BY) license (http://creativecommons.org/licenses/by/4.0/).