Chain Compounds Based on Paddle-wheel Copper(II) Carboxylate Bearing Four Nitroxide Radicals
1
Department of Applied Chemistry for Environment and Reserach Center for Coordination Molecule-Based Devices, School of Science and Technology, Kwansei Gakuin University, 2-1 Gakuen, Sanda 669-1337, Japan
2
Department of Chemistry, Interdisciplinary Graduate School of Science and Engineering, Shimane University, Matsue 690-8504, Japan
*
Author to whom correspondence should be addressed.
Received: 18 April 2018 / Revised: 1 May 2018 / Accepted: 7 May 2018 / Published: 10 May 2018
Abstract
Chain compounds of paddle-wheel Cu
2
-clusters of 3-carboxy-2,2,5,5-tetramethyl-1-pyrrolidinyloxy (Hcaproxy) and 4-carboxy-2,2,6,6-tetramethylpiperidinyloxy (Hcatempo) and
N
,
N'
-bidentate ligands (L = 4,4′-bipyridine (4,4′-bpy), 1,2-bis(4-pyridyl)ethane (bpe),
trans
-1,2-bis(4-pyridyl)ethylene (bpel), 4,4′-dipyridyl disulfide (pds), 1,4-diazabicyclo[2.2.2]octane (dabco), and pyrazine (pyz)), [Cu
2
(caproxy)
4
(L)]
n
, and [Cu
2
(catempo)
4
(L)]
n
, were synthesized and characterized by elemental analysis, infrared and UV-vis spectra and temperature dependence of magnetic susceptibilities (4.5–300 K). The crystal structures of [Cu
2
(caproxy)
4
(pds)]
n
, [Cu
2
(catempo)
4
(4,4′-bpy)]
n
, and [Cu
2
(catempo)
4
(bpe)]
n
revealed zigzag or linear chains consisting of alternate arrangement of the dinuclear cluster bearing four nitroxide radicals and
N
,
N'
-bidentate ligand. Temperature dependence of magnetic susceptibilities showed a considerable antiferromagnetic interaction between the two copper(II) ions within the dinuclear cluster, and weak antiferromagnetic interaction between the dinuclear clusters and/or the radical and dinuclear cluster.
View Full-Text
►

▼

Figures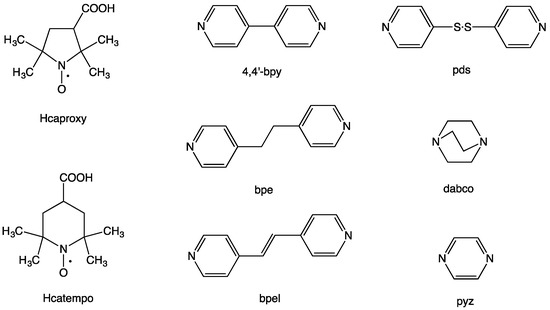 Figure 1
This is an open access article distributed under the
Creative Commons Attribution License
which permits unrestricted use, distribution, and reproduction in any medium, provided the original work is properly cited (CC BY 4.0).

Share & Cite This Article
MDPI and ACS Style
Mikuriya, M.; Indrawati, R.; Hashido, R.; Matsubara, S.; Nakamura, C.; Yoshioka, D.; Yokota, K.; Fukuzaki, M.; Handa, M. Chain Compounds Based on Paddle-wheel Copper(II) Carboxylate Bearing Four Nitroxide Radicals. Magnetochemistry 2018, 4, 22.
Note that from the first issue of 2016, MDPI journals use article numbers instead of page numbers. See further details here.
Related Articles
Comments
[Return to top]