Performance and Hydroponic Tomato Crop Quality Characteristics in a Novel Greenhouse Using Dye-Sensitized Solar Cell Technology for Covering Material
Hellenic Agricultural Organization-Demeter, Institute of Plant Breeding and Genetic Resources, Thermi, 57001 Thessaloniki, Greece
*
Author to whom correspondence should be addressed.
Received: 21 March 2019 / Revised: 8 May 2019 / Accepted: 15 May 2019 / Published: 1 June 2019
Abstract
In this study, we evaluated crop productivity and physiology during the hydroponic cultivation of medium-sized and cherry tomato crops, using two experimental greenhouses. Of the greenhouses, one used dye-sensitized solar cell (DSSC) technology for covering material, whilst the other, a conventional one (CONV), was covered using diffusion glass as a control. The effect of the colored lighting that resulted from the DSSC glass filtering on the physiological response of the crops was examined by measuring the plant transpiration rate and leaf chlorophyll content. Furthermore, we evaluated potential differences in the concentration of phytochemical compounds, such as ascorbic acid, lycopene, and quality characteristics. Tomato plants in the DSSC greenhouse presented lower early and total yields, as well as lower chlorophyll content, stomatal conductance, photosynthetic rate, and transpiration rate values, especially in the medium-sized fruits, as compared to the CONV greenhouse. The DSSC greenhouse showed significantly higher values of bioactive compounds for both the cherry and medium-sized tomato, with increases in the ascorbic acid, lycopene, β-carotene, and total carotenoids concentration, which ranged from 6% to 26%. Finally, for both the hybrids, the 2,2′-azino-bis-3-ethylbenzthiazoline-6-sulphonic acid (ABTS) and 1,1-diphenyl-2-picrylhydrazyl (DPPH) tests showed circa 10% and 5% increase, respectively, in the DSSC greenhouse.
View Full-Text
►

▼

Figures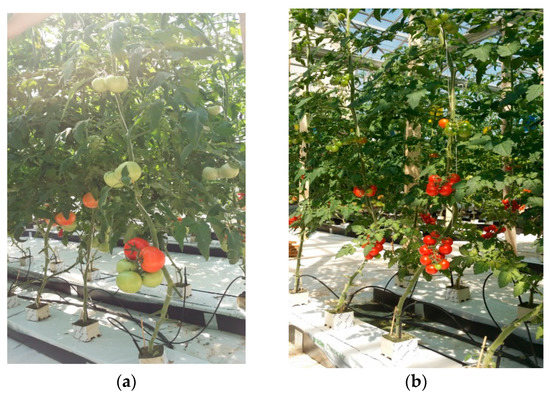 Figure 1
This is an open access article distributed under the
Creative Commons Attribution License
which permits unrestricted use, distribution, and reproduction in any medium, provided the original work is properly cited (CC BY 4.0).

Share & Cite This Article
MDPI and ACS Style
Ntinas, G.K.; Kadoglidou, K.; Tsivelika, N.; Krommydas, K.; Kalivas, A.; Ralli, P.; Irakli, M. Performance and Hydroponic Tomato Crop Quality Characteristics in a Novel Greenhouse Using Dye-Sensitized Solar Cell Technology for Covering Material. Horticulturae 2019, 5, 42.
Note that from the first issue of 2016, MDPI journals use article numbers instead of page numbers. See further details here.
Related Articles
Comments
[Return to top]