Nanocomposite-Based Aminated Polyethersulfone and Carboxylate Activated Carbon for Environmental Application. A Real Sample Analysis
1
Department of Chemistry, Faculty of Science, King Abdulaziz University, P.O. Box 80203, Jeddah 21589, Saudi Arabia
2
Polymer Chemistry Lab., Chemistry Department, Faculty of Science, Assiut University, Assiut 71516, Egypt
3
Center of Excellence for Advanced Materials Research (CEAMR), King Abdulaziz University, P.O. Box 80203, Jeddah 21589, Saudi Arabia
*
Authors to whom correspondence should be addressed.
Received: 16 April 2018 / Revised: 10 May 2018 / Accepted: 11 May 2018 / Published: 15 May 2018
Abstract
Aminated polyethersulfone (PES–NH
2
) has been synthesized and used with carboxylated activated carbon (AC–COOH) as an adsorbent using two different methods: in situ and ex situ techniques. The chemical modification of polyethersulfone (PES) to introduce –NH
2
functions was used to overcome the hydrophobicity of PES which maximizes its use in water treatment applications whereas applying AC–COOH to this polymer provides a promising effective method as an adsorbent-separation technique to remove dye pollutants from wastewater. The structure and characterization of aminated polyethersulfone with carboxylated activated carbon (PES–NH
2
–AC–COOH) were identified using proton nuclear magnetic resonance (
1
H-NMR), Fourier transform infrared (FT-IR spectroscopy), X-ray diffraction (XRD), thermal analysis (TA), and a scanning electron microscopy (SEM). The performance of PES–NH
2
in situ and ex situ with AC–COOH was tested for the adsorption of cationic (methylene blue) and anionic (acid red 1) dyes from an aquatic environment. The results of the study showed a better thermal stability for the PES–NH
2
with 20% AC–COOH with both in situ and ex situ techniques as well as an excellent adsorption performance in comparison with the bare PES–NH
2
. The resultant polymers displayed significantly high adsorption rates for the acid red dye (60% and 68%) and methylene blue dye (61% and 88%) by PES–NH
2
with AC–COOH using in situ and ex situ techniques, respectively, in comparison with the control (PES–NH
2
) which showed lower adsorption rates for both dyes (21% for acid red and 33% for methylene blue). Lastly, the study experimental measurements found the most suitable model to describe the kinetic behavior of the acid red dye adsorption by our developed polymer (by PES–NH
2
with AC–COOH) to be the pseudo-second-order kinetic model.
View Full-Text
►

▼

Figures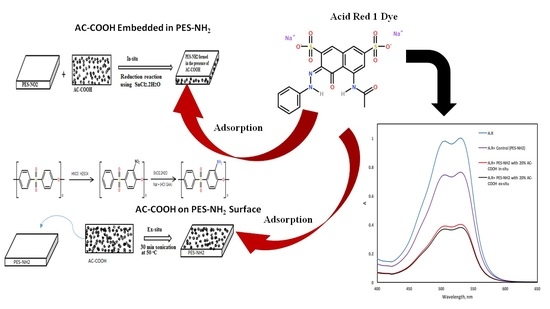 Graphical abstract
This is an open access article distributed under the
Creative Commons Attribution License
which permits unrestricted use, distribution, and reproduction in any medium, provided the original work is properly cited (CC BY 4.0).

Share & Cite This Article
MDPI and ACS Style
Alenazi, N.A.; Hussein, M.A.; Alamry, K.A.; Asiri, A.M. Nanocomposite-Based Aminated Polyethersulfone and Carboxylate Activated Carbon for Environmental Application. A Real Sample Analysis. C 2018, 4, 30.
Note that from the first issue of 2016, MDPI journals use article numbers instead of page numbers. See further details here.
Comments
[Return to top]