Open Access This article is
freely available
re-usable
Article
Development of Electrode Materials of Lithium-Ion Battery Utilizing Nanospaces
1
National Institute of Technology, Nagano College, Nagano 381-8550, Japan
2
Research Institute for Sustainable Humanosphere of Kyoto University, Uji, Kyoto 611-0011, Japan
3
Interdisciplinary Graduate School of Science and Technology, Shinshu University, Nagano 380-8553, Japan
4
TOC Capacitor Co., Ltd., Okaya, Nagano 394-0035, Japan
*
Author to whom correspondence should be addressed.
Received: 28 February 2018 / Accepted: 5 April 2018 / Published: 13 April 2018
Abstract
:
To develop high capacity electrode materials for lithium-ion battery (LIB), dissimilar materials are mixed and, as a result, carbon nanofibers containing silicon (Si) nanoparticles and its components are successfully created by electrospinning method and some heat treatments. Tetraethoxysilane (TEOS) and Si nanoparticles are adopted as additives of carbon nanofibers because of their huge potential for obtaining high capacity. In this research, therefore, we develop TEOS/Si hybrid carbon nanofibers. Consequently, some samples obtain much higher charging/discharging capacity than the theoretical capacity for graphite (372 mAh/g, LiC6) even after second cycle.
Keywords:
lithium-ion battery (LIB); anode; silicon; TEOS; carbon nanofiber; electrospinning; hybrid electrode
Acknowledgments
This work was partly supported by grant-in-aid (No. 15K06004) of Ministry of Education, Sports, Culture, Science and Technology (MEXT), Japan, and Nanotechnology Platform Program (Molecule and Material Synthesis) of MEXT. Acknowledgments are also made to Analysis and Development System for Advanced Materials (ADAM) and Cooperative Studies Using Collaborative Research Facilities of Wood Composite of Research Institute for Sustainable Humanosphere of Kyoto University. Moreover, this work was partly supported by grant-in-aid of The Foundation for Applied Research and Technological Uniqueness at Nagaoka University of Technology.
Author Contributions
Kyoichi Oshida conceived and designed the experiments; Takunori Minamisawa, Nozomi Kobayashi and Daiki Misawa performed the overall experiments; Akinobu Ando carried out the image processing and analyzed TEM images; Tomoyuki Itaya contributed regents/materials/measurement tools; Minoru Moriyama, Kozo Osawa and Toshimitsu Hata gave technical advice on electrospinning; Yuta Sugiyama and Hiroto Iguchi performed Raman spectroscopy experiments and gave some advices on electrochemical experiments; Naoya Kobayashi contributed materials and gave technical advice on silicon and LIB; and Takunori Minamisawa wrote the paper.
Conflicts of Interest
The authors declare no conflict of interest.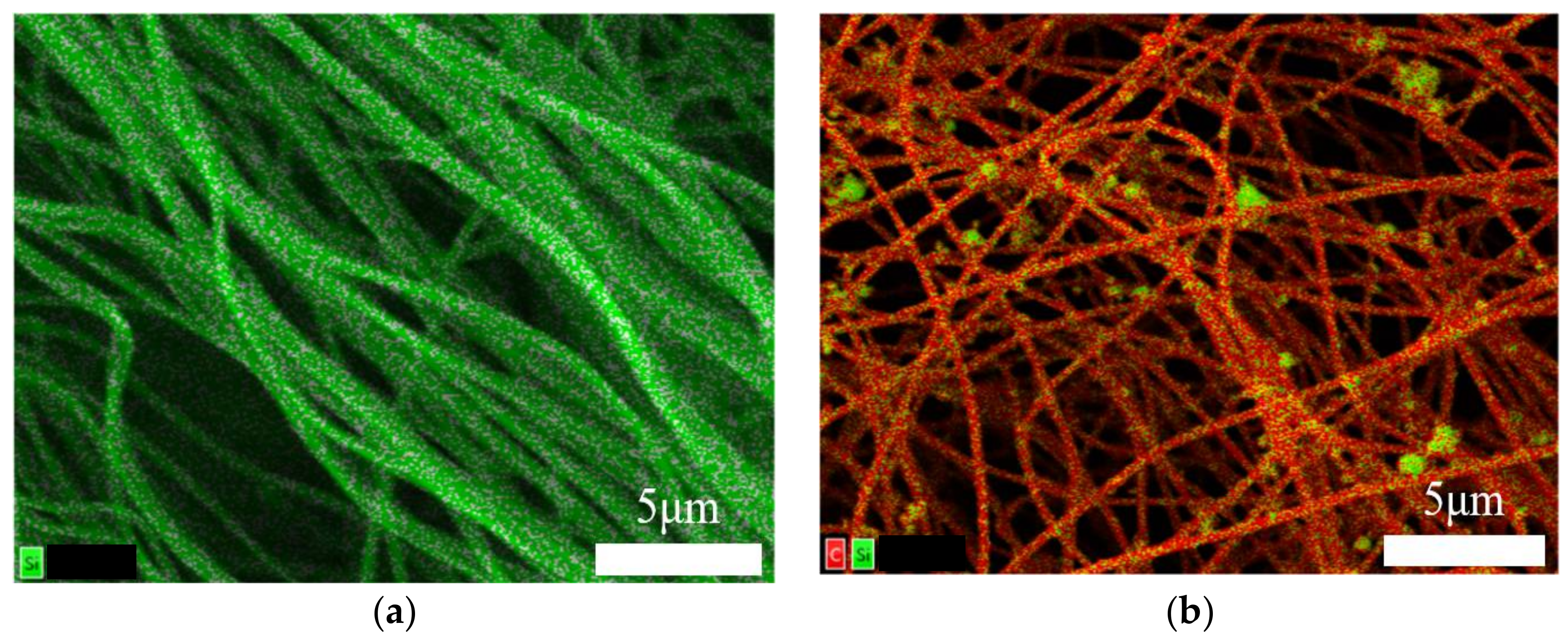 Figure 2. TEM images and the corresponding power spectra of: (a) TEOS Carbon; and (b) TEOS/Si Hybrid Carbon.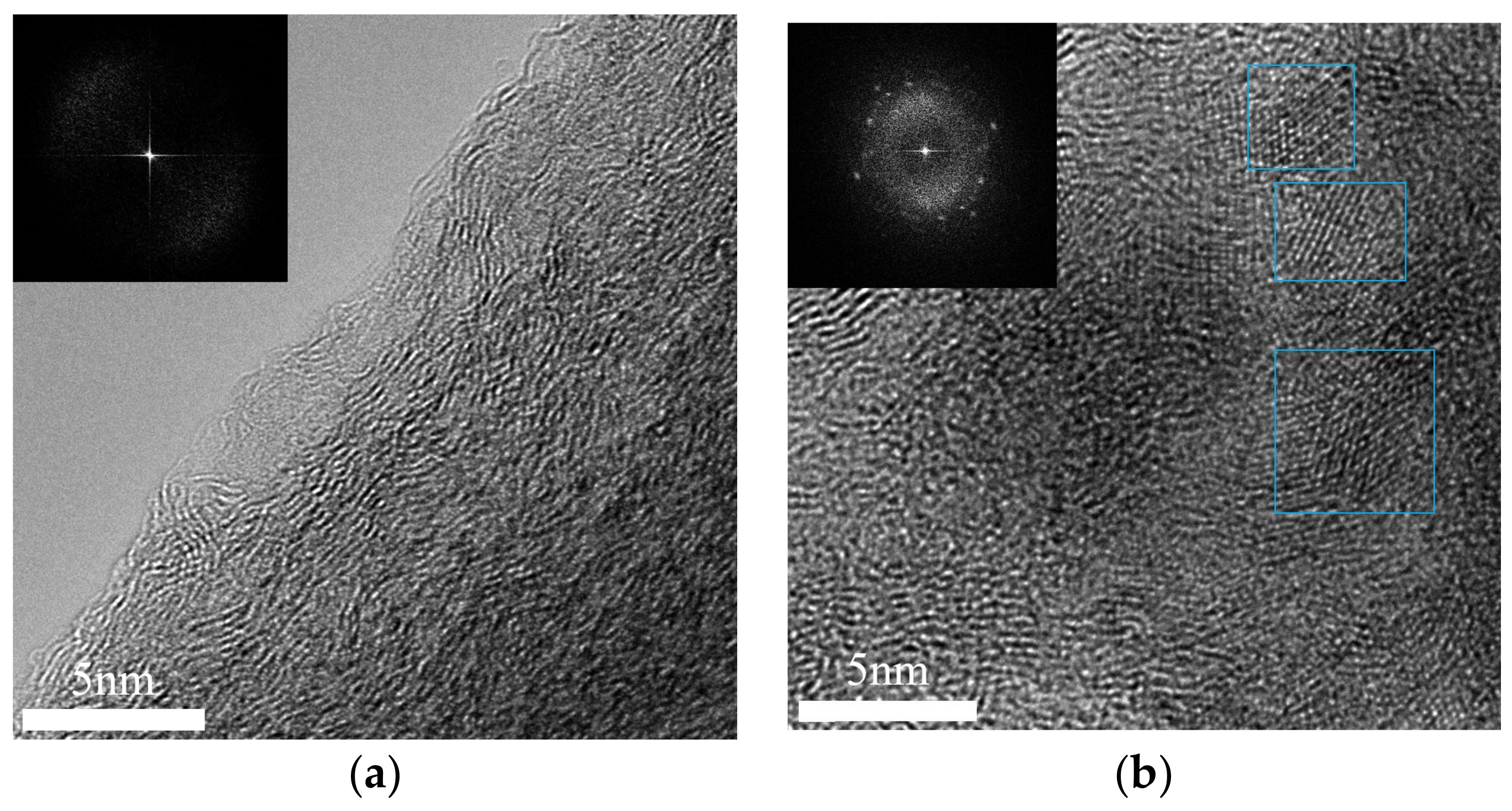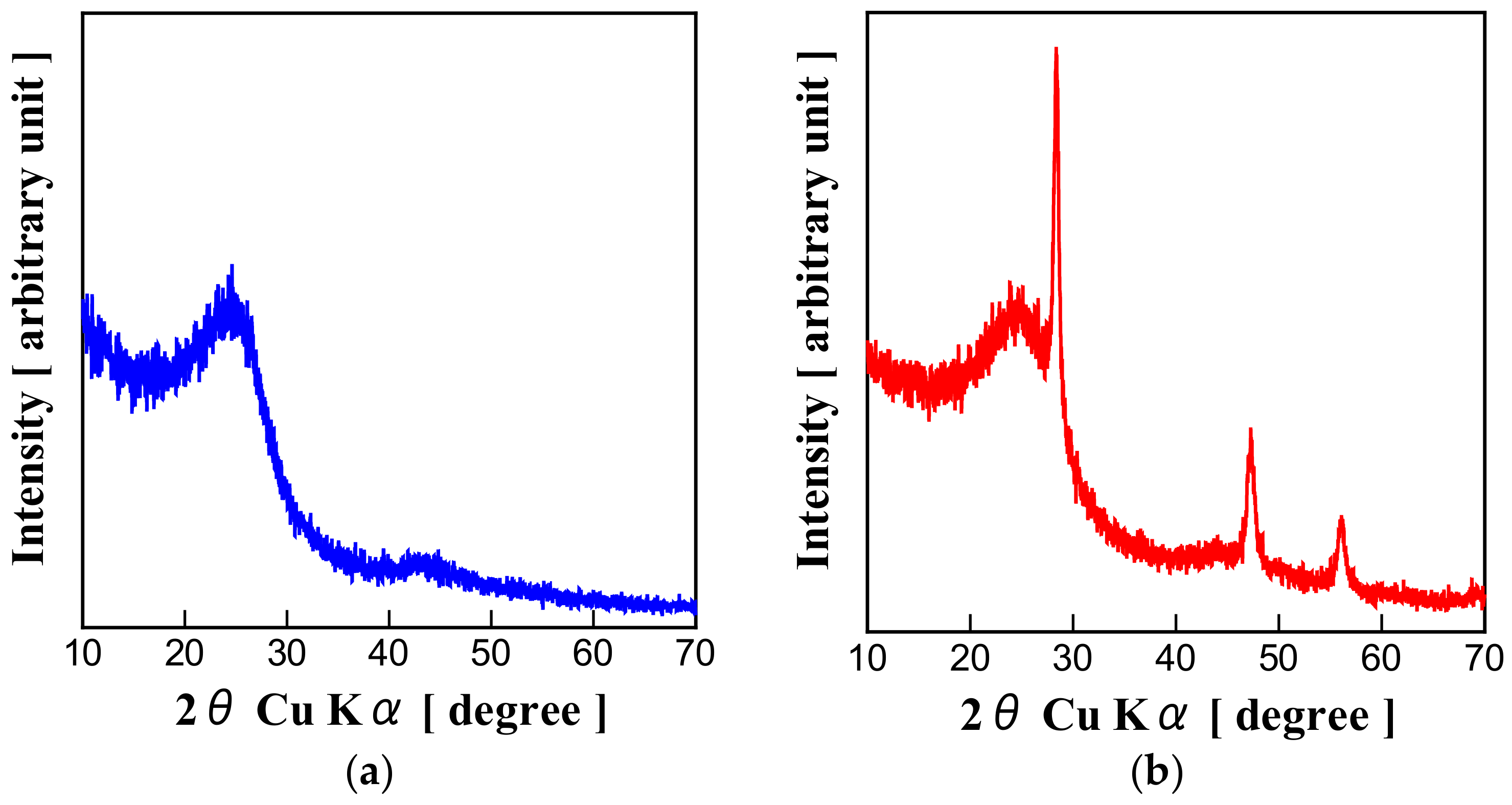 | Sample Names | Precursor and Additives/Solvent | Spinning Conditions | Stabilization | Carbonization |
| --- | --- | --- | --- | --- |
| TEOS Carbon | 10 wt % [PAN + TEOS(7:3)]/DMF | 25 kV/15 cm | 260 °C | 1000 °C |
| TEOS/Si Hybrid Carbon | [10 wt % [PAN + TEOS(7:3)] + 1 wt % Si]/DMF | 23 kV/15 cm | 240 °C | 700 °C |

© 2018 by the authors. Licensee MDPI, Basel, Switzerland. This article is an open access article distributed under the terms and conditions of the Creative Commons Attribution (CC BY) license (http://creativecommons.org/licenses/by/4.0/).