Open Access This article is
freely available
re-usable
Article
Boehm Titration Revisited (Part II): A Comparison of Boehm Titration with Other Analytical Techniques on the Quantification of Oxygen-Containing Surface Groups for a Variety of Carbon Materials
Institute for Technical Chemistry and Environmental Chemistry, Center for Energy and Environmental Chemistry Jena (CEEC Jena), Friedrich Schiller University, Philosophenweg 7a, 07743 Jena, Germany
*
Authors to whom correspondence should be addressed.
Received: 7 March 2018 / Accepted: 8 April 2018 / Published: 11 April 2018
Abstract
:
The use of the Boehm titration (BT) method as an analytical tool for the quantification of oxygen-containing surface groups is systematically investigated for oxidized carbon black, carbon nanotubes and two active carbons with specific surface areas between 60 and 1750 m2 g−1. The accuracy of the BT method is quantitatively compared with results from elemental analysis (EA), temperature programmed desorption (TPD), and X-ray photoelectron spectroscopy (XPS). Overall, the results from TPD are in line with the values obtained by BT. Both show the equal ratio of the oxygen groups to each other. Within the series of carbon samples, all methods provide similar trends for the total oxygen content yet the absolute numbers are deviating significantly. Reasons for these discrepancies are discussed and linked to the specific characteristics of the different methods. As the BT method is a solution based method, it only probes the surface fraction of the carbon that is accessible to the base solution. That means, it probes the relevant fraction for applications where carbon is in contact to aqueous solutions. Overall, the BT method can be conveniently applied to a broad range of carbon materials as long as the samples are sufficiently hydrophilic and of the enough sample amount is provided.
Keywords:
carbon materials; Boehm titration; quantitative analysis; oxygen-containing groups; validation
1. Introduction
Overall, the four carbon materials used in this study strongly differ in their structural properties and are therefore representative for the large variety in this materials class. To begin with, the porosity and morphology of the carbon samples are fully characterized and it is tested whether microporosity increases the required base treatment time due to slowed pore filling of the carbon material. The surface groups of the different carbons are quantified then and the results are compared with EA, TPD combined with mass spectrometry (TPD-MS) and thermogravimetric analysis (TGA), and XPS. It is also discussed whether the reaction base can reach surface groups in very small pores.
2. Materials and Methods
2.1. Materials and Solutions
Acid and base solutions were prepared or purchased as described in ref. [
6
]. C-NERGY Super C65 was kindly provided by Imerys Graphite & Carbon (Bironico, Switzerland; Impurities: 2 ppm Fe, 1 ppm Ni, 0.01 Ash content). Baytubes MIV-05-185 were received from Bayer AG (Leverkusen, Germany; purity: >95%, wall number: 3–15, outer diameter: 13–16 nm, length: 1–10 µm). A purification of the CNTs was realized as described in ref. [
6
]. The pure activated charcoal was purchased by Merck (Darmstadt, Germany; Product id: 1.02183.1000, Impurities: ≤1000 ppm Fe, ≤200 ppm Zn) and the supercapacitor activated carbon TF-B520 was received by MTI Corporation (Richmond, CA, USA; Impurities: 0.07 Ash content, ≤1000 ppm metal ions).
2.2. Oxidation of the Carbon Samples
All carbon materials were oxidized by an acid treatment (HNO3) to improve hydrophilicity and to generate surface groups that can be determined by the BT. Carbon samples (5 g) were oxidized with 500 mL conc. HNO3 (purchased by BDH Prolabo, Singapore) at 90 °C in a round-bottom flask for 2 h. Afterwards, they were washed with deionized H2O multiple times until the filtrate was pH neutral. The solids were dried over night at 120 °C. The achieved materials were ground through a 250 µm sieve to get a homogeneous material. The resulting oxidized carbon black (Cnergy Super C65) are labelled as aCB, the oxidized CNTs (MIV-05-185) as aCNTs, the oxidized activated charcoal as aAC1 and the oxidized active carbon (TF-B520) as aAC2. The complete removal of the acid after the oxidation was ensured for all carbon samples by an acid base titration similar to the indirect BT. Water was added to the carbon materials as reaction solution instead of a base.
All samples were stored in a desiccator until characterization.
2.3. Characterization Methods
The titration experiments were performed as described in the first publication and the attached standard operating procedure [
6
]. 500 mg aCB, 250 mg aCNTs, 150 mg aAC1 and 100 mg aAC2 were used for each base treatment.
The elemental analysis (EA) was carried out in a Vario MICRO cube (Elementar Analysensysteme GmbH; Langenselbold, Germany). Coal from Choice Analytical (Galveston, TX, USA; FC28101: 90.10 m% C, 3.01 m% H, 0.56 m% N, 0.20 m% S) was used as standard for calibration. An Autosorb iQ3 TPX from Quantachrome (Odelzhausen, Germany) was used to measure the isotherms of the N2-physisoption. For the evaluation of isotherms, the Quantachrome ASiQwin Software was used (Data reduction parameters: aCB, aAC1, aAC2: N2 at 77 K on carbon (slit pores, QSDFT equilibrium model); aCNTs: (slit/cylindr. pores, QSDFT equilibrium model)). For X-ray photoelectron spectroscopy (XPS), a Quantum 2000 (PHI Co., Chanhassen, MN, USA) was used. The carbon samples were put on a Cu surface. The analysis was carried out using an Al Kα X-rays source (1486.6 eV). The parameters of the analysis were: 23.50 eV pass energy, 45° measurement angle, scan rate 0.2 eV/step. For the deconvolution of the C1s peak, the MultiPak software was used with symmetric Gaussian-Lorentzian peaks for all peaks beside the conjugated carbon peak, which was evaluated by an asymmetric Gaussian-Lorentzian peak. The spectra were corrected by a Shirley background subtraction. The temperature programmed desorption (TPD) was carried out in a NETZSCH STA 449 F1 Jupiter thermal microbalance (Selb, Germany). After adding the 5–15 mg samples to the apparatus, the measurement chamber was evacuated twice. Then the samples were heated with 10 K min−1 in 20 mL He min−1. For the analysis of the released components by mass spectrometry (MS), a QMS 403 D Aëolos detector (Selb, Germany) was used. The amounts of CO and CO2 were normalized per weight of the samples to achieve comparable results unaffected by the used masses.
3. Results and Discussion
4. Conclusions
Four structurally very different carbon materials with varying morphology and specific surface were analyzed by the BT method and results were compared with other analytical methods (TPD-MS, XPS, and EA). Total oxygen contents and, when possible, type and ratio of surface groups were determined. For the BT method, surface area and porosity of the carbon materials did not significantly influence the required time for treating the samples with the base solution. After one day, more than 97% of the accessible groups were reacted. This means that a broad range of carbon(nano)materials can be conveniently analyzed by the BT method. All samples were equally pre-treated so one expects that the total oxygen content increases with the specific surface area of the sample. This trend was confirmed by the BT, TPD-MS, and EA methods. Total oxygen contents increased in the order aCB < aCNTs < aAC1 < aAC2. The total amounts of oxygen, however, strongly deviated between the different methods. The BT method provided the smallest values followed by TPD and EA. Results from XPS are somewhat different. By absolute numbers, they are closest to results for EA though the oxygen content for aCB was higher than for aCNTs.
BT and TPD method were applied to determine the ratio of the different surface groups. The most frequent surface groups were carboxyl groups followed by phenols and finally lactones. Agreement between the different methods as well as fundamental differences were discussed in view of the analytical technique and the studied carbon materials.
With BT, a generally higher precision of the results can be achieved compared to XPS or TPD-MS. The ratio of the amount of oxygen groups can be calculated directly from the obtained base consumption. No complex data interpretation such as deconvolution of total spectra is needed. On the other hand, a certain level of hydrophilicity is required. Otherwise the reaction base would not be able to penetrate the whole material. In the case of microporous carbon samples, the accessibility of the surface groups could be hindered because of the too large diameter of the base ions. Both would lead to a detection of reduced absolute values. Besides, a larger sample amount is needed compared to the other methods, especially in the case of low surface area materials.
Remembering that all applied methods probe different volumes or parts of the sample, the BT method is especially attractive in case one wants to determine the fraction of surface groups that is accessible to aqueous solution, e.g., in applications such as water treatment or supercapacitors.
Supplementary Materials
The following are available online at
https://www.mdpi.com/2311-5629/4/2/22/s1
, Figure S1: N
2
Isotherms of (a) aCB, (b) aCNTs, (c) aAC1 and (d) aAC2; Figure S2: SEM-Images from (a) aCB, (b) aCNTs, (c) aAC1 and (d) aAC2; Table S1: Specific surface area, pore volume and micropore area of the carbon materials; Figure S3: TPD deconvolution of (a) CO
2
and (b) CO for aAC1; Calculation of total oxygen amount for the BT; Calculation of total oxygen amount for the TPD.
Acknowledgments
The authors acknowledge support from M. Hennig (XPS measurements), G. Gottschalt (elemental analysis), B. Fähndrich (sorption measurements), R. Paulus (TPD measurements) and S. Schönherr (SEM measurements, all Friedrich-Schiller University Jena). We acknowledge the Federal Ministry of Education and Research Germany (BMBF, 03WKCN02D) and the State of Thuringia within the ProExzellenz program for financial support.
Author Contributions
J.S. and P.S. conceived and designed the experiments; J.S. performed the experiments; J.S. and J.R.B. analyzed the data; J.S. and P.S. contributed reagents/materials/analysis tools; J.S. and P.A. wrote the paper.
Conflicts of Interest
The authors declare no conflict of interest.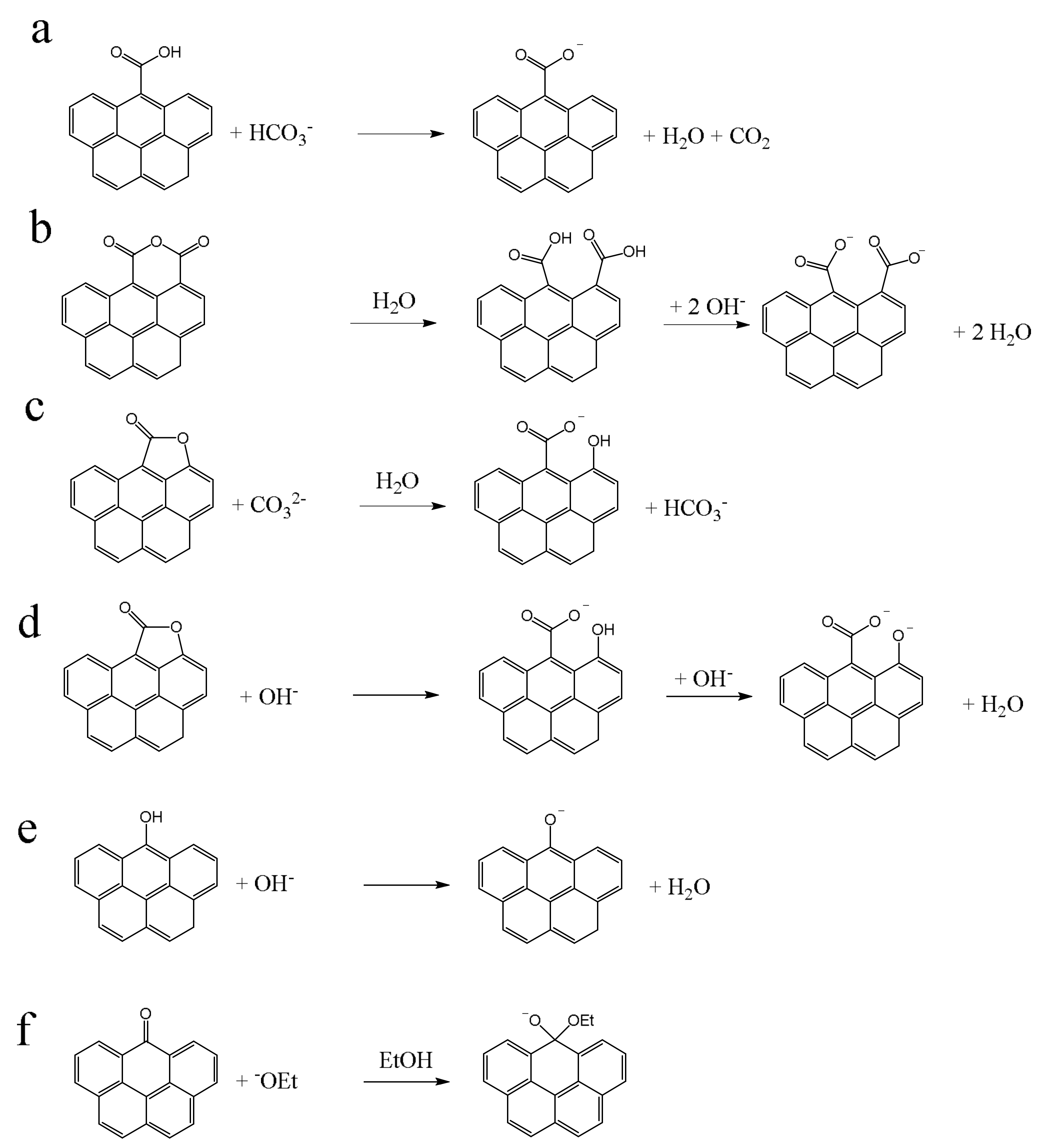 Figure 2. Quenched solid Density Functional Theory (QSDFT) analysis: (a) Cumulative pore areas and (b) pore size distribution (aCB, aAC1, aAC2: slit pores; aCNTs: cylindrical pores).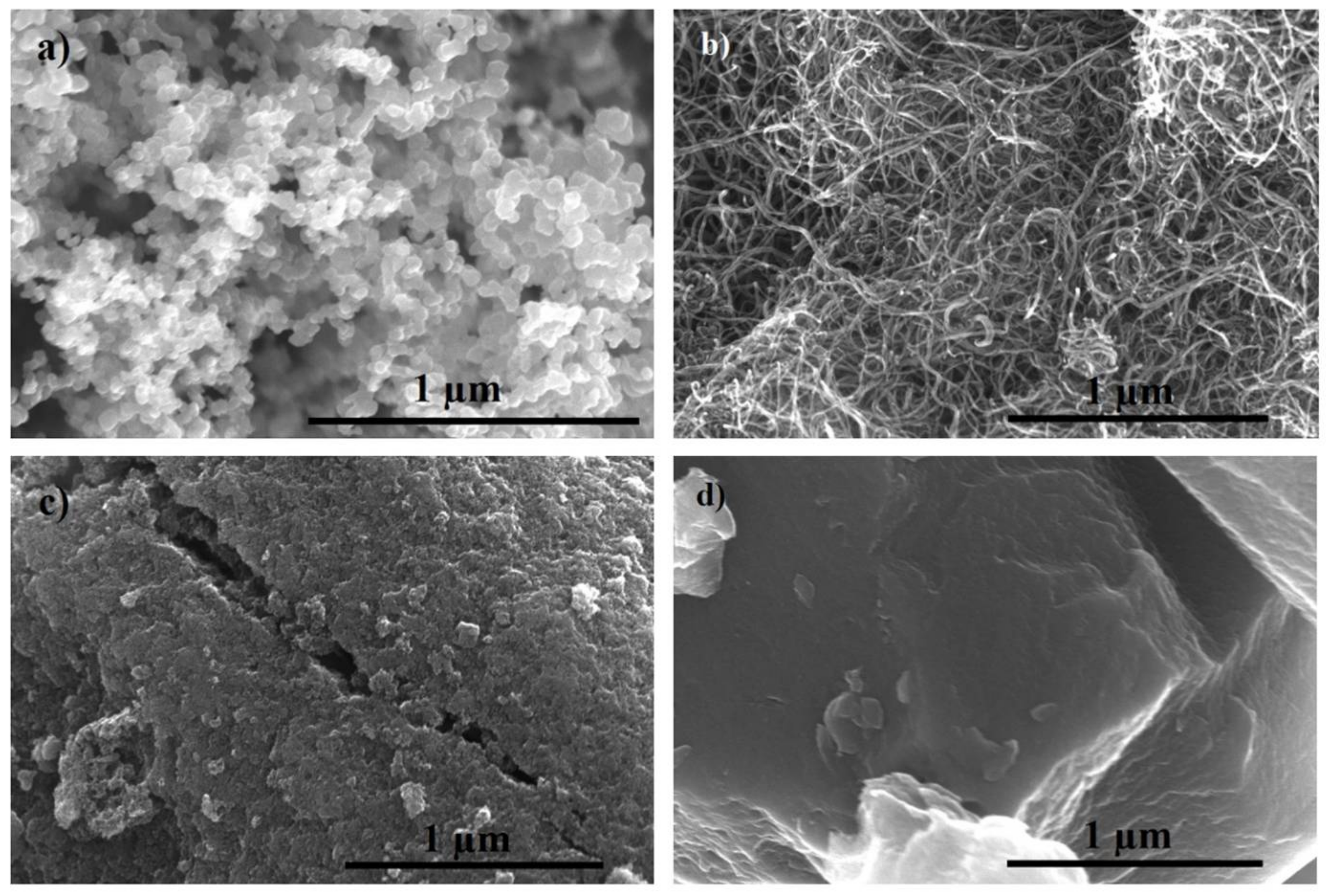 Figure 4. Consumption of NaOH as a function of time for the different carbons. 100% equals the consumption of NaOH after three days. Absolute values at 100% correspond to 0.2 mL (aCB), 0.9 mL (aCNTs), 2.6 mL (aAC1) and 3.6 mL (aAC2).
Figure 5. Boehm Titration (BT) results: (a) Differences of titration results between the reference base solution and carbon-treated base and (b) amounts of oxygen surface groups determined by using different bases.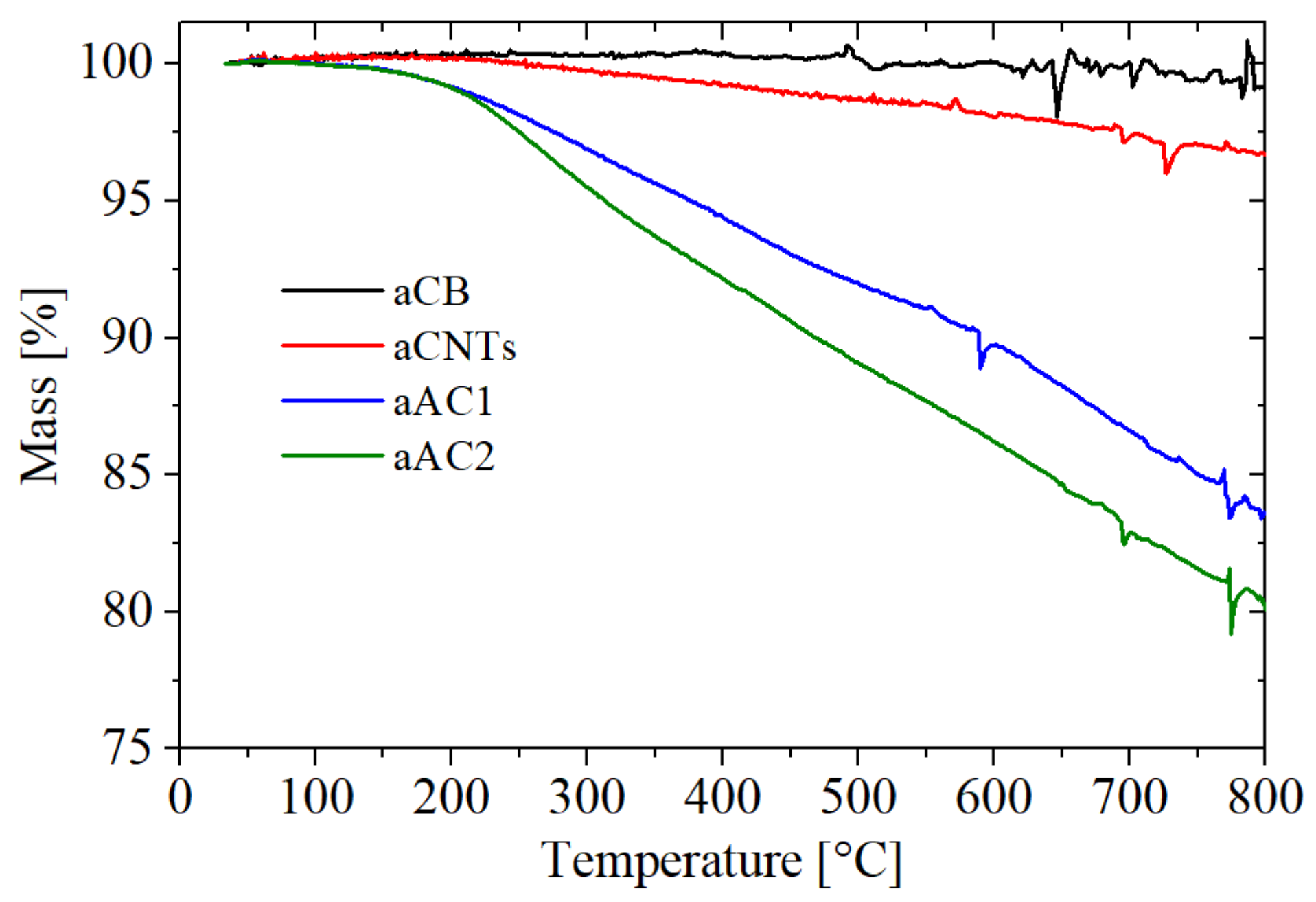 Figure 7. Thermal Programmed Desorption (TPD) measurement from the different carbon materials: detected amounts of (a) CO2 and (b) CO (10 °C min−1; 20 mL He min−1).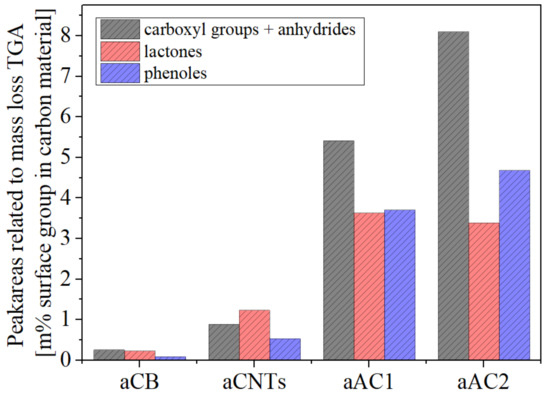 Figure 8. Amount of surface groups determined by gauss functions for CO2 and CO curves received by TPD (10 K min−1; 20 mL He min−1).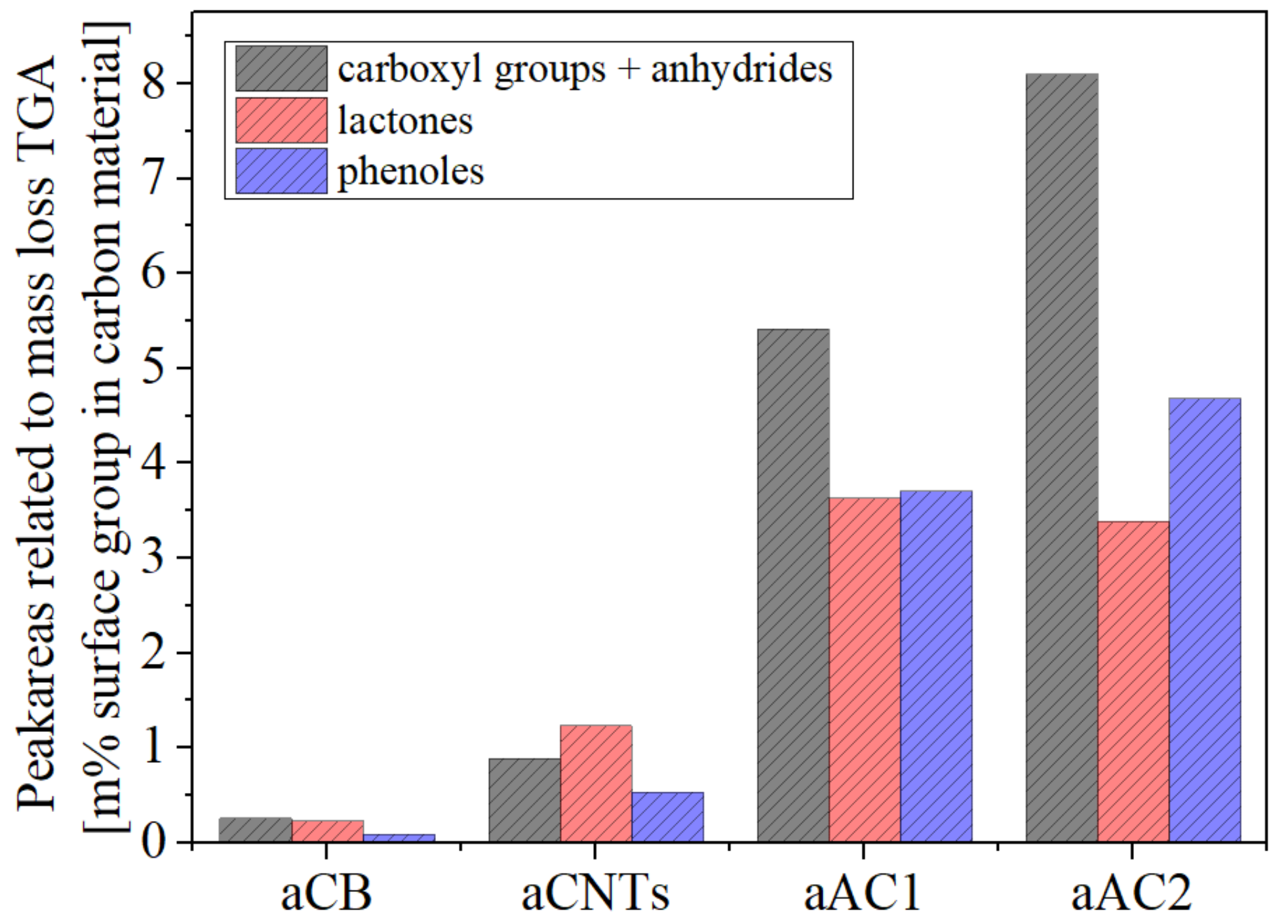 | Element | aCB (CB) | aCNTs (CNTs (b)) | aAC1 (AC1) | aAC2 (AC2) |
| --- | --- | --- | --- | --- |
| C [wt %] | 99.0 (99.9) | 97.0 (99.3) | 80.7 (90.6) | 78.6 (93.6) |
| H [wt %] | 0.1 (0.1) | 0.3 (0.2) | 1.4 (1.3) | 1.0 (0.5) |
| N [wt %] | 0.1 (0.0) | 0.2 (0.1) | 1.1 (0.3) | 0.9 (0.1) |
| O (a) [wt %] | 0.8 (0.0) | 2.5 (0.4) | 16.8 (7.8) | 19.5 (5.8) |
(a) Obtained by difference, (b) purified CNTs.

Table 2. Results from the deconvolution of X-ray Photoelectron Spectra (C1s-signal): Areal fractions of the integrated Gaussian-Lorentzian functions.
| Sample | Peak #1 C Vacancy | Peak #2 C sp2 | Peak #3 C sp3 | Peak #4 C–O | Peak #5 C=O | Peak #6 O=C–O | Peak #7 π-π* |
| --- | --- | --- | --- | --- | --- | --- | --- |
| aCB [%] | 26.48 | 64.0 | 4.8 | 1.2 | 0.0 | 3.5 | 0.0 |
| aCNTs [%] | 14.2 | 75.2 | 5.0 | 0.9 | 0.0 | 2.3 | 2.4 |
| aAC1 [%] | 2.97 | 70.0 | 7.0 | 7.4 | 2.0 | 8.7 | 2.0 |
| aAC2 [%] | 0.2 | 77.6 | 5.2 | 4.4 | 2.2 | 10.3 | 0.0 |

Table 3. General characteristics, advantages, and disadvantages of methods for the characterization of oxygen-containing surface groups.
Methods
Characteristics/Advantages
Disadvantages
BT

-

probes the surfaces of the whole sample (outer and inner surfaces) that are accessible to liquid reactants

-

absolute values are received (short evaluation time)

-

high precision

-

sample can be recovered though not in its pristine state

-

cost-effective

-

quantification of acidic oxygen groups only

-

low robustness (results sensitive to changes in the experimental procedure)

-

larger sample amounts might be required

TPD-MS/TGA

-

pyrolysis of the sample

-

probes the volume of nearly the whole sample

-

detection of nearly all existing oxygen groups (outer and inner surfaces and particle interior)

-

low personal workload for measurement

-

deconvolution required for quantification of specific groups

-

destructive method

XPS

-

probes the outer surface and sub-surface on top of the sample

-

detection of nearly all existing oxygen groups

-

very little sample amount needed

-

non-destructive

-

deconvolution required for quantification of specific groups

-

interference of different groups at same binding energies

-

relevant spectra influenced by surface impurities

EA

-

burns the sample

-

probes the volume of the whole sample

-

fast method

-

no quantification of specific groups, delivers only total amounts of elements

-

destructive method
Sample
Oxygen Content
BT (a)
TPD (b)
XPS (c)
EA
aCB [wt %]
0.04
0.41
8.0
0.8
aCNTs [wt %]
0.50
1.85
6.5
2.5
aAC1 [wt %]
2.41
8.70
14.8
17
aAC2 [wt %]
4.87
11.03
15.2
20
(a),(b) Only the amount of carboxyl groups, anhydrides, lactones and phenols (c) by AO1s/AC1s.

© 2018 by the authors. Licensee MDPI, Basel, Switzerland. This article is an open access article distributed under the terms and conditions of the Creative Commons Attribution (CC BY) license (http://creativecommons.org/licenses/by/4.0/).