Open Access This article is
freely available
re-usable
Article
High-Bandwidth and Sensitive Air Flow Sensing Based on Resonance Properties of CNT-on-Fiber Hairs
1
Air Force Research Laboratory, Materials and Manufacturing Directorate, Universal Technology Corporation, Wright-Patterson Air Force Base, Dayton, OH 45433, USA
2
Air Force Research Laboratory, Munitions Directorate, Eglin Air Force Base, Valparaiso, FL 32542, USA
3
Air Force Research Laboratory, Materials and Manufacturing Directorate, Wright-Patterson Air Force Base, Dayton, OH 45433, USA
*
Author to whom correspondence should be addressed.
Academic Editor: Jandro L. Abot
Received: 21 December 2016 / Accepted: 27 February 2017 / Published: 8 March 2017
Abstract
:
Artificial hair flow sensors were fabricated using piezoresistive, radially grown carbon nanotube arrays on glass fibers and investigated for their dynamic aerodynamic response as measured within an instrumented plane-wave tube. The sensors were experimentally observed to provide both a large bandwidth of operation below first resonance and a strong resonance response at selected frequencies above first resonance. The frequency of first resonance was easily tunable by adjusting the length of the exposed hair and could be made to vary from a few hundred hertz to over 13 kHz. Higher frequency bands were accessible for a given hair length using higher-order resonance modes, up to five of which were observed. All of the responses were understood and modeled using a vibrating Euler-Bernoulli beam analysis.
Keywords:
CNT; hair flow sensor; vibration resonance frequency; Euler-Bernouli; cantilever; piezoresistive; harmonic oscillator
4. Materials and Methods
4.1. Sensor Fabrication
The hairs are glass microfibers (AGY 933 S-2) with a radius of 4.5 µm, a reported density of 2580 kg/m3, and a reported bending stiffness of 28 Nμm2. The microfibers are uniformly coated with a layer of alumina approximately 10-nm-thick by atomic layer deposition. The pore for the hair is a glass microcapillary with inner radius of 12.5 μm which is cut and polished to a final length of 1.2 mm. Gold electrodes are deposited on each end by sputtering at an angle such that the gold coats the inside walls of the capillaries to a depth approximately equal to twice the diameter. The glass microfibers are cut to initial length and inserted into the microcapillaries.
The entire assemblies are subjected to CNT synthesis in a tube furnace at 750 °C by continuous ferrocene/xylene liquid injection in an argon/hydrogen atmosphere. The CNTs grow preferentially on the alumina-coated glass fiber and radially from the fiber surface as a low density array of wavy, vertically aligned, entangled CNTs. As it grows, the CNT array self-positions the glass fiber near the radial center of the capillary. After CNT synthesis, the hair is fixed to the bottom capillary face with epoxy to prevent axial movement. The completed sensor is then inserted into an electrode polycarbonate disc for flush mounting within the plane-wave tube.
Figure 5
shows an example sensor imaged near the opening of the capillary, with some of the nanotubes removed from the glass fiber by focused ion beam. Additional information can be found elsewhere [
1
,
4
].
4.2. Hybrid Plane-Wave Tube Measurements
A 1-m-long, 5-mm-square inner diameter aluminum alloy plane-wave tube connected on both ends to 8 m of copper pipe was used to expose the hairs to air flows at acoustic frequencies. A speaker driver (JBL 2446J, 16 ohms) was coupled into one end of the tube. The speaker is driven by a QSC GX3 power amplifier receiving a sinusoidal input signal from Stanford Research Systems SR 830 DSP Lock-In Amplifier. The signal measured by a Brüel & Kjær 4138 microphone mounted at the top of the tube at its lengthwise and widthwise center was fed to a 2670 preamplifier and recorded by the SR 830. A PID controller was used to adjust the output of the SR 830 to maintain a constant signal on the microphone. The sensors were mounted at the bottom of the tube directly below the microphone. The signals from the microphone and hair sensor were recorded by National Instruments Signal Acquisition Modules NI PXI-4472 (for the microphone) and NI PXI-6224 (for the AHS). The complete setup is shown in
Figure 6
.
Acknowledgments
The authors gratefully acknowledge the Air Force Office of Scientific Research (AFOSR), Byung-Lip (Les) Lee, Program Manager, for financial support of this research, Gregory Reich for discussions and collaborations regarding sensor performance for applications, Benjamin Severin and Peter Schumann for help setting up and running the equipment, and Matthew Maschmann for assistance with the experiments and the focused ion beam processing and imaging.
Author Contributions
Keith Slinker, Benjamin T. Dickinson and Jeffery W. Baur conceived and designed the experiments; Keith Slinker and Corey Kondash performed the experiments; Keith Slinker analyzed the data; Keith Slinker and Jeffery W. Baur wrote the paper.
Conflicts of Interest
The authors declare no conflict of interest.
References
Maschmann, M.R.; Ehlert, G.J.; Dickinson, B.T.; Phillips, D.M.; Ray, C.W.; Reich, G.W.; Baur, J.W. Bioinspired carbon nanotube fuzzy fiber hair sensor for air-flow detection.

Adv. Mater.

2014,

26

, 3230–3234. [Google Scholar] [CrossRef] [PubMed]
Chen, J.; Fan, Z.; Zou, J.; Engel, J.; Liu, C. Two-dimensional micromachined flow sensor array for fluid mechanics studies.

J. Aerosp. Eng.

2003,

16

, 85–97. [Google Scholar] [CrossRef]
Krijnen, G.; Floris, A.; Dijkstra, M.; Lammerink, T.; Wiegerink, R. Biomimetic Micromechanical Adaptive Flow-Sensor Arrays. In Proceedings of the SPIE Bioengineered and Bioinspired Systems III, Maspalomas, Gran Canaria, Spain, 2–4 May 2007.
Slinker, K.A.; Kondash, C.; Dickinson, B.T.; Baur, J.W. Cnt-based artificial hair sensors for predictable boundary layer air flow sensing.

Adv. Mater. Technol.

2016. [Google Scholar] [CrossRef]
Casas, J.; Dangles, O. Physical ecology of fluid flow sensing in arthropods.

Annu. Rev. Entomol.

2010,

55

, 505–520. [Google Scholar] [CrossRef] [PubMed]
Junliang, T.; Xiong, Y. Hair flow sensors: From bio-inspiration to bio-mimicking—A review.

Smart Mater. Struct.

2012,

21

, 11. [Google Scholar]
Magal, C.; Dangles, O.; Caparroy, P.; Casas, J. Hair canopy of cricket sensory system tuned to predator signals.

J. Theor. Biol.

2006,

241

, 459–466. [Google Scholar] [CrossRef] [PubMed]
Droogendijk, H.; Dagamseh, A.M.K.; Sanders, R.G.P.; Yntema, D.R.; Krijnen, G.J.M. Characterization of bio-inspired hair flow sensors for oscillatory airflows: Techniques to measure the response for both flow and pressure.

Meas. Sci. Technol.

2014,

25

, 095005. [Google Scholar] [CrossRef]
Chen, N.; Tucker, C.; Engel, J.M.; Yingchen, Y.; Saunvit, P.; Chang, L. Design and characterization of artificial haircell sensor for flow sensing with ultrahigh velocity and angular sensitivity.

J. Microelectromech. Syst.

2007,

16

, 999–1014. [Google Scholar] [CrossRef]
Nima, T.; Stephen, A.S. Toward cell-inspired materials that feel: Measurements and modeling of mechanotransduction in droplet-based, multi-membrane arrays.

Bioinspir. Biomim.

2016,

11

, 036008. [Google Scholar]
Sarlo, R.; Najem, J.S.; Leo, D.J. Flow field sensing with bio-inspired artificial hair cell arrays.

Sens. Actuators B Chem.

2016,

236

, 805–814. [Google Scholar] [CrossRef]
Yilmazoglu, O.; Yadav, S.; Cicek, D.; Schneider, J.J. A nano-microstructured artificial-hair-cell-type sensor based on topologically graded 3d carbon nanotube bundles.

Nanotechnology

2016,

27

, 365502. [Google Scholar] [CrossRef] [PubMed]
Magar, K.T.; Reich, G.W.; Kondash, C.; Slinker, K.; Pankonien, A.M.; Baur, J.W.; Smyers, B. Aerodynamic parameters from distributed heterogeneous cnt hair sensors with a feedforward neural network.

Bioinspir. Biomim.

2016,

11

, 066006. [Google Scholar] [CrossRef] [PubMed]
Rao, S.S.

Vibration of Continuous Systems

; Wiley: Hoboken, NJ, USA, 2007. [Google Scholar]
Slinker, K.; Kondash, C.; Maschmann, M.; Severin, B.; Reich, G.; Dickinson, B.T.; Baur, J. Artificial hair sensors from structural microfibers and cnt arrays for sensing air flow or mechanical shear. In Proceedings of the 20th International Conference on Composite Materials, Copenhagen, Danmark, 19–24 July 2015.
Phillips, D.M.; Slinker, K.A.; Ray, C.W.; Hagen, B.J.; Baur, J.W.; Dickinson, B.T.; Reich, G.W. Artificial hair sensors: Electro-mechanical characterization. In Proceedings of the ASME 2014 Conference on Smart Materials, Adaptive Structures and Intelligent Systems, Newport, RI, USA, 8–10 September 2014; p. V002T006A016.
Eisenberger, M.; Yankelevsky, D.Z.; Adin, M.A. Vibrations of beams fully or partially supported on elastic foundations.

Earthq. Eng. Struct. Dyn.

1985,

13

, 651–660. [Google Scholar] [CrossRef]
Chandrasekaran, V.; Cain, A.; Nishida, T.; Cattafesta, L.N.; Sheplak, M. Dynamic calibration technique for thermal shear-stress sensors with mean flow.

Exp. Fluids

2005,

39

, 56–65. [Google Scholar] [CrossRef]
Futaba, D.N.; Hata, K.; Namai, T.; Yamada, T.; Mizuno, K.; Hayamizu, Y.; Yumura, M.; Iijima, S. 84% catalyst activity of water-assisted growth of single walled carbon nanotube forest characterization by a statistical and macroscopic approach.

J. Phys. Chem. B

2006,

110

, 8035–8038. [Google Scholar] [CrossRef] [PubMed]
Shimozawa, T.; Kumagai, T.; Baba, Y. Structural scaling and functional design of the cercal wind-receptor hairs of cricket.

J. Comp. Physiol. A

1998,

183

, 171–186. [Google Scholar] [CrossRef]
Maschmann, M.R.; Dickinson, B.; Ehlert, G.J.; Baur, J.W. Force sensitive carbon nanotube arrays for biologically inspired airflow sensing.

Smart Mater. Struct.

2012,

21

, 094024. [Google Scholar] [CrossRef]
Gao, Y.; Kodama, T.; Won, Y.; Dogbe, S.; Pan, L.; Goodson, K.E. Impact of nanotube density and alignment on the elastic modulus near the top and base surfaces of aligned multi-walled carbon nanotube films.

Carbon

2012,

50

, 3789–3798. [Google Scholar] [CrossRef]
Maschmann, M.R.; Zhang, Q.; Du, F.; Dai, L.; Baur, J. Length dependent foam-like mechanical response of axially indented vertically oriented carbon nanotube arrays.

Carbon

2011,

49

, 386–397. [Google Scholar] [CrossRef]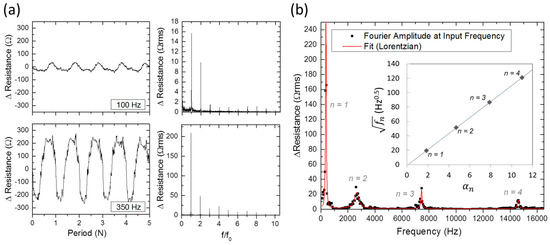 Figure 1.
The response of Sensor 1 with
LE
= 4.00 mm to dynamically modulated air flow: (
a
) The change in resistance at 100 Hz and 350 Hz over five periods and the corresponding Fourier transformed frequency response scaled by the input frequency (
f
0
). (
b
) The amplitude of the Fourier transformed response at the input frequency versus the input frequency. The peaks correspond to the first four resonance modes (
n
) of the hair sensor. (Inset) The square root of the resonance frequencies (
fn
) versus the amplitude factors of the fixed-free Euler-Bernoulli beam with a linear fit.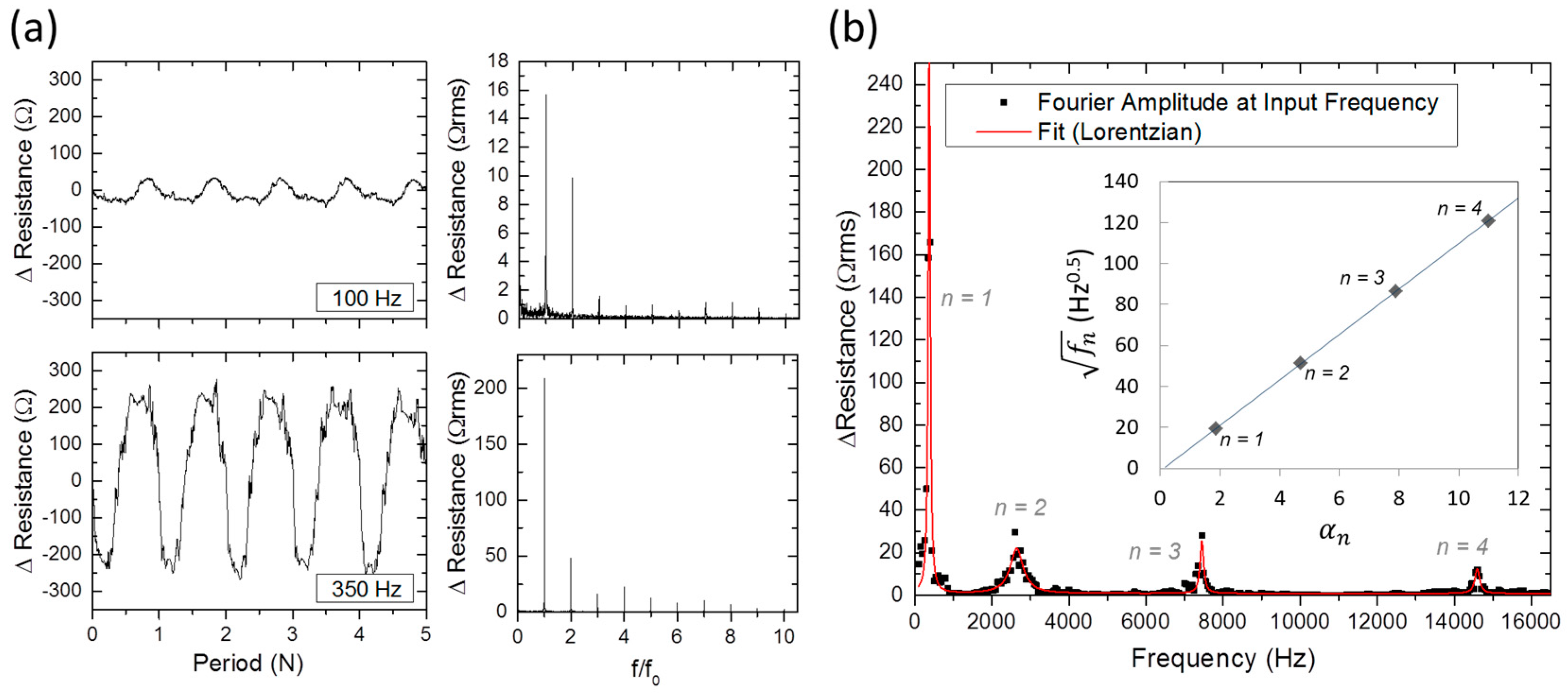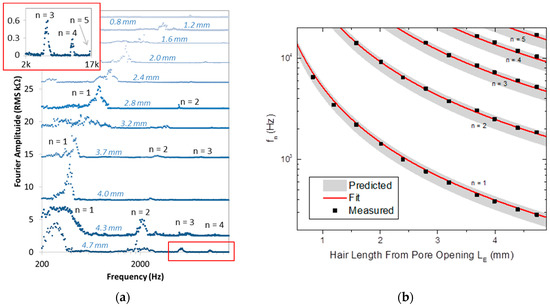 Figure 2.
(
a
) The amplitude of the Fourier transformed response of Sensor 2 at the input frequency versus the input frequency for 11 hair lengths. Data sets all have minimums of near-zero RMS kW, but are offset in resistance for clarity.
LE
is indicated for each to the nearest 0.1 mm. The resonance peaks are labeled with their mode number and progressively shift to higher frequencies as the length is decreased. (inset) The high-frequency portion of the response at an
LE
of 4.7 mm. (
b
) The resonance frequencies
fn
versus the exposed length of the hair. The solid red lines correspond to a
ρA
of 1.9 × 10
−7
kg/m and the gray band shows the predicted frequencies for a range of CNT masses.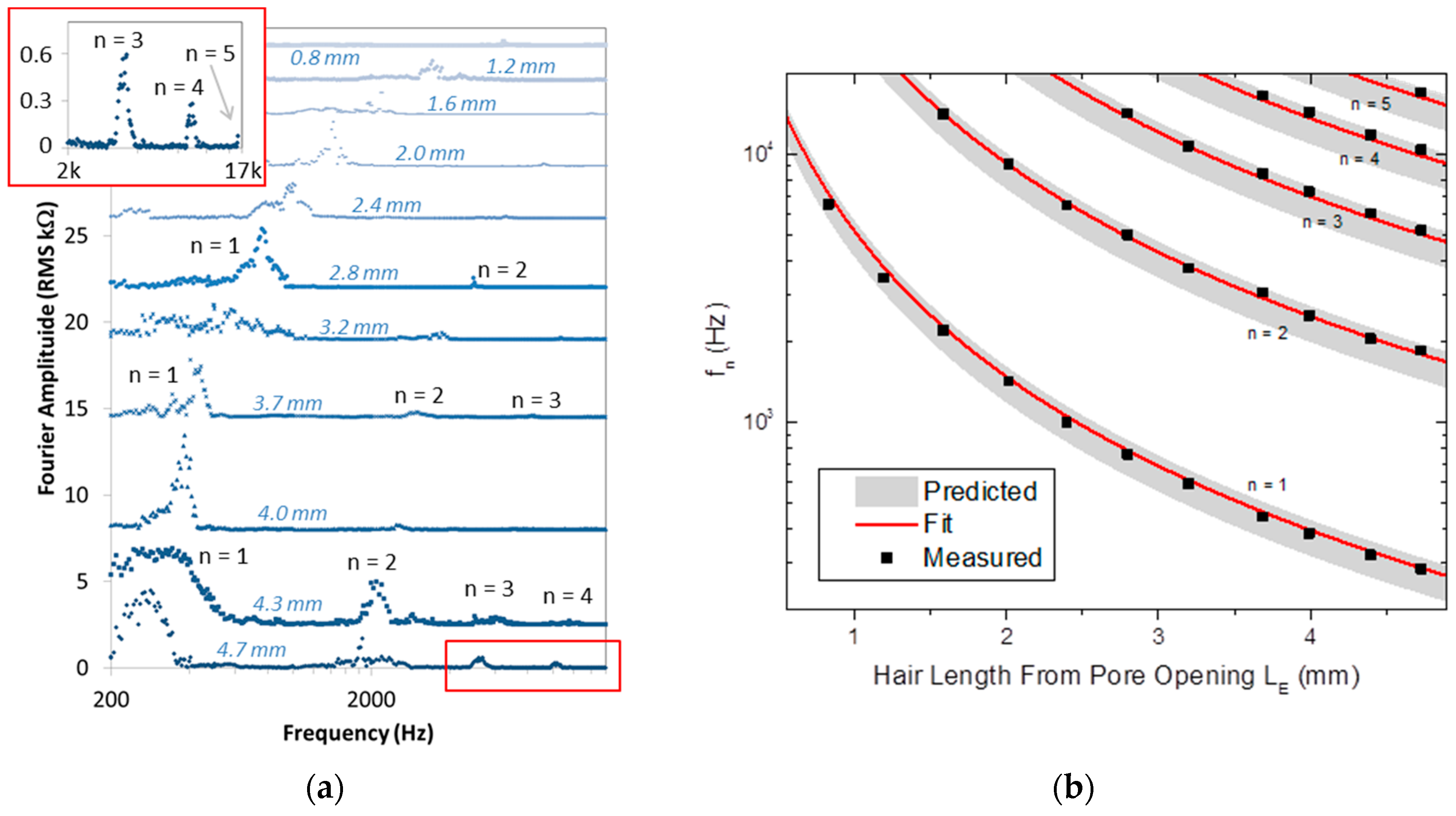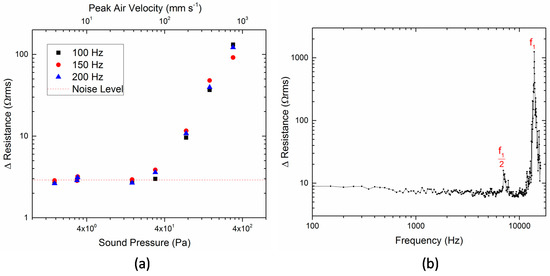 Figure 3. (a) The RMS change in resistance of Sensor 3 (LE = 4.37 mm) as function of sound pressure amplitude from or air velocity with instrument noise floor of 2.9 Ω·rms. The response increases linearly for air velocities above 70 mm·s−1. (b) After reducing the LE of Sensor 3 to 0.62 mm, the first resonance f1 is increased to 13.9 kHz and the response is relatively flat (3 Ω·rms minimum) before that resonance. There is an additional peak at half the resonance frequency, but this is believed to be due to the increased presence of higher modes within the plane wave tube.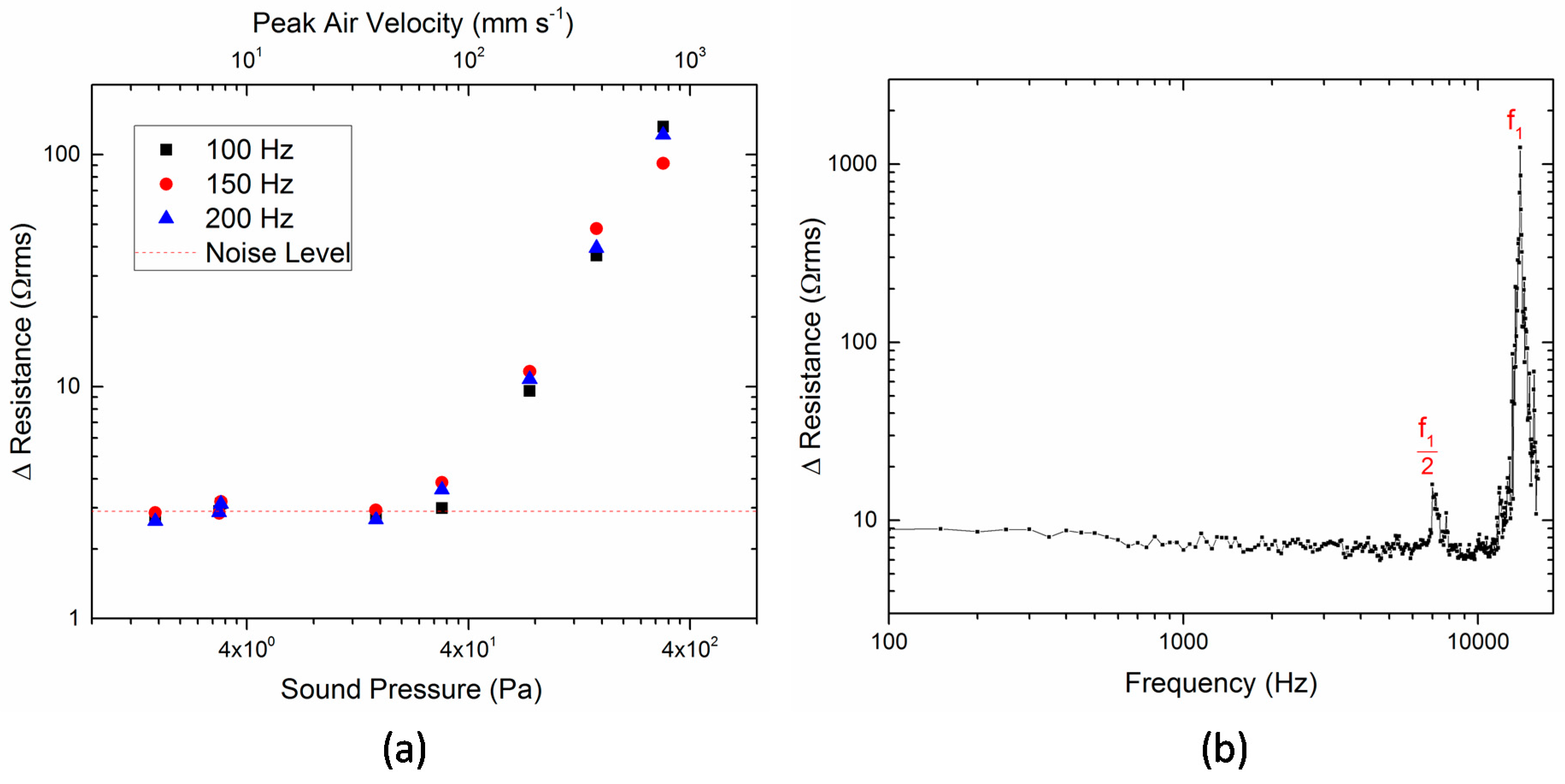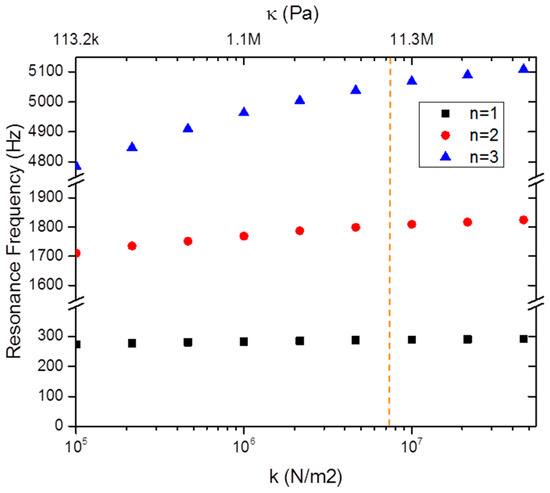 Figure 4.
The resonance frequencies predicted for the sensors for various nanotube stiffness values (
κ
) or values of the stiffness-per-length constant in the elastic base model (
k
). The other properties of the modeled sensors are identical to Sensor 3 with
LE
= 4.37 mm. The dashed line represents the measured nanotube stiffness of Sensor 3.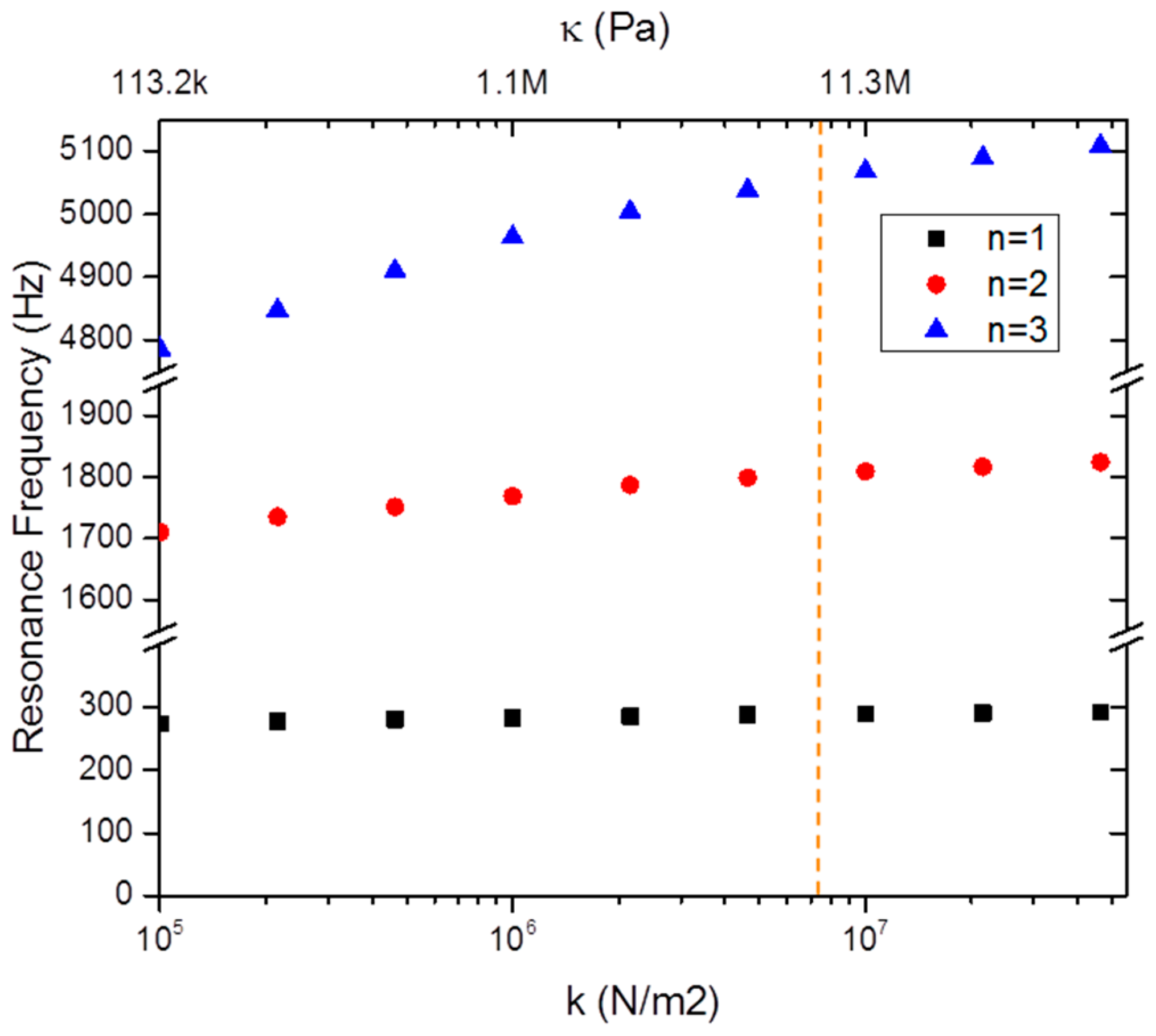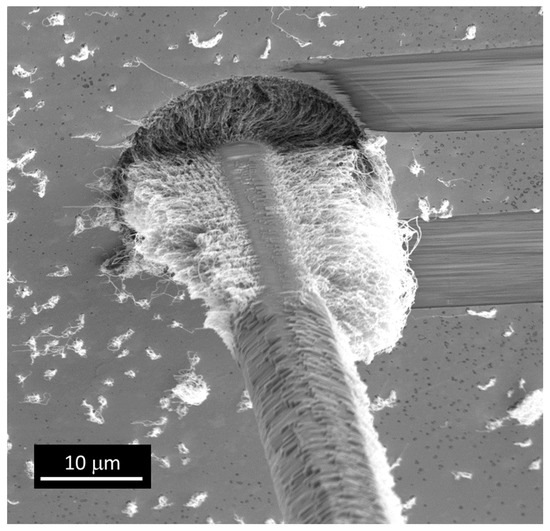 Figure 5. SEM image of a CNT and glass microfiber artificial hair sensor in a metal-coated glass microcapillary pore. CNTs more than about 100 μm from the capillary opening were completely removed radially by focused ion beam from the glass fiber for this image, while only the top and bottom CNTs were removed closer to the opening. The radial nanotube array is visible inside the capillary opening. Under normal operation it extends the length of the glass fiber inside and outside the capillary.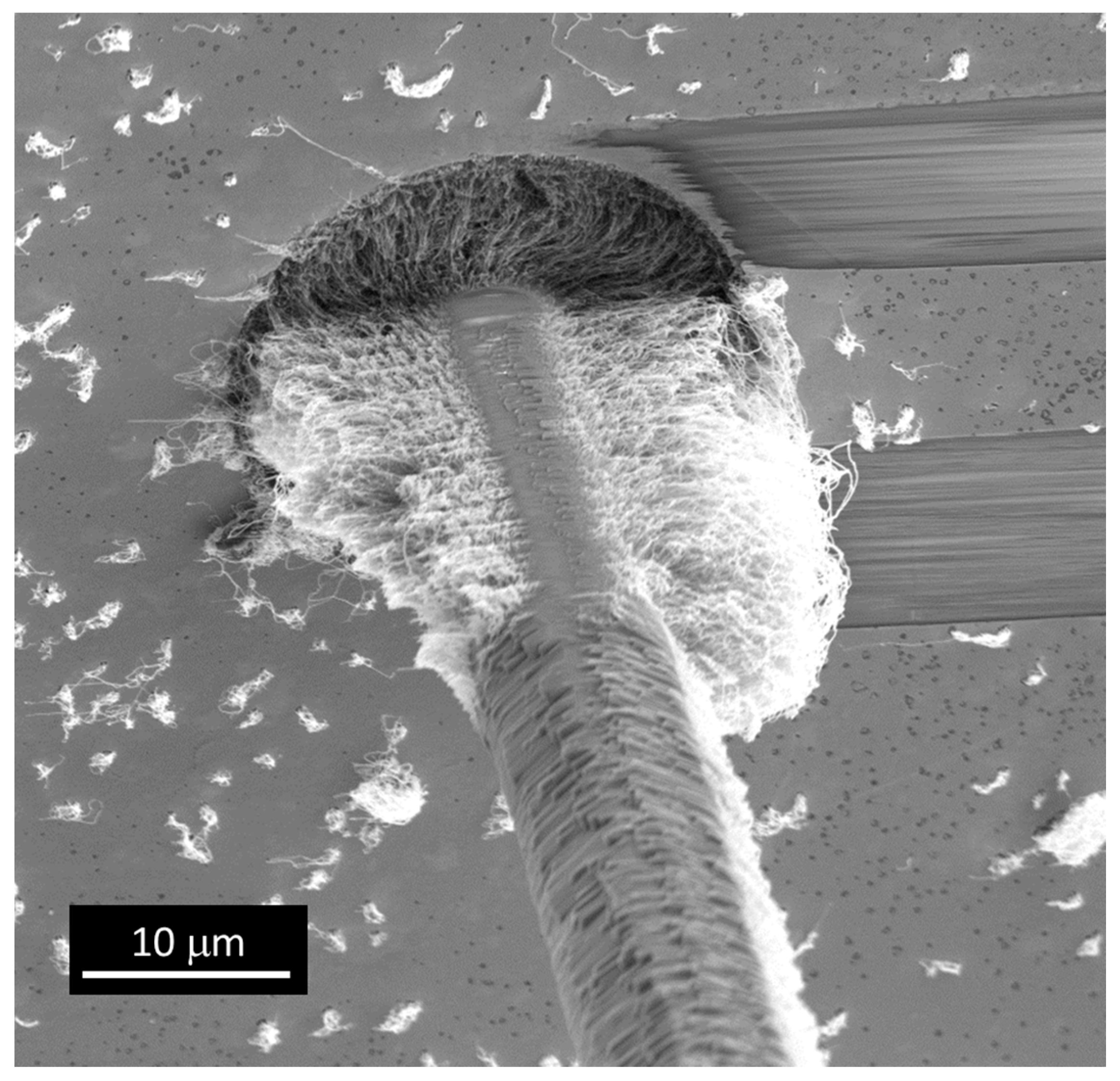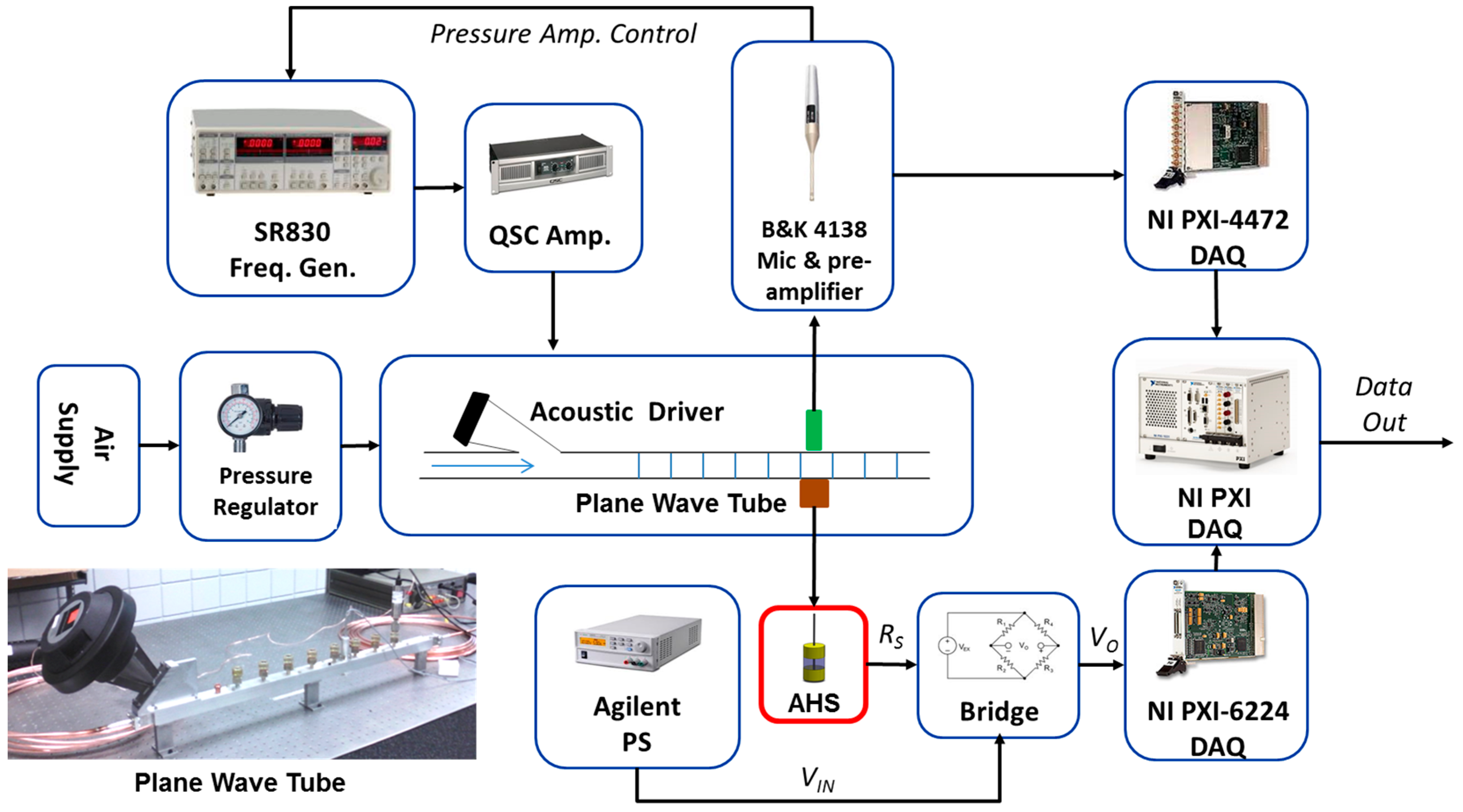 © 2017 by the authors. Licensee MDPI, Basel, Switzerland. This article is an open access article distributed under the terms and conditions of the Creative Commons Attribution (CC BY) license ( http://creativecommons.org/licenses/by/4.0/).