Open Access This article is
freely available
re-usable
Review
Besides Pathology: Long Non-Coding RNA in Cell and Tissue Homeostasis
Laboratory of Human Molecular Genetics, Department of Genetics, Universidade Federal do Paraná, Curitiba 81531-980, Caixa Postal 19071, Brazil
†
These joint-first authors contributed equally to this review.

Received: 30 December 2017 / Accepted: 25 January 2018 / Published: 30 January 2018
Abstract
:
A significant proportion of mammalian genomes corresponds to genes that transcribe long non-coding RNAs (lncRNAs). Throughout the last decade, the number of studies concerning the roles played by lncRNAs in different biological processes has increased considerably. This intense interest in lncRNAs has produced a major shift in our understanding of gene and genome regulation and structure. It became apparent that lncRNAs regulate gene expression through several mechanisms. These RNAs function as transcriptional or post-transcriptional regulators through binding to histone-modifying complexes, to DNA, to transcription factors and other DNA binding proteins, to RNA polymerase II, to mRNA, or through the modulation of microRNA or enzyme function. Often, the lncRNA transcription itself rather than the lncRNA product appears to be regulatory. In this review, we highlight studies identifying lncRNAs in the homeostasis of various cell and tissue types or demonstrating their effects in the expression of protein-coding or other non-coding RNA genes.
Keywords:
long non-coding RNA; homeostasis; physiological regulatory mechanisms; gene expression; gene regulation; transcriptome
1. Introduction
We performed an extensive search of the literature for articles presenting data about lncRNAs involved in the homeostasis of different tissues and cell types. Some of the lncRNA play fundamental roles in various tissues, while others present a tissue-specific expression pattern. We present the information by cell or tissue type throughout this review.
2. Long non-coding RNAs: Expression Patterns in Tissues or Cell Types
Long non-coding RNAs are strictly regulated and many present cell-specific expression, substantiating their crucial role in physiological mechanisms [
1
,
3
,
21
]. In the following, we summarized what is currently known about lncRNA expression among cell development and differentiation, and in specific pathways (more details in
Table S1
).
2.1. Hematopoietic Cells
Ontogenesis of blood cells from hematopoietic stem cells (HSCs) occurs throughout the whole individual's life and is highly controlled by transcription factors and non-coding RNA. Circulating blood, where most of these cells are found, is easy to acquire and to work with, being routinely used in molecular studies. Yet, some authors analyzed bone marrow and thymus to understand early stages of hematopoiesis and the development of the different cell lineages.
The lincRNA
H19
(also known as
imprinted maternally expressed transcript
) is one of the most abundant and conserved mammalian noncoding transcripts, and a key regulator of differentiation of various cell and tissue types, as will also be seen in other sections of this review. The
H19
lincRNA is a transcript of the
H19/IGF2
genomic imprinted cluster. While
H19
is transcribed from the maternally-inherited locus, the mRNA for IGF2 (insulin-like growth factor II) is transcribed from the paternally-inherited locus. During murine hematopoiesis, the growth-restricting lincRNA
H19
was downregulated in HSCs before their proliferation and upregulated in long-term HSCs.
H19
is localized downstream of
Igf2
in the
H19/Igf2
locus. Both genes are co-expressed and have an antagonic effect on cell proliferation during hematopoiesis [
22
].
H19
also inhibits HSC activation and proliferation, serving as a precursor of miR-675, a miRNA that targets the insulin-like growth factor 1 receptor (
Igf1r
) in placenta [
23
]. In another study, among the 323 novel lncRNAs identified in murine HSC RNA sequencing, 159 were HSC-enriched or likely HSC-specific (lncHSCs), in comparison with the transcriptome of differentiated B cells and granulocytes. Among these 159 lncRNAs,
lncHSC-1
was identified as involved in myeloid differentiation, and
lncHSC-2
as involved in HSC self-renewal and T cell differentiation. In addition,
lncHSC-2
is enriched with target sites for important hematopoietic-specific transcription factors, especially E2A [
24
].
In the following, we will highlight well-established lncRNAs involved in ontogeny and the homeostasis of circulating blood cells and their progenitors (
Figure 2
).
2.1.2. Other Myeloid Lineage Cells
Beyond the erythrocytes, the myeloid lineage includes neutrophils, eosinophils, monocytes and dendritic cells, among other important cells for the innate immunity.
2.1.3. Lymphocytes
Lymphocytes are a class of leucocytes of prime importance for both the innate immunity (innate lymphoid cells—ILCs, in which natural killer—NK—cells are included) and acquired immunity (T and B cells).
Many novel lncRNAs were identified by global gene-expression profiling of human bone marrow and thymic progenitor cells, spanning the earliest stages of B and T lymphoid lineages commitment. These lncRNAs were predominantly intergenic, followed by antisense lncRNAs. The expression of a high proportion of the lncRNAs was positively correlated with that of neighboring protein-coding genes, including genes involved in hematopoiesis and the regulation of lymphocyte development and proliferation. In addition, the authors identified lncRNAs co-expressed with known protein-coding genes specific for different lymphocyte lineages, such as
PAX5
,
EBF1
,
CD3
,
BCL11B
,
NOTCH1
,
RAG1
, and
RAG2
, among many others. The results provide a resource for candidate lncRNA to be further investigated in functional studies in order to clarify their role in lymphopoiesis [
37
].
Moreover,
NONHSAT040475
(also known as
lnc-BRF1-24
) is an lncRNA widely expressed in human peripheral blood leukocytes. Its expression was compared between T cells (CD3
+
), B cells (CD19
+
), and NK cells (CD56
+
). B cells were the lymphocyte subset with the highest expression of
NONHSAT040475
, in comparison with NK cells and granulocytes, which presented the lowest expression among the analyzed cell types [
38
].
The next sections will address the lncRNAs associated with specific lymphocyte types.
T Lymphocytes
In view of the huge amount of data generated, especially by high-throughput sequencing technologies, and the recent progress in lncRNA identification, the role of lncRNAs in T cells development as well as in immune responses became evident. Several lncRNAs present a highly lineage-specific expression and help to control the differentiation and function of these important immune cells. Although there is much to explore about T cells and lncRNAs, the importance of these non-coding RNAs is already settled.
B Lymphocytes
B lymphocytes are responsible for the production of immunoglobulins, also known as antibodies, which recognize foreign antigens, and are thus essential for the so-called humoral immunity. Activated B cells can evolve to plasmocytes and memory cells. In a transcriptome analysis of 11 B cells subsets, several lncRNAs expressed along human B cell development and correlated with other RNAs were identified. Among the lncRNAs expressed during the early stage of B cell development, the transcripts
MYB-AS1
,
SMAD-AS1
, and
LEF1-AS1
are antisense to genes of known early B cell transcription factors (
MYB
,
SMAD1
, and
LEF1
, respectively). Another transcript identified was the lincRNA
CTC-436K13.6
, located between the genes
EBF1
(which encodes the transcription factor early B cell factor 1) and
CLINT1
. Several lncRNAs were also identified in proliferative stages and in the germinal center. In the germinal center, the lincRNAs
LINC00487
,
LINC00877
, and
RP11-203B7.2
were found to be highly connected genes (hub genes). Furthermore, the gene for lincRNA,
RP11-132N15.3
, found to be predominantly expressed in centroblasts, is localized upstream of the
BCL6
gene, the main germinal center regulator [
50
].
In another transcriptome analysis of B cell subtypes of mice, 4516 lncRNAs, were identified as differentially expressed during B cell development and activation, of which 702 were predicted to be associated with enhancers (eRNAs) and 192 with promoter regions (pRNAs). Among them, a strong positive correlation between the eRNA
LNCGme02323
and the cluster lightpink4, which contains 31 protein-coding genes regulated in marginal zone B cells, was observed. Moreover, 784 lncRNAs of pro-B cells and 717 lncRNAs of mature B cells overlapped or were less than 1 kb downstream of binding sites for PAX5, a transcription factor required for B cell development. Evidence of regulation by PAX5 was found for 109 of these lncRNAs, indicating a role for these lncRNAs in B cell homeostasis [
51
].
Finally, it was recently demonstrated that during female B cell development, the inactivated X chromosome (Xi) loses the heterochromatin modifications and the co-localization within the lncRNA
Xist
, which are required to compensate between sexes for the dosage of X-linked gene products. The lack of
Xist
at the Xi occurs at the pro-B cell stage and persists in non-activated B cells, being restored to Xi during the activation of mature B cells. For restoring of
Xist
localization and chromatin modifications, the transcription factor YY1, involved in V(D)J recombination (variable, diversity and joining gene segments recombination) of B cells, is required. While it remains unknown why the Xi loses heterochromatic modifications and
Xist
RNA during female B cell development, the authors suggested that these features might enable rapid immune-related X-linked genes reactivation in response to infections and could also explain some of the immunological differences between the sexes [
52
].
Natural Killer Cells
Long non-coding RNAs were also seen to be involved in NK cell function and differentiation. In an lncRNA profiling analysis of different populations of NK cells, numerous novel lncRNAs were identified, including
lnc-CD56
, an lncRNA specific to NK cells.
lnc-CD56
positively correlated with the expression of the classical NK cells marker CD56 in primary and some differentiated human NK cells. Moreover,
lnc-CD56
is predicted to interact with the NK-transcription factors TBX21, IRF2, IKZF2, ELF4, and EOMES [
53
].
A novel killer cell immunoglobulin-like receptor (KIR) gene-body associated antisense transcript not expressed in mature NK cells was described in cells with stem cell properties. The promoter of this spliced lncRNA is at intron 2 of several
KIR
genes, and its sequence is complementary to the proximal promoter of the
KIR
genes and KIR-coding exons 1 and 2. Its promoter contains binding sites for MZF-1, a bi-functional transcription factor that activates transcription in cells of hematopoietic origin and represses transcription in most other cells. In support of a role of that lncRNA in the initial silencing of
KIR
genes, the differentiation of human embryonic stem cells into CD34-expressing hematopoietic progenitor cells was accompanied by the loss of this lncRNA [
54
].
Moreover, it was recently demonstrated that the
RNA-demarcated regulatory region of id2
(
Rroid
) of mice is an lncRNA locus located ~220 kb from the
id2
gene, a transcriptional regulator that inhibits the expression of T and B cell-specific genes and is essential for lineage commitment and maintenance of mature group 1 innate lymphoid cells (ILC1s). The lncRNA
Rroid
is highly and specifically expressed in ILC1s, where the NK cells are included. In ILC1s, the
Rroid
locus (not the lncRNA itself) directly interacts with the
id2
promoter and, in response to interleukin 15 (IL-15), promotes chromatin accessibility and the deposition of the transcription factor STAT5 at the
id2
promoter, thus acting as a
cis
-regulatory element of the
id2
gene and promoting its expression in ILC1s [
55
].
2.2. Solid Tissues
Several lncRNAs were identified in healthy solid tissues and organs, exercising critical roles during their differentiation, metabolism, and physiological functions (
Figure 3
). These lncRNAs and the regulatory mechanisms that they play in specific solid tissues are reviewed in this section.
2.2.1. Epidermal Tissue
Epidermal epithelial tissue is a stratified surface epithelium providing a barrier to the external environment. Epithelial cells are closely interconnected (juxtaposed). The epidermis is the outermost layer of the skin and has a high turnover rate due to the continuous shedding of the outer layer of cornified cells. The importance of lncRNAs in epithelial cells has been demonstrated by diverse studies, especially with regard to gene expression regulation [
56
,
57
]. One of the first examples is the natural antisense transcript (NAT)
Zeb2-AS1
, an lncRNA that is an important component of the epithelial-mesenchymal transition (EMT) [
56
]. Among the regulatory proteins required for EMT is the Zeb2 (zinc finger E-box binding homeobox 2) transcriptional repressor of E-cadherin.
Zeb2-AS1
acts to induce the expression of the Zeb2/Sip1 (
ZFHX1B
) gene by promoting the maintenance of a large intron in the 5' untranslated region (UTR) of the Zeb2 transcript. This region contains an internal ribosome entry site (IRES) necessary for Zeb2 expression, which in turn participates in the downregulation of E-cadherin mRNA and protein levels [
56
]. Furthermore, several lncRNAs have been identified as differentially expressed during keratinocyte (KCs) differentiation by non-coding RNA array analysis of epidermal equivalents grown in vitro [
58
], including
AF005081
,
UC003af
,
BC020554
, and
AK022798
, upregulated at different times and differentiation stages. In a study of primary human keratinocytes, lncRNA expression was measured by microarray before and after the induction of differentiation. A total of 687 lncRNAs were detected, of which 104 were differentially expressed following differentiation [
59
]. The
activating long ncRNA 1
(
ncRNA-a1
, also known as
FALEC
,
focally amplified long non-coding RNA in epithelial cancer
) was found to upregulate
ECM1
, a neighbor protein coding gene, and both the protein and the lncRNA, were induced after keratinocyte differentiation [
59
]. Other examples are two lncRNAs that control the balance between the progenitor and differentiated compartment of human epidermis:
anti-differentiation non-coding RNA
(
ANCR
, also known as
DANCR
), which is strongly suppressed in differentiated cells, and
terminal differentiation-induced ncRNA
(
TINCR
), which is highly induced during epidermal differentiation [
57
,
60
,
61
].
Anti-differentiation non-coding RNA
is required to enforce the undifferentiated cell state within epidermis [
60
], whereas
TINCR
promotes human epidermal differentiation by a post-transcriptional mechanism, mediated by interactions with
staufen1
(STAU1) protein [
61
]. Moreover,
ANCR
and
TINCR
act as regulators of transcription factors MAF and MAFB, which are important for epidermal differentiation regulation [
57
]. Interestingly, an lncRNA-miRNA interaction has been reported as influencing keratinocyte differentiation. The lncRNA
H19
can function as a competitive endogenous RNA for miR-130b-3p. This miRNA targets the desmoglein 1 (DSG1) transcript, resulting in decreased DSG1 expression and action, thus keratinocyte differentiation is inhibited. However, lncRNA
H19
adds a regulation point in this differentiation process by acting as an miR-130b-3p sponge and preventing its activity; hence,
H19
can promote keratinocyte differentiation [
62
]. In addition, lncRNAs, including the aforementioned
H19
, can play a role also in the regulation of dermal papilla (DP) cell function, influencing hair follicle development and regeneration. A comparison of lncRNAs differentially expressed in early- and late-passage DP cells revealed numerous differentially expressed lncRNAs. Three of these,
RP11-766N7.3
,
H19
, and
HOTAIR
, may participate in hair gene regulation by targeting the Wnt signaling pathway, which plays critical roles in skin development and homeostasis and is required for hair follicle initiation [
63
]. Recently, 111 lncRNAs were shown to be differentially expressed in response to the activation of Wnt/β-catenin signaling in mouse dermal fibroblasts. The Wnt signaling-induced lncRNA
Wincr1
is highly expressed in primary dermal fibroblasts and may affect complex cellular behaviors including collective cell migration and collagen processing and contraction. Also,
Wincr1
affects the expression of several genes, such as
Col1a1
and
Mmp10
[
64
].
2.2.2. Nervous Tissue
Many lncRNAs are specifically expressed in the brain. These transcripts have been considered essential pieces in the regulation of a broad spectrum of neuronal processes, including brain development, establishment and maintenance of neural cell types, synapse formation and function, stress responses, and age-associated changes [
65
]. Some lncRNAs have been implicated in brain development, such as
highly accelerated region 1A
(
HAR1A
), which is expressed specifically in Cajal–Retzius neurons in the developing human neocortex from 7 to 19 gestational weeks, a crucial period for cortical neuron specification and migration.
HAR1A
is co-expressed with
reelin
, which is of fundamental importance in specifying the six-layer structure of the human brain cortex [
66
]. Another example is the lncRNA
DLX6 antisense RNA 1
(
DLX6-AS1
, or
Evf2
), which influences the establishment of murine regional forebrain organization. This lncRNA acts in ventral forebrain development, recruiting DLX and MECP2 transcription factors to DNA regulatory elements in the
Dlx5/6
intergenic region and controlling
Dlx5
,
Dlx6
, and
Gad1
expression through trans and
cis
-acting mechanisms [
67
]. Moreover,
Pinky
(
Pnky
) is an lncRNA that influences murine neural stem cell (NSC) differentiation.
Pnky
interacts with the PTBP1 protein and regulates neurogenesis from NSCs in the embryonic and postnatal brain [
68
]. In the Catarrhini branch of primates, the
lncRNA for neuronal development
(
LncND
, also known as
lnc-TMEM18
) is highly expressed in neural progenitor cells and downregulated in neurons. It controls the expression of the Notch signaling pathway, which may be necessary to maintain the stemness of outer sub-ventricular zone radial glia-like cells (oRG), by functioning as a miRNA sponge for the microRNA mir-143-3p. The evolutionary emergence of
LncND
its co-evolution with miRNA-143-3p may have contributed to the expansion of the cerebral cortex in primates [
69
].
Global RNA sequencing techniques have also been used to investigate lncRNA expression in brain development and function. Neurons derived from induced pluripotent stem cells (iPSCs) have been analyzed by RNA sequencing, and emphatic changes in lncRNA expression during transition from iPSCs to early differentiating neurons were detected. The
HOTAIRM1
(
HOXA transcript antisense RNA myeloid-specific1
) lncRNA is expressed early in neurogenesis, being important for
HOXA
gene regulation during myelopoiesis [
70
]. Besides, through a microarray approach, 934 lncRNAs were found to be differently expressed when comparing human embryonic stem cells (hESCs) with neural progenitor cells (NPCs). Of these lncRNAs, four were subjected to knockdown that indicated that these lncRNAs are required for adequate neuronal differentiation [
71
]. Microarray assay was also used to explore the differentiation of bone marrow-derived mesenchymal stem cells (BMSCs) into neural cells. After differentiation induction, 23 lncRNAs were upregulated or downregulated. Further, reverse transcription—quantitative polymerase chain reaction (RT-qPCR) was performed to validate
H19
,
Esco2
,
Pcdhb18
, and
RGD1560277
differential expression, corroborating lncRNAs as key regulators of BMSC differentiation [
72
]. A transcriptome and splicing database was generated for eight different brain cell types from mouse cerebral cortex: neurons, astrocytes, oligodendrocyte precursor cells, newly formed oligodendrocytes, myelinating oligodendrocytes, microglia, endothelial cells, and pericytes [
73
]. The expression of 811 lncRNAs was detected and some of them were among the highest expressed transcripts in the mouse brain, with 12 placing among the 7% most highly expressed genes in the RNA dataset. Moreover, some lncRNAs were expressed in cell type-specific or enriched manners [
73
]. RNA sequencing was also used to profile lncRNA expression in mouse auditory forebrain during postnatal development at time points before and after the onset of hearing [
74
]. This study revealed that the lncRNA expression profile was distinct between primary auditory cortex and medial geniculate body and between different postnatal time point, indicating spatial and temporal specificity during the maturation of the auditory forebrain [
74
]. Recently, the human neocortex transcriptome was also analyzed at the single-cell level [
75
]: hundreds of cells from human neocortex at different stages of development were individually sequenced, revealing that many lncRNAs are abundantly expressed in individual cells and are cell type-specific. For example,
LOC646329
, an lncRNA that regulates cell proliferation, is enriched in single radial glia cells but is detected at low abundance in bulk tissues [
75
]. In addition, 155 differentially expressed lncRNAs have been reported in a neuronal cell line after stimulation by brain-derived neurotrophic factor (BDNF), a critical neurotrophin for neural development. Long non-coding RNAs with fold changes above 2 included the already known
C6orf176
and
MIAT
; however, many differentially expressed lncRNAs are not currently understood [
76
]. For oligodendrocytes, a dynamic expression profile at different stages of development was established. Among oligodendrocyte-restricted lncRNAs, the evolutionary conserved chromatin-associated
lncOL1
was functionally explored. Its overexpression promotes oligodendrocyte differentiation in the developing brain, whereas its knockdown inhibited the expression of myelin genes, causing defects in central nervous system (CNS) myelination [
77
].
Long non-coding RNA are also involved in the regulation of synaptic processes. The nuclear lncRNA
metastasis-associated lung adenocarcinoma transcript 1
(
MALAT1
), also known as
NEAT2
(
nuclear-enriched abundant transcript 2
) or
NCRNA00047
, is highly expressed in neurons and regulates synapse formation by modulating the expression of genes involved in synapse formation and/or maintenance [
78
]. Furthermore, the lncRNA
maternally expressed gene 3
(
Meg3
) in mice is important for maintaining synaptic plasticity by modulating the phosphatase and tensin homolog (PTEN) / (phosphatidylinoside-3-kinase (PI3K) / (protein kinase B (AKT) signaling pathway. In addition, knockdown of
Meg3
in primary cortical neurons prevents the glycine-induced increase of the GluA1 subunit of AMPARs (α-amino-3-hydroxy-5-methyl-4-isoxazolepropionic acid receptors) in the cell membrane. Thus,
Meg3
is important for modulating AMPAR expression, which mediate fast synaptic transmission in the central nervous system [
79
].
2.2.3. Muscular Tissue: Cardiac, Skeletal, and Smooth
2.2.4. Adipose and Bone Tissues
Adipose tissue is composed predominantly of adipocytes, cells specialized in storing energy as fat. White fat (subcutaneous and visceral) is the largest energy reservoir in the body, while brown (muscle-derived) and beige (or brite) fat (white-derived) are critical for thermogenesis, energy homeostasis, and metabolism. Besides these primary functions, adipose tissue also acts as thermal insulation and protection against mechanical shocks. The prevalence of obesity has led to a surge of interest in understanding the mechanisms underlying adipocyte development, as well as the process of differentiation of the pre-adipocyte precursor cells into adipocytes. There is strong evidence indicating that lncRNAs participate in adipogenesis regulation in physiological and pathological contexts.
2.2.5. Hepatic Tissue
The liver is the largest internal organ of the body, as well as an exocrine and endocrine gland. Like adipose tissue, the liver is responsible, among other important functions, for adipogenesis and lipid metabolism. The lncRNAs involved in liver homeostasis are shown in this section.
2.2.6. Pancreatic Tissue
The pancreas is both an endocrine and an exocrine gland, producing digestive enzymes delivered to the duodenum through the pancreatic duct, and endocrine hormones secreted into the blood, including insulin and glucagon produced, respectively, by β and α cells in the islets of Langerhans. lncRNAs have been studied in pancreatic β cells, due to the importance of these cells for glucose homeostasis and clinical relevance in certain disorders such as diabetes.
2.2.7. Intestinal Tissue
In intestinal mucosa, the epithelial cells form a single-cell layer that constitutes the largest and most important barrier protecting the intestinal lumen against intraluminal toxins, antigens, and enteric flora. The epithelium maintains its selective barrier function through the formation of complex protein-protein networks that mechanically link adjacent cells and seal the intercellular space.
Among the few studies investigating lncRNAs in intestinal tissue, it was demonstrated that the lncRNA
SPRY4-IT1
increases the stability and translation of the mRNA encoding tight junction (TJ) proteins claudin-1, claudin-3, occludin, and JAM-1. Accordingly, the silencing of
SPRY4-IT1
repressed the expression of these TJ proteins in the intestinal epithelial barrier. The direct interaction between
SPRY4-IT1
and TJ mRNAs is enhanced by the RNA-binding protein HuR. Patients with some intestinal diseases presented lower levels of
SPRY4-IT1
, suggesting that decreased
SPRY4-IT1
and the resulting lower expression of TJ proteins contribute to the pathogenesis of gut barrier dysfunction in patients [
135
]. Also regulating homeostasis of the intestinal epithelial barrier, the lncRNA
H19
may act as a ceRNA, competing with the miR-874, a microRNA which supresses the expression of the aquaporin-3 gene (
AQP3
) by binding to the 3′UTR of its mRNA.
AQP3
downregulation opens the TJ complex, leading to dysfunction of the intestinal barrier.
H19
competes with miR-874, reducing its levels and maintaining normal levels of AQP3, therefore playing a protective role in the intestinal barrier [
136
]. However, the overexpression of
H19
and the consequent increase of miR-675 inhibited the synthesis of the TJ protein ZO-1 and the adherens junction protein E-cadherin, leading to intestinal epithelial barrier dysfunction. Epithelial barrier normal function was restored by an increase of the expression of HuR (also known as ELAVL1) in these cells [
137
].
A genome-wide transcriptome analysis of murine intestinal epithelial cells showed that tumor necrosis factor alpha (TNF-α) stimulation up- and downregulated several lincRNAs genes. Among them,
lincRNA-Cox2
was upregulated in an early response to TNF-α, through the NF-ĸB signaling pathway activation.
lincRNA-Cox2
knockdown altered the gene expression profile in response to TNF-α stimulation. It was found that
lincRNA-Cox2
regulates the transcription of the proinflammatory cytokine interleukin 12b gene (
Il12b
) through epigenetic mechanisms, indicating a role of this lincRNA in the inflammatory responses of the intestinal epithelia [
138
].
2.2.8. Lung Tissue
The lungs are the primary organs of the respiratory system. Their major function is gas exchange between the air and the blood. They supply oxygen to be distributed to tissues and expel carbon dioxide that has been created throughout the body. Studies reporting the roles of lncRNAs in lung development and homeostasis are still limited.
A total of 363 lncRNAs have been identified in developing and adult lung by an RNA sequencing approach. Spatial correlation between the lncRNAs loci and transcription factor loci across the genome was reported. In addition, their expression pattern correlates with that of the neighboring genes, suggesting the involvement of these lncRNAs in the regulation of the transcription factor genes. In fact, a feedback loop has been identified within the
NANCI-Nkx2.1
gene duplex that is critical for buffering the expression of the transcription factor Nkx2.1, maintaining lung epithelial cell identity during development and postnatal tissue homeostasis: while Nkx2.1 directly inhibits the expression of the lncRNA
NANCI (Nkx2.1-associated noncoding intergenic RNA,
also called
LL18
),
NANCI
acts in cis to promote Nkx2.1 transcription [
139
,
140
].
Moreover, a novel lncRNA
RP11-380D23.2
has been reported to drive distal-proximal lung morphogenesis by regulating its nearest gene
PITX2
, which encodes a transcription factor crucial for maintaining the left-right symmetry during lung development. The lncRNA
RP11-380D23.2
modulates
PITX2
via physical interaction with PARP1, a nuclear protein that functions as a chromatin modulator. The
RP11-380D23.2
–PARP1 interaction orchestrates lung development by regulating the timely activation of the Wnt cascade that is important for lung morphogenesis [
141
].
2.3. Gametogenesis and Germ Cells
Gametogenesis is a highly regulated complex cellular differentiation process. The accurate development of oocytes and sperm is among the most fundamental processes for the success of sexual reproduction. Similar to other reproductive traits, many features of gametogenesis and especially of spermatogenesis are under strong selective pressure to change. However, some fundamental features of gametogenesis are evolutionary conserved. Moreover, among all tissues, the transcriptome of the testis displays the highest diversity and specificity.
2.4. Extracellular Vesicles
Extracellular vesicles (EVs) play an important role in intercellular communication through the transference of their cargo between cells. They are sub-micron membrane vesicles released to the extracellular environment by all cell types. According to their biogenesis, membrane, size, and composition, EVs can be classified into exosomes, apoptotic bodies, microvesicles, and ectosomes, among others (reviewed in [
150
,
151
]). EVs have been found in body fluids, including blood and urine. They are composed of a lipid bilayer from the plasma membrane and contain a variety of proteins, nucleic acids, lipids, and metabolites from donor cells, transferring biomolecular information between tissues and mediating diverse biological functions. Accordingly, RNA transcripts contained in the EVs also may be transferred to the target cells and present functional impact [
152
,
153
]. The number of studies concerning lncRNAs in EVs is steadily increasing. Most aim at finding potential disease markers or at understanding pathological mechanisms of human diseases. Yet some of the findings are useful also for the comprehension of physiological processes.
Interestingly, lncRNAs with low expression in cells may be enriched in EVs, such as
lincRNA-p21
,
HOTAIR
, and
ncRNA-CCND1
[
154
,
155
]. In fact, in a study comparing normal cell lines with a prostate cancer cell line, the population of exosomal lncRNAs differed between both cell lines. Furthermore, some lncRNAs enriched in EVs present complementary motifs to some microRNAs, such as members of the let-7 family, among others, suggesting that these lncRNAs can act as sponges for EV microRNAs, and to distinct RNA-binding proteins, such as ELAVL1 (HuR), which may play a role in the exosomal transport of lncRNAs [
155
]. Another functional study provided evidence that specific lncRNAs are preferentially packaged into exosomes, and some of these exosomal lncRNAs (such as
Exo2
,
Exo4
, and
RMRP
) can modulate protein functions and cell viability by direct interactions with
l
-lactate dehydrogenase B (LDHB), high-mobility group protein 17 (HMG-17), and CSF2RB, inside the recipient [
156
].
In a total transcriptome profiling of plasma-derived EVs of five healthy women, thousands of different transcripts were found. Among these, up to 220 lncRNA were detected. The lncRNAs
RN7SL1
,
RPPH1
,
VTRNA2-1
,
RMRP
,
RNU11
, and
MALAT1
were the most highly expressed [
157
]. To our knowledge, this is the first study characterizing EV-lncRNA exclusively in healthy individuals. Thus, the EV-lncRNA cargo remains largely unknown, and the need for more research to characterize EVs contents and biological effects becomes evident. Apart from the relevance of such studies for learning more about extracellular lncRNAs (and other biomolecules) in physiological settings, there is great interest in developing EVs analysis for "liquid biopsies", which are minimally invasive assays that will be of value in biology and medicine.
3. Conclusions
Although lncRNAs were overlooked for a long time, now their importance in various biological processes has become evident. However, their description and especially their effects and functions in homeostasis (and in disease) remain largely elusive. This is not surprising in view of the complex interactions among the multiple players involved in every biological process, and the limitations of the available biological materials and methods. These limitations certainly will be overcome by the improvement of systems biology approaches in wet laboratories as well as bioinformatics, and the development of more powerful integrative analysis methods. In this review, we provided a broad overview of the information available in the literature regarding lncRNA identification and/or effects in specific mammalian—and especially human—cell and tissue types, aiming at understanding their effects in homeostasis. We limited our search to cells and tissues for which there is presently growing interest among researchers. Future studies will expand the knowledge about lncRNAs in cell biology and physiological processes, contributing to a deeper understanding of their function in the context of the multiple interactions between lncRNAs, other ncRNAs, mRNAs, proteins, and small molecules. Furthermore, information about lncRNAs in homeostasis provides a framework for future studies of their functions in health and disease and in the development of novel disease markers and therapeutic targets.
Supplementary Material
Supplementary File 1
Acknowledgments
We acknowledge the Graduate Program of Genetics of the Department of Genetics at the Federal University of Paraná, and the funding agencies CNPq (Conselho Nacional de Desenvolvimento Científico e Tecnológico) and CAPES (Coordenação de Aperfeiçoamento de Pessoal de Nível Superior).
Conflicts of Interest
The authors declare no conflict of interest.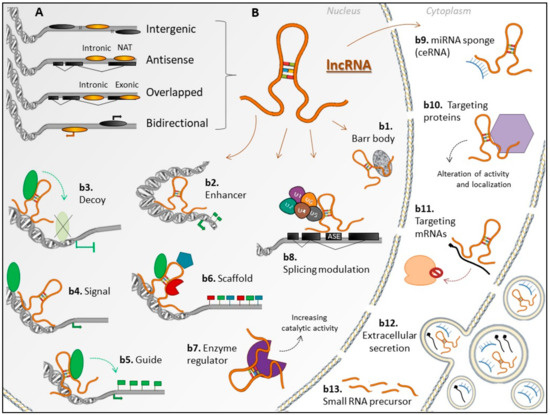 Figure 1.
Genomic location relative to protein-coding genes, and regulatory mechanisms of long non-coding RNAs (lncRNAs) in the nucleus, cytoplasm, and extracellular compartments. (
A
) Nomenclature of lncRNA genes (gold ellipses), according to their genomic location relative to the nearest coding gene (black ellipses) and/or to exons of coding genes (black rectangles). (
B
) lncRNAs regulatory mechanisms: (b1) lncRNA
Xist
, as a component of Barr body in females; (b2) acting as enhancers, inducing transcription in
cis
or in
trans
; (b3) a decoy to regulatory proteins, such as transcription factors and chromatin modifiers, blocking their binding to DNA; (b4) as molecular signals, activating or silencing gene expression through signaling to regulatory pathways; (b5) Guiding proteins (in general, chromatin modifiers) to specific target sites; (b6) as scaffolds, binding different proteins and forming ribonucleoprotein (RNP) complexes, which also affect gene expression; (b7) interacting with enzymes, such as kinases, regulating/enhancing their catalytic activity and altering their signalization; (b8) modulating alternative splicing of primary transcripts; (b9) as competing endogenous RNA (ceRNA), serving as a sponge for microRNAs (miRNAs), blocking their effect; (b10) targeting proteins, forming molecular complexes which can block or induce functional effects, or even alter their location in the cell; (b11) targeting messenger RNAs (mRNAs), inhibiting their translation in ribosomes. In addition, lncRNAs can be (b12) transferred to other cells by extracellular vesicles (EVs), where they can produce effects; (b13) precursors of miRNAs and other regulatory small RNA. An lncRNA can act by multiple regulatory mechanisms, in both the nucleus and/or in the cytoplasm. The b12 itself is not exactly a regulatory feature, however, the release of these functional lncRNAs through EVs is a way of regulating genes, RNAs, or proteins in other tissues. ASE—alternatively spliced exon.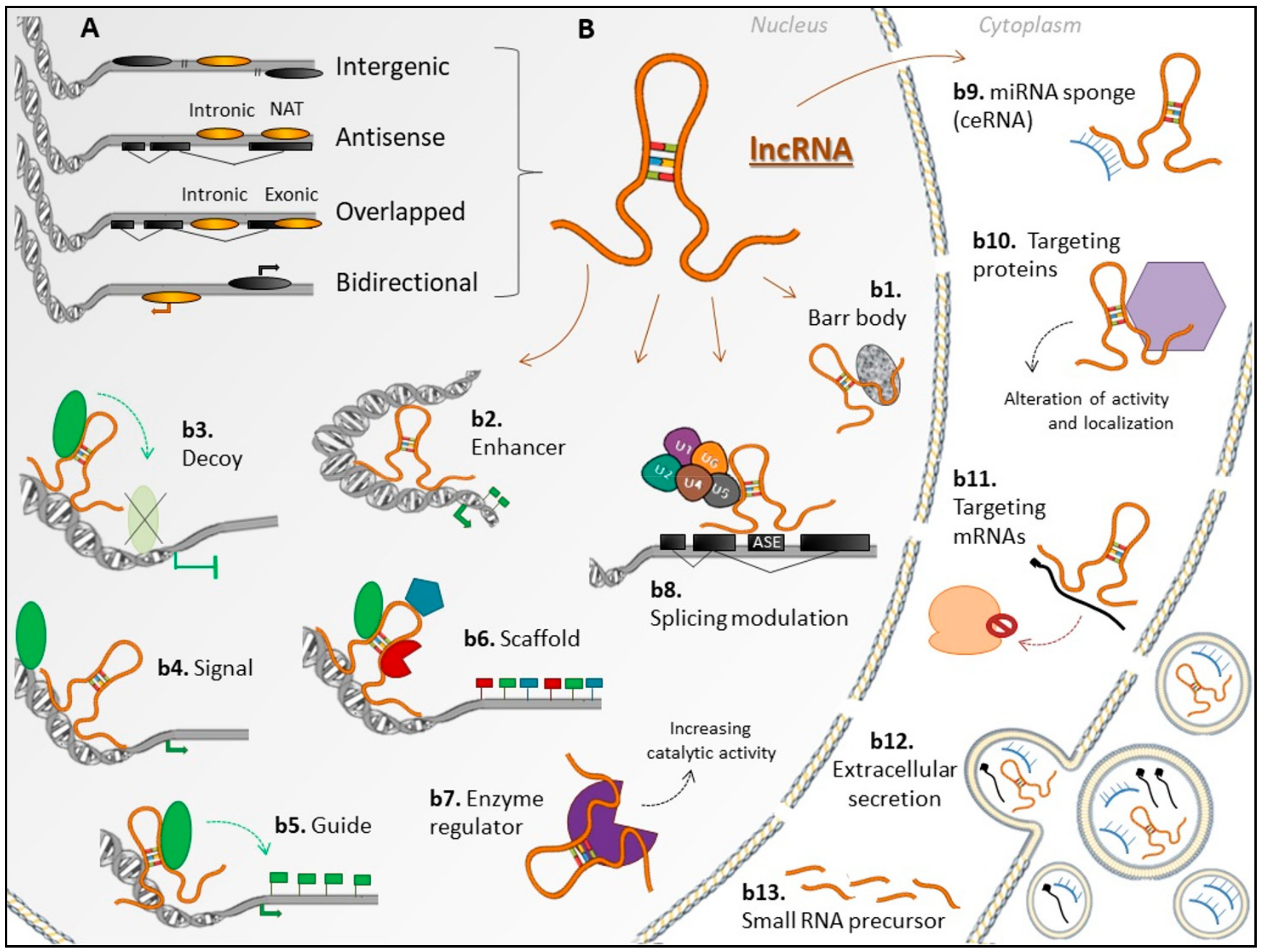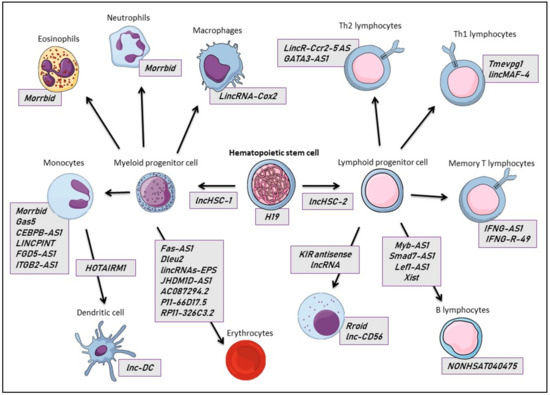 Figure 2.
Long non-coding RNAs described in the physiology of mature and progenitor hematopoietic cells, derived from myeloid (
left
) and lymphoid (
right
) differentiation from a hematopoietic stem cell (HSC), in which the lncRNA
H19
plays a central role. In the grey rectangles are listed the lncRNAs specifically or differentially expressed in each cell type (rectangles at the side of cells), or lncRNAs involved in the differentiation and maturation of these cells (upon the arrows).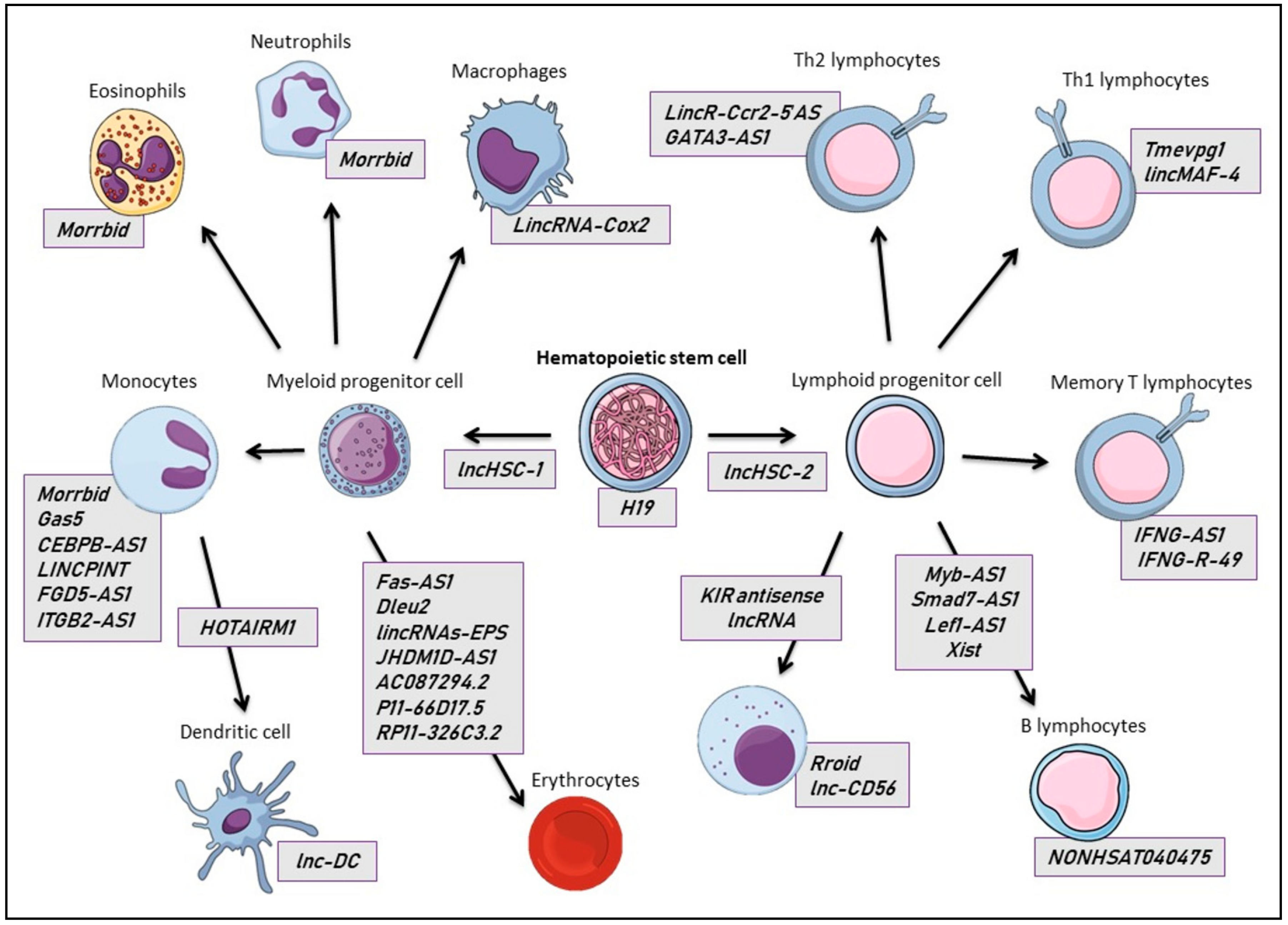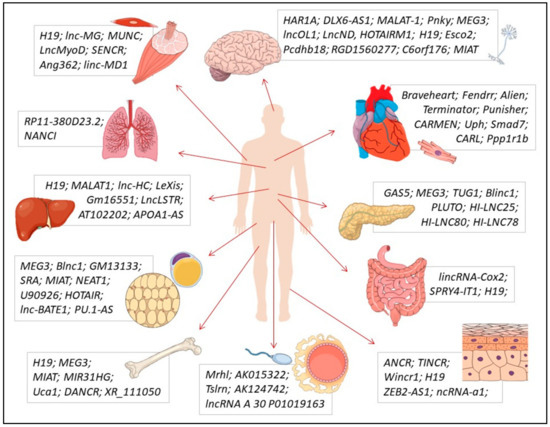 Figure 3. Main lncRNAs described as playing physiological roles (in function, homeostasis, and/or differentiation) in the following (clockwise direction): nervous, cardiac, pancreatic, intestinal, epidermal, germ, bone, adipose, hepatic, lung, and muscular (skeletal and smooth) tissues.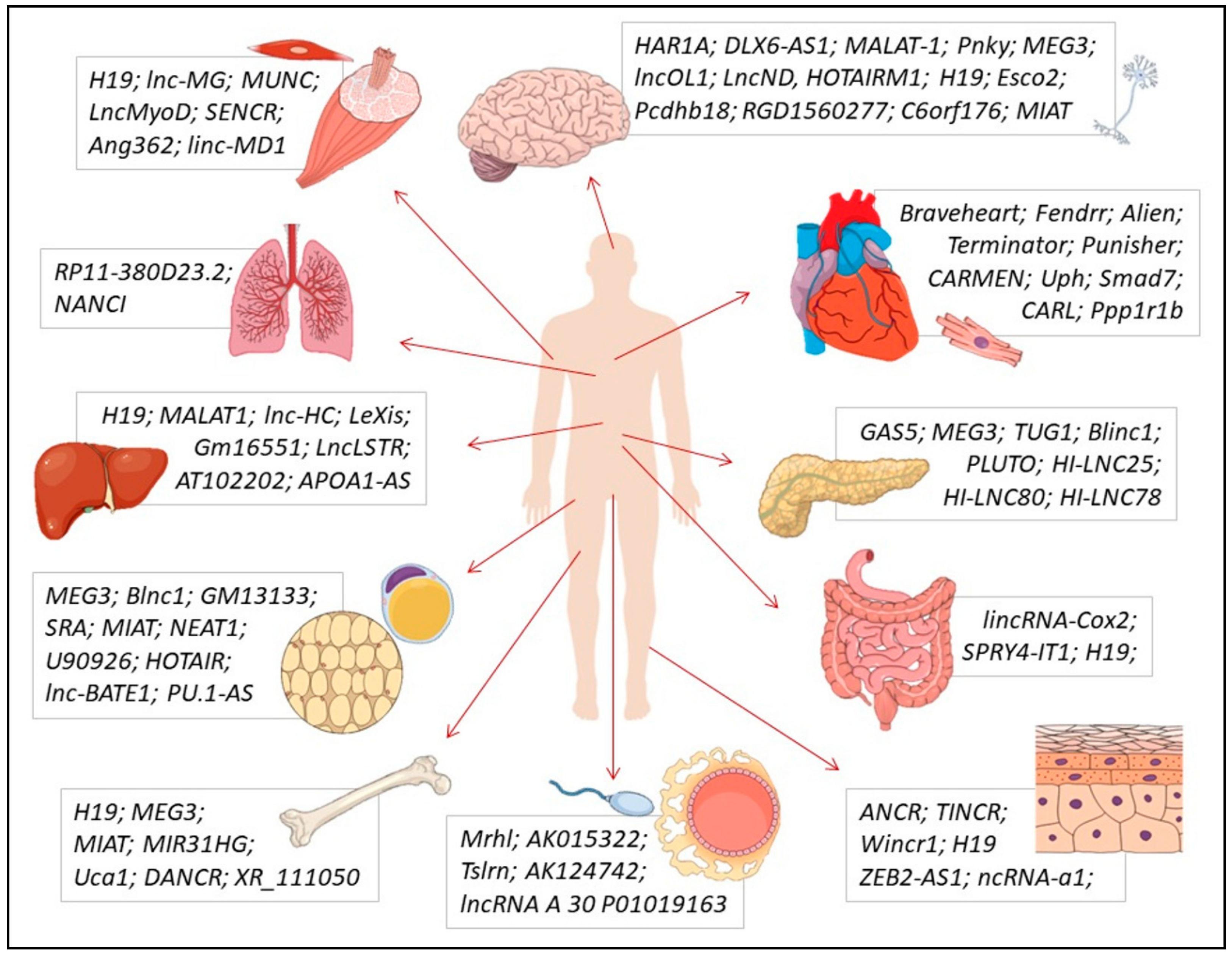 © 2018 by the authors. Licensee MDPI, Basel, Switzerland. This article is an open access article distributed under the terms and conditions of the Creative Commons Attribution (CC BY) license (http://creativecommons.org/licenses/by/4.0/).