Rare Splice Variants in Long Non-Coding RNAs
1
Bioinformatics Group, Department of Computer Science, and Interdisciplinary Center for Bioinformatics, University Leipzig, Härtelstrasse 16-18, D-04107 Leipzig, Germany
2
ecSeq Bioinformatics, Brandvorwerkstraße 43, D-04275 Leipzig, Germany
3
German Centre for Integrative Biodiversity Research (iDiv) Halle-Jena-Leipzig, Competence Center for Scalable Data Services and Solutions, Leipzig Research Center for Civilization Diseases, and Leipzig Research Center for Civilization Diseases (LIFE), University Leipzig, Härtelstrasse 16-18, D-04107 Leipzig, Germany
4
Max Planck Institute for Mathematics in the Sciences, Inselstraße 22, D-04103 Leipzig, Germany
5
Fraunhofer Institute for Cell Therapy and Immunology, Perlickstrasse 1, D-04103 Leipzig, Germany
6
Center for RNA in Technology and Health, University Copenhagen, Grønnegårdsvej 3, 1870 Frederiksberg C, Denmark
7
Santa Fe Institute, 1399 Hyde Park Road, Santa Fe, NM 87501, USA
*
Author to whom correspondence should be addressed.
Academic Editor: George A. Calin
Received: 18 May 2017 / Revised: 24 June 2017 / Accepted: 29 June 2017 / Published: 5 July 2017
Abstract
Long non-coding RNAs (lncRNAs) form a substantial component of the transcriptome and are involved in a wide variety of regulatory mechanisms. Compared to protein-coding genes, they are often expressed at low levels and are restricted to a narrow range of cell types or developmental stages. As a consequence, the diversity of their isoforms is still far from being recorded and catalogued in its entirety, and the debate is ongoing about what fraction of non-coding RNAs truly conveys biological function rather than being "junk". Here, using a collection of more than 100 transcriptomes from related B cell lymphoma, we show that lncRNA loci produce a very defined set of splice variants. While some of them are so rare that they become recognizable only in the superposition of dozens or hundreds of transcriptome datasets and not infrequently include introns or exons that have not been included in available genome annotation data, there is still a very limited number of processing products for any given locus. The combined depth of our sequencing data is large enough to effectively exhaust the isoform diversity: the overwhelming majority of splice junctions that are observed at all are represented by multiple junction-spanning reads. We conclude that the human transcriptome produces virtually no background of RNAs that are processed at effectively random positions, but is—under normal circumstances—confined to a well defined set of splice variants.
View Full-Text
►

▼

Figures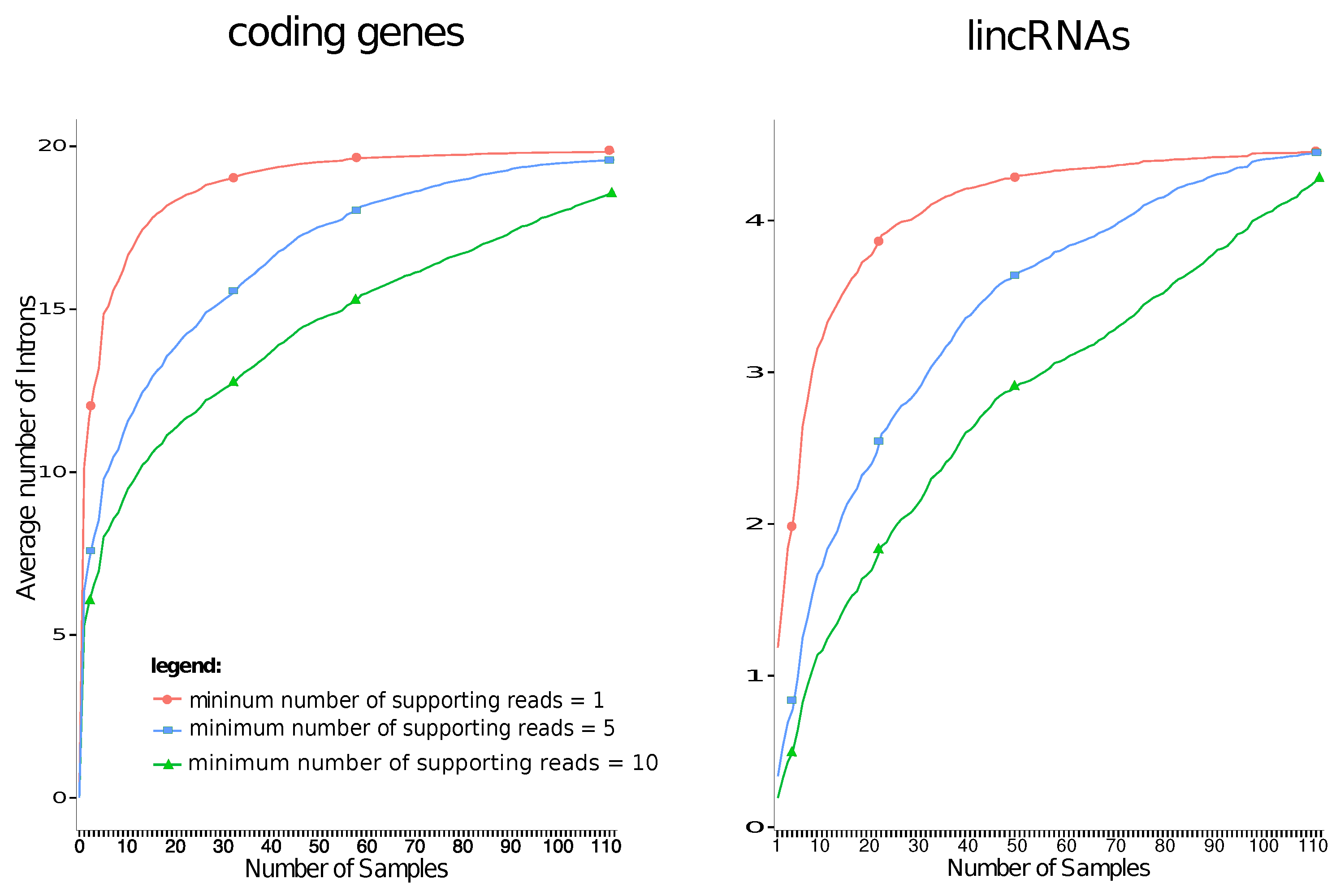 Figure 1
This is an open access article distributed under the
Creative Commons Attribution License
which permits unrestricted use, distribution, and reproduction in any medium, provided the original work is properly cited (CC BY 4.0).

Share & Cite This Article
MDPI and ACS Style
Sen, R.; Doose, G.; Stadler, P.F. Rare Splice Variants in Long Non-Coding RNAs. Non-Coding RNA 2017, 3, 23.
Note that from the first issue of 2016, MDPI journals use article numbers instead of page numbers. See further details here.
Related Articles
Comments
[Return to top]