Stabilization of Urinary MicroRNAs by Association with Exosomes and Argonaute 2 Protein
1
Department of Nephrology, Wales Kidney Research Unit, School of Medicine, College of Biomedical and Life Sciences, Cardiff University, Heath Park, Cardiff CF14 4XN, UK
2
Section of Oncology and Palliative Medicine, Institute of Cancer and Genetics, School of Medicine, College of Biomedical and Life Sciences, Velindre Hospital, Heath Park, Cardiff CF14 2TL, UK
3
BBI Group, The Courtyard, Ty Glas Avenue, Cardiff CF14 5DX, UK
†
These authors contributed equally to this work.
*
Author to whom correspondence should be addressed.
Academic Editor: George A. Calin
Received: 23 January 2015 / Revised: 13 July 2015 / Accepted: 15 July 2015 / Published: 14 September 2015
Abstract
A pressing need for new chronic kidney disease (CKD) biomarkers persists. MicroRNAs (miRNAs) are emerging as a novel class of disease biomarkers in body fluids, but mechanisms conferring their stability in urine have not been fully elucidated. Here we investigated stabilization in human urine of ubiquitously expressed miR-16, and miR-192, which we have shown previously to be downregulated in renal fibrosis, by association with extracellular vesicles and with argonaute protein (AGO) 2. Endogenous urinary miR-16 was significantly more resistant to RNase-mediated degradation than exogenous, spiked-in,
Caenorhabditis elegans
cel-miR-39. We used our previously optimized high-resolution exosome isolation protocol with sucrose gradient ultracentrifugation to sub-fractionate the primary extracellular vesicle-rich urinary pellet. MiR-16 and miR-192 were enriched in exosomal sucrose gradient fractions, but were also detected in all other fractions. This suggested association of urinary miRNAs with other urinary extracellular vesicles and/or pellet components, complicating previous estimates of miRNA:exosome stoichiometry. Proteinase K digestion destabilized urinary miR-16 and we showed, for the first time, RNA-immunoprecipitation of urinary miR-16:AGO2 and miR-192:AGO2 complexes. Association with exosomes and AGO2 stabilized urinary miR-16 and miR-192, suggesting quantitative urinary miRNA analysis has the potential to identify novel, non-invasive CKD biomarkers.
View Full-Text
►

▼

Figures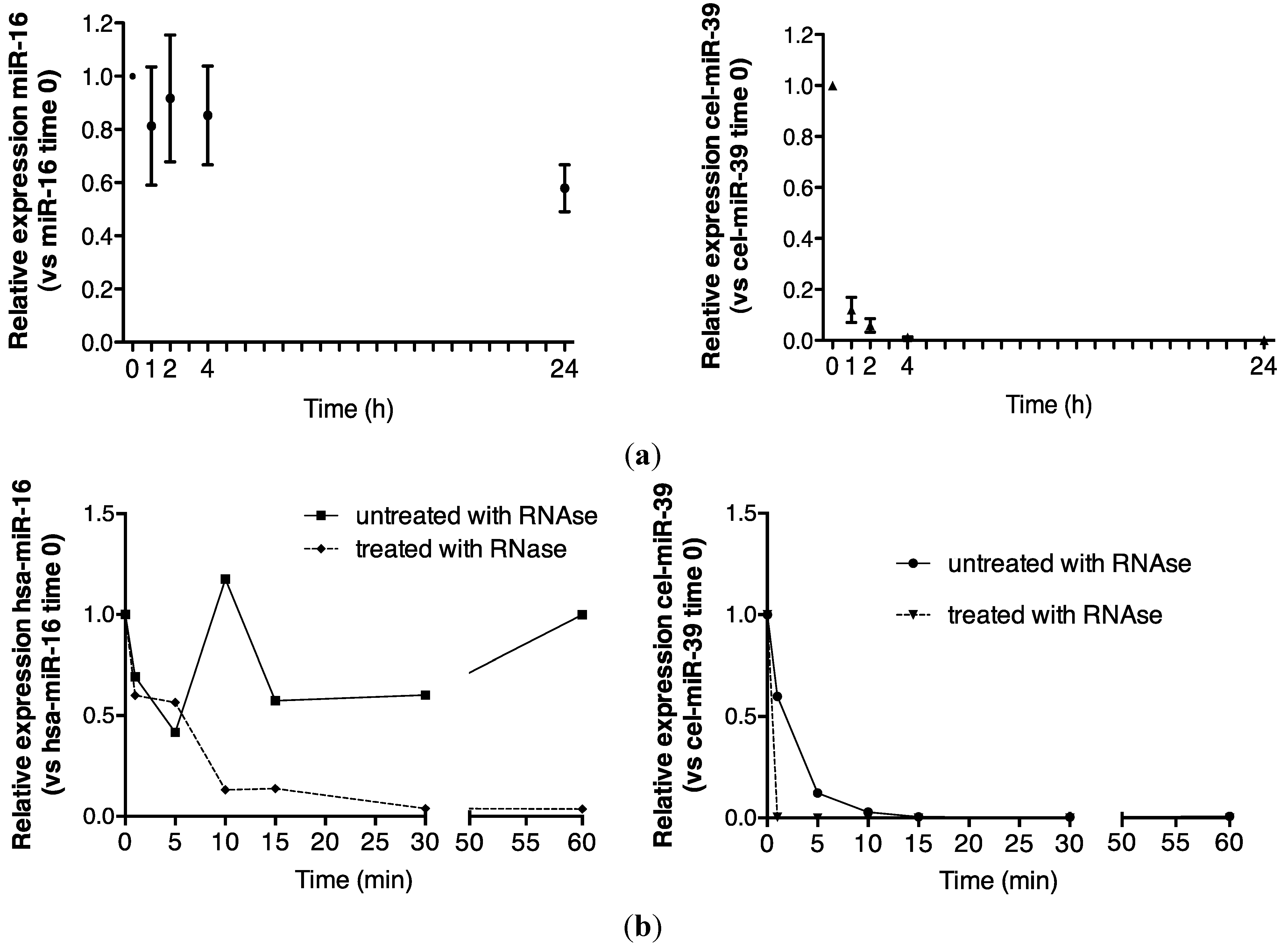 Figure 1
This is an open access article distributed under the
Creative Commons Attribution License
which permits unrestricted use, distribution, and reproduction in any medium, provided the original work is properly cited (CC BY 4.0).

Share & Cite This Article
MDPI and ACS Style
Beltrami, C.; Clayton, A.; Newbury, L.J.; Corish, P.; Jenkins, R.H.; Phillips, A.O.; Fraser, D.J.; Bowen, T. Stabilization of Urinary MicroRNAs by Association with Exosomes and Argonaute 2 Protein. Non-Coding RNA 2015, 1, 151-166.
Related Articles
Comments
[Return to top]