Transcription of Nanofibrous Cerium Phosphate Using a pH-Sensitive Lipodipeptide Hydrogel Template
1
Departamento de Química Inorgánica y Orgánica, ESTCE, Universitat Jaume I, Av. de Vicent Sos Baynat s/n, 12071 Castellón de la Plana, Spain
2
Departamento de Ciencia de los Materiales e Ingeniería Metalúrgica y Química Inorgánica, Universidad de Cádiz, c/República Saharahui s/n, Aptdo. 40, Puerto Real, 11510 Cádiz, Spain
*
Author to whom correspondence should be addressed.
Academic Editor: Pablo H. Di Chenna
Received: 9 May 2017 / Revised: 5 June 2017 / Accepted: 6 June 2017 / Published: 10 June 2017
Abstract
A novel and simple transcription strategy has been designed for the template-synthesis of CePO
4
·xH
2
O nanofibers having an improved nanofibrous morphology using a pH-sensitive nanofibrous hydrogel (glycine-alanine lipodipeptide) as structure-directing scaffold. The phosphorylated hydrogel was employed as a template to direct the mineralization of high aspect ratio nanofibrous cerium phosphate, which in-situ formed by diffusion of aqueous CeCl
3
and subsequent drying (60 °C) and annealing treatments (250, 600 and 900 °C). Dried xerogels and annealed CePO
4
powders were characterized by conventional thermal and thermogravimetric analysis (DTA/TG), and Wide-Angle X-ray powder diffraction (WAXD) and X-ray powder diffraction (XRD) techniques. A molecular packing model for the formation of the fibrous xerogel template was proposed, in accordance with results from Fourier-Transformed Infrarred (FTIR) and WAXD measurements. The morphology, crystalline structure and composition of CePO
4
nanofibers were characterized by electron microscopy techniques (Field-Emission Scanning Electron Microscopy (FE-SEM), Transmission Electron Microscopy/High-Resolution Transmission Electron Microscopy (TEM/HRTEM), and Scanning Transmission Electron Microscopy working in High Angle Annular Dark-Field (STEM-HAADF)) with associated X-ray energy-dispersive detector (EDS) and Scanning Transmission Electron Microscopy-Electron Energy Loss (STEM-EELS) spectroscopies. Noteworthy, this templating approach successfully led to the formation of CePO
4
·H
2
O nanofibrous bundles of rather co-aligned and elongated nanofibers (10–20 nm thick and up to ca. 1 μm long). The formed nanofibers consisted of hexagonal (P6
2
22) CePO
4
nanocrystals (at 60 and 250 °C), with a better-grown and more homogeneous fibrous morphology with respect to a reference CePO
4
prepared under similar (non-templated) conditions, and transformed into nanofibrous monoclinic monazite (P21/n) around 600 °C. The nanofibrous morphology was highly preserved after annealing at 900 °C under N
2
, although collapsed under air conditions. The nanofibrous CePO
4
(as-prepared hexagonal and 900 °C-annealed monoclinic) exhibited an enhanced UV photo-luminescent emission with respect to non-fibrous homologues.
View Full-Text
►

▼

Figures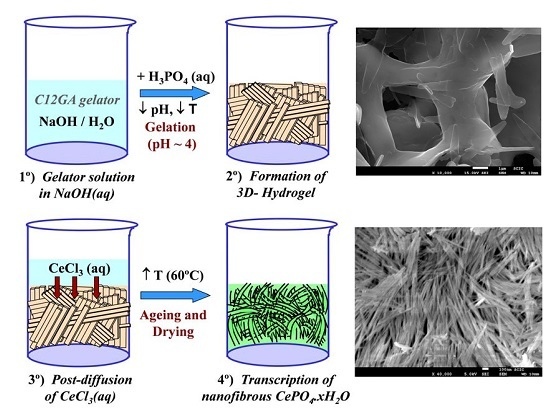 Graphical abstract
This is an open access article distributed under the
Creative Commons Attribution License
which permits unrestricted use, distribution, and reproduction in any medium, provided the original work is properly cited (CC BY 4.0).

Share & Cite This Article
MDPI and ACS Style
Llusar, M.; Escuder, B.; López-Castro, J.D.D.; Trasobares, S.; Monrós, G. Transcription of Nanofibrous Cerium Phosphate Using a pH-Sensitive Lipodipeptide Hydrogel Template. Gels 2017, 3, 23.
Note that from the first issue of 2016, MDPI journals use article numbers instead of page numbers. See further details here.
Related Articles
Comments
[Return to top]