Open Access This article is
freely available
re-usable
Review
Treatment of Invasive Candidiasis: A Narrative Review
Infectious Diseases Unit, Tel Aviv Sourasky Medical Center, and the Sackler Faculty of Medicine, Tel Aviv University, Tel Aviv 64239, Israel
Received: 25 July 2018 / Accepted: 12 August 2018 / Published: 16 August 2018
Abstract
:
Invasive candidiasis occurs frequently in hospitalized patients, and is associated with high mortality rates due to delays in recognition and initiation of appropriate antifungals. Management of invasive candidiasis must take into account multiple host, pathogen, and drug-related factors, including the site of infection, host immune status, severity of sepsis, resistance and tolerance to antifungal agents, biofilm formation, and pharmacokinetic/pharmacodynamic considerations. Recent treatment directives have been shaped by the widespread introduction of echinocandins, highly potent and safe antifungals, into clinical use, as well as important changes in drug susceptibility patterns and the emergence of known and novel drug-resistant
Candida
species. Advances in molecular diagnostics have the potential to guide early targeted treatment of high-risk patients.
Keywords:
Candida
; invasive candidiasis; candidemia; fluconazole; echinocandin; amphotericin B
1. Background
Candida
species are frequent colonizers of the human alimentary tract and skin that have emerged as important nosocomial pathogens, in tandem with advances in modern medical therapeutics [
1
,
2
]. Notable risk factors for invasive candidiasis include exposure to broad-spectrum antibiotics and cancer chemotherapy, advanced care of premature neonates, major abdominal surgery, organ transplantation, prolonged stay in an intensive care setting, implanted medical devices such as vascular catheters and prosthetic heart valves, and parenteral feeding. Invasive candidiasis, a term that encompasses the overlapping syndromes of deep-seated candidiasis and candidemia, is the most frequent mycotic disease in hospitalized patients. In an often cited nationwide survey,
Candida
species were found to be the fourth most frequent causes of bloodstream infection in hospitalized patients in the US, and were associated with the highest mortality rate among leading bloodstream isolates [
2
]. In point prevalence studies,
Candida
species account for about 1 in 5 nosocomial bloodstream infections [
1
,
3
]. Deep-seated candidiasis, arising from direct inoculation or hematogenous dissemination of
Candida
into normally sterile body sites, is often difficult to diagnose and may affect a population as large as that of candidemia [
4
,
5
,
6
]. The global incidence of candidiasis has been estimated at 750,000 cases annually (2.1 to 21 cases per 100,000 population) [
4
], with an associated crude mortality rate in excess of 40% and an associated expenditure of ~
$
46,000 per case [
7
].
Although
Candida albicans
is the most common cause of invasive candidiasis, infections due to non-
albicans Candida
species account for an increasing proportion of cases. Specifically,
C. glabrata
has become an important pathogen in North America, Europe (with the exception of Spain), and Australia, whereas
C. parapsilosis
is the dominant non-
albicans
species in South America, Japan, and Spain [
8
,
9
,
10
]. The shift from
C. albicans
, which is overwhelmingly susceptible to all systemic antifungals, to species that are more frequently resistant or tolerant to fluconazole, such as
C. glabrata
and
C. krusei
, has impacted treatment recommendations [
11
,
12
,
13
].
Candida
strains with acquired resistance to echinocandins, specifically
C. glabrata
, while still generally infrequent, are increasing in incidence in some hospitals [
10
,
14
].
C. auris
, a novel
Candida
species first identified in 2009, has emerged since 2013 as a cause of nosocomial outbreaks in multiple countries across 5 continents.
C. auris
presents a serious challenge to healthcare systems due to its frequent resistance to multiple systemic antifungals and disinfectants and its capacity for rapid spread within healthcare facilities [
15
,
16
].
2. Systemic Antifungal Drugs for Invasive Candidiasis
The armamentarium of drugs for the treatment of candidiasis currently comprises three major drug classes: the polyenes, azoles, and echinocandins. In addition, flucytosine, a pyrimidine analogue, has specific roles as an adjunct in the treatment of central nervous system candidiasis and
Candida
endocarditis [
17
,
18
].
2.1. Echinocandins
The echinocandins are cyclic lipopeptides that inhibit the transmembrane glucan synthase complex (Fks1), a biosynthetic enzyme that produces 1,3-β-
d
-glucan, the major fungal cell-wall carbohydrate. Disruption of 1,3-β-
d
-glucan synthesis damages cellular integrity and leads eventually to cell rupture and death. All three licensed echinocandins (caspofungin, micafungin, and anidulafungin) are approved for the treatment of invasive candidiasis. These drugs may only be given intravenously. Caspofungin and micafungin are metabolized in the liver, whereas anidulafungin is slowly degraded in plasma due to chemical opening of its ring structure.
The echinocandins are fungicidal in vitro against a broad range of
Candida
species, including azole resistant or tolerant species.
C. parapsilosis
and
C. guilliermondii
are intrinsically less susceptible to echinocandins, reflecting naturally occurring polymorphisms in the
FKS1
hotspot regions of these species [
19
].
The echinocandins are remarkably safe, even at higher than standard doses. Rapid infusion has been associated with flushing, dyspnea, hypotension, and urticaria, attributed to histamine release. These drugs should therefore be infused over 1 h. Cardiotoxicity is a rare and severe side effect that has been observed when echinocandins are administered through a central venous catheter. This phenomenon may be less frequent with anidulafungin than with caspofungin and micafungin. No significant hepatotoxicity or nephrotoxicity have been observed.
Drug-drug interactions are relatively few with echinocandins. Caspofungin clearance is increased by inducers of liver CYP450 enzymes, such as rifampicin, efavirenz and carbamazepine, requiring a caspofungin dose increase from 50 mg/day to 70 mg/day if co-administered with those drugs. Caspofungin exposure is increased if co-administered with cyclosporin. Caspofungin decreases tacrolimus exposure, requiring drug level monitoring and dose adjustment. Micafungin and anidulafungin are not modulators or substrates of CYP450 enzymes, and were not found to have important drug-drug interactions.
Clinical Trials
Prospective studies comparing echinocandins with amphotericin B for the treatment of candidiasis have shown similar efficacy of caspofungin and amphotericin B deoxycholate in the intention to treat analysis but superiority of caspofungin in the per-protocol analysis [
20
], and non-inferiority of micafungin versus liposomal amphotericin B [
21
]. In both trials, echinocandins were associated with fewer adverse events, including serious events leading to drug discontinuation. Anidulafungin was associated with a higher treatment success rate than was fluconazole, but mortality rates were not significantly different [
22
]. Interestingly, the superiority of anidulafungin was most significant for patients with
C. albicans
infection [
22
], indicating that drug susceptibility per-se could not account for the differences in treatment outcomes. Finally, two trials compared different echinocandin drugs and doses. A 3-arm study compared micafungin 100-mg daily, micafungin 150-mg daily and caspofungin (70 mg followed by 50 mg daily). Micafungin at both doses was non-inferior to caspofungin, whereas the median time to culture negativity was 1 day longer for the micafungin 150-mg dose versus the micafungin 100-mg dose [
23
]. A study comparing a triple daily dose of caspofungin (150-mg daily) versus standard 50-mg daily dosing found no advantage for the higher dose [
24
]. Taken together, these studies show that higher than standard doses of echinocandins, while generally well tolerated, do not improve patient outcomes in most clinical scenarios.
2.2. Azoles
Azoles inhibit
Candida
growth by binding to and inhibiting lanosterol 14α demethylase, a cytochrome P450 enzyme encoded by the
ERG11
gene [
25
]. Lanosterol 14α demethylase inhibition causes depletion of ergosterol, the main plasma membrane sterol in fungi, and accumulation of toxic C14α methylsterols. The antifungal effect is fungistatic rather than fungicidal.
Fluconazole is the principle azole drug used in the treatment of candidiasis. Fluconazole has excellent bioavailability and may be given either intravenously or orally at identical doses. The main adverse effect of fluconazole is hepatotoxicity. In addition, fluconazole is a cytochrome P450 inhibitor and may interact with drugs that undergo metabolism via that route.
Clinical Trials
In randomized controlled clinical trials of nonneutropenic patients with candidemia, outcomes were similar for patients treated with fluconazole versus amphotericin B, but toxicity was more frequent with amphotericin B [
26
,
27
]. Treatment failure occurred most frequently with
C. albicans
[
26
]. A study comparing fluconazole monotherapy with fluconazole combined with amphotericin B found a higher overall treatment success rate and a lower rate of failure to clear the bloodstream with the combination regimen [
28
]. Patients with the lowest and highest APACHE II scores benefited the least from combination therapy, suggesting that fluconazole monotherapy is adequate for candidemic patients with mild disease, whereas for the sickest patients, failure rates are high regardless of treatment choice [
28
].
Voriconazole, a broad spectrum triazole active against filamentous fungi as well as
Candida
species, was as effective as amphotericin B followed by fluconazole for the treatment of candidemia [
29
]. Voriconazole is associated with more adverse events and drug-drug interactions than fluconazole, and offers few advantages over fluconazole in the treatment of candidiasis. In practice, this drug may be useful in the treatment of infections with the intrinsically fluconazole-resistant species
C. krusei
.
2.3. Amphotericin B
The polyene amphotericin B is a lipophilic molecule that binds to ergosterol within the fungal cytoplasmic membrane. Amphotericin B self-assembles into oligomers that insert into the cytoplasmic membrane, forming aqueous pores that cause ion leakage and rapid cell lysis. Amphotericin B is formulated with deoxycholate or in one of three lipid formulations (liposomal amphotericin B, amphotericin B lipid complex and amphotericin B colloidal dispersion). The specific formulation has no effect on the drug's spectrum of activity, but does alter its distribution to different organs.
Once the mainstay of antifungal treatment, amphotericin B has been demoted to a second-line treatment of invasive candidiasis due to its toxicity. The nephrotoxicity caused by amphotericin B may be divided into early reversible azotemia due to afferent arterial vasoconstriction, and late kidney damage due to nephron loss and tubular basement membrane damage. The latter is irreversible and correlates with the total dose of amphotericin B infused. Overall, acute kidney injury occurs in 30% of adults treated with amphotericin B, and is associated with significantly increased mortality rates, length of hospital stay, and costs [
30
]. Early infusion reactions manifesting as chills and fever are common, and tend to lessen with subsequent drug infusions. Lipid amphotericin B formulations are less nephrotoxic, and liposomal amphotericin B and amphotericin B lipid complex are associated with fewer acute infusion reactions than amphotericin B deoxycholate.
3. Practical Aspects of Antifungal Susceptibility Testing
In vitro susceptibility testing is performed using broth microdilution (Clinical and Laboratory Standards Institute (CLSI) or European Committee on Antimicrobial Susceptibility Testing (EUCAST) methodology) [
31
,
32
]. Less labor-intense methods employed by clinical microbiology laboratories include Etest (bioMerieux, Marcy l'Etoile, France), disk diffusion, Sensititre Yeast One (TREK Diagnostic Systems, Thermo Fisher Scientific Inc., Waltham, MA, USA), and various semiautomated methods such as the Vitek system (bioMerieux).
4. Treatment Strategies
The goals of treatment of patients with invasive candidiasis are to prevent three types of adverse outcomes: 1. Death, usually within the first 7 days after onset of infection; 2. Late complications from metastatic and persistent deep-seated infection; and 3. Emergence of drug-resistant
Candida
strains.
6. Echocardiography
Endocarditis is a rare but devastating complication of candidemia. In an observational single center cohort study, the authors reported findings suggestive of endocarditis in 2.9% of patients who underwent transthoracic echocardiography (TTE) and 11.4% of patients who underwent transesophageal echocardiography (TEE) [
105
]. Importantly, endocarditis was clinically unsuspected in a third of the cases, prompting a recommendation for TEE in all patients with candidemia [
11
]. However, other groups have reported much lower incidence rates of endocarditis, suggesting that a more selective strategy may be reasonable [
12
]. Patients at risk of endocarditis include those with prosthetic heart valves, injectable drug users, patients with prolonged or non-resolving candidemia, and those with new onset of heart failure or embolic phenomena. Further work is needed to calculate the cost-benefit ratio of TEE and to better define subgroups of patients with candidemia who would benefit from an exhaustive search for endocarditis.
7. Ocular Complications
Metastatic spread of
Candida
species to the eyes occurs in 9% to 16% of patients with candidemia [
106
,
107
], and may lead to loss of vision. Ocular infection initially manifests as chorioretinitis, and if untreated may extend into the vitreous to cause vitritis (endogenous endophthalmitis). Visual outcome is associated with involvement of the retinal macula and the extent of vitritis at the time of diagnosis. All patients with candidemia should have a retinal examination performed by an experienced ophthalmologist [
12
]. Clinical guidelines recommend retinal examination within the first week of therapy [
12
]. However, as many as 18% of ocular lesions were only detected on follow-up examination in one study [
106
], suggesting that it may be prudent to perform an additional retinoscopy during the second week of therapy, especially in patients with persistent candidemia. Because the chorioretinal layer is highly vascular, treatment of chorioretinitis with any of the systemic antifungal drugs should be effective. However, because subclinical vitritis may be present, treatment with antifungals that achieve therapeutic concentrations within the vitreous is preferred. Treatment with fluconazole is recommended if susceptibility to this drug has been established [
108
]. For fluconazole-resistant isolates, liposomal amphotericin B is preferred over echinocandins, which achieve suboptimal vitreous concentrations [
109
,
110
]. Detection of lesions near the macula or vitritis necessitate intravitreal injection of antifungals (100 µL solution of amphotericin B deoxycholate or voriconazole), and in some cases, vitrectomy. Treatment should be extended for at least 4 to 6 weeks with ophthalmological monitoring to assess clearance of the ocular infection.
8. Novel Drugs for Invasive Candidiasis
9. Summary
Treatment of invasive candidiasis is changing. Sensitive molecular diagnostics have the potential to shift treatment strategies from current, risk-based empirical therapy to early targeted treatments. Echinocandins have transformed the care of patients with invasive candidiasis, but their widespread use is leading to rising rates of resistance in
Candida
isolates at some hospitals. Treatment options for drug-resistant
C. glabrata
and
C. auris
are poorly defined, and may well change following results from ongoing clinical trials with novel antifungal agents.
Funding
This research received no external funding.
Conflicts of Interest
The author declares no conflicts of interest.
Figure 1.
Treatment algorithm for patients with suspected or confirmed invasive candidiasis. Scored fill pattern indicates an optional step. For considerations regarding timing of CVC removal, see text. Echinocandin indicates caspofungin, micafungin or anidulafungin. BDG: (1,3)-β-
d
-glucan; LFAMB: lipid formulation of amphotericin B; CVC: central venous catheter.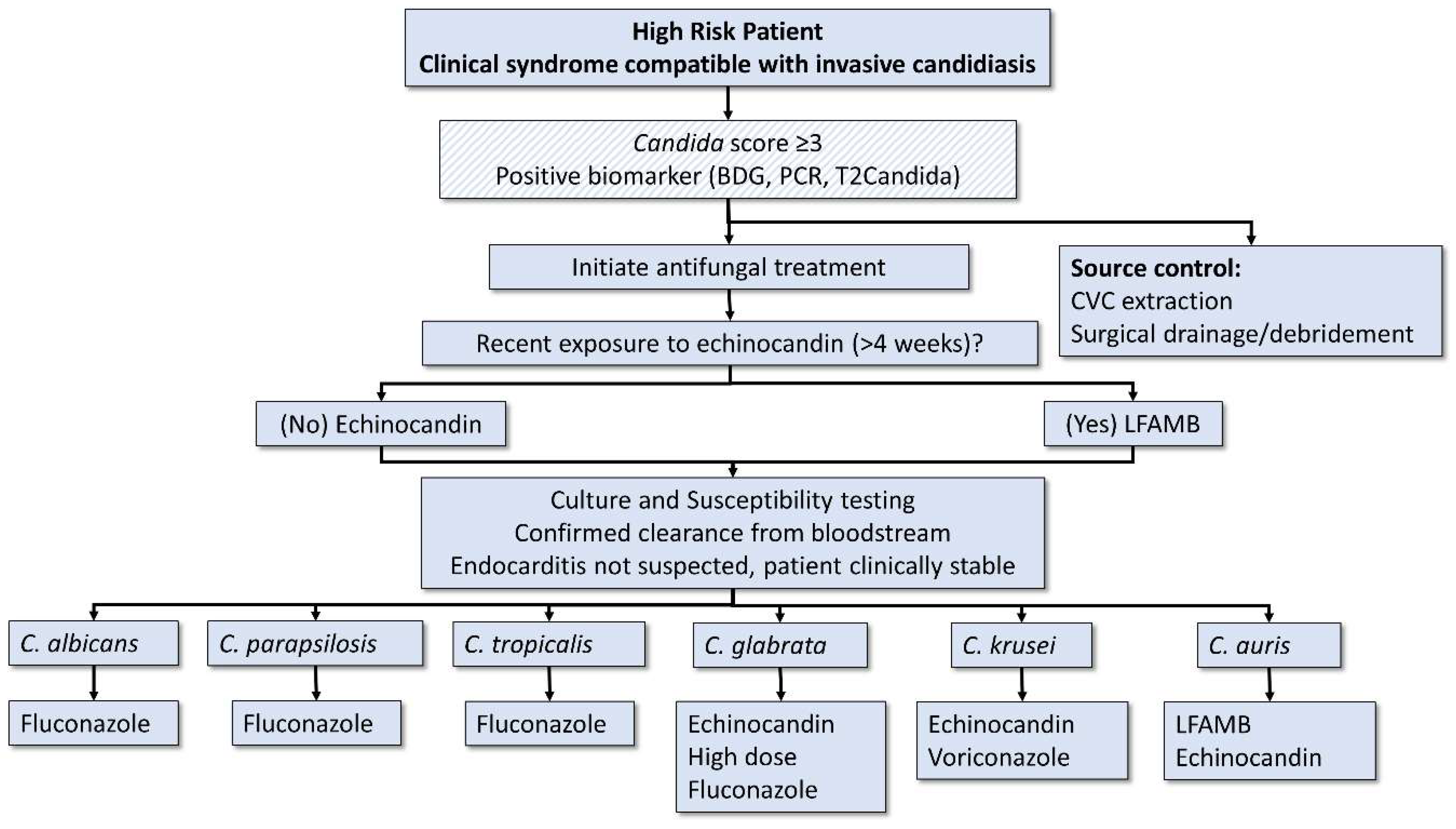 © 2018 by the author. Licensee MDPI, Basel, Switzerland. This article is an open access article distributed under the terms and conditions of the Creative Commons Attribution (CC BY) license (http://creativecommons.org/licenses/by/4.0/).